Mojave Air and Space Port: Home of Imagination, Innovation and Experimentation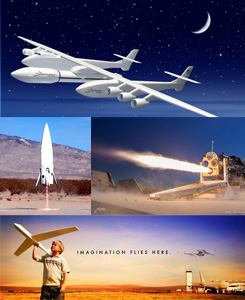 More than 60 companies, including leaders in the emerging commercial space launch industry, are currently operating at the Mojave Air and Space Port. The facility has three runways up to 38,100 meter long with six takeoff and landing directions, huge airspace clear of populated urban areas, a National Test Pilot School and designated supersonic corridors. CEO Stuart Witt expects the US$4M upgrade of Runway 4/22 to be complete by April 1, about a month ahead of schedule. Other recent improvements include a US$1.3M extension of power, water and high-speed data to test sites in the north sector of the spaceport used by Interorbital Systems, Masten Space Systems, Scaled Composites, XCOR Aerospace and Virgin Galactic. On March 27 Stratolaunch Systems opened a new 9,593-square-meter hangar that will house their Space Launch Carrier – designed to carry rockets with mid-size payloads to high altitude for efficient orbital launches it will be the World's largest aircraft (6 x 747 engines, 589,670 kg, 116-meter wingspan). XCOR is continuing development and testing at Mojave of its piston pump-powered rocket engine and Lynx Mark 1 suborbital vehicle in preparation for a test flight as early as 2014. (Image Credit: Mojave Air and Space Port, Stratolaunch, Masten, XCOR)
Houston Events Highlight Vacuum Chamber and the Moon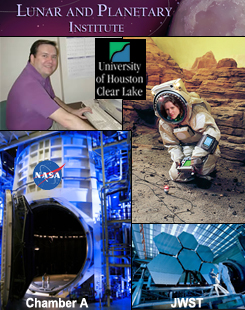 The media is invited to view NASA Johnson Space Center's Thermal Vacuum Chamber in Houston, Texas, USA on April 4. Chamber A, famous for testing Apollo Spacecraft, has a 16.8-meter diameter and stands 27.4 meters tall. Second only in size to the "World's Largest Vacuum Chamber" – a 30-meter diameter and 37-meter high chamber at NASA Glenn Research Center – JSC Chamber A is undergoing renovations to test the James Webb Space Telescope launching in 2018. It will be able to simulate extremely low temperatures of deep space and measure / evaluate the shape and focus of JWST mirrors. Also on Apr 4, the University of Houston at Clear Lake is hosting a seminar by Dr. Georgiana Kramer (TR) from Lunar and Planetary Institute titled 'Interaction between Lunar Surface and the Solar Wind.' She currently analyzes and interprets spectroscopic data of the Moon and integrates these analyses with results from other Center for Lunar Science and Exploration researchers. LPI is hosting 'GRAIL Explores the Moon's Interior' presented Dr. Walter Kiefer (TL) of LPI at USRA Lecture Hall on Apr 5. Dr. Kiefer has 9 research grants for projects involving GRAIL, Dawn, the Moon, Mars and Venus. (Image Credit: NASA/MSFC/David Higginbotham/Emmett Given, LPI, UH-Clear)
---


= All times for terrestrial events in local time unless noted.

= All times for international terrestrial events in local time unless noted.

= All times for space events, and…

= All times for international space / astro events in Hawaii Standard Time unless noted. Add 10 hours to obtain UT ('Universal Time;' Greenwich, England).
---
Weekly Planet Watch – Evening Planets: Jupiter (NW); Morning Planets: Mercury (ESE), Saturn (S).
---
MONDAY

Apr 1 — ISS, LEO: Expedition 35 crew members continue loading Progress 49 with trash for atmospheric disintegration scheduled Apr 15; undergoing ENERGY experiment to measure changes in astronaut energy balance during space flight.

Apr 1 — Swift, LEO: Performing X-ray survey of Milky Way Galaxy central regions; studying G306.3–0.9 supernova remnant less than 2.5K years old, making it 1 of 20 youngest remnants identified.


Apr 1 — Cassini, Saturn Orbit: Providing visual and infrared mapping spectrometer data of Saturn system which reveals water ice / organics distribution, suggests Moons and rings are about 4B years old.


 Apr 1 — Deep Space, Kuiper Belt Trajectory: New Horizons spacecraft, 2,629 days into mission, en route to Pluto / moons, icy worlds in Kuiper Belt; closest approach Jul 2015; 7 instruments will study atmospheres, surfaces, interiors, environments.

Apr 1 — XCOR Aerospace Inc., Mojave CA: NewSpace company test firing full piston pump-powered Lynx XR-5K18 engine, starting at 67 seconds; will install flight-sized liquid oxygen tank, extend test fire duration.

 Apr 1 — Space Frontier Foundation, Online: Accepting applications for 2013 NewSpace Business Plan Competition through May 29 to help entrepreneurs focus on / advance commercial space development.

Apr 1 — Golden Spike Co., Boulder CO: Hosting Workshop Oct 3-4 to seek input on science priorities, landing sites, surface experiment packages, sample return requirements; running Indiegogo Campaign until Apr 24.

NET Apr — Boeing Company, Various Locations: Developing CST-100 7-person spacecraft for NASA CCiCAP, Integrated Stack Force and Moment Wind Tunnel Test to occur this month.

Apr 1 — Mojave Air and Space Port, Mojave CA: Expects to re-open rebuilt Runway 4/22 by this day, about 1 month ahead of schedule.

Apr 1 — NASA, Burlingame CA: Program Integration Contract for Orion with potential of US$49M goes to ARES Technical Services Corp. to provide products, systems engineering / integration services for Orion program.

Apr 1 — National Space Biomedical Research Institute, NASA, Palo Alto CA: Space Medicine and Related Technologies Commercialization Assistance Program (SMARTCAP); Cerebrotech Medical Systems receives US$250K to advance portable monitor to detect changes in astronaut brain fluid levels.

Apr 1 — Space Center Houston, Houston TX: Lunch with an Astronaut, John-David Bartoe; US$49.95 adult.

Apr 1 – Aug 1 — Cornell University, University of Hawai`i – Manoa, Hawaii Island: Mars Analog Mission and Food Study; 6-member crew to live in habitat under "Mars exploration conditions" to explore preparation strategies and new forms of food for long-term space exploration missions.

Apr 1 — Asteroid 2013 EN89: Near-Earth flyby (0.033 AU).

Apr 1 — Asteroid 2013 EQ4: Near-Earth flyby (0.071 AU).
---
Continued from…

Jan 19 – May 18 — University of California at Riverside ARTSblock Program, Riverside CA: Free Enterprise: The Art of Citizen Space Exploration; art exhibit with NewSpace movement theme.

Jan 22 – May 30, 2014 — NASA, USA: Phase 1 Certification Products Contracts; Boeing Co. receives about US$10M, Sierra Nevada Corp. $10M, SpaceX $9.6M to work with NASA CCP to develop systems for launching astronauts from American soil.

Feb 14 – Dec 31 — NASA, Online: Accepting Responses for High-Impact National Strategic STEM Educational Partnerships; NASA requests information from organizations interested in helping the Agency achieve its strategic goals for education.

Feb 14 – Jun 2, 2014 — NASA NSPIRES, Online: Research Opportunities in Space and Earth Sciences (ROSES) 2013; proposal and submission period for those interested in advancing research concepts and technologies for Space and Earth sciences.

Feb 25 – Apr 29 – USA National Center for Earth and Space Science Education, Student Spaceflight Experiments Program, Global: SSEP Mission 4 to ISS; microgravity experiment design and proposal writing period for students; selected experiments will fly to ISS mid-Oct.

Mar 15 – Apr 8 — University of Colorado – Boulder, Online: Send Your Artwork to Mars; contest for artists ages 5-17 to send artwork to Mars aboard MAVEN spacecraft (launching between Nov 18 – Dec 7); winner announced May 20.
---
TUESDAY

Apr 2 — SETI Institute, Mountain View CA: Colloquium: Characterizing the Atmospheres of Low-Mass Low-Density Transiting Exoplanets; presented by Jonathan Fortney from UC Santa Cruz; 12:00 PDT.

Apr 2-5 — Google Lunar X PRIZE Teams, Santiago, Chile: 2013 GLXP Summit; 23 competing teams meet to discuss their progress toward landing rover on Moon.

Apr 2-5 — ESA, ASI, CNES, Thales Alenia Space, Noordwijk, The Netherlands: 47th ESLAB Symposium: The Universe as Seen by Planck; at European Space Research and Technology Centre.

Apr 2 — Moon: At last quarter, 18:38.
WEDNESDAY

Apr 3 — NASA, Greenbelt MD: Aerospace Safety Advisory Panel Meeting; at NASA Goddard Space Flight Center, 11:00 – 12:00 EDT.

Apr 3 — ESA, Brussels, Belgium: Media Invited to Inauguration of ESA's Space Weather Coordination Centre (SSCC).

Apr 3 — The British Interplanetary Society, London, United Kingdom: Lecture: Teaching Old Spacecraft New Tricks; with speaker Robert Farquhar.

Apr 3 — The British Interplanetary Society, Bath, United Kingdom: Lecture: Apollo Science – A Personal Retrospective; presented by Keith Wright; at Bath Royal Literary and Scientific Institute, 19:30 UT.

Apr 3 — Center for the Advancement of Science in Space, MassChallenge, Online: Application Due: MassChallenge Startup Accelerator; proposals due for flight-ready ISS research projects; winners may receive up to US$100K in funding.
THURSDAY

Apr 4 — NASA, Houston TX: Media Invited to View Johnson Space Center's Thermal-Vacuum Chamber.

Apr 4 — University of Houston – Clear Lake, Houston TX: 2013 Physics and Space Science Spring Seminar Series: Interaction between Lunar Surface and the Solar Wind; presented by Georgiana Kramer from Lunar and Planetary Institute; free; in UH-Clear Bayou Building room 1218, 19:00 CDT.

Apr 4-5 — NASA, Washington DC: NASA Advisory Council Science Committee Meeting, Planetary Science Subcommittee Meeting; providing updates on Planetary Science Division, Mars Exploration Program, more; free / open to public.
FRIDAY

Apr 5 — Cassini, Saturn Orbit: Titan Flyby scheduled at 1,400-km altitude.


Apr 5 — The National Academies, Washington DC: Human Spaceflight: Public and Stakeholder Opinions Panel Meeting 1.

Apr 5 — International Lunar Observatory Association, Space Age Publishing Company, Strasbourg, France: Galaxy Forum Europe 2013 – Strasbourg: Galaxy Education and Galaxy Enterprise in the 21st Century; at International Space University Central Campus, 09:30 – 17:30 local time; free.

Apr 5 — Lunar and Planetary Institute, Houston TX: LPI Seminar Series: GRAIL Explores the Moon's Interior; presented by Walter Kiefer of LPI; in Lecture Hall of USRA, 15:30 CDT.

Apr 5 — Observatory of Turin, Paris Observatory, et al, Turin, Italy: Colloquium: Latest News from the Universe – Cosmology, Dark Matter, Galaxies, Astrophysics and Particle Physics.

Apr 5 — NASA NSPIRES, Online: Proposals Due: Undergraduate Student Instrument Project (USIP) Educational Flight Opportunity (EFO) 2013; for USA University students to develop Earth or space science payload to fly on NASA suborbital vehicle.

Apr 5 — The Space Show, Online: Dr. Joan Vernikos, former Head of NASA Life Sciences, speaks about Mars Inspiration Foundation's mission; hosted by Dr. David Livingston.
SATURDAY

Apr 6 — Sally Ride Science Foundation, Dallas TX: Sally Ride Science Festival; event to inspire 5th-8th grade girls with science; at University of Texas – Dallas; 11:00 CDT.

Apr 6 — Federation of Galaxy Explorers, AIAA, Praxis Inc., et al, Culpeper VA: Battle of the Rockets; for public to design and launch rocket and lander; at Battle Park, 10:00 – 16:00 EDT.

Apr 6 — NASA Glenn Research Center, Cleveland OH: Free 1-hour tour of Simulated Lunar Operations facility; first tour starts 10:00 EDT.

Apr 6 — NASA Glenn Visitor Center, Cleveland OH: Space Saturday Celebration; free admission for kids up to 12 years old, 10:00 – 17:00 EDT.


Apr 6 — Mauna Kea Visitor Information Station, Hawai`i Island HI: The Universe Tonight: Submillimeter Astronomy at the Caltech Submillimeter Observatory; presented by Dr. Simon Radford, 18:00 HST.


Apr 6 — DIYRockets Inc., Sunglass Co., Shapeways Inc., Online: Last Day to Register for 3D Printed Rocket Challenge; competition to design 3D printed rocket engine that could carry nano-satellites into space.
SUNDAY

Apr 7-8 — Space Foundation, Space Generation Advisory Council, Colorado Springs CO: Space Generation Fusion Forum 2013; for university students / young professionals to discuss their perspectives on the future of current space issues.

Apr 7-12 — European Geosciences Union, Vienna, Austria: EGU General Assembly 2013; to discuss space, planetary, Earth sciences.

Apr 7 — Moon: 6.6° NNW of Mercury, 18:00.

Apr 7 — Asteroid 2005 TS15: Near-Earth flyby (0.039 AU).