Silicon Valley Space Enterprise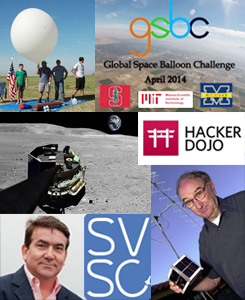 Silicon Valley space initiatives are reaching around the world and into space. The Hacker Dojo, home to a new Bitcoin ATM, is hosting a 2-day Space Systems Hackathon April 18-19 featuring Bob Twiggs, inventor of the CubeSat and former director of Space Systems Development Laboratory at Stanford University. Attendees will learn fundamentals of space system / subsystem design and engineering, and build their own PocketQubes. The Global Space Balloon Challenge on Apr 18-21, sponsored by Stanford Student Space Initiative, MIT and University of Michigan, is an international education program to encourage student teams to build, launch and recover near-space, high-altitude (18-37 km) balloons. This year more than 30 countries are registered, and rewards will be given for highest altitude, best photograph and best design. Dr. Sean Casey, founder of the Silicon Valley Space Center, presents a 4-part Space Entrepreneurship Series to guide participants through the expanding NewSpace sector. The Apr 22 session Is a Start-up for You? will be followed by Markets and Customers, Competition and Intellectual Property, and Business Canvas Business Model. Forward- and upward-striving enterprises in the area (including Moon Express, Skybox Imaging, Planet Labs, Elysium Space, B612 and Nanosatisfi) are designing lunar landers, planning to protect Earth from asteroid impacts, providing commercial memorial spaceflights and imaging Earth. (Image Credit: SVSC, Hacker Dojo, Stanford, GSBC, Moon Express)
East Asia Astrophysics Advancing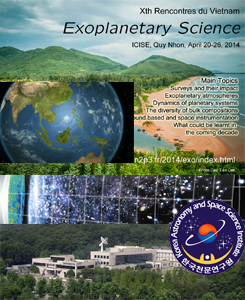 The International Centre for Interdisciplinary Science Education and Rencontres du Vietnam are organizing an Exoplanetary Science conference April 20-26 in the central Vietnam city of Quy Nhon. The program consists of plenary sessions for invited in-depth oral presentations and contributed papers in the form of short oral presentation or posters. This will be the 10th in a series of international multidisciplinary meetings created by Jean Trân Thanh Vân on topics such as physics, astronomy and biology. The Scientific Program Committee includes experts from France, Japan, Germany, USA and Switzerland. Jonathan Lunine from Cornell University will give a keynote speech on Exoplanetary Science with the James Webb Space Telescope. Earlier in the week, on Apr 16-18 the Korea Astronomy and Space Science Institute (KASI) in Daejeon, South Korea will host the CosKASI Conference 2014 on Cosmological Quests for the Next Decade. This is the first such cosmology conference and it celebrates the 40th anniversary of KASI. The workshop will cover recent progress in observational and theoretical cosmology including galaxies and large-scale structures, peculiar velocities, CMB, type IA supernovae, gravitational lensing, early universe, inflation, dark energy, dark matter, non-Gaussianity and numerical simulation. (Image Credit: ICISE, KASI)
---


= All times for terrestrial events in local time unless noted.

= All times for international terrestrial events in local time unless noted.

= All times for space events, and…

= All times for international space / astro events in Hawaii Standard Time unless noted. Add 10 hours to obtain UT ('Universal Time;' Greenwich, England).
---
Weekly Planet Watch – Evening Planets: Mars (SE), Jupiter (SW), Saturn (S); Morning Planets: Venus (ESE).

---
MONDAY

Apr 14 — ISS, LEO: Exp 39 transferring cargo from Progress 55P resupply ship, expecting arrival of Dragon spacecraft on Apr 16; Cmdr Wakata participating in Hybrid Training sessions to monitor / prevent muscle atrophy.

Apr 14 — Fermi Gamma-ray Telescope, LEO: Scanning sky for high-energy gamma-ray light, recent data shows excess of photons (10,000 more than expected) spread evenly in a sphere extending ~5,000 LY from center of Milky Way Galaxy.

 Apr 14 — Lunar Reconnaissance Orbiter, Moon Orbit: Non-essential instruments of solar-powered spacecraft will be powered down during lunar eclipse; will pass through complete shadow twice before eclipse end.

Apr 14 — Mars Orbiter Mission (Mangalyaan) TCM-2, Mars Trajectory: Spacecraft to perform Trajectory Correction Maneuver #2 today; is now more than half the distance to Mars.

Apr 14 — Bigelow Aerospace LLC, Las Vegas NV: NewSpace company developing Bigelow Expandable Activity Module to launch to ISS on SpaceX CRS 8 in 2015; claims technologies could be adapted for lunar missions in a relatively short timeframe.


Apr 14 — XCOR Aerospace Inc., Mojave CA: With delivery of XCOR Lynx Mark I cockpit, assembly of the Lynx suborbital spaceplane can begin; company expecting to run ground & flight tests this year.


Apr 14 — Liftport Group, Seattle WA: Continuing R&D of space elevator concepts; completed proposal to NASA for space elevator program designed for GLXP teams.


Apr 14 — SpaceX, Launch Falcon 9 / CRS 3, Cape Canaveral AFS FL: SpaceX Falcon 9 rocket to launch 5th Dragon spacecraft on 3rd operational cargo delivery mission to ISS, 16:58 EDT; live coverage available; next launch opportunity Apr 18 at 15:25.

Apr 14-15 — NASA Advisory Council, Washington DC: NASA Advisory Council Human Exploration and Operations Committee meeting.

Apr 14-16 — University of Cambridge – Cavendish Laboratory, Institute of Astronomy, Cambridge, United Kingdom: 1st Exoplanet UK Community Meeting.

Apr 14-16 — Astronomical Institute of Czech Academy of Sciences, Ondřejov Observatory, Masaryk University, Charles University, Prague, Czech Republic: Workshop: Seven Years in Chile – The Accomplishments and Goals of Czech Astronomers at ESO.

Apr 14-18 — Kavli Institute for Theoretical Physics, Santa Barbara CA: Fire Down Below: The Impact of Feedback on Star and Galaxy Formation.

Apr 14 — Total Lunar Eclipse: First of two lunar eclipses in 2014, completely visible over Pacific Ocean region, Australia, New Zealand, N & S America; begins 18:52 Apr 14, ends 00:39 Apr 15.

Apr 14 — Moon: 3.4° S of Mars, 08:00; 1.9° NNW of Spica, 17:00; full (Pink Moon), 21:44.

Apr 14 — Asteroid 2011 GW9: Near-Earth flyby (0.084 AU).
---
Continued from…

Mar 28 – Jul 28 — NASA, University of Hawaii, Mauna Loa HI: Hawai'i Space Exploration Analog and Simulation (HI-SEAS) Mission 2; six-member crew live in habitat on slopes of Mauna Loa at 2,500-meter elevation to simulate long-duration Mars mission.

Apr 13-17 — ESA, Noordwijkerhout, The Netherlands: 10th European Space Power Conference (ESPC 2014); at NH Conference Centre Leeuwenhorst hotel.
---
TUESDAY

 NET Apr 15 — Sea Launch, Launch Sea Launch AG / Eutelsat 3B, Odyssey Platform, Equator at 154° W: Sea Launch AG rocket to deliver Eutelsat 3B telecommunications satellite into orbit; will be 36th launch; Postponed.

Apr 15 — NASA Advisory Council, Washington DC: NASA Advisory Council Technology and Innovation Committee meeting; 08:30 – 17:15 EDT.

Apr 15-16 — NASA, AIAA, American Society for Gravitational and Space Research, Arlington VA: NASA materialsLAB Workshop; at Hilton Crystal City hotel.

Apr 15-17 — ESA, Fugro N.V., Rotterdam, The Netherlands: European Navigation Conference 2014 (ENC-GNSS).
WEDNESDAY

 Apr 16 — ISS, Dragon Rendezvous, Grapple & Berthing, LEO: SpaceX Dragon spacecraft on 3rd operational cargo delivery mission rendezvous activities start ~11:00 UT, live coverage available.

Apr 16 — RSA, Launch Soyuz / EgyptSat 2, Baikonur Cosmodrome, Kazakhstan: Soyuz rocket to launch EgyptSat 2 Earth observation satellite for Egypt National Authority for Remote Sensing and Space Sciences; 21:25:07 local time.

Apr 16 — American Foreign Policy Council, George C. Marshall Institute, Washington DC: Lecture: Space Security and Defense; presented by Eric Sterner, 12:00 EDT.


Apr 16-18 — Korea Astronomy and Space Science Institute Cosmology Group, Daejeon, South Korea: Conference: Cosmological Quests for the Next Decade.

Apr 16 — Moon: 1.2° W of Saturn, 21:00.
THURSDAY

Apr 17 — George C. Marshall Institute, Washington DC: Lecture: Human Settlement in Space: Bases in Near Space; presented by Rosanna Sattler, Cheryl Reed, Martin Elvis; 13:00 – 14:00 EDT.

Apr 17-18 — The National Academies, Irvine CA: Space-Based Additive Manufacturing of Space Hardware; at Arnold and Mabel Beckman Center.

Apr 17-18 — University of Colorado – Boulder, Boulder CO: AeroSpace Ventures Day 2014; Colorado Space Business Roundtable Aerospace Exchange; Aerospace Engineering Sciences Student Project Symposium.

Apr 17 — Asteroid 2014 GJ45: Near-Earth flyby (0.068 AU).
FRIDAY

Apr 18 — The Space Show, Online / Tiburon CA: Host Dr. David Livingston talks with David Meerman Scott & Richard Jurek about their book Marketing The Moon.

Apr 18 — Space Center Houston, Houston TX: Lunch with an Astronaut, David Hilmers; US$49.95 adult.

Apr 18-19 — Hacker Dojo, Mountain View CA: Space Systems Hackathon; featuring Bob Twiggs, inventor of CubeSat and former director of Space Systems Development Laboratory at Stanford University.

Apr 18-21 — Stanford Student Space Initiative, MIT, University of Michigan, Worldwide: Global Space Balloon Challenge; teams from around the World build / launch high altitude balloons and share data.

Apr 18 — Moon: 8.1° N of Antares, 04:00.

Apr 18 — Asteroid 2007 TV18: Near-Earth flyby (0.019 AU).

Apr 18 — Asteroid 2014 CH13: Near-Earth flyby (0.069 AU).
SATURDAY

Apr 19 — Oregon L5 Society – NSS Chapter, Oregon City OR: Regular Meeting of the Oregon L5 Society.
SUNDAY

Apr 20-25 — School of Physics Houches, Les Houches, France: Advanced School: The Interaction of Stars with the Interstellar Medium of Galaxies.

Apr 20-26 — Rencontres du Vietnam, Quy Nhon, Vietnam: Exoplanetary Science Conference.

Apr 20 — Asteroid 2003 HM: Near-Earth flyby (0.043 AU).