OSC Antares / Cygnus Demo Launch Advances USA Space Sectors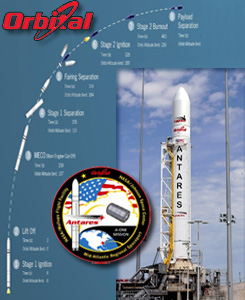 The first flight of Orbital Sciences Corporation's Antares rocket is scheduled for April 17 between 17:00 – 20:00 EDT from Wallops Flight Facility in Virginia, USA. This A-One Test Launch Mission with a Cygnus mass simulator aims to validate the medium-class launch system and gather flight data. After liftoff the first stage will fire for about 4 minutes carrying the craft to a 113-km altitude where the upper stack will separate and continue on its upward trajectory for 93 seconds. Then the 2nd stage will fire for over 2 minutes bringing the payload to a 256-km altitude. OSC is working toward 8 commercial ISS resupply flights under a US$1.9B NASA contract. Its COTS demonstration mission, tentatively scheduled for June, will have the spacecraft berth with the ISS and deliver about 731 kg of cargo. A Castor 30B upper stage will help deliver 2,000 kg of cargo for the first 2 Commercial Resupply Services (CRS) missions. OSC will upgrade to a Castor 30XL capable of delivering 2,700 kg for the final 6 flights. CRS contracts are successfully creating efficient and affordable means for America to resupply the ISS, boosting economic growth and allowing NASA funding to go toward projects beyond LEO. (Image Credit: OSC)
Meeting in Brazil Combines Astronomy and Astronautics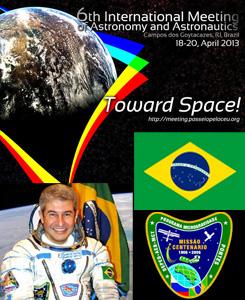 The 6th International Meeting of Astronomy and Astronautics takes place in Campos dos Goytacazes, Rio de Janeiro, Brazil on April 18-20. The meeting includes special presentations, workshops, exhibitions, Digital Mobile Planetarium Sessions, astronomy club exhibitions, an international competition, a star party and many other activities. It is being organized by the Louis Cruls Astronomy Club with support of United Nations Education, Scientific and Cultural Organization UNESCO, the Brazilian Space Agency (AEB), Program UNAWE, Astronomers Without Borders and Star Peace. Confirmed speakers include the Brazilian Astronaut Marcos Pontes, AEB representative Carlos Gurgel and Brazilian National Institute for Space Research (INPE) expert Carlos Alexandre Wuensche. There is also strong international participation with Gennady Saenko of ROSCOSMOS, James Thieman Manager of Radio Jove, Scott Roberts of Explorer Scientific, Laurent Laveder of Project TWAN, Sebastián Musso President of the Center for Astronomical Studies of Mar del Plata in Argentina and Nazar Sallam AWB National Coordinator for the United Arab Emirates. Brazil is set to become the only non-European member of the pioneering European Sothern Observatory and is also working to rekindle its space launch enterprise at Alcantara. In the coming years Brazil could emerge as a major contributor to space science and exploration. (Image Credit: Louis Cruls Astronomy Club, AEB, NASA)
---


= All times for terrestrial events in local time unless noted.

= All times for international terrestrial events in local time unless noted.

= All times for space events, and…

= All times for international space / astro events in Hawaii Standard Time unless noted. Add 10 hours to obtain UT ('Universal Time;' Greenwich, England).
---
Weekly Planet Watch – Evening Planets: Jupiter (W), Saturn (SE).
---
MONDAY

Apr 15 — ISS, LEO: Expedition 35 crew facilitating Progress 49 undocking at 12:01 UT Apr 15; Romanenko & Vinogradov preparing for 6-hour EVA scheduled 14:06 Apr 19 to install / retrieve experiment packages on Zvezda module, replace reflector device.

 Apr 15 — Integral Space Observatory, Elliptical Earth Orbit: Detecting X-ray flare 47M LY away; data suggests central black hole with mass of 300,000 Suns feeding on object with mass 14-30 times that of Jupiter.

Apr 15 — Herschel Space Observatory, Earth-Sun L2 Lagrange Point: Providing images of dust belt produced by colliding comets / asteroids orbiting subgiant star with planetary system about 100 LY away.


Apr 15 — Armadillo Aerospace LLC, Mesquite TX: NewSpace company developing suborbital commercial aircraft for space tourism; building 3 or more STIG VTVL rockets; ultimate goal is to provide orbital flights.

 Apr 15 — Spaceport Sweden, Kiruna, Sweden: Establishing space tourism in Sweden, developing spaceport; offering spaceflight preparation program, Northern Light Flights, parabolic flights – next is June 24 for US$8,280.

Apr 15 — Odyssey Moon Ltd., Isle of Man, United Kingdom: Developing commercial lunar robotic transportation service for low cost, frequent access to Moon; competing for GLXP US$30M prize.

Apr 15 — Kennedy Space Center, KSC FL: Media Invited to View Orion.

Apr 15 — NASA Goddard Space Flight Center, Greenbelt MD: Engineering Colloquium Series: Advanced Manufacturing; presented by LaNetra Tate of NASA, 15:30 EDT; free.

Apr 15 — NASA Lunar Science Institute, Moffett Field CA: NLSI HQ Seminar Series: Characterizing Luna Incognita; presented by Ben Bussey from JHU/APL, 09:00 – 10:00 PDT.

Apr 15 — AIAA – Sydney, Canberra, Australia: Yuri's Night Celebrations – Canberra Public Lecture: Deep Space Industries – Mining and Manufacturing in Space; with Daniel Faber of DSI; at University of New South Wales.

Apr 15-19 — International Academy of Astronautics, ESA, NASA, Flagstaff AZ: 3rd IAA Planetary Defense Conference: Gathering for Impact! at High County Conference Center.

Apr 15 — Moon: At apogee (distance 404,431 km), 12:00.
---
Continued from…

Mar 26 – May 29 — Space Frontier Foundation, Online: 2013 NewSpace Business Plan Competition; to help entrepreneurs focus on / plan commercial development of space, advance NewSpace movement.

Apr 1 – May 1 — NASA, Online: The eXploration Habitat (X-Hab) Academic Innovation Challenge 2014; for university-level students to plan / design deep-space habitat.

Apr 2 – May 6 — NASA, Online: 17th Screening of Space Program Artifacts; schools and museums may apply to receive Mercury, Gemini, Apollo, Space Shuttle, Hubble Space Telescope artifacts.

Apr 4 – Oct 25 — NASA, Online: 2014 Night Rover Challenge; for researchers to create energy storage system allowing simulated lunar rover to operate at average 85W throughout 14-day-long lunar night, exceed a minimum of 300 W-hrs/kg.

Apr 10 – Jul 16 — JAXA, Online: Send Names / Messages to Asteroid 1999 JU3 on Hayabusa2 Spacecraft; accepting public submissions of names / messages to ride aboard spacecraft launching to asteroid in 2014.

Apr 13-19 — King Abdulaziz City for Science and Technology, Riyadh, Saudi Arabia: Science and Technology Week 2013.

Apr 14-18 — Center for Space Plasma and Aeronomic Research, University of Alabama – Huntsville, NASA, Nashville TN: Huntsville in Nashville: The Seventh Huntsville Gamma-Ray Burst Symposium.
---
TUESDAY

Apr 16 — International Launch Services, Launch Proton / Anik G1, Baikonur Cosmodrome, Kazakhstan: Proton Rocket set to deliver Anik G1 satellite to provide broadcasting / communications services for Canada, N. America, S. America; 00:36 local time.

Apr 16 — Federal Aviation Administration, Online: COMSTAC Systems Working Group Public Teleconference; to assist FAA in developing guidelines for occupant safety in commercial suborbital and orbital spacecraft.

Apr 16 — Library of Congress – Science, Technology and Business Division, Washington DC: Lecture: Measuring Habitability on Mars with the Curiosity Rover; with speaker Pamela Conrad of NASA.

Apr 16 — University Honors College – Alaska, NASA, Anchorage AK: Free Lecture: Why Curiosity? What Are We Discovering? presented by NASA scientist John Grotzinger.

Apr 16 — Space Transportation Association, Washington DC: STA Lunch with Bill Gerstenmaier; NASA Associate Administrator for Human Exploration and Operations gives update on future HEO activities at State Visitor's Center, 11:00 – 03:30 EDT.

Apr 16-18 — AIAA, University of New Mexico, Institute for Space and Nuclear Power Studies, Albuquerque NM: The Space Technology and Applications International Forum (STAIF II).

Apr 16-19 — USA National Oceanic and Atmospheric Administration (NOAA), Boulder CO: Space Weather Workshop; to discuss space weather impacts on communication, navigation, spacecraft operation, aviation, electric power.

Apr 16 — Asteroid 2013 EO126: Near-Earth flyby (0.088 AU).
WEDNESDAY

Apr 17 — Orbital Sciences Corp., Launch Antares / Demo, Wallops Island VA: OSC Antares rocket to launch simulated Cygnus cargo freighter on demo flight; launch window 17:00 – 20:00 EDT; live coverage available; alternate launch dates Apr 18-21.

Apr 17 — NASA, Washington DC: NASA Advisory Council Human Exploration and Operations Committee Research Subcommittee Meeting.

Apr 17 — Exploratorium Museum, San Francisco CA: Museum reopening at new location, Embarcadero Pier 15/17.

Apr 17-19 — International Academy of Astronautics, National Space Agency of Ukraine, Dnepropetrovsk, Ukraine: 4th IAA International Conference on Space Technologies: The Present and Future.

Apr 17 — Moon: 11.5° SSW of Pollux, 15:00.
THURSDAY

Apr 18 — NASA, Washington DC: Advisory Council Human Exploration and Operations Committee Meeting; Advisory Council Technology and Innovation Committee Meeting; 2-Day Advisory Council Science Committee Meeting.

Apr 18 — University of Houston – Clear Lake, Houston TX: 2013 Physics and Space Science Spring Seminar Series: Characteristics and Physics of Plasma Detachment in the VASIMR Engine; presented by Chris Olsen from Rice University; free; in UH-Clear Bayou Building room 1218, 19:00 CDT.

Apr 18-19 — Johnson Space Center, Houston TX & Online: WebEx Meeting: One-on-One Communications with Industry Guidance for Software, Robotics, and Space Systems Services (SRS3) Procurement.

Apr 18-20 — Louis Cruls Astronomy Club, Brazilian Space Agency, Astronomers Without Borders, Star Peace, Campos dos Goytacazes, Rio de Janeiro, Brazil: 6th International Meeting of Astronomy and Astronautics: Toward Space.

Apr 18 — Moon: At first quarter, 02:31; 6.5° SSW of Beehive Cluster, 19:00.

Apr 18 — Asteroid 2013 EV108: Near-Earth flyby (0.044 AU).
FRIDAY

Apr 19 — ISS, LEO: RSA EVA by Roman Romanenko and Pavel Vinogradov; live coverage available starting 13:30 UT.

Apr 19 — RSA, Launch Soyuz / Bion-M1, Baikonur Cosmodrome, Kazakhstan: Bion-M1 medical research project with 79 biological experiments and test subjects of mice, geckos, fish, fruit, seeds and Mongolian gerbils to launch to LEO for 1 month and safely return to Earth for analysis; 16:00 local time.

Apr 19 — `Imiloa Astronomy Center, University of Hawai`i – Hilo, Hilo HI: Mauna Kea Skies Talk; Dr. Pierre Martin from UHH Hoku Kea Telescope will speak about recent discoveries; 19:00 HST, US$8-10.

Apr 19 — The Space Show, Online: Dr. John Brandenburg senior propulsion scientist at Orbital Technologies Corp. talks with host Dr. David Livingston.

Apr 19 — Space Center Houston, Houston TX: Lunch with an Astronaut, Leroy Chiao; US$49.95 adult.

Apr 19 — Asteroid 2013 GH23: Near-Earth flyby (0.014 AU).
SATURDAY

Apr 20 — The Astronomical League, Global: International Astronomy Day 2013; local astronomical societies, planetariums, museums and observatories host public activities to increase awareness about astronomy and our universe.

Apr 20 — Virgin Galactic, The Spaceship Company, Mojave CA: Plane Crazy Saturday; VG & TSC accepting resumes; free open house 10:00 – 14:00 PDT.

Apr 20 — Sally Ride Science Foundation, Las Vegas NV: MoonKAM: The Next Phase; for educators to learn about MoonKAM (Moon Knowledge Acquired by Middle school students), part of GRAIL education outreach program.

Apr 20 — Kennedy Space Center, Titusville FL: 2013 U.S. Astronaut Hall of Fame Induction; welcoming Curt Brown, Eileen Collins, Bonnie Dunbar as the 12th group of space shuttle astronauts honored in U.S. Astronaut Hall of Fame.

Apr 20-21 — NASA, Global: 2nd International Space Apps Challenge; events across all 7 continents and in space; participants develop mobile applications, software, hardware that could contribute to space exploration missions, help improve life on Earth.

Apr 20 — Moon: 5.6° SSW of Regulus, 15:00.
SUNDAY

Apr 21— NASA Goddard Space Flight Center, Greenbelt MD: Sunday Experiment: Mars Science Laboratory; for families to learn about current / future science missions managed by NASA Goddard; in Auditorium and Science Center/Sphere, 13:00 – 15:00 EDT.

Apr 21— Mojave Marathon, Mojave CA: 2013 Mojave Marathon; begins 08:00 PDT at Mojave baseball park.