IAA 3rd Advanced Space Technologies for Humankind Prosperity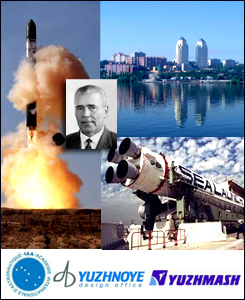 On April 20-22, over 300 space experts from 15 countries will participate in the '3rd International Conference on Advanced Space Technologies for Humankind Prosperity' in Dnepropetrovsk, Ukraine. Sponsored by the International Astronautical Association, Yuzhnoye State Design Office and Yuzhmash, this year's theme, 'Space Technologies: Present and Future' will focus on the economical, technical and social changes within the past decade brought on by new commercial space ventures.  Topics will cover current and future space launch systems, satellite systems, future rocket engines and power plants as well as materials and technologies. The conference will be dedicated to the 100th commemoration of Mikhail Yangel, one of Europe's most influential designers of space and rocket technology. Yangel established the Experimental Design Bureau OKB-586 that later became the Yuzhnoye Design Bureau (YDB). YDB went on to develop the Dnepr orbital carrier rockets as well as the Zenit rockets used by Sea Launch. Dnepropetrovsk has become the center of space launch systems production in Europe having developed 4 generations of intercontinental missiles, 7 types of space launch systems and more than 70 types of spacecrafts. Russia Prime Minister Vladimir Putin is looking to advance Russia – Ukraine space relations with a joint construction venture of the US$800m Vostochny Space Center scheduled for operation in 2015 in Far Eastern Russia. (Credit: IAA, Yuzhnoye Design Office, Yuzhmash)
Emerging NewSpace Industry to be Featured at Southwest Regional Technology Symposium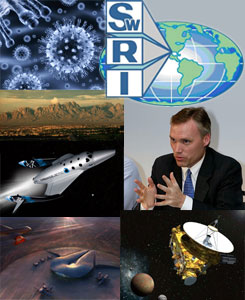 With the imminent opening of Spaceport America, the southern part of New Mexico promises to be a big player in both the space industry and in high tech research and development. Much of the most cutting edge high tech research will be on display at the Southwest Regional Technology Symposium in Las Cruces, NM on Thursday, April 21. Topics from previous symposiums include UAV systems, silver nanoparticles (TL) and hydrogen combustion engines. James Walker (CR) of the Southwest Research Institute will give a feature presentation on 'Impact Threats in the Space Program,' focusing primarily on the Space Shuttle, New Horizons Spacecraft and the Altair Lunar Lander. Southwest Research Institute is one of many facilities in the area that will benefit from the emerging suborbital industry. The institute has recently signed a contract to launch 3 scientists as payload specialists aboard 8 suborbital flights to altitudes of over 105,000m. All of the flights will launch aboard Virgin Galactic's SpaceShipTwo from Spaceport America, which lies just 75km north of Las Cruces. (Credit: SWRI, Virgin Galactic, NASA)
---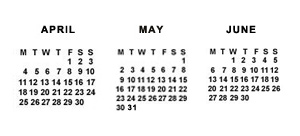 = All times for terrestrial events in local time unless noted.

= All times for international terrestrial events in local time unless noted.

= All times for space events, and…

= All times for international space / astro events in Hawaii Standard Time unless noted. Add 10 hours to obtain UT ('Universal Time;' Greenwich, England).
---
Weekly Planet Watch – Morning Planets: Venus (E) / Evening Planets: Saturn (ESE).
---
MONDAY

Apr 18 — International Space Station, LEO: E-27 crew members continue science experiments and maintenance as well as collect trash and unneeded items to load into the ISS Progress 41 cargo craft  scheduled to undock from the Pirs docking compartment Apr 22.

Apr 18 — NASA Lunar Reconnaissance Orbiter (LRO), Lunar Orbit: All systems nominal in scientific phase of mission as LRO continues to make digital elevation and terrain maps which will be a fundamental reference for future human exploration.

Apr 18 — Mars Rovers Spirit & Opportunity, Red Planet: NASA rover Spirit remains silent at Troy while Opportunity continues trek to Endeavour Crater recently passing 27km.

Apr 18-20 — Jet Propulsion Laboratory, Pasadena CA: '3rd NASA Formal Methods Symposium.'

Apr 18-21 — Society of Photo-optical Instrumentation Engineers, Prague, Czech Republic: 'SPIE Optics + Optoelectronics 2011 Conference.'

Apr 18 — Asteroid (Near-Earth Flyby): 2011 GD2 (0.053 AU); 2011 GF (0.083 AU).
---
Continued from . . .

Apr 1 — Space Tourism Month, Global: Space Tourism Society and other space groups designate April to be 'Space Tourism Month,' celebrating the 10th commemoration of Tito's liftoff, 15th year of the founding of STS, 30th commemoration of 1st US Space Shuttle flight and Apr 12 50th commemoration of the 1st human to orbit Earth in 1961; through Apr 30.

Apr 15 — Austrian Space Forum, Rio Tinto, Spain: 'Mars-Analog Field Test to Rio Tinto, Spain,' ASF and partnering institutions to conduct field tests on the AoudaX spacesuit simulator, the Phileas rover prototype and astrobiology experiments; through Apr 25.

Apr 17 — Royal Astronomical Society, Llandudno, United Kingdom: '2011 RAS National Astronomy Meeting (NAM 2011);' through Apr 21.

Apr 17 — International Astronomical Union, Cape Town, South Africa: '2nd Middle East-Africa IAU Regional Meeting;' through Apr 21.

Apr 17 — University of Franche-Comte, National Institute of Sciences of the Universe, et al, Le Grand-Bornand, France: 'Assembling the Puzzle of the Milky Way;' through Apr 22.
---
TUESDAY

Apr 19 — Kennedy Space Center, Cape Canaveral FL: News conference to discuss the status of the next space shuttle launch of Endeavour STS-134 to the International Space Station.

Apr 19 — Asteroid 2006 HF6: Near-Earth Flyby (0.013 AU).
---
WEDNESDAY

NET Apr 20 — ISRO, Launch PSLV / Resourcesat 2, Sriharikota, India: India's Polar Satellite Launch Vehicle will launch the Resourcesat 2 Earth observation satellite, the XSAT demonstration satellite for Singapore and the Youthsat payload for India and Russia.

Apr 20 — The SETI Institute, Mountain View CA: Colloquium Series Lecture: 'Origins of the Giant Planets, Their Regular Satellites and Rings: Latest Findings and the Way Forward,' Ignacio Mosqueira.

Apr 20 — Smithsonian National Air and Space Museum, Washington DC: 'From Disposable to Reusable Rocketry: The Space Transportation System,' Tom Lassman.

Apr 20 — Astrotech, Austin TX: 'Annual Meeting of Shareholders.'

Apr 20-22 — The National Academies, Edwards AFB CA: 'An Assessment of NASA's Aeronautics Flight Research Activities.'

Apr 20-22 — International Academy of Astronautics, National Space Agency of Ukraine Yuzhnoye State Design Office, et al, Dnepropetrovsk, Ukraine: '3rd Advanced Space Technologies for Humankind Prosperity.'

Apr 20 — Moon: 3.3° N of Antares; 14:00.
---
THURSDAY

Apr 21 — Southwest Science & Technology Community, Las Cruces NM: 'Southwest Regional Technology 2011 Symposium.'

Apr 21 — NASA Science Mission Directorate / Science Office for Mission Assessments, Greenbelt MD: 'EV-I Common Instrument Interface (CII) Project Workshop 1.'

Apr 21 — American Association for the Advancement of Science, Washington DC: 'John F. Kennedy and the Race to the Moon: Looking Back 50 Years,' featuring speakers John Logsdon, Roger Launius and Paul Spudis.

Apr 21 — American Public University, Charles Town WV: 'Apollo of Aeronautics: Live Webcast – How NASA Changed the Future of Aircraft Energy Efficiency,' Mark Bowles.

Apr 21 — Kansas Cosmosphere and Space Center, Hutchinson KS: '1st in Space: Yuri Gagarin and 50 Years of Human Spaceflight.'

Apr 21 — Asteroid 2011 GV9: Near-Earth Flyby (0.061 AU).
---
FRIDAY

NET Apr 22 — Arianespace, Launch Ariane 5 / Yahsat 1A & Intelsat New Dawn, Kourou, French Guiana: Arianespace flight 201 set to use an Ariane 5 ECA rocket to launch the Yahsat 1A and Intelsat New Dawn communications satellites for the Middle East, Africa, Europe and Southwest Asia.

Apr 22 — Cassini OTM-281, Saturn Orbit: Spacecraft conducts Orbital Trim Maneuver #281 today.

Apr 22 — Lyrid Meteor Show Peak: Radiating from Constellation Lyra, this shower tends to produce approximately 10-20 bright 'shooting stars' per hour. Due to obstruction by the waning gibbous Moon, visibility this year will be poor.

Apr 22 — Asteroid (Near-Earth Flyby): 2011 FS29 (0.033 AU); 2007 WC5 (0.089 AU).
---
SATURDAY

Apr 23 — Washington Science Teachers Association, Auburn WA: 'Addressing Student Misconceptions of the Earth-Sun-Moon System,' a free workshop for teachers to deepen content knowledge and provide constructivist techniques to help students understand the Earth-Sun-Moon system.

Apr 23 — Asteroid (Near-Earth Flyby): 2011 EM51 (0.046 AU); 2010 HW20 (0.069AU).
---
SUNDAY

Apr 24 — Moon: At Last Quarter; 16:46.

Apr 24 — Asteroid 2003 FF5: Near-Earth Flyby (0.054 AU).