Orion Capsule Progressing Toward 2014 Test Flight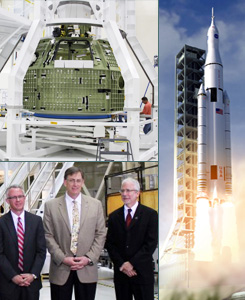 The Orion Crew Capsule, being built by Lockheed Martin Corporation, will begin 6-8 weeks of intensive load testing on April 22 at Kennedy Space Center, Florida, USA. Each series of tests will last 3-5 days and thousands of gauges on the capsule will measure stresses during lift-off, separation from the launch vehicle and 3 other events. The capsule will also undergo high-speed water tests to evaluate the splashdown recovery method. Soon Orion will receive a 5-m diameter Avcoat ablative heat-shield (the same material used for the Apollo capsule), avionics and other hardware and will be powered up for the first time this summer. Orion's first flight, Exploration Flight Test (EFT)-1, is scheduled for September 2014. It will be launched on a United Launch Alliance Delta IV Heavy Rocket into a 5,793-km altitude, highly-elliptical orbit and is estimated to reenter Earth's atmosphere at 84% of the speed of a return from the Moon. At a recent Orion briefing, Space Launch System Program Planning and Control Manager Keith Hefner (L), Deputy Associate Administrator for Exploration Systems Development Dan Dumbacher (C) and Orion Program Manager Mark Geyer (R) discussed the significant progress of the Space Launch System which is on track for its first test flight in 2017. Together Orion and SLS will take Humans farther into space than ever before. (Image Credit: NASA, K. Kremer, J. Rhian / AmericaSpace)
Europe Seeks to Clear Space for the Future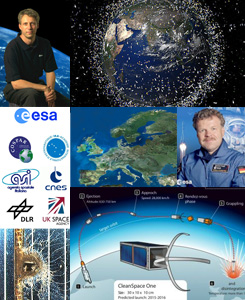 The 6th European Conference on Space Debris is being held at the European Space Operations Centre ESA/ESOC in Darmstadt, Germany on April 22-25. Today there are about 29,000 trackable objects with sizes larger than 10 cm and hundreds of millions of smaller pieces in orbit – accumulated during 4,900+ space launches since 1957. With 6,000 tons of debris and relative orbital velocities up to 56,000 km/h, these objects are a grave threat to human spaceflight, robotic space science, orbiting communications infrastructure and the viability of future launch operations. In two parallel sessions the conference provides a forum to discuss radar / optical / in-situ measurement techniques, environmental modeling theories, on-orbit / reentry risk analysis, hypervelocity impacts & shielding, mitigation & removal concepts and policy / legal issues. ESA Astronaut Reinhold Ewald (R) gives a keynote presentation on Monday, the rest of the program is available online. ESA Director of Human Spaceflight and Operations Thomas Reiter (L) says "this is a global task… [that] should be undertaken by joint efforts in cooperation with the world's space agencies and industry." As well as government programs by ESA, CNES / Astrium, Switzerland, JAXA, and NASA / DARPA, there are proposals for commercial mitigation services at an average cost of under US$400 per kilogram. (Image Credit: ESA, Clean Space)
---


= All times for terrestrial events in local time unless noted.

= All times for international terrestrial events in local time unless noted.

= All times for space events, and…

= All times for international space / astro events in Hawaii Standard Time unless noted. Add 10 hours to obtain UT ('Universal Time;' Greenwich, England).
---
Weekly Planet Watch – Evening Planets: Jupiter (W), Saturn (SE).
---
MONDAY

Apr 22 — ISS, LEO: Expedition 35 preparing for Progress 51P resupply vehicle scheduled to arrive Apr 26; Astronaut Cassidy working with Burning And Suppression of Solids (BASS) experiment to study how solids burn & extinguish in microgravity.

 Apr 22 — Juno, Jupiter Trajectory: Available power to solar arrays increasing as spacecraft gets closer to Sun; project team reduced power flow to Juno from 2,200 W to 500 W, at Jupiter will operate on about 450 W.

Apr 22 — Cassini, Saturn Orbit: Tracking supply of hydrocarbon methane and lakes on Titan; data suggests methane is being lost and not replaced, Titan could run out in tens of millions of years.

Apr 22 — SpaceX, Brownsville TX: NewSpace company proposed commercial launch site receives FAA draft Environmental Impact Statement claiming no significant impacts on health, safety, environment allowing project to continue.


Apr 22 — Virgin Galactic, Mojave CA: Analyzing data from recent glide cold-flow test of SpaceShip Two in preparation for powered test flights; more than 500 people have signed up for US$200K suborbital flights.

Apr 22 — Planetary Resources Inc., Bellevue WA: Partnering with Bechtel Corp. to develop effective, low-cost robotic exploration technologies to mine near-Earth asteroids for raw materials.

Apr 22 — Lockheed Martin Corp., Cape Canaveral FL: Orion to begin intensive load tests to measure capsule stresses during lift-off, separation from second stage, 3 other events in preparation for 2014 flight.

Apr 22 — Earth Day, Global: Earth Day 2013 conjunction with Moon Day (Monday).

Apr 22 — Silicon Valley Space Center, AIAA, Mountain View CA: Small Payload Seminar – Polar Sub-Orbital Science; at Hacker Dojo, 18:30 – 21:00 PDT.

Apr 22-24 — The National Academies, Washington DC: Human Spaceflight Meeting.

Apr 22-24 — JAXA, ESA, Chicago IL: MESSENGER-BepiColombo Workshop: The Evolution and Constitution of Mercury's Interior; at Congress Plaza Hotel.

Apr 22-24 — Chandra X-Ray Center, Smithsonian Astrophysical Observatory, NASA, Cambridge MA: 9th Chandra/CIAO Workshop; to help users of Chandra Interactive Analysis of Observations (CIAO) software; hosted at Chandra X-Ray Center.

Apr 22-25 — ESA, ASI, International Academy of Astronautics, UK Space Agency, Committee on Space Research, Darmstadt, Germany: 6th European Conference on Space Debris; at European Space Operations Centre.

Apr 22-26 — Max-Planck-Institute for Radio Astronomy, Square Kilometre Array Organisation, Bonn, Germany: The Modern Radio Universe 2013.

Apr 22-26 — International Space University, Strasbourg, France: Executive Space Course.

Apr 22 — Asteroid 2009 SQ104: Near-Earth flyby (0.071 AU).

Apr 22 — Asteroid 2010 CE55: Near-Earth flyby (0.081 AU).

Apr 22 — Asteroid 2012 XF55: Near-Earth flyby (0.084 AU).
---
Continued from…

Mar 26 – May 29 — Space Frontier Foundation, Online: 2013 NewSpace Business Plan Competition; to help entrepreneurs focus on / plan commercial development of space, advance NewSpace movement.

Apr 1 – May 1 — NASA, Online: The eXploration Habitat (X-Hab) Academic Innovation Challenge 2014; for university-level students to plan / design deep-space habitat.

Apr 1 – Aug 1 — Cornell University, University of Hawai`i – Manoa, Hawaii Island: Mars Analog Mission and Food Study; 6-member crew to live under "Mars exploration conditions" and evaluate preparation strategies / new forms of food for long-term space exploration missions.

Apr 2 – May 6 — NASA, Online: 17th Screening of Space Program Artifacts; schools and museums may apply to receive Mercury, Gemini, Apollo, Space Shuttle, Hubble Space Telescope artifacts.

Apr 2 – May 21 — NASA, Online: Early Stage Innovation NASA Research Announcement; requesting technology proposals for science instruments, cryogenic propellant storage, optical coatings, oxygen recovery, NEA protection / understanding.

Apr 4 – Oct 25 — NASA, Online: 2014 Night Rover Challenge; for researchers to create energy storage system allowing simulated lunar rover to operate at average 85 W throughout 14-day-long lunar night, exceed a minimum of 300 W-hrs/kg.

Apr 10 – Jul 16 — JAXA, Online: Send Names / Messages to Asteroid 1999 JU3 on Hayabusa2 Spacecraft; accepting public submissions of names / messages to ride aboard spacecraft launching to asteroid in 2014.
---
TUESDAY

Apr 23 — ISS, Undocking of Progress 50P Resupply Vehicle, LEO: Progress 50P, filled with ISS waste, set to burn up upon reentry to Earth atmosphere.

Apr 23-25 — NASA/JPL Navigation and Ancillary Information Facility, Monrovia CA: NASA SPICE Domestic Training Class; to provide spacecraft orbit information and other data used for analyzing space science observations, mission engineering functions and planning.

Apr 23-25 — AIAA, Herndon VA: Integrated Communications Navigation and Surveillance 2013 Conference.

Apr 23-25 — Applied Technologies Institute, Columbia MD: Solid Rocket Motor Design and Applications Course; conducted by Richard Lee; US$1,740.
WEDNESDAY

Apr 24 — RSA, Launch Soyuz / Progress 51P, Baikonur Cosmodrome, Kazakhstan: An RSA Soyuz rocket set to launch more than 3 tons of cargo to ISS aboard 51st Progress cargo delivery ship, 16:12 local time; scheduled to dock Apr 26 at 12:27 UT.

Apr 24 — Golden Spike Company, Online: Last Day of Indiegogo Campaign: Help Send Nations and People to the Moon.

Apr 24 — Planetary Resources Inc., Online: Google+ Hangout; to celebrate company's 1-year anniversary, give status update, look to the future; 18:00 UT.

Apr 24-25 — NASA, Washington DC: NASA Advisory Council Meeting.

Apr 24 — Moon: 0.19° WNW of Spica, 14:00.
THURSDAY

Apr 25 — CNSA, Launch Long March 2D / Gaofen 1, Jiuquan, China: Long March 2D to launch Gaofen 1 high-resolution remote sensing satellite for Earth imaging.

Apr 25 — The British Interplanetary Society, London, United Kingdom: Lecture: Project Orion Nuclear Propulsion; presented by Douglas Liddle.

Apr 25-27 — Boeing Co., Northrop Grumman Corp., Jacobs ESTS Group, Lockheed Martin, NASA, Huntsville AL: 20th Annual NASA Great Moonbuggy Race; competitive racing of student built "Moonbuggies" at U.S. Space and Rocket Center.

Apr 25 — Lunar Eclipse: Highly visible over Europe, Africa, Asia, Australia; penumbral eclipse 08:03 – 12:11, partial eclipse 09:54 – 10:21.

Apr 25 — Moon: Full (Egg / Grass Moon), 09:59; 3.5° SSE of Saturn, 10:00.

Apr 25 — Asteroid 2013 GK69: Near-Earth flyby (0.035 AU).
FRIDAY

Apr 26 — RSA, Launch Soyuz / Glonass K, Plesetsk Cosmodrome, Russia: RSA Soyuz rocket to launch Glonass K navigation satellite.

Apr 26 — Rotary National Award for Space Achievement Foundation, Houston TX: Annual Gala; National Space Trophy presented to Kay Bailey Hutchison.

Apr 26 — Lunar and Planetary Institute, Houston TX: LPI Seminar Series: Icy Moon – The Great (and Perplexing) Equatorial Ridge on Saturn's Moon Iapetus; by Andrew Dombard from University of Illinois – Chicago; in Lecture Hall of USRA, 12:00 CDT.

Apr 26 — The Space Show, Online: Chuck Killian, Director of Mars Desert Research Station Mission Support, talks with host Dr. David Livingston.

Apr 26 — Space Center Houston, Houston TX: Lunch with an Astronaut, John-David Bartoe; US$49.95 adult.

Apr 26 — Asteroid 2013 GE55: Near-Earth flyby (0.070 AU).
SATURDAY

Apr 27 — Ad Astra Kansas Foundation, Topeka KS: Ad Astra Kansas Day – Space Celebration 2013; at Washburn University Stoffer Science Hall.

Apr 27 — Moon: At perigee (distance 361,872 km), 10:00; 6.6° N of Antares, 16:00.
SUNDAY

Apr 28-30 — Johns Hopkins University Applied Physics Laboratory, Annapolis MD: The End of the Ignorosphere: An Aeronomy Researchers Conference on Commercial Suborbital Access to Space.

Apr 28 – May 3 — Tel Aviv University, Tel Aviv, Israel: Workshop: Space Weather And Plasma in Space (IsraSWAPS-2013).