Endeavour Final Flight Set for NET Apr 29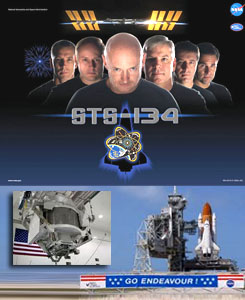 The 25th and final voyage of Space Shuttle Endeavour is set to launch from Cape Canaveral FL to the International Space Station NET April 29. STS-134 veteran crew members Cmdr. Mark Kelly, Pilot Gregory Johnson, and Mission Specialists Michael Fincke, Greg Chamitoff, Andrew Feustel and Roberto Vittori, will participate in a 14-day mission to transport the Alpha Magnetic Spectrometer (AMS-02) (BL), a state-of-the-art particle physics detector which will be tested and operated by an international team composed of 56 institutes from 16 countries. They will also deliver the  ExPRESS Logistics Carrier 3, spare parts which include 2 S-band communications antennas, a high-pressure gas tank and additional spare parts for the Dextre robot. The mission will also include 4 Spacewalks to be performed by Mission Specialists Chamitoff and Feustel which will likely be the final spacewalks conducted by a shuttle crew. President Barack Obama will be present at the launch, marking the 1st time since 1998 that a President has seen humans launch into space from Kennedy Space Center. Arizona Rep. Gabrielle Giffords, the wife of Cmdr. Mark Kelly will also be in attendance. The Space Shuttle Program will be retired after 30 years of service with the final flight of Space Shuttle Atlantis set for NET June 28. (Credit: NASA, ftnews.firetrench.com)
2 Evening Events Celebrate New Decade of Space Tourism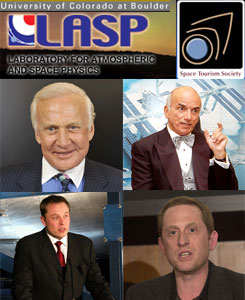 In decade 1 of space tourism, 7 private space travelers voyaged off world. Countless numbers will follow in future decades as commercial enterprises are now designing the space hotels, orbital super yachts and Lunar resorts of the future. The Space Tourism Society is hosting a reception, dinner and program on Thursday, April 28 in honor of the 10-year anniversary of the space tourism industry. Apollo 11 Moonwalker Buzz Aldrin (TL) and Dennis Tito (TR), the 1st private space traveler, will be the honored guests. About 200 people will attend the event at the Proud Bird Restaurant at LAX including Space Tourism Society Founder and President John Spencer. Representatives of SpaceX, Space Adventures, Ltd and other leading pioneers of space enterprise / tourism will be attending and making presentations. On Friday, April 29 the Colorado Center for Lunar Dust and Atmospheric Studies is presenting a public symposium on the future of commercial space flight at the University of Colorado Boulder. SpaceX founder Elon Musk (BL) and NASA New Horizons PI Alan Stern (BR) are the featured speakers at the sold out event. (Credit: University of Colorado – Boulder, Discovery, Harry Walker, treehugger.com)
---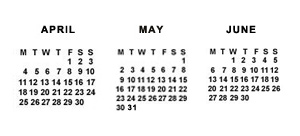 = All times for terrestrial events in local time unless noted.

= All times for international terrestrial events in local time unless noted.

= All times for space events, and…

= All times for international space / astro events in Hawaii Standard Time unless noted. Add 10 hours to obtain UT ('Universal Time;' Greenwich, England).
---
Weekly Planet Watch – Morning Planets: Mercury (E), Venus (E), Mars (E), Jupiter (E) / Evening Planets: Saturn (SE).
---
MONDAY

Apr 25 — International Space Station, LEO: E-27 crew members continue with station maintenance and experiments as they prepare for the arrival of the Progress 42 spacecraft as well as arrival of the Endeavour STS-134 crew.

Apr 25 — NASA Lunar Reconnaissance Orbiter (LRO), Lunar Orbit: All systems nominal in scientific phase of mission as LRO continues to make digital elevation and terrain maps which will be a fundamental reference for future human exploration.

Apr 25 — Mars Reconnaissance Orbiter, Red Planet: Scientists continue to investigate radar soundings from NASA MRO which recently identified 10,000 cubic km of huge dry ice deposits under the surface.

Apr 25 — The National Academies, Washington DC; Irvine CA: 'Workshop: The Effects of Solar Variability on Earth's Climate,' 'Assessment of NASA's Orbital Debris Programs.'

Apr 25 — Asteroid 2011 DV: Near-Earth Flyby (0.100 AU).
---
Continued from . . .

Apr 1 — Space Tourism Month, Global: Space Tourism Society and other space groups designate April to be 'Space Tourism Month,' celebrating the 10th commemoration of Tito's liftoff, 15th year of the founding of STS, 30th commemoration of 1st US Space Shuttle flight and Apr 12 50th commemoration of the 1st human to orbit Earth in 1961; through Apr 30.

Apr 15 — Austrian Space Forum, Rio Tinto, Spain: 'Mars-Analog Field Test to Rio Tinto, Spain,' ASF and partnering institutions to conduct field tests on the AoudaX spacesuit simulator, the Phileas rover prototype and astrobiology experiments; through Apr 25.
---
TUESDAY

Apr 26 — Challenger Center for Space Science Education, Alexandria VA: 'Live Comet Webcast,' featuring astronaut William Readdy.

Apr 26 — Jet Propulsion Laboratory, Baltimore MD: 'Joint ExoPAG and COPAG Meeting.'

Apr 26-27 — NASA History Division, National Air and Space Museum Division of Space History, Washington DC: '1961 / 1981: Key Moments in Human Spaceflight.'

Apr 26-27 — Massachusetts Institute of Technology, Cambridge MA: 'Earth, Air, Ocean and Space: The Future of Exploration,' event to discuss MIT's contributions & breakthrough technologies that have shaped the 20th century.

Apr 26-28 — The National Academies, Houston TX: 'NASA Technology Roadmap: Human Health and Surface Exploration Panel.'

Apr 26-28 — The Carnegie Observatories, San Marino CA: 'A Decade of Exploration with the Magellan Telescopes.'

Apr 26 — Asteroid 2011 GR59: Near-Earth Flyby (0.035 AU).
---
WEDNESDAY

NET Apr 27 — RSA, Launch Soyuz / Progress 42P, Baikonur Cosmodrome, Kazakhstan: RSA Soyuz rocket set to launch 42nd Progress cargo delivery ship to the ISS.

Apr 27 — The SETI Institute, Mountain View CA: Colloquium Series Lecture: 'How to Catch a Comet: Shoemaker – Levy 9 and the Rippled Rings of Jupiter,' Mark Showalter.

Apr 27-29 — Tartu University, Tartu Observatory, Tartu, Estonia: 'Conference: Expanding the Universe.'

Apr 27-30 — University of Wisconsin – Madison, US National Science Foundation, Madison WI: 'IceCube Detector Completion Events – Antarctic Science Symposium 2011 / IceCube Invites Particle Astrophysics.'

Apr 27 — Asteroid (Near-Earth Flyby): 2011 GJ3 (0.020 AU); 2008 UC202 (0.023 AU); 2010 TU5 (0.090 AU).
---
THURSDAY

Apr 28 — Jet Propulsion Laboratory, Pasadena CA: 'The von Karman Lecture Series: John F. Kennedy and Project Apollo,' event to mark 50th Commemoration of 1961 speech to a joint session of Congress in which President John F. Kennedy, just 4 months in office, proposed sending Americans to the Moon "before this decade is out."

Apr 28 — NASA Headquarters, Washington DC: Special science update to discuss unprecedented journey of NASA's twin Voyager spacecraft at 13:00 EDT.

Apr 28-29 — Kennedy Space Center, Cape Canaveral FL: 'NASA Tweet-up,' to discuss latest STS-134 mission to the International Space Station.

Apr 28-30 — Space Tourism Society, Los Angeles CA: 'Space Tourism Symposium 2011.'

Apr 28 – May 1 — Conrad Foundation, Moffett Field CA: '2011 Conrad Foundation Spirit of Innovation Awards: Education, Innovation and Entrepreneurship.'
---
FRIDAY

NET Apr 29 — NASA, Launch Endeavour / ULF 6, Cape Canaveral FL: US mission STS-134 to the International Space Station set to deliver the Express Logistics Carrier 3 and Alpha Magnetic Spectrometer at 15:47 EDT.

Apr 29 — University of Colorado Boulder – Center for Lunar Dust and Atmospheric Studies, Boulder CO: 'The Future of Commercial Spaceflight,' featuring SpaceX founder Elon Musk and New Horizons PI Alan Stern.

Apr 29 — Arizona State University, Tempe AZ: 'ASU Astronomy Open House,' a public outreach service by graduate students from the School of Earth and Space Exploration.

Apr 29 — Cassini OTM-2812, Saturn Orbit: Spacecraft conducts Orbital Trim Maneuver #282 today.

Apr 29 — Moon: At Apogee (Distance 63.66 Earth-Radii); 08:00.
---
SATURDAY

Apr 30 — Zero Gravity Corporation, Cape Canaveral FL: Commercial weightless flight on board G-Force One.

Apr 30 — International Space University – Space Studies Program, Graz, Austria; Online: Deadline to register for '24th Space Studies Program 2011,' held Jul 11-Sep 9.

Apr 30 — Mars: 0.36° NNW of Jupiter; 17:00.

Apr 30 — Moon: 6.6° NNW of Venus, 08:00; 7.3° NNW of Mercury; 14:00.

Apr 30 — Asteroid 38086 Beowolf: Closest Approach to Earth (0.720 AU).
---
SUNDAY

May 1 — Deep Space, LEO: Hubble Telescope continuing to inspire humankind 21 years later by capturing profound imagery of our Universe.

May 1-6 — NASA Exoplanet Science Institute, Exoplanet Exploration Program, Flagstaff AZ: 'Exploring Strange New Worlds: From Giant Planets to Super Earths.'

May 1 — Moon: 5.6° NNW of Jupiter, 06:00; 5.3° NNW of Mars, 07:00.

May 1 — Asteroid 2011 DS9: Near-Earth Flyby (0.086 AU).