Commercial Crew Program, Sierra Nevada Corporation Progress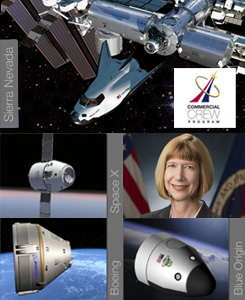 The Commercial Crew Program, with Kathy Lueders as newly appointed program manager, is aiming to transport humans to LEO in 2017. Four commercial partners (Blue Origin, Boeing Company, Sierra Nevada Corporation, SpaceX) continue to advance technologies and face challenging evaluations / tests in 2014 during the 3rd phase of the program named Commercial Crew integrated Capability (CCiCap). According to the current schedule, Sierra Nevada intends to soon meet a US$17M milestone to significantly mature all Dream Chaser systems to or beyond a Critical Design Review (CDR) level and an $8M milestone to mature the main propulsion system and reaction control system to or beyond a CDR level. Each CCiCap company is behind schedule however, so NASA has extended May-June deadlines until August when it hopes to award the next round of contracts. Sierra Nevada is planning to launch the first uncrewed Dream Chaser orbital test flight on an Atlas V rocket from Cape Canaveral AFS November 1, 2016. Sierra Nevada also has a 'cooperative understanding' with European Space Agency and German Aerospace Center (DLR) for potential application of European technologies to Dream Chaser and future versions of the vehicle. (Image Credit: NSC, NASA)
Habitable Worlds Explored by Space Telescopes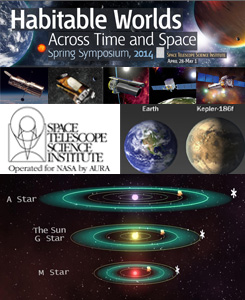 The Space Telescope Science Institute (STScI) hosts its Spring Symposium 2014 on April 28 – May 1 in Baltimore MD with the theme 'Habitable Worlds Across Time and Space.' The four-day symposium anticipates that within ~10 years humanity will have thoroughly verified the frequency of terrestrial-like planets in orbit around other stars and this will allow us to understand more deeply planet Earth's history and future. It will also be important in the process of predicting where and when different bodies throughout the Cosmos might be suitable for simple and complex life forms. Confirmed speakers include Natalie Batalha of NASA Ames on 'Progress Toward Reliable Planet Occurrence Rates with Kepler,' and B. Scott Gaudi from Ohio State University on 'Exoplanet Demographics with Microlensing Surveys.' A special Workshop for Science Writers will be held on May 1 and includes speakers Dr. Shawn Domagal-Goldman (NASA GSFC) 'Early Earth as an Alien World,' Dr. Massimo Marengo (Iowa State University) 'Forming Planets During Post-Main Sequence Evolution' and Dr. Alison Murray (Desert Research Institute) 'Lake Vida and Subsurface Life.' STScI enables excellence in astronomical research by optimizing the science from state-of-the-art observational instruments in space and includes a total staff of 500 scientists, post-docs, engineers, administrators. STScI was founded in 1981 and its software engineers now maintain about 7,900,000 source lines of code. (Image Credit: STScI, NASA)
---


= All times for terrestrial events in local time unless noted.

= All times for international terrestrial events in local time unless noted.

= All times for space events, and…

= All times for international space / astro events in Hawaii Standard Time unless noted. Add 10 hours to obtain UT ('Universal Time;' Greenwich, England).
---
Weekly Planet Watch – Evening Planets: Mars (SE), Jupiter (SW), Saturn (S); Morning Planets: Venus (ESE).

---
MONDAY

Apr 28 — ISS, LEO: Exp 39 will begin setting up new computers, wiring, mechanical assembly, leg interface for Robonaut 2; participating in public in-flight events Apr 29 & May 2, live coverage available.

Apr 28 — MESSENGER, Mercury Orbit: Working at 199-km altitude (closest any craft has ever orbited Mercury) to make high resolution optical, neutron, X-ray, gamma-ray observations.

 Apr 28 — Juno, Jupiter Trajectory: Spacecraft is in excellent health, operating nominally, now beyond Ceres orbital path having traveled more than 2B km; 798 days to Jupiter insertion.

Apr 28 — Moon Express Inc., Moffett Field CA: NewSpace company working on solar-powered & hydrogen-peroxide propelled MX-1 lunar lander planned to launch late 2015 with ILO-X Moon telescope & NASA Lunar Plant Growth Habitat.


 Apr 28 — Dunvegan Space Systems Inc., Atlanta GA: Partnering with Deep Space Industries to build 'BitSat' satellites as part of Bitcoin orbital system to provide transaction information / distribute block chain data.

 Apr 28 — Clyde Space Ltd., Glasgow, Scotland: Planning to launch Scotland's first satellite into space June 19, open office in USA; announced record annual orders of about £3M (~US$5M).

Apr 28 — Arianespace, Launch Vega / DZZ-HR, Kourou, French Guiana: Vega rocket, designated flight VV03, set to launch Astrium-built DZZ-HR Earth observation satellite for the Republic of Kazakhstan.

Apr 28-29 — California Institute of Technology, Pasadena CA: 2014 Interplanetary Small Satellite Conference: Beyond LEO.

Apr 28 – May 1 — Space Telescope Science Institute, Baltimore MD: Symposium: Habitable Worlds Across Time and Space Spring Symposium.

Apr 28 — Moon: New Moon, 20:17.

Apr 28 — Asteroid 2007 HB15: Near-Earth flyby (0.017 AU).

Apr 28 — Asteroid 2014 HL2: Near-Earth flyby (0.023 AU).
---
Continued from…

Mar 28 – Jul 28 — NASA, University of Hawaii, Mauna Loa HI: Hawai'i Space Exploration Analog and Simulation (HI-SEAS) Mission 2; six-member crew live in habitat on slopes of Mauna Loa at 2,500-meter elevation to simulate long-duration Mars mission.

Apr 25 – May 3 — Philadelphia Science Festival Steering Committee, Philadelphia PA: 2014 Philadelphia Science Festival; Astronaut Terry Hart to speak / participate in Astronomy Night.

Apr 27-30 — European Southern Observatory, RadioNet, Obergurgl, Austria: Conference: The Formation and Growth of Galaxies in the Young Universe.

Apr 27 – May 2 — European Geosciences Union, Vienna, Austria: European Geosciences Union General Assembly 2014: The Face of the Earth – Process and Form; to discuss Earth, planetary, space sciences.
---
TUESDAY

Apr 29 — NASA HQ, Washington DC: Exploration Forum; NASA Administrator Charles Bolden, other leadership to discuss Human exploration path to Mars.

Apr 29 — SETI Institute, Mountain View CA: SETI Talks: Dark Energy from the Largest Galaxy Maps; presented by David Schlegel of UC Berkeley, 12:00 PDT.

Apr 29 — The Space Show, Tiburon CA / Online: Host Dr. David Livingston talks with Dr. Ajay Kothari, President of Astrox Corp.

Apr 29 — Library of Congress Science, Technology and Business Division, Online / Washington DC: Webinar: Finding Our Place in the Cosmos: From Galileo to Sagan and Beyond; 11:00 – 12:00 EDT.

Apr 29 – May 2 — Applied Technology Institute, Littleton CO: Space Mission Structures course; with insturctors Tom Sarafin and Poti Doukas.

Apr 29 — Annular Solar Eclipse: Moon's apparent disk is just smaller than Sun's, making Sun appears as a brilliant ring; visible in parts of Antarctica & Australia; greatest eclipse to occur at 06:04:33 UT.

Apr 29 — Moon: 1.6° S of Mercury, 04:00.

Apr 29 — Asteroid 2014 HV2: Near-Earth flyby (0.003 AU).

Apr 29 — Asteroid 2013 JX28: Near-Earth flyby (0.084 AU).

Apr 29 — Asteroid 388945 (2008 TZ3): Near-Earth flyby (0.089 AU).
WEDNESDAY

Apr 30 — AIAA, Washington DC: 2014 Aerospace Spotlight Awards Gala; honoring influential, inspiring individuals in aerospace industry; in Ronald Reagan Building and International Trade Center.

Apr 30 — NASA HQ, Online / Washington DC: Proposals Due: Research Opportunities in Space and Earth Sciences (ROSES) 2013; submission date for those interested in advancing research concepts and technologies for Space and Earth sciences.

Apr 30 — Johnson Space Center, NASA, National Space Grant Foundation, Online / Houston TX: Proposals Due: 2015 eXploration Habitat (X-Hab); university-level students design, develop, manufacture functional subsystem prototypes for space habitats & deep space exploration missions.

Apr 30 — Moon: 6.8° S of Pleiades, 10:00.

Apr 30 — Asteroid 2014 FR52: Near-Earth flyby (0.043 AU).
THURSDAY

NET May — Gaia, Sun-Earth L2 Lagrange Point: Spacecraft instrument checks and calibration to be completed this month, will begin 5-year operational mission phase to map 1 billion stars.

NET May — Rosetta, Comet 67P / Churyumov-Gerasimenko Orbit: European Space Agency spacecraft arrives at Comet 67P / Churyumov-Gerasimenko after 10-year journey.

NET May — SpaceX, Launch Falcon 9 / Orbcomm OG2, Cape Canaveral AFS FL: SpaceX Falcon 9 v1.1 rocket to launch 8 second-generation Orbcomm communications satellites.

NET May — Sierra Nevada Corp., Louisville CO: Developing 7-person Dream Chaser spaceplane for NASA CCiCap, Risk Reduction, Technology Readiness Level Advancement Testing, Main Propulsion and Reaction Control System Risk Reduction Testing to occur this month.

May 1 — Deep Space, Ceres Trajectory: Dawn spacecraft cruising at about 69,000 kph, has traveled 4.5B km, expected to begin imaging dwarf planet and its potential water vapor plumes Feb 2015.

May 1 — American Astronautical Society, the National Academies, Washington DC: ISS Utilization Event; to discuss recent research on the ISS, as well as future plans and opportunities; at National Academy of Sciences building, free.

May 1 — British Interplanetary Society, London, United Kingdom: BIS Prestige Lecture: What Should be the Strategic Goal for Astronautics Over the Next 25 Years?; presented by Professor Ian Crawford, Jerry Stone, Stephen Ashworth.

May 1 — The Explorers Club, Commercial Spaceflight Federation, New York NY: Blast Off: The Future of Spaceflight.

May 1 — Cornell University – Astronomy Department, Ithaca NY: Lecture: Entanglement – The Hooks that Hold Space Together.

May 1 — Moon: 2.2° NNE of Aldebaran, 08:00.
FRIDAY

May 2 — Griffith Observatory, Los Angeles CA: All Space Considered; free public program featuring latest space and astronomy news.

May 2 — Space Center Houston, Houston TX: Lunch with an Astronaut, Jerry Ross; US$49.95 adult.

May 2-3 — Astronaut Scholarship Foundation, Kennedy Space Center Visitor Center, Titusville FL: 2014 U.S. Astronaut Hall of Fame Induction Weekend; honoring Astronauts Shannon Lucid and Jerry Ross.
SATURDAY

May 3 — Smithsonian National Air and Space Museum, Washington DC: Space Day: Space-Earth Connection.

May 3 — San Diego Air & Space Museum, San Diego CA: 2014 Space Day Celebration; featuring Astronaut Woody Spring.
SUNDAY

May 4 — Moon: 5.4° S of Jupiter, 03:00; 11.9° S of Pollux, 19:00.

May 4 — Asteroid 387746 (2003 MH4): Near-Earth flyby (0.066 AU).

May 4 — Asteroid 2008 JV2 : Near-Earth flyby (0.098 AU).