Second Vega Rocket Launch Marks Several Firsts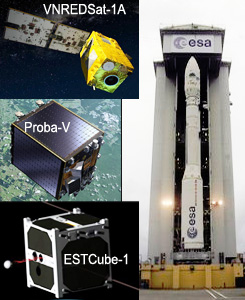 The second Vega Rocket, designated flight VV02, is scheduled to launch via Arianespace launch providers on May 3 at 23:06 from the Guiana Space Center in French Guiana. It will use the Vespa dual-payload adapter for the first time to hold ESA's 160-kg Proba-V Earth observation satellite and Vietnam's first Earth observation satellite VNREDSat-1A, a 120-kg spacecraft built by EADS Astrium for the Vietnamese Academy of Science and Technology. The 30-meter tall, single-body launcher with three solid rocket stages and a liquid rocket upper module will also carry Estonia's first CubeSat, ESTCube-1 built by University of Tartu students to test electric solar wind sail technology. This launch is the first of five €400M (US$520M) ESA-sponsored Vega Research and Technology Accompaniment (VERTA) program flights. VERTA are planned to launch at least twice per year and deploy 3 additional ESA missions: ADM-Aeolus, LISA Pathfinder and Intermediate Experimental Vehicle (IXV). These five flights also serve to test the launcher's capabilities and dependability before offering €320M (US$416M) commercial launches. Vega's first commercial contracts are for ESA's Global Monitoring for Environment and Security satellites Sentinel-2 and 3, scheduled for launches 2014–16. (Image Credit: ESA, EADS Astrium, University of Tartu)
Canada Events Advance Astronautics, Space Commerce, Mining Sciences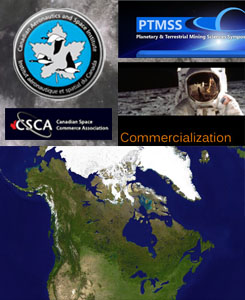 The Canadian Aeronautics & Space Institute holds the 60th Aeronautics Conference and Annual General Meeting, themed 'Aerospace Clusters: Where Are We Headed,' on April 30 – May 2 at the Fairmont Royal York Hotel in Toronto, Ontario, Canada. The technical program features six Symposia, including Aerospace Manufacturing Technologies, Aerospace Structures and Materials, Human Factors and Propulsion. There will also be a special Women in Aerospace Reception with guest speaker Karen Deme, Test Pilot at Bombardier Aerospace. The next Canadian Space Commerce Association bimonthly meeting in Toronto on Thursday May 2 features keynote speaker Dr. Yaroslav Pustovyi, a former Ukraine astronaut candidate, speaking about his experiences in astronaut training and perspectives on the changing role of research astronauts in the new commercial spaceflight era. The 4th annual joint Planetary and Terrestrial Mining Sciences Symposium / Space Resources Roundtable will be held in conjunction with the Canadian Institute of Mining 2013 Convention at the Metro Toronto Convention Centre on May 5-8. The purpose is to promote closer collaboration between space and mining sectors. Three major themes will drive the conference: Solid Planetology, Resource Extraction & Utilization, and Commercialization. (Image Credit: CASI, PTMSS, NASA)
---


= All times for terrestrial events in local time unless noted.

= All times for international terrestrial events in local time unless noted.

= All times for space events, and…

= All times for international space / astro events in Hawaii Standard Time unless noted. Add 10 hours to obtain UT ('Universal Time;' Greenwich, England).
---
Weekly Planet Watch – Evening Planets: Venus (WNW), Jupiter (W), Saturn (SE).
---
MONDAY

Apr 29 — ISS, LEO: Expedition 35 crew transferring 22 kg of oxygen, 26 kg of air, 420 kg of water, 800 kg of propellant, 1,580 kg of spare parts from Progress 51P resupply vehicle; continuing work with Robonaut 2.

Apr 29 — WISE, LEO: Viewing 6B-light-year distant Galaxy SDSSJ1506+54 rapidly converting fuel into stars with almost 100% efficiency, emitting infrared light equivalent to more than 100B times energy of Sun.


Apr 29 — Herschel, Earth-Sun L2 Lagrange Point: Spectral images providing evidence that Jupiter has 2-3 times more water in S. Hemisphere due to 1994 impact of comet Shoemaker-Levy 9.

Apr 29 — Garvey Spacecraft Corp., Long Beach CA: NewSpace company continuing to launch / test P-18D rocket; next goals include implementing thrust vector control and conducting flights above 100 km.


Apr 29 — LiftPort Group, Port Orchard WA: Working to develop Lunar Elevator, testing vectran string attached to atmospheric balloons and designing climbing robots.


Apr 29 — Kentucky Space LLC, Lexington KY: Assisting space entrepreneurs / innovations through newly-created Space Tango business accelerator; will begin by investing in up to 6 USA companies.


Apr 29 — Virgin Galactic, Mojave CA: SpaceShipTwo powered flight scheduled today, hoping to break sound barrier.

Apr 29 — The Space Show, Online: Ed Wright, Project Manager for Citizens in Space, talks with host Dr. David Livingston.

Apr 29-30 — NASA Goddard Space Flight Center, Washington DC: Advisory Council Science Committee, Planetary Protection Subcommittee Meeting.

Apr 29 — Asteroid 242643 (2005 NZ6): Near-Earth flyby (0.064 AU).
---
Continued from…

Apr 1 – May 1 — NASA, Online: The eXploration Habitat (X-Hab) Academic Innovation Challenge 2014; for university-level students to plan / design deep-space habitat.

Apr 2 – May 21 — NASA, Online: Early Stage Innovation NASA Research Announcement; requesting technology proposals for science instruments, cryogenic propellant storage, optical coatings, oxygen recovery, NEA protection / understanding.

Apr 2 – Jun 5 — NASA, Online: NASA Seeks Academic Partners for Smallsat Technology Collaboration; accepting proposals for small spacecraft (smallsat) projects.

Apr 10 – Jul 16 — JAXA, Online: Send Names / Messages to Asteroid 1999 JU3 on Hayabusa2 Spacecraft; accepting public submissions of names / messages to ride aboard spacecraft launching to asteroid in 2014.

Apr 22 – Aug 31 — Mars One, Online: Accepting applications from those interested in one-way ticket to Mars to set up permanent Human settlement; US$38 to apply.

Apr 24 – Aug 5 — AIAA, NASA, Online: Accepting abstracts for SpaceOps 2014: Exploring Innovation; 13th International Conference on Space Operations to occur May 5-9, 2014.
---
TUESDAY

Apr 30 — Cassini OTM-348, Saturn Orbit: Spacecraft conducts Orbital Trim Maneuver #348 today.

Apr 30 — The National Academies, Online: Human Spaceflight Meeting: Technical Panel Teleconference.

Apr 30 — NASA Ames Research Center, Moffett Field CA: Workshop: Heat Shield Capability Needs for Extreme Entry Environment Missions in Support of Woven Thermal Protection System Technologies.

Apr 30 – May 2 — Canadian Aeronautics and Space Institute, Toronto, Ontario, Canada: CASI 60th Aeronautics Conference & Annual General Meeting – Aerospace Clusters: Where Are We Headed?

Apr 30 – May 3 — Keck Institute for Space Studies, Jet Propulsion Laboratory, Pasadena CA: Workshop: Airships – A New Horizon for Science.
WEDNESDAY

NET May — Herschel, Earth-Sun L2 Lagrange Point: Space observatory, now without liquid Helium to cool instruments, scheduled to propel itself into long-term stable orbit around Sun this month.

NET May — Boeing Company, Chicago IL: Developing CST-100 7-person spacecraft for NASA CCiCAP, Dual Engine Centaur Liquid Oxygen Duct Development Test to occur this month.

NET May — SpaceX, Cape Canaveral AFS FL: Upgrading Dragon spacecraft to carry humans to space for NASA CCiCAP, Human Certification Test Review to occur this month.

May 1 — Deep Space, Comet 67P/Churyumov-Gerasimenko Trajectory: Rosetta spacecraft in deep-space hibernation is near Jupiter orbital path heading toward inner solar system; scheduled to wake up Jan 2014 and approach comet May 2014.

May 1 — Curiosity, Yellowknife Bay, Mars: Transmissions from Earth to rover resuming today, after being suspended due to solar conjunction.

May 1 — Stratolaunch Systems, Dulles VA: Booster Contract Awarded to Orbital Sciences Corp. to develop rocket for Stratolaunch's carrier aircraft.

May 1 — NASA, New Orleans LA: Program Integration Contract Modification for Support at Michoud Assembly Facility with potential of US$477M goes to Jacobs Technology Inc. to advance Human spaceflight endeavors including Orion spacecraft and core stage of Space Launch System rocket.

May 1 — NASA, Houston TX: Human Health and Performance Contract with potential of US$1.76B goes to Wyle Laboratories Inc. to provide biomedical, medical, health services in support of Human spaceflight programs at Johnson Space Center.

May 1 – Jul 1 — University of Colorado – Boulder, Online: Send Your Name & Message to Mars; contest to send name / message to Mars aboard MAVEN spacecraft launching between Nov 18 – Dec 7; winners announced Aug 8.

May 1 — Asteroid 2013 EU9: Near-Earth flyby (0.095 AU).
THURSDAY

May 2 — ISS, LEO: Expedition 35 In-Flight Education Event with Fredericksburg High School of Texas; 16:35 UT, live coverage available.

May 2 — Canadian Space Commerce Association, Toronto, Ontario, Canada: CSCA Meeting; at Blake's Law Firm, 19:30 local time.

May 2 — Space Transportation Association, Washington DC: STA Luncheon with NASA Administrator Charles Bolden; at 2325 Rayburn House Office Building, 11:30 EDT; free.

May 2 — NASA, Lawton OK: Great Plains Science Day; featuring NASA traveling exhibit Driven to Explore and 4B-year-old Moon rock.

May 2 — Moon: At last quarter, 01:16.
FRIDAY

May 3 — Arianespace, Launch Vega / Proba-V, VNREDSat-1A & ESTCube-1, Kourou, French Guiana: Designated flight VV02, European Vega rocket to launch Proba-V Earth observation satellite, VNREDSat-1A – Vietnam's 1st Earth observation satellite, ESTCube-1 – Estonia's 1st CubeSat.

May 3 — National Museum of the USAF, Wright-Patterson AFB OH: Space Day 2013; free STEM event for students in grades 5-8, teachers, parents.

May 3 — Lunar and Planetary Institute, Houston TX: LPI Seminar Series: CRISM Analysis of Crater Uplifts; presented by Veronica Bray from University of Arizona; in Lecture Hall of USRA, 15:30 CDT.

May 3 — NASA Goddard Space Flight Center, Greenbelt MD: Scientific Colloquium: Satisfying our Curiosity about the Habitability of Ancient Mars with 9 Months of Exploration of Gale Crater; by Paul Mahaffy.

May 3 — Space Center Houston, Houston TX: Lunch with an Astronaut, Leroy Chiao; US$49.95 adult.
SATURDAY

May 4 — NASA Glenn Research Center, Cleveland OH: Free 1-hour tour of Altitude Combustion Stand Facility; first tour starts 10:00 EDT.

May 4 — Pisgah Astronomical Research Institute, Rosman NC: Space Day; open house featuring Galaxy Walk, meteorites, Space Shuttle artifacts; 10:00 – 16:00 EDT, free.

May 4 — Mauna Kea Visitor Information Station, Hawai`i Island HI: The Universe Tonight: `Imiloa Astronomy Center of Hawaii; 18:00 HST.

May 4, 5 — Silicon Valley Space Center, Mountain View CA: SVSC Citizen Science Workshop – XCOR Cubelab Payloads; hosted by Sean Casey at Hacker Dojo; US$150.
SUNDAY

May 5 — NASA Goddard Space Flight Center, Greenbelt MD: Model Rocket Launches; up to 609-meter altitude; 13:00 – 14:00 EDT.

May 5-8 — The Planetary and Terrestrial Mining Sciences Symposium, Space Resources Roundtable, Canadian Institute of Mining, Toronto, Ontario, Canada: 4th Annual PTMSS/SRR Symposium; in conjunction with CIM 2013 Convention.

May 5-9 — American Astronomical Society Division on Dynamical Astronomy, Paraty, Brazil: 2013 Meeting of the American Astronomical Society Division on Dynamical Astronomy.

May 5 — Asteroid 2013 GR38: Near-Earth flyby (0.048 AU).

May 5 — Asteroid 2013 GQ38: Near-Earth flyby (0.053 AU).