USA Moon South Pole: Pioneering the Space Frontier
The most promising near-term 21st Century opportunity for Space robotic exploration and science, as well as for permanent Human habitation lies at the Moon South Pole. Mons Malapert offers a "peak of eternal light" for power generation and continuous line-of-sight communications with Earth; Aitken Basin, the largest known impact crater in the Solar System, offers extraordinary opportunities for planetary science, technology, resources; Shackleton, Cabeus, and other permanently shadowed craters, offer the possibility of in situ water extraction / utilization for life-support and propulsion.
With a US government commitment in 2012, NASA could have a robotic lander at the Moon South Pole in 1-2 years for $200-300 million dollars. Leadership in efforts to establish the 'cis-lunar super highway' will give rise to great benefits for American 21st Century science, education, commerce, and resource development. Neil deGrasse Tyson remarks, "The foundations of economies… issue forth from investments we make in science and technology." One small step on the Moon decades ago cannot quench the human thirst for exploration, or dull the exciting prospects offered by establishment of humanity as a multi-world species. In 1911 the Earth South Pole was first explored by Humans – now a 100 years later, after 44 years of continuous habitation, there are ~4000 people from ~30 countries doing innovative and critical scientific research in Antarctica. (Image Credit:NASA)
ISS Symposium 2012 To Be Held in Berlin, Germany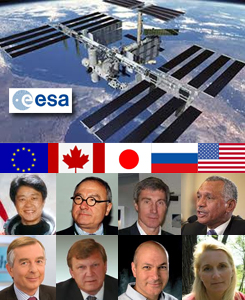 Future utilization of the International Space Station (ISS) that may enable humans to advance beyond Low Earth Orbit will be the focus of 'ISS Symposium 2012' on May 2-4 in Berlin, Germany. Sponsored by ESA, the 3-day event is expected to bring together over 100 representatives from the 5 ISS partnering agencies (USA, Russia, Europe, Japan, and Canada), other space-faring nations, the international science community, space experts, astronauts, engineers and representatives from industry, academia and media. ESA Director General Jean-Jacques Dordain (T2) and German Space Agency CEO Johann-Dietrich Woerner will open the event, followed by an 'Agency Leaders Roundtable' discussion on 'ISS as a Stepping Stone for Human Exploration,' with NASA ISS Director Mark Uhran, Roscosmos Human Spaceflight Director Alexei Krasnov (B2), JAXA VP Kiyosho Higuchi, and Canadian Space Agency Director General Gilles Leclerc (B1). Other featured Roundtable panelists in attendance are JAXA astronaut Chiaki Mukai (T1), Space Policy Institute Professor Pascale Ehrenfreund (B4), and NASA Chief Scientist Waleed Abdalati (B3). Additional topics covered include space medicine, Earth and atmosphere monitoring from the ISS, and a presentation by Gagarin Cosmonaut Training Center Chief Sergei Krikalev (T3) on living and working in Space. NASA Administrator Charles Bolden (T4) will discuss 'Use of ISS for Human Exploration in LEO and Beyond,' followed by a press conference with other agency leaders. (Image Credit: ESA, JAXA, Roscosmos, NASA, forumspb.com, mapsoftheworld.com, astrobio.net)
---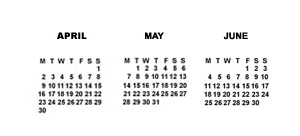 = All times for terrestrial events in local time unless noted.

= All times for international terrestrial events in local time unless noted.

= All times for space events, and…

= All times for international space / astro events in Hawaii Standard Time unless noted. Add 10 hours to obtain UT ('Universal Time;' Greenwich, England).
---
Weekly Planet Watch – Morning Planets: Mercury (E) / Evening Planets: Venus (W), Mars (S), Jupiter (SW), Saturn (ESE).
---
MONDAY

Apr 30 — International Space Station, LEO: E-30 Cmdr Dan Burbank and Flight Engineers Anton Shkaplerov and Anatoly Ivanishin recent departure last Friday marks beginning of E-31 under the command of Oleg Kononenko, who along with Flight Engineers Andre Kuipers and Don Pettit will remain aboard the station until July; 3 additional E-31 crew members – Flight Engineers Gennady Padalka, Sergei Revin and Joe Acaba to arrive May 17.

Apr 30 — Lunar Reconnaissance Orbiter (LRO), Lunar Orbit: NASA LRO functioning nominally in its 50±15 km near-circular orbit as it makes digital elevation and surface maps that will be a fundamental reference for future human exploration.

Apr 30 — Mars Reconnaissance Orbiter (MRO), Red Planet: Scientists continue to study images beamed back by NASA orbiter that show over 269 spirals of lava coils, ranging from 5-30 meters.


Apr 30 — Jupiter Juno Mission, In Transit to Jupiter: Juno approximately 378 million km from Earth, having now traveled over 592 million km since launch.

Apr 30 — US Geological Survey, Flagstaff AZ: Abstract submissions deadline for 'Planetary Data: A Workshop for Users and Software Developers,' on June 25-29.

Apr 30 — NASA Astrobiology Institute, Webinar: 'Kepler's Year-Three Transit Census,' Natalie Batalha.

Apr 30 – May 3 — American Geophysical Union, Washington DC: 'AGU Science Policy Conference 2012,' scientists, policymakers, and other stakeholders to discuss key Earth and space science topics that address challenges to our environment, economy, national security, and public safety.

Apr 30 – May 4 — National Solar Observatory, Sunspot NM: 'NSO Workshop #26: Solar Origins of Space Weather and Space Climate – Connecting the Interior to the Corona.'

Apr 30 – May 4 — Florida State University, Tallahassee FL: '9th International Conference on High Energy Density Laboratory Astrophysics.'

Apr 30 — Moon: 5.7° SSW of Regulus, 13:00; 7.3° SSW of Mars, 21:00.
---
Continued from…

Feb 2 — Eptek Art and Culture Center, Canadian Space Agency, Charlottetown, Prince Edward Island, Canada: 'Canada's Stellar Space Achievements & The Conquest of Space in Images,' traveling exhibitions; through May 2.

Apr 23 — Johnson Space Center, Houston TX: NASA TV to feature activities surrounding the upcoming Expedition 31 crew training activities with NASA Flight Engineer Joseph Acaba and Cosmonauts Cmdr Gennady Padalka and Flight Engineer Sergei Revin; May 17.

Apr 29 — Ben-Gurion University of the Negev, Jerusalem, Israel: '5th Isradynamics Conference: Dynamical Processes in Space and Astrophysical Plasmas;' May 7.
---
TUESDAY

May 1 — Cassini Spacecraft, Saturn Orbit: Data from NASA Cassini mission reveal Saturn moon Phoebe has more planet-like qualities than previously thought; More than 60 moons are known to orbit Saturn, however, Phoebe developed a density 40% higher than the average inner Saturnian moon.


May 1 — NASA Lunar Science Institute, Moffett Field CA: Abstract deadline for '5th Lunar Science Forum 2012,' July 17-19, 2012.

May 1-2 — The National Academies, Washington DC: 'Evaluating NASA's Strategic Direction.'
---
WEDNESDAY

May 2 — The SETI Institute, Mountain View CA: Colloquium Series Lecture: 'Companions to Solar-Type Stars: Analysis of a Wide Variety of Planets, Brown Dwarfs, and Small Stars,' Tristan Guillot.

May 2 — The University of Idaho, Glenn Research Center, Moscow ID: Panel discussion on alternative energy storage capability and how it can be used on Earth and in future space habitation.

May 2 — Challenger Learning Center of Maine, Bangor ME: 'Space Day 2012 Open House.'

May 2-3 — Goddard Space Flight Center, Greenbelt MD: 'Exploration Telerobotics Symposium.'

May 2-4 — ESA, Berlin, Germany: 'ISS Symposium 2012: Research in Space for the Benefit of Humankind,' participants to discuss the future path and priorities for research on the ISS.

May 2 — Asteroid 1992 JD: Near-Earth Flyby (0.024 AU).

May 2 — Asteroid 3200 Phaeton: Closest Approach to Earth (0.873 AU).
---
THURSDAY

May 3 — Museum of Science, Boston MA: 'Modern Space Exploration,' a presentation by Frank Centinello, a graduate student at the Earth, Atmospheric, and Planetary Science Department at MIT who supports research for NASA's Lunar Reconnaissance Orbiter and Dawn missions.

May 3 — Asteroid (Near-Earth Flyby): 2001 SZ269 (0.071 AU); 2012 FD1 (0.086 AU).

---
FRIDAY

May 4 — Dryden Flight Research Center, Edwards AFB CA: 'NASA Social,' invitation for 75 social media followers to go behind-the-scenes and learn more about NASA aeronautics projects at the agency's Dryden Flight Research Center.

May 4 — Pima Air and Space Museum, Tucson AZ: 'Space Day,' participants to celebrate national Space Day, which will include NASA giveaways, astronaut ice cream, and hands on activities.

May 4 — Astronaut Scholarship Foundation, Cape Canaveral FL: '2012 Astronaut Hall of Fame Induction Gala.'

May 4 — Moon: 1.8° SSE of Spica, 09:00; 6.2° S of Saturn, 10:00.

May 4 — Asteroid 2010 KX7: Near-Earth Flyby (0.039 AU).
---
SATURDAY

NET May 5 — ULA, Launch Atlas 5 / AEHF 2, Cape Canaveral FL: A ULA Atlas 5 rocket will launch the 2nd Advanced Extremely High Frequency satellite which will provide high-secure communications for the US Military.

May 5 — Lockheed Martin, Washington DC; Chantilly VA: 'Space Day Family Day: Welcome Discovery,' participants will enjoy exciting presentations and activities that focus on the history and achievements of the 30-year Space Shuttle program.

May 5 — Eta Aquarids Meteor Shower Peak: The 1st of 2 showers that occur each year as a result of Earth passing through dust released by Halley's Comet, the Eta Aquarid meteors appear to radiate from Constellation Aquarius and are likely to see about 10 meteors every hour, while Southern Hemisphere observers will see about 30 per hour.

May 5 — Moon: At Perigee (Distance: 356,953 km), 19:00; Full Moon, 17:35.
---
SUNDAY

May 6-10 — American Astronomical Society – Division of Dynamical Astronomy (AAS – DDA), Mt. Hood OR: '43rd Annual Meeting of the AAS – DDA.'

May 6 — Cassini OTM-320, Saturn Orbit: Spacecraft conducts Orbital Trim Maneuver #320 today.