Space Access for All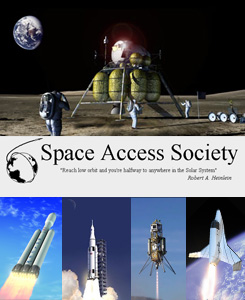 The annual conference of the Space Access Society (SAS) will be at the InnPlace Hotel (North) in Phoenix, Arizona, USA on April 11-13. The event is focused on the technology, business, politics and opportunities of Radically Cheaper Access to Space – whats going on now and what we should be doing next. The program features a Panel Discussion on 'Planetary Defense' with George Herbert, John Schilling, Henry Spencer and Henry Vanderbilt. Bruce Pittman of NASA Ames presents commercial space scenarios and their affects on the national economy through 2025, Doug Plata advocates for Lunar COTS, and Misuzu Onuki elaborates on NewSpace Dynamics in Japan. Prominent space reporters Clark Lindsey – NewSpace Watch, Jeff Foust – Space Today & The Space Review, and Doug Messier – Parabolic Arc will also be participating. In a new collaboration of long time colleagues the conference will host a special half-day Space Studies Institute Session called 'Rebooting Space Settlement in the 21st Century.' SSI Chairman Lee Valentine will make a presentation on 'Systems Considerations For A Robust Closed Environment Life Support System' and President Gary Hudson will update on the status of SSI programs. Over the last 20 years of Space Access conferences companies have been started, investments made, policies evolved, ideas spread and people hired. (Image Credit: SAS, SpaceX, NASA, Masten, XCOR)
Yuri's Night 2013: Celebrating the Past & Future of Human Spaceflight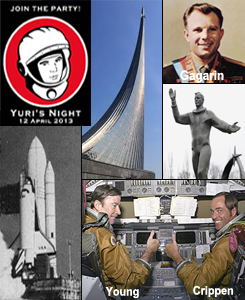 Yuri Gagarin, the First Human in Space (1961), and the first flight of STS-1 Columbia (1981) with Commander John Young and Pilot Robert Crippen will be honored on April 12 during Yuri's Night 2013 celebrations. This year over 340 space-themed parties / events are registered in 57 countries, 7 continents, aboard the ISS and online. Thousands will commemorate Yuri's revolution and USA's Space Shuttle Program while contemplating where human spaceflight will take us in the future. Created by Loretta Hidalgo, George Whitesides and Trish Garner, Yuri's Night is working with Science Cheerleader and SciStarter on Project MERCCURI beginning Apr 11. Students / citizens will collect microbes from public venues and communication devices to be analyzed at UC Davis and compared to samples from the ISS. Up to 40 samples will then be selected to fly to the ISS in September. Cosmonautics Day, celebrated in Russia since 1962, involves a 34-km procession which starts near Gagarin's statue and continues to his burial site and Cosmonauts Alley near the Monument to the Conquerors of Space. So far Yuri's Night has been limited to 1 world, but inspired generations advancing human space exploration on public and private ventures may soon honor Yuri and human spaceflight feats from other planetary bodies. (Image Credit: Yuri's Night, NASA, P. Prudence, N. Kolesnikova/AFP/Getty Images)
---


= All times for terrestrial events in local time unless noted.

= All times for international terrestrial events in local time unless noted.

= All times for space events, and…

= All times for international space / astro events in Hawaii Standard Time unless noted. Add 10 hours to obtain UT ('Universal Time;' Greenwich, England).
---
Weekly Planet Watch – Evening Planets: Jupiter (W); Morning Planets: Mercury (E), Saturn (SE).
---
MONDAY

Apr 8 — ISS, LEO: Expedition 35 crew Hadfield, Romanenko, Marshburn, Vinogradov, Misurkin, Cassidy performing body mass measurements; Marshburn setting up Seedling Growth Experiment containers for run #2 to begin Apr 19.

Apr 8 — Mars Odyssey, Mars Orbit: Relaying information about Curiosity's status while transmissions from Earth to Mars spacecraft are suspended Apr 4 – May 1 due to Solar conjunction.

 Apr 8 — Juno, Jupiter Trajectory: In Inner Cruise 2 Phase performing alignments to direct 2.5-m wide high-gain communications antenna toward Earth; current one-way radio signal is about 6 minutes.

Apr 8 — Cassini OTM-347, Saturn Orbit: Spacecraft conducts Orbital Trim Maneuver #347 today.

Apr 8 — Orbital Sciences Corp., Wallops VA: NewSpace company connecting electrical harnesses, performing final tests of Cygnus spacecraft; will be transported to fuel facility then launched to ISS between Apr 17-19.

 Apr 8 — Spaceport America, Las Cruces NM: With new legislation, expanded liability protection for spaceflight operators, manufacturers, suppliers ensures continued commercial spaceflight developments.

Apr 8 — Thin Red Line Aerospace, Chilliwack, British Columbia, Canada: Developing inflatable decelerator for planetary entry of payloads over 10,000 kg; may build inflatable Kevlar habitat for 2018 Inspiration Mars mission.

Apr 8 — NASA, Colorado Springs CO: Industry Touch Point: Commercial Crew Transportation System Certification PH 2; to provide details, further develop Phase 2 acquisition strategy for Commercial Crew Program Certification.

Apr 8 — Hosted Payload Alliance, Colorado Springs CO: Hosted Payload Key Issues Workshop.

Apr 8 — Space Foundation, Astronauts Memorial Foundation, NASA, Colorado Springs CO: 2013 Alan Shepard Technology in Education Award; presented at opening of 29th National Space Symposium.

Apr 8 — University of Colorado – Boulder, Online: Contest Due Date: Send Your Artwork to Mars; winner announced May 20 will have artwork sent to Mars aboard MAVEN spacecraft (launching between Nov 18 – Dec 7).

Apr 8-10 — ESA, Noordwijk, The Netherlands: 7th European Workshop on Thermal Protection Systems and Hot Structures; to exchange information on recent advances, future activities of space vehicles / technology.

Apr 8-11 — Space Foundation, Colorado Springs CO: 29th National Space Symposium; to include NASA Administrator Charles Bolden.

Apr 8-11 — AIAA, American Society of Mechanical Engineers, Boston MA: 54th AIAA/ASME/ASCE/AHS/ASC Structures, Structural Dynamics and Materials Conference; 21st AIAA/ASME/AHS Adaptive Structures Conference; 15th AIAA Non-Deterministic Approaches Conference; 14th AIAA Gossamer Systems Forum; 9th AIAA Multidisciplinary Design Optimization Specialist Conference.

Apr 8-12 — Australian National University, International Alliance of Research Universities, Canberra, Australia: Heavy Ion Accelerator Symposium on Fundamental and Applied Science.

Apr 8-12 — NRAO, NSF, Academia Sinica Institute of Astronomy and Astrophysics, Waikoloa HI: Transformational Science with ALMA: From Dust to Rocks to Planets – Formation and Evolution of Planetary Systems; workshop on Atacama Large Millimeter/submillimeter Array.

Apr 8 — Asteroid 2013 EJ89: Near-Earth flyby (0.071 AU).
---
Continued from…

 Mar 26 – May 29 — Space Frontier Foundation, Online: 2013 NewSpace Business Plan Competition; to help entrepreneurs focus on / plan commercial development of space, advance NewSpace movement.

Apr 1 – May 1 — NASA, Online: The eXploration Habitat (X-Hab) Academic Innovation Challenge 2014; for university-level students to plan / design deep-space habitat.

Apr 1 – Aug 1 — Cornell University, University of Hawai`i – Manoa, Hawaii Island: Mars Analog Mission and Food Study; 6-member crew to live under "Mars exploration conditions" and evaluate preparation strategies / new forms of food for long-term space exploration missions.

 Apr 2 – May 21 — NASA, Online: Early Stage Innovation NASA Research Announcement; requesting technology proposals for science instruments, cryogenic propellant storage, optical coatings, oxygen recovery, NEA protection / understanding.

Apr 4 – Oct 25 — NASA, Online: 2014 Night Rover Challenge; for researchers to create energy storage system allowing simulated lunar rover to operate at average 85W throughout 14-day-long lunar night, exceed a minimum of 300 W-hrs/kg.

Apr 7-8 — Space Foundation, Space Generation Advisory Council, Colorado Springs CO: Space Generation Fusion Forum 2013; for university students / young professionals to discuss their perspectives on the future of current space issues.

Apr 7-12 — European Geosciences Union, Vienna, Austria: EGU General Assembly 2013; to discuss space, planetary, Earth sciences.
---
TUESDAY

Apr 9 — ISS, LEO: Commander Chris Hadfield live video conference with 400 people at Telus World of Science in Edmonton, Alberta, Canada for CSA Tweetup.

Apr 9 — Royal Astronomical Society, London, United Kingdom: Public Lecture: Planetary Magnetic Fields; presented by Professor Richard Holme; to include discussion of MESSENGER, Cassini, JUICE missions; 13:00 UT.

Apr 9-11 — Flexure Engineering, Cocoa Beach FL: 3rd International Workshop: Lunar Superconductor Applications; to bring together researchers to unlock mysteries of lunar poles and deep space chemistry.

Apr 9 — Moon: New Moon, 23:38.
WEDNESDAY

Apr 10 — The British Interplanetary Society, London, United Kingdom: Lecture: Mars One; with co-founder Bas Lansdorp.

Apr 10 — NASA NSPIRES, Online: Proposals Due: Solar System Exploration Research Virtual Institute Cooperative Agreement Notice; for USA teams to become participating research members of SSERVI, enable human exploration of Moon, NEAs, Mars moons – Phobos and Deimos.

Apr 10-11 — French Aeronautics and Space Society, French Aerospace Lab, AIAA, Saint-Louis, France: 48th International Symposium of Applied Aerodynamics.

Apr 10-12 — AIAA, Delft, The Netherlands: EuroGNC 2013: 2nd Council of European Aerospace Societies (CEAS) Specialist Conference on Guidance, Navigation and Control.

Apr 10 – Jul 16 — JAXA, Online: Send Names / Messages to Asteroid 1999 JU3 on Hayabusa2 Spacecraft; accepting public submissions of names / messages to ride aboard spacecraft launching to asteroid in 2014.

Apr 10 — Moon: 2.7° N of Mars, 05:00; 3.2° N of Venus, 09:00.
THURSDAY

Apr 11 — Flexure Engineering, LunarCubes, Cocoa Beach FL: LunarCubes Briefing.

Apr 11 — AIAA – Sydney, Sydney, Australia: Yuri's Night Celebrations – Sydney Public Lecture: Deep Space Industries – Mining and Manufacturing in Space; with Daniel Faber of DSI; at University of New South Wales.

Apr 11 — University of Houston – Clear Lake, Houston TX: 2013 Physics and Space Science Spring Seminar Series: Numerical Cosmology; presented by David Garrison from UH-Clear; free; in UH-Clear Bayou Building room 1218, 19:00 CDT.

Apr 11, 12 — Jet Propulsion Laboratory, Pasadena CA: The von Kármán Lecture Series: Regenerative Fuel Cells, Energy Storage Systems for Space Applications; featuring Thomas Valdez of JPL.

Apr 11-12 — Aerospace States Association, Space Foundation, Colorado Springs CO: Aerospace States Association Annual Meeting; at Broadmoor Hotel.

Apr 11-12 — Rice Space Institute, Houston TX: Conference: Space Exploration and Human Imagination – Space Futures; at International Conference Center, Baker Institute of Public Policy, Rice University.

Apr 11-13 — Space Access Society, Phoenix AZ: 2013 Space Access Society Conference; at InnPlace Hotel Phoenix North; to include Yuri's Night Phoenix Apr 12, 19:00 MST.

Apr 11-14 — National Science Teachers Association, San Antonio TX: NSTA Annual Meeting: Next Generation Science – Learning, Literacy, and Living; to include Project MERCCURI kickoff.

Apr 11 — Asteroid 2013 FY13: Near-Earth flyby (0.092 AU).
FRIDAY

Apr 12 — Yuri's Night Celebrations, Global: Yuri's Night 2013; annual worldwide party to celebrate Yuri Gagarin's 1st flight into space and promote space exploration.

Apr 12 — Lunar and Planetary Institute, Houston TX: LPI Seminar Series: Lunar Crustal Magnetism – Origins and Influence on Space Weathering; presented by Doug Hemingway from UC Santa Cruz; in Lecture Hall of USRA, 15:30 CDT.

Apr 12 — The Space Show, Online: Marcia Smith founder / editor of SpacePolicyOnline speaks with host Dr. David Livingston.

Apr 12 — Space Center Houston, Houston TX: Lunch with an Astronaut, Brian Duffy; US$49.95 adult.

Apr 12 — Asteroid 2013 FZ7: Near-Earth flyby (0.062 AU).
SATURDAY

Apr 13 — SEDS – University of North Carolina, Chapel Hill NC: 2013 Carolina Space Symposium; in Hanes Art Center at UNC.


Apr 13 — Caltech/JPL, Pasadena CA: Educator's Conference: How to Think Like a NASA Scientist; at Theodore von Kármán Auditorium in JPL.


Apr 13-14 — NASA Glenn Visitor Center, Cleveland OH: Yuri's Night Space Party; starts 20:00 EDT Apr 13, ends 01:00 Apr 14.


Apr 13-19 — King Abdulaziz City for Science and Technology, Riyadh, Saudi Arabia: Science and Technology Week 2013.

Apr 13 — Moon: 5.3° S of Pleiades, 04:00.

Apr 13 — Asteroid 2010 GM23: Near-Earth flyby (0.010 AU).
SUNDAY

Apr 14-18 — Center for Space Plasma and Aeronomic Research, University of Alabama – Huntsville, NASA, Nashville TN: Huntsville in Nashville: The Seventh Huntsville Gamma-Ray Burst Symposium.


Apr 14 — Moon: 3.4° N of Aldebaran, 24:00; 2.2° SSE of Jupiter, 10:00.

Apr 14 — Asteroid 2013 EN126: Near-Earth flyby (0.076 AU).