ISS & Mars Conference Seeks Path to Interplanetary Human Exploration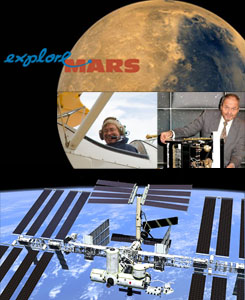 Coordinated by the Explore Mars non-profit group the International Space Station & Mars Conference is scheduled for April 12-13 at the International Space University in Strasbourg, France. Discussions among members of the ISS international partnership, and leaders of industry and planetary exploration, will focus on potential utilization of ISS to advance the goal of sending humans beyond Low Earth Orbit – specifically to Mars. Among the distinguished speakers are Dr. Berndt Feuerbacher (R), President of the International Astronautical Federation and Dr. Simon "Pete" Worden Director (L) of the innovative NASA Ames Research Center. Chris Sallaberger, MDA Vice President of Space Exploration and MDA team lead on the current pre-build study for the International Lunar Observatory Association ILO-1 mission to the Moon South Pole will be sitting on two panel discussions. A Live Webcast of the event is planned and organizers will also be accepting questions for speakers and moderators via Twitter to #issandmars. According to Executive Director Chris Carberry, the mission of Explore Mars is "to promote science and technology innovation and education related to Mars Exploration…through a series of technology innovation awards, scientific symposiums and workshops, Mars analog work, technology demonstrations, and other programs." (Image Credit: ExploreMars.org, NASA, DLR)
NewSpace Leaders Meet In Arizona for Space Access Conference '12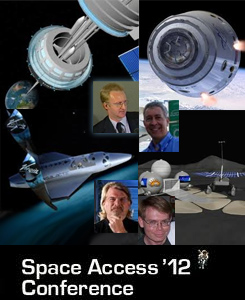 The Space Access Society (SAS) will continue its mission to promote technology, business, and radically cheaper access to space with 'Space Access '12 Conference' April 12-14 in Phoenix AZ. Over 100 NewSpace leaders and space enthusiasts will converge at this year's event to discuss the most recent developments in space entrepreneurship, reusable space launch development, space tourism, beamed energy propulsion, and small satellites. SAS Founder Henry Vanderbilt (TL) will open the event followed by a presentation from L5 Society Founder Keith Henson on '$100 a Kg to GEO with Beamed Energy Propulsion.' Other noteworthy speakers this year are Gary Hudson (TR) of Space Studies Institute, Dave Masten (BL) of Masten Space and Ryan McLinko of Space Frontier Foundation. Presentations will be made by GLXP contenders Will Baird (BR) of Team Phoenicia, Paul Breed of Unreasonable Rocket and Tim Pickens of Rocket City Space Pioneers. Michael Laine will discuss Liftport and space elevators. Panel discussions include 'World Space Program & Prospects' led by Jeff Foust, Clark Lindsey and Doug Messier, and 'NewSpace Lessons Learned' with Gary Hudson, Henry Spencer and Henry Vanderbilt. The Phoenix Chapters of the American Institute of Aeronautics and Astronautics and the National Space Society will host a Yuri's Night celebration for event participants on Apr 12. (Image Credit: SpaceX, Virgin Galactic, Masten Space, Team Phoenicia, Liftport Group)
---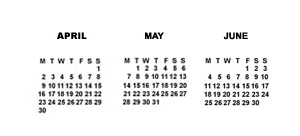 = All times for terrestrial events in local time unless noted.

= All times for international terrestrial events in local time unless noted.

= All times for space events, and…

= All times for international space / astro events in Hawaii Standard Time unless noted. Add 10 hours to obtain UT ('Universal Time;' Greenwich, England).
---
Weekly Planet Watch
– Morning Planets: Saturn (S) / Evening Planets: Venus (W), Mars (SE), Jupiter (W).
---
MONDAY

Apr 9 — International Space Station, LEO: E-30 crew members continue to work with a variety of scientific research and ongoing maintenance of the systems aboard the orbiting laboratory.

Apr 9 — Lunar Reconnaissance Orbiter (LRO), Lunar Orbit: NASA LRO functioning nominally in its 50±15 km near-circular orbit as it makes digital elevation and surface maps that will be a fundamental reference for future human exploration.

Apr 9 — Mars Reconnaissance Orbiter, Red Planet: NASA spacecraft continues to take incredible imagery of Mars surface activity with HiRISE camera, recently capturing pictures of 20km-high dust devil on Amazonis Planitia; More than 21,700 images taken by HiRISE are available for viewing on the instrument team's website.

Apr 9 — Jupiter Juno Mission, In Transit to Jupiter: All systems nominal on Juno spacecraft as it continues long journey to Jupiter.

Apr 9 — Space Show, Nationwide: This week's Space Show continues to cover important space issues with informative interviews from space advocates.

Apr 9-10 — Space Telescope Science Institute, Baltimore MD: 'The Faint Early Sun: Paradox, Problem or Distraction?'

Apr 9 — Moon: 5.0° N of Antares; 19:00.

Apr 9 — Asteroid 2012 EG5: Near-Earth Flyby (0.002 AU).
---
Continued from…

Feb 2 — Eptek Art and Culture Center, Canadian Space Agency, Charlottetown, Prince Edward Island, Canada: 'Canada's Stellar Space Achievements & The Conquest of Space in Images,' traveling exhibitions; through May 2.
---
TUESDAY

Apr 10-17 — NASA, Cape Canaveral FL: Media events for Space Shuttle Discovery's departure; A NASA Shuttle Carrier Aircraft set to transport Discovery to Washington Dulles International Airport in Sterling VA on April 17.

Apr 10 — The University of Texas of Arlington Planetarium, Arlington TX: 'Cosmic Colors,' participants will learn how scientists use the entire electromagnetic spectrum to view the universe.

Apr 10 — Moon: 5.6° SSW of Regulus, 05:00; 8.3° SSW of Mars, 11:00.

Apr 10 — Asteroid 2004 FG11: Near-Earth Flyby (0.057 AU).

Apr 10 — Asteroid 4116 Elachi: Closest Approach to Earth (0.810 AU).
---
WEDNESDAY

Apr 11 — Johnson Space Center, Houston TX: News conference with E-30 Cmdr Dan Burbank and Flight Engineers Don Pettit and  ESA astronaut Andre Kuipers at 09:15 CDT.

Apr 11 — The SETI Institute, Mountain View CA: Colloquium Series Lecture: 'Advances in Fast Burning Fuels and High Performance Hybrid Rocket Propulsion,' Brian Cantwell.

Apr 11 — The British Interplanetary Society, London, United Kingdom: 'Lecture: Exploring Venus – Preparations for a Descent into Hell,' Geoffrey Landis.

Apr 11 — Intech Science Center, Winchester, United Kingdom: 'Lecture: Stonehenge, Pyramids & Astronomy,' Malcolm Coe.

Apr 11-20 — The GLOBE Program, The National Optical Astronomy Observatory, Global: 'GLOBE at Night: Less of Our Light, More Star Light,' event to raise public awareness of the impact of light pollution by inviting citizen-scientists to measure their night sky brightness and submit their observations to a website from a computer or smart phone.

Apr 11 — Cassini OTM-316, Saturn Orbit: Spacecraft conducts Orbital Trim Maneuver #316 today.
---
THURSDAY

Apr 12 — 51st Commemoration of Human Spaceflight / Cosmonautics Day, Worldwide: On April 12, 1961 Yuri Gagarin of Russia became the 1st human to orbit Earth on the Vostok 1 spacecraft; The flight lasted 108 minutes, circling Earth at a speed of 27,400km per hour and 327km above Earth.

Apr 12 — 31st Commemoration of 1st Space Shuttle Launch, USA: On April 12, 1981 Astronauts John Young and Robert Crippen launched aboard STS-1, the 1st orbital flight of NASA's Columbia Space Shuttle which lasted for 2 days and orbited the Earth 37 times.

NET Apr 12 — North Korea , Launch Unha 3 / Kwangmyongsong 3, Tongchang-ri, North Korea: A North Korea Unha 3 rocket set to launch from the Tongchang-ri launch base to carry the Kwangmyongsong 3 satellite into polar orbit.

Apr 12 — Yuri's Night Celebrations, Worldwide: 'Yuri's Night 2012,' annual worldwide party to celebrate Yuri Gagarin's 1st flight into space–as well as to promote space exploration.

Apr 12 — National Science Foundation, South Pole Station, Antarctica: 'Yuri's Night 2012.'

Apr 12 — Blackstarr Group, Los Angeles CA: 'Yuri's Night LA 2012.'

Apr 12-13 — ExploreMars.org, Strasbourg, France: 'ISS and Mars Conference 2012,' event held at the International Space University.

Apr 12-13 — Jet Propulsion Laboratory, Pasadena CA: 'The von Karman Lecture Series: Gale Crater – Exploring the Mars Science Laboratory Landing Site.'

Apr 12-14 — Space Access Society, Phoenix AZ: '2012 Space Access Society Conference.'

Apr 12 — Asteroid (Near-Earth Flyby): 2004 RQ252 (0.044 AU); 2012 EO10 (0.080 AU).
---
FRIDAY

Apr 13 — The National Association for Urban Debate Leagues, Washington DC: 'The Great Space Debate,' four of the country's top debaters to discuss the future of the USA space program held at the Smithsonian National Air and Space Museum.

Apr 13 — The Lunar and Planetary Institute, Houston TX: 'Lecture: Laboratory Astrophysics and Planetary Surface Dust Analogs,' Karly Pitman.

Apr 13-14 — Marshall Space Flight Center, Huntsville AL: '19th Annual Great Moonbuggy Race.'

Apr 13 — Moon: At Last Quarter; 00:50.

Apr 13 — Asteroid 2012 FO35: Near-Earth Flyby (0.057 AU).
---
SATURDAY

Apr 14 — Jet Propulsion Laboratory – Educator Resource Center, Pomona CA: 'Educator Workshop: Climate.'

Apr 14 — Astronaut Scholarship Foundation, Kennedy Space Center, Cape Canaveral FL: 'Apollo 16 40th Anniversary Celebration.'

Apr 14-15 — SpaceUp, Washington DC: 'SpaceUp 2012: Washington DC.'

Apr 14 — Moon: At Last Quarter; 00:50.
---
SUNDAY

Apr 15 — Goddard Space Flight Center, Greenbelt MD: 'The Sunday Experiment: Technology Transfer,' April's Sunday Experiment will touch on three of Goddard's major concentrations: Earth science, space and the instruments we use to study them.

Apr 15 — The Space Frontier Foundation, Nyak NY: Application deadline for 'Teachers in Space Program,' which will give 140 teachers the opportunity to engage in authentic astronaut training and real space science experiences.

Apr 15-16 — Space Generation Advisory Council, Colorado Springs CO: '1st Space Generation Fusion Forum.'

Apr 15-18 — American Society of Civil Engineers (ASCE) – Aerospace Division, Pasadena CA: 'ASCE Earth and Space 2012 Conference: Engineering for Extreme Environments.'

Apr 15 — Asteroid 9777 Enterprise: Closest Approach to Earth (1.343 AU).

Apr 15 — Moon: 4.3° E of Regulus; 19:00.