Sierra Nevada & Blue Origin Advancing Commercial Crew Development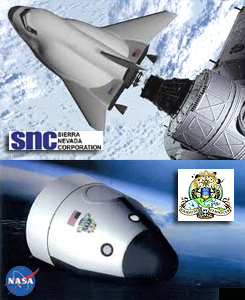 Commercial enterprises will be critical for role of USA in space exploration. Recognizing this, even before the failed Progress launch on August 24, NASA implemented the Commercial Crew Development (CCDev) program. In its 1st phase NASA provided a total of US$50M to 5 American companies to catalyze private space industry, and by association the economy. 4 companies are now working to secure a total of US$270M of NASA phase 2 funds. For the CCDev program, Sierra Nevada Corporation (SNC) is working on the 7-passenger, lifting-body spacecraft, Dream Chaser. To continue to receive funds (up to US$80M total), SNC must complete 4th milestone in Sep. This involves demonstrating that its Vehicle Avionics Integration Laboratory is capable of conducting avionics bench testing. Blue Origin will receive another US$900,000 if it completes Milestone 1.2, Space Vehicle (SV) Mission Concept Review, by the end of Sep. To complete this stage, the company must provide NASA with drafts of its SV Architectural Description Document and SV Concept of Operations for Atlas 5. Blue Origin could be awarded up to US$22M for its work on a biconic nose-cone design orbital vehicle. The other 2 companies working on CCDev2 are SpaceX and Boeing. With the string of recent launch failures and human presence in space at risk, the situation is urgent. (Credit: NASA, Sierra Nevada Corp, Blue Origin)
New Horizons Workshop to Discuss Icy Surface Process of Outer Solar System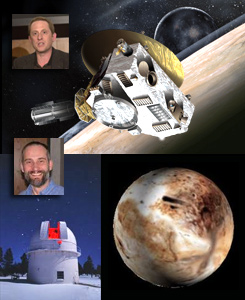 On August 30-31, Ames Research Center, Southwest Research Institute and Lowell Observatory (BL) will hold the 2nd New Horizons Workshop on Icy Surface Process in Flagstaff AZ. Nearly 60 scientists from various organizations are expected to attend the event in an effort to update the New Horizons science team on current research relevant to geology and compositions of icy outer Solar System surfaces.  New Horizons PI Alan Stern (TL) will open the event and give an overview of the New Horizons Pluto system encounter followed by Lowell Observatory scientist Will Grundy (LC) who will discuss Pluto (BR) surface composition. The workshop will also include 17 poster presentations. Since its successful launch in January 2006, the New Horizons Spacecraft (T) has been in interplanetary cruise mode, passing Uranus earlier this year, and expected to reach Pluto by 2015. New Horizons will make its closest approach to the dwarf planet on July 14 at a distance of 10,000km and speed of 14km/s and will conduct flybys of other Kuiper Belt Objects. (Credit: NASA, Lowell Observatory)
---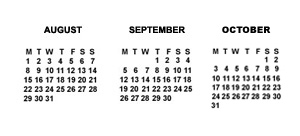 = All times for terrestrial events in local time unless noted.

= All times for international terrestrial events in local time unless noted.

= All times for space events, and…

= All times for international space / astro events in Hawaii Standard Time unless noted. Add 10 hours to obtain UT ('Universal Time;' Greenwich, England).
---
Weekly Planet Watch – Morning Planets: Mars (E), Jupiter (SE) / Evening Planets: Saturn (WSW).
---
MONDAY

Aug 29 — International Space Station, LEO: The six E-28 crew members along with Robonaut-2 continue with Station maintenance and science experiments despite recent loss of the Progress 44 spacecraft and nearly 3 tons of supplies for the ISS. Status Update Briefing at JSC 09:00 CDT. Students and Civil Air Patrol have live video link with Expedition 28 Flight Engineers aboard ISS at 13:35 EDT

Aug 29 — NASA Lunar Reconnaissance Orbiter (LRO), Lunar Orbit:All systems nominal in scientific phase of mission as LRO continues to make digital elevation and terrain maps that will be a fundamental reference for future human exploration.

Aug 29 — Mars Rover Opportunity, Red Planet: NASA Rover continues successful exploration of Endeavour crater, recently capturing imagery of crater Vistas and examining the ejected material from a small crater, named 'Odyssey.'

Aug 29 — White Label Space, Tokyo, Japan: GLXP Team White Label Space to unveil its rover prototype during a press event in Tokyo.

Aug 29 – Sep 1 — Space Dynamics Laboratory, Logan UT: '20th CALCON Conference – Characterization and Radiometric Calibration for Remote Sensing.'

Aug 29 – Sep 2 — The University of Sheffield, Solar Wave Theory Group, et al, Crimea, Ukraine: '1st Joint UK – Ukraine Meeting on Solar physics and Space Science.'
---
Continued from . . .

Jul 11 — International Space University – Space Studies Institute, Graz, Austria: '24th Space Studies Program;' through Sep 9.

Aug 28 — International Living With a Star Steering Committee, Chinese Academy of Sciences – Center for Space Science and Applied Research, Beijing, China: '2011 ILWS Workshop: Towards the Next Solar Maximum;' through Sep 1.

Aug 28 — American Chemical Society, Denver CO: 'American Chemical Society Fall 2011 National Meeting;' through Sep 1.
---
TUESDAY

Aug 30-31 — Lowell Observatory, Southwest Research Institute, Ames Research Center,Flagstaff AZ: 'New Horizons Workshop on Icy Surface Processes.'

Aug 30-31 — The National Academies, Washington DC: 'An Assessment of NASA's Aeronautics Flight Research Activities.'

Aug 30 – Sep 1 — Venus Exploration Analysis Group (VEXAG), Chantilly VA: '9th VEXAG Meeting and Venus Science Conference.'

Aug 30 — Moon: Moon at Perigee (Distance 360857km); 08:00.
---
WEDNESDAY

Aug 31 — Kennedy Space Center, Cape Canaveral FL: NASA Space Shuttle Program to officially end after 30 years of operations.

Aug 31 — The SETI Institute, Mountain View CA: Colloquium Series Lecture: 'Do We Need String Theory to Quantize Gravity,' Lance Dixon.

Aug 31 – Sep 2 — University College London, Edinburgh, United Kingdom: '4th AstroSurf Meeting: New Astronomical Challenges for Surface Science.'

Aug 31 — Moon: 6.9° SSW of Saturn, 10:00; 2.3° SW of Spica, 22:00.
---
THURSDAY

Sep 1 — Deep Space: Current exoplanet count at 564 with recent findings that include dwarf planet 2007-OR10 'Snow White' and the darkest known exoplanet – a distant, Jupiter-sized gas giant known as TrES-2b.

Sep 1 — The British Interplanetary Society, London, United Kingdom: 'Artists in Space.'

Sep 1 — Cassini OTM-288A, Saturn Orbit: Spacecraft conducts Orbital Trim Maneuver #288A today.

Sep 1 — Alpha Aurigid Meteors: Groups of meteoroids originating from dust grains ejected from Comet C / 1911 N1 Kiess.
---
FRIDAY

Sep 2-3 — International Academy of Astronautics, Beijing, China: '2nd IAA Workshop on Coordination and Cooperation for Global Environmental Impact.'
---
SATURDAY

Sep 3 — The British Interplanetary Society, London, United Kingdom: '66th Annual General Meeting.'
---
SUNDAY

Sep 4 — Moon: 3.7° NNE of Antares, 05:00; At First Quarter, 07:39.

Sep 4 — Asteroid 1430 Somalia: Closest Approach to Earth (1.087 AU).