India Readies for GSLV Return to Flight and Aftereffects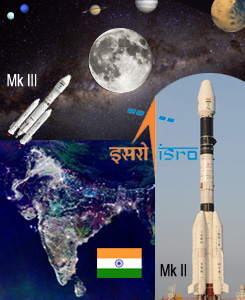 Critical for India's Mk III development, Human Spaceflight Program, Planetary Science Program and independence from foreign rockets, the Geosynchronous Satellite Launch Vehicle (GSLV) is set to launch on August 19 at 17:00 local time from the Satish Dhawan Space Centre in Sriharikota, India after back-to-back failures in 2010. Since 2001 there have been 7 GSLV launches – 2 successes, 1 partial success and 4 failures. This flight, designated GSLV-D5, utilizes a Mk II variant with an India built cryogenic engine capable of launching 2,500 kg into geostationary transfer orbit. Currently under development is the Mk III, which is a technological successor to the GSLV capable of launching up to 5,000 kg. The C-25 upper stage and CE-20 engine for Mk III have been delayed due to problems with the Mk II CE-7.5 engine. The suborbital test flight of the Mk III launcher, without its cryogenic third stage, is now planned for April 2014. It will likely be further delayed along with India's Chandrayaan-2 Moon mission (set for 2015), and India's Human Spaceflight Program plans if GSLV-D5 is not successful. Mk III will also need several successful launches before it could be declared safe for crewed flights, which is predicted to occur between 2022-2023. Stakes are high, after 3 years and 35 ground tests India is prepared to launch GSLV and realize its future in space. (Image Credit: ISRO, NASA)
ILOA Galaxy Forum Hawaii 2013: Setting Sail for the Stars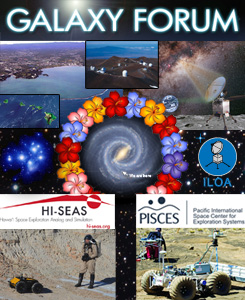 The International Lunar Observatory Association (ILOA) and the Pacific International Space Center for Exploration Systems (PISCES) are hosting Galaxy Forum Hawaii 2013 – Hilo on Saturday 17 August at the University of Hawaii at Hilo, Science and Technology Building. This free public event features a continuation of the Pacific Aloha Offshore Spaceport initiative designed by Steve Durst, Space Age Publishing Company and the ILOA to advance Pacific Space Access for Hawaii in the 21st Century. Hawaii has ideal geography and geology as well as a unique heritage of exploration, navigation and self-sufficiency that synches well with explorers reaching for the next frontier, launching great voyages of exploration to the Moon and beyond. The ILOA will also introduce and distribute to participating educators a print of its all new ILOA Galaxy Map 2013 – a leading edge Galaxy 21st Century Education tool designed for every class as a reference chart for the new dimension beyond our world and Solar System. To further these initiatives and serve as a base for its expanding suite of Moon Missions the ILOA is proceeding with a development campaign to support the building of an International Headquarters and Research Center in Kamuela HI. There will also be special presentations from the dynamic Pacific International Space Center for Exploration Systems (PISCES) and the long duration Hawai`i Space Exploration Analog and Simulation (HI-SEAS) field experiment that ends Tuesday after almost 120 days on the slopes of Mauna Loa. (Image Credit: ILOA, PISCES, HI-SEAS, IFA)
---


= All times for terrestrial events in local time unless noted.

= All times for international terrestrial events in local time unless noted.

= All times for space events, and…

= All times for international space / astro events in Hawaii Standard Time unless noted. Add 10 hours to obtain UT ('Universal Time;' Greenwich, England).
---
Weekly Planet Watch – Evening Planets: Venus (W), Saturn (SW); Morning Planets: Mercury (ENE), Mars (ENE), Jupiter (ENE).

---
MONDAY

Aug 12 — ISS, LEO: Expedition 36 crew transferring cargo from Progress 52P and HTV-4; participating in in-flight events Aug 14 & 15; Cosmonauts Yurchikhin, Misurkin preparing for EVA set for Aug 16.

Aug 12 — Kepler, Heliocentric Orbit: Undergoing 3-stage system-level performance test to see if wheels can adequately control spacecraft without entering 'safe mode' due to high friction levels.

Aug 12 — Juno, Jupiter Trajectory: Only 58 days from Earth fly-by gravity assist, science team preparing for required maneuvers; magnetometer experiment remains powered on at low data rates.

Aug 12 — SpaceX, Hawthorne CA: NewSpace company with 5 more launches planned in 2013 including Dragon CRS3 ISS resupply flight, preparing for September's In-Flight Abort Test Review of Dragon capsule for NASA CCiCAP.

Aug 12 — Reaction Engines Ltd, Oxfordshire, England: Conducting 4-month study under €1M (US$1.33M) contract with ESA to determine how Skylon reusable launch vehicle can meet Europe's Space access demands.

Aug 12 — Mars One, The Hague, The Netherlands: Accepting applications until Aug 31 from those interested in one-way tickets to Mars to begin human settlement; received more than 78,000 applications already (80% male, 20% female).

Aug 12-14 — AIAA, Los Angeles CA: Complex Aerospace Systems Exchange (CASE); held in conjunction with AIAA Aviation 2013; AIAA Aviation Technology, Integration, and Operations Conference; International Powered Lift Conference.

Aug 12-16 — Jet Propulsion Laboratory, Caltech/NASA, Pasadena CA: NASA 25th Annual Planetary Science Summer School (Session 2); at JPL.

Aug 12-16 — Keck Institute for Space Studies, Jet Propulsion Laboratory, Caltech/NASA, Pasadena CA: Workshop: Planetary Magnetic Fields: Planetary Interiors and Habitability; at Caltech.

Aug 12 — Moon: 3.0° SW of Saturn, 19:00.

Aug 12-13 — Perseid Meteor Shower Peak: Appearing to radiate from constellation Perseus, shower can produce up to 100 meteors per hour, which are fast, bright and frequently leave persistent trains.
---
Continued from…

Jul 3 – Sep 1 — Aerospace Research and Engineering Systems Institute, Inc., Online / Melbourne FL: LunarSail Kickstarter campaign; requesting US$11K in pledges to fund CubeSat amateur satellite containing solar sail to orbit Moon.

Aug 9 – Jan 7, 2014 — NASA HQ, Worcester Polytechnic Institute, Online / Worcester MA: Registration Open: 2014 Sample Return Robot Challenge; industry & academic teams to demonstrate robots (Jun 2014) that can locate & retrieve geologic samples from varied terrains without human controls; US$1.5M grand prize.

Aug 10-15 — AIAA, Utah State University, Logan UT: Conference: Small Satellite Constellations – Strength in Numbers; to discuss new classes of missions for small satellites and diverse launch opportunities.

Aug 11-15 — American Astronautical Society, AIAA, Hilton Head Island SC: AAS/AIAA Astrodynamics Specialist Conference; at Hilton Head Marriott Resort.

Aug 11-17 — Rencontres du Vietnam, Quy Nhon, Vietnam: Conference: Windows on the Universe; at International Centre for Interdisciplinary Science Education (ICISE).
---
TUESDAY

Aug 13 — Wallops Flight Facility, NASA, Colorado Space Grant Consortium, Wallops Island VA: Suborbital Sounding Rocket Launch; University students' experiments developed through RockSat-X program to be launched; alternate launch day Aug 14.


Aug 13 — Goddard Space Flight Center, NASA, Greenbelt MD: 2013 Service-Disabled Veteran-Owned Small Business Conference; to provide small businesses with knowledge of how to do business with NASA; 07:30 – 12:30 EDT.

Aug 13 — SETI Institute, Mountain View CA: Colloquium: Spectroscopic Monitoring of Pluto's Volatile Ices; presented by Will Grundy of Lowell University, 12:00 PDT.
WEDNESDAY

Aug 14 — British Interplanetary Society, London, United Kingdom: Lecture: Looking Beneath the Surface of Mars; presented by Gareth Morgan; at BIS.

Aug 14 — Challenger Center for Space Science Education, Washington DC: STEM Education Panel Reception; 17:30 – 19:30 EDT.

Aug 14 — Clinton Presidential Center, Little Rock AR: Buzz Aldrin Book Signing – Mission to Mars: My Vision for Space Exploration; 18:00 CDT.

Aug 14 — Challenger Center for Space Science Education, Arlington VA: 2013 Challenger Center Awards Breakfast; honoring Senator Barbara Mikulski, Emanuel and Hermione Fthenakis, Donna and Bill Marriott, The Boeing Co., Lockheed Martin Corp., NASA.

Aug 14-16 — US Geological Survey, Flagstaff AZ: 4th Planetary Crater Consortium Meeting; free.

Aug 14 — Moon: At first quarter, 00:56.
THURSDAY

Aug 15 — Langley Research Center, NASA, U.S. Navy, Naval Station Norfolk VA: Media Invited to View Orion Station Recovery Testing; Orion spacecraft splashdown recovery tests for teams to demonstrate / evaluate recovery processes, procedures, hardware, personnel.

Aug 15 — The National Academies, Online / Washington DC: Human Spaceflight: Technical Panel Teleconference; 13:00 – 14:00 EDT.

Aug 15, 16 — Jet Propulsion Laboratory, Caltech/NASA, Pasadena CA: The von Kármán Lecture Series: Curiosity's First Year on Mars; speaker TBD.

Aug 15-18 — Icarus Interstellar Co., Dallas TX: The Icarus Interstellar Starship Congress; to discuss, generate action toward making humanity an interstellar civilization with a broad campaign of exploration / migration to begin by 2100; US$50-100.

Aug 15-18 — The Mars Society, Boulder CO: 16th Annual International Mars Society Convention; at University of CO – Boulder; US$70-260 (free for students in grades K-12).

Aug 15 — Moon: 7.0° N of Antares, 08:00.
FRIDAY

Aug 16 — ISS, Russia EVA-34, LEO: Cosmonauts Yurchikhin and Misurkin scheduled to perform spacewalk starting at 14:00 UT to route power and Ethernet cables in preparation for Russia Multipurpose Laboratory Module (Nauka) launching in Dec, set up experiments on hull of Poisk module; live coverage available.

Aug 16 — `Imiloa Astronomy Center, University of Hawai`i – Hilo, Hilo HI: Mauna Kea Skies Talk; Dr. Shelte "Bobby" Bus from NASA Infrared Telescope Facility (IRTF) speaks about recent discoveries; 19:00 HST, US$8-10.

Aug 16 — Johnson Space Center, NASA, Houston TX: Lunch with an Astronaut, Brian Duffy; US$49.95 adult.

Aug 16-18 — Spaceport America, Virgin Galactic, AIAA, New Mexico Museum of Space History, Las Cruces & Alamogordo NM: Conference: DC-X First Flight 20th Anniversary; to support / sustain safe, routine access to, from and through space for all humankind; US$350-425.

Aug 16 — Asteroid 2008 ON10: Near-Earth flyby (0.047 AU).

SATURDAY

Aug 17 — Lunar Reconnaissance Orbiter, Moon Orbit: 3-year science mission phase ends today; possible mission extension, activities or impact site to be determined.

Aug 17 — International Lunar Observatory Association, Space Age Publishing Co., Hilo HI: Galaxy Forum Hawaii 2013 – Hilo: Galaxy 21st Century Education: Setting Sail for the Stars; at UH Hilo, Room 118, Science and Tech. Building; 09:00 – 13:00 HST; free.

Aug 17-18 — Calgary Rocketry Association, Rosebud, Alberta, Canada: Southern Alberta Meet: Model Rocket Competition.
SUNDAY

Aug 18 — Goddard Space Flight Center, NASA, Greenbelt MD: Sunday Experiment: NASA's Lunar Laser Communication Demonstration (LLCD); children and families invited to learn about LLCD launching aboard LADEE spacecraft Sep 6; 13:00 – 16:00 EDT, free.


Aug 18 — The Space Show, Online / Tiburon CA: Near Earth Objects Webinar with Secure World Foundation, 13:00 PDT.


Aug 18 — Moon: At perigee (distance: 361,872 km), 15:00.


Aug 18 —Asteroid 2013 PZ6: Near-Earth flyby (0.031 AU).


Aug 18 — Asteroid 2013 OH: Near-Earth flyby (0.086 AU).