Small Satellite Conference at USU: Enhancing Global Awareness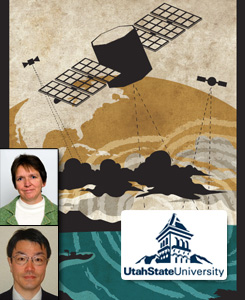 Utah State University along with the American Institute of Aeronautics and Astronautics are hosting the 26th Small Satellite Conference at the Taggart Student Center of the USU Campus in Logan, Utah, USA on August 13-16. "Global Awareness through Small Satellites" is expected to advance significantly in the next 10 years through new remote sensing techniques, improved methods for aggregating collected information and increased capability to deliver results in a timely manner. Small satellite categories like NanoSats, CubeSats, PicoSats and FemtoSats are opening space to an ever larger community of motivated researchers, entrepreneurs, educators and students with lower development costs and shared launches. The conference will feature Keynote Speaker Brenda Jones, the Disaster Response Coordinator at the USGS EROS Data Center (Monday 13:15 MDT) and a Guest Lecture by Akira Iwasaki from University of Tokyo (Wednesday 14:00 MDT). The Satellite Industry Association 2012 yearly report shows that, as of May, there are a total of 994 operational satellites on orbit with 23% devoted to Remote Sensing, Navigation and Meteorology and 38% to Commercial Communications. It also highlights that the satellite industry has seen 9% average annual growth from 2006-2011 and, with an estimated total of US$177.3 billion, constitutes 61% of overall space industry revenues. (Image Credit: USU, AIAA, University of Tokyo)
SpaceUp Los Angeles 2012 Invites You to Participate in the Future of Space Exploration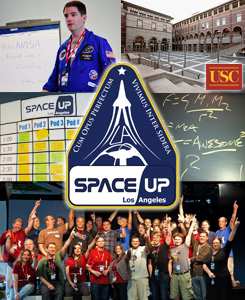 SpaceUP LA, an 'unconference' taking place on August 18-19 at the University of Southern California Tutor Campus Center, is open to anyone passionate about the future of human space exploration with an interest in playing an active role in its advancement. An unconference means that attendees decide event topics, schedule and structure. Any SpaceUp participant can give a talk, moderate a panel, or start a discussion. Sessions are proposed and scheduled on the day they are given, with casual conversations often turning into full-fledged topics. Organized into 30-minute pods, sessions consist of round-table discussions, demos, expert panels and Q&A sessions. The only sessions scheduled in advance are the Ignite format or 'T-minus 5 talks' in which each speaker makes a five minute presentation using slides prepared ahead of time. The event will also include a show and tell for sharing space gadgets, a special tour of the California Science Center space exhibit, FIRST robotics demonstrations and an XBox Kinect Mars Rover Landing challenge. Since SPaceUP events began in 2010, they have consistently attracted representatives from NewSpace companies. Continuing this trend, SpaceUp LA 2012 is sponsored by Boeing, AIAA, Mojave Air & Space Port, SpaceX, XCOR Aerospace and Scorpius Space Launch Company. (Image Credit: SpaceUP, Chris Radcliff, USC)
---


= All times for terrestrial events in local time unless noted.

= All times for international terrestrial events in local time unless noted.

= All times for space events, and…

= All times for international space / astro events in Hawaii Standard Time unless noted. Add 10 hours to obtain UT ('Universal Time;' Greenwich, England).
---
Weekly Planet Watch – Evening Planets: Mars (WSW), Saturn (WSW). Morning Planets: Mercury (ENE), Venus (E), Jupiter (E).
---
MONDAY

Aug 13 — ISS, LEO: Expedition 32 crew hosting 3 different cargo ships this week, with Russia Progress 48 docked to Pirs compartment, Japan H-II Transfer Vehicle-3 berthed to Harmony Node and ATV-3 docked to Zvezda service module.

Aug 13 — Curiosity, Red Planet: Conducting systematic checks of Curiosity systems to confirm operational status, using all available data and imagery to estimate exactly where Mars spacecraft touched down and ensure it is on stable ground before attempting to move rover.

Aug 13 — Cassini, Saturn Orbit: Spacecraft in excellent health with all subsystems functioning normally except for Cassini Plasma Spectrometer (turned off) and Ultrastable Oscillator (inoperative), as Ultraviolet Imaging Spectrograph system scans to image magnetospheric hydrogen and oxygen.

Aug 13 — SpaceX, Hawthorne CA: Founder, CEO and chief designer Elon Musk considering private launch site in Hawaii for future Falcon Heavy missions.

Aug 13 — Space Frontier Foundation, Silicon Valley CA: Preparations underway for NewSpace 2013, the only event dedicated to bringing leaders and next generation of commercial space industry together to create a sustainable future for NewSpace.

Aug 13 — Space Ground Amalgam, Bozeman MT: Developing inflatable satellite reflector components to meet / exceed higher industry bandwidth demands, reduce launch costs and increase design flexibility. Founded by Odyssey Moon CEO Rick Sanford, company won $100,000 1st prize at NewSpace 2012.

Aug 13-14 — World Academy of Science, Engineering and Technology, Oslo, Norway: '2012 International Conference on Aeronautical and Astronautical Engineering.'

Aug 13-16 — American Institute of Aeronautics and Astronautics, American Astronautical Society, Minneapolis MN: 'AIAA Guidance, Navigation, and Control Conference and Co-Located Conferences.'

Aug 13-16 — American Institute of Aeronautics and Astronautics, Utah State University, Logan UT: '26th Small Satellite Conference.'

Aug 13-16 — Boeing, National Defense Industrial Association, et al, Huntsville AL: '2012 Space and Missile Defense Conference.'

Aug 13-17 — The Asia Oceania Geosciences Society, American Geophysical Union, Sentosa Island, Singapore: 'AOGS – AGU Joint Assembly.'

Aug 13 — Moon: 0.90° ENE of Venus; 11:00.

Aug 13 — Mars: 1.8° NNE of Spica; 19:00.
---
Continued from…

Aug 4-14 — Brazil National Council for Scientific and Technological Development, Carlos Chagas Filho de Amparo Research Foundation of the State of Rio de Janeiro, Rio de Janeiro, Brazil: 'The International Olympiad on Astronomy and Astrophysics.'

Aug 11-19 — Mount Kobau Astronomical Society, Osoyoos, BC, Canada: '29th Annual Mt. Kobau Star Party.'

Aug 12-17 — The Meteoritical Society, Australian National University, Cairns, Australia: '75th Annual Meeting of the Meteoritical Society.'
---
TUESDAY

Aug 14 — NASA, Arlington VA: 'National Space-Based Positioning, Navigation, and Timing Advisory Board Meeting.'

Aug 14 — NASA, Washington DC: 'Physics of the Cosmos Program Analysis Group.'

Aug 14 — Federal Aviation Administration, Washington DC: 'Commercial Space Transportation Advisory Committee Public Teleconference.'

Aug 14 — Air Force Research Laboratory Aerospace Systems, Boeing, Edwards Air Force Base CA: Third X-51A hypersonic flight trial designed to demonstrate technologies for sustained, air-breathing hypersonic flight up to Mach 6.5.

Aug 14-17 — NASA, JAXA, University of St Andrews, St. Andrews, Scotland: 'Hinode-6 Meeting.'

Aug 14 — Moon: 10.6° SSW of Pollux; 18:00.

Aug 14 — Mars: 2.7° SSW of Saturn; 22:00.
WEDNESDAY

Aug 15-17 — ESA, European Space Research and Technology Centre, Noordwijk, The Netherlands: 'Frontiers of Star Formation Workshop.'

Aug 15-18 — British Computer Society, Vigier VIII, London, England: 'Symposium: The Physics of Reality: Space, Time, Matter, Cosmos.'

Aug 15 — Moon: 3.4° SSW of Mercury; 16:00.

Aug 15 — Moon: 5.9° SSW of Beehive Cluster; 20:00.
THURSDAY

Aug 16 — Sea Launch, Launch Zenit 3SL / Intelsat 21, Odyssey Platform, Equator at 154° W: Sea Launch Zenit 3SL rocket to deliver Intelsat 21 communications satellite into orbit.

Aug 16-17 — Jet Propulsion Laboratory, Pasadena CA: 'The von Karman Lecture Series: Voyager's Interstellar Mission.'
FRIDAY

Aug 17 — Lunar and Planetary Institute, University Space Research Association, University of Arizona, Houston TX: 'Lunar Magnetism: Core Dynamo and Impact Processes.'

Aug 17 — Space Center Houston, Houston TX: 'Lunch With an Astronaut,' Brian Duffy.

Aug 17 — Moon: New Moon; 5:53.

Aug 17 — Moon: 5.5° SSW of Regulus; 14:00.
SATURDAY

Aug 18-19 — AIAA, XCOR Aerospace, Scorpius Space Launch, Los Angeles CA: 'SpaceUp LA 2012.'

Aug 18 — Mercury: 1.7° S of Beehive Cluster; 04:00.
SUNDAY

Aug 19-24 — The Chinese Society of Theoretical and Applied Mechanics, Beijing, China: '23rd International Congress of Theoretical and Applied Mechanics (ICTAM2012).'