AIAA, TEDxNASA Events Highlight Silicon Valley Innovation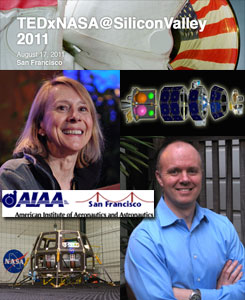 Media and the Silicon Valley general public will have an opportunity to join NASA agency leaders, technologists and innovators from a variety of fields at TEDxNASA@SiliconValley 2011 on August 17. Already active in over 100 countries, TEDx events are independently organized conferences in the spirit of TED (Technology, Entertainment and Design) that bring together leading thinkers to create a dialogue about important global challenges. Esther Dyson (L) will serve as master of ceremonies for the event, which will be held at the Marriott Marquis hotel in San Francisco. Speakers include an aeronautics researcher developing a silent / carbonless airplane, a tree geneticist cloning the world's largest trees, and a Tony-winning street theater company. On Aug 18, the San Francisco division of the American Institute of Aeronautics and Astronautics is sponsoring a lecture on the NASA LADEE (Lunar Atmosphere and Dust Environment Explorer) mission. Gregory Delroy (R) of UC Berkeley Space Sciences Laboratory and the Center for Integrative Planetary Sciences will describe how LADEE will improve humanity's understanding of the Moon's atmosphere and dust environment. The LADEE deputy project scientist will also provide insight on the new, modular low-cost spacecraft bus that will be utilized in this mission. (Credit: NASA, AIAA-SF)
British Interplanetary Society Talk to Reinvigorate Discussion on a World Ship, Interstellar Travel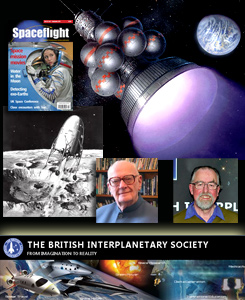 On 17 August, The British Interplanetary Society (BIS) will hold a 1-day symposium on 'World Ships: The Long Journey to the Stars' at its headquarters in London, England. Participants will discuss both old and new ideas based on a 1984 publication of the Journal of the British Interplanetary Society which outlines the concept of a World Ship- an extremely large vehicle weighing over millions of tons and carrying hundreds, even thousands of people, all directed towards interstellar colonization. Founded in 1933 by Archibold Low and Phillip Cleator, BIS is the oldest space advocacy organization in the world and included notable members such as Arthur Clarke (C) and Ralph Smith. The BIS has contributed many technical studies on the ESA Rosetta mission, lunar lander concepts (L), the Daedalus Starship Study (TR) and Project Icarus. The organization also publishes a monthly magazine known as Spaceflight (TL), a 40-page technical journal called Journal of the British Interplanetary Society and the supplemental publication Space Chronicle. It is also a founding member of the International Astronautical Federation (IAF). The IAF organizes the annual International Astronautical Congress (IAC), the biggest space event in the world today. The 62nd IAC event will be held this year Oct 3-7 is Cape Town, South Africa. Pictured: BIS President Robert Charles Parkinson (R). (Credit: British Interplanetary Society, David A. Hardy – astroart.org)
---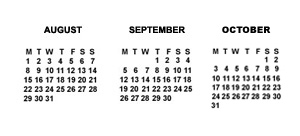 = All times for terrestrial events in local time unless noted.

= All times for international terrestrial events in local time unless noted.

= All times for space events, and…

= All times for international space / astro events in Hawaii Standard Time unless noted. Add 10 hours to obtain UT ('Universal Time;' Greenwich, England).
---
Weekly Planet Watch – Morning Planets: Mars (E), Jupiter (SE) / Evening Planets: Saturn (WSW).
---
MONDAY

Aug 15 — International Space Station, LEO: The 6 E-28 crew members continue station maintenance and a variety of science experiments.

Aug 15 — NASA Lunar Reconnaissance Orbiter (LRO), Lunar Orbit: LRO at lower 20km orbit until Aug 19 to allow 3 cameras to obtain images of Apollo sites which will be 4 times sharper than current imagery in database.

Aug 15 — Mars Rover Opportunity, Red Planet: Completing successful 3-year trek to Endeavour Crater, Mars Rover will begin gathering data on rock types never seen before.

Aug 15 — NASA Juno Mission, Deep Space: Juno continues Inner Cruise Mode 1 phase of mission for 54 more days and will conduct spacecraft checkouts and deployment of the Waves Instrument Antenna.

Aug 15 — NASA New Horizons Spacecraft, Deep Space: New Horizons spacecraft operations nominal as it continues trek to Kuiper Belt; Distance: 20 AU from Sun.

Aug 15-17 — NASA Office of the Chief Information Officer, San Francisco CA: '2nd Annual IT Summit.'

Aug 15-18 — Boeing, National Defense Industrial Association, et al, Huntsville AL: '2011 Space and Missile Defense Conference.'

Aug 15-19 — Langley Research Center, Newport News VA: 'NASA Thermal & Fluids Analysis Workshop.'

Aug 15 — Comet 45P / Honda-Mrkos-Pajdusakova: Near-Earth Flyby (0.060 AU).

Aug 15 — Asteroid 5062 Glennmiller: Closest Approach to Earth (1.111 AU).
---
Continued from . . .

Jun 27 — Google Lunar X Prize Foundation, LEGO Group, Playa Vista CA; Online: 'LEGO Moonbots 2.0;' through Aug 15.

Jul 11 — International Space University – Space Studies Institute, Graz, Austria: '24th Space Studies Program;' through Sep 9.

Aug 13 — International Union of Radio Science (URSI), Istanbul, Turkey: 'URSI General Assembly and Scientific Symposium of URSI;' through Aug 20.
---
TUESDAY

Aug 16-20 — University of Lubeck, University of Applied Sciences, et al, Lubeck, Germany: 'World Robotic Sailing Championship / 4th International Robotic Sailing Conference.'

Aug 16 — Mercury: 5.9° SSW of Venus; 17:00.
---
WEDNESDAY

NET Aug 17 — ISC, Launch Dnepr / Multi-Payload, Yasny, Russia: An ISC Kosmotras Dnepr rocket set to launch the Sich 2 Earth Observation satellite for Ukraine, the NigeriaSat 2 and NigeriaSat X remote sensing satellites for Nigeria, the RASAT demonstration satellite for Turkey, the EduSAT spacecraft for the University of Rome and other payloads.

NET Aug 17 — RSA, Launch Proton / Express AM4, Baikonur, Kazakhstan: A Russian Proton rocket with a Breeze M upper stage set to deploy the Express AM4 Communications satellite for the Russian Satellite Communications Company.

Aug 17 — The SETI Institute, Mountain View CA: Colloquium Series Lecture: 'The WISE View of the Solar System,' Joseph Masiero.

Aug 17 — TED Conferences, NASA, Silicon Valley CA: 'TEDxNASA @ Silicon Valley 2011: Extreme Green.'

Aug 17 — Smithsonian National Air and Space Museum, Washington DC: 'Ask an Expert: The von Braun Space Station Model,' Hunter Hollins.

Aug 17 — The British Interplanetary Society, London, United Kingdom: 'World Ships: The Long Journey to the Stars.'
---
THURSDAY

Aug 18 — American Institute of Aeronautics and Astronautics – San Francisco Section, Mountain View CA: 'The Lunar Atmosphere and Dust Environment Explorer (LADEE) Mission,' Gregory Delroy.

Aug 18 — Intrepid Sea, Air & Space Museum, New York City NY:  Cmdr Christopher Ferguson, Pilot Doug Hurley and Mission Specialists Sandra Magnus and Rex Walheim, the  crew of STS-135 Atlantis final Shuttle mission to make appearance from 10:00-14:30.

Aug 18 — Smithsonian National Air and Space Museum, Washington DC: 'Ask an Expert: Why Does it Look Like the Apollo 11 Flag is Blowing in the Wind,' Roger Launius.

Aug 18 — Johnson Space Center, Space Center Houston, Houston TX:  'Voyage Back to School.'

Aug 18-19 — Jet Propulsion Laboratory, Pasadena CA: The von Karman Lecture Series: 'NASA's Deep Space Network: Our Link to Spacecraft around the Solar System,' Joseph Statman.

Aug 18 — Moon: At Apogee (Distance: 405159 km); 06:00.

Aug 18 — Kappa Cygnid Meteors: Minor meteor shower appearing to radiate from Constellation Cygnus.
---
FRIDAY

Aug 19 — Committee on Space Research, Indian Space Research Organization, Online: Webpage open for abstract submission for the '39th Scientific Assembly of Committee on Space Research (COSPAR).'

Aug 19-21 — The Scientific Workgroup for Rocketry and Space Flight, Munich, Germany: '1st European Space Elevator Challenge 2011.'

Aug 19 — Moon: 4.7° NNW of Jupiter; 23:00.

Aug 19 — Asteroid 2011 BL45: Near-Earth Flyby (0.099 AU).
---
SATURDAY

Aug 20 — Zero Gravity Corporation, Cape Canaveral FL: Commercial weightless flight on board G-Force One.

Aug 20 — Onizuka Center for International Astronomy, Mauna Kea HI: 'Malalo o Ka Po Lani: Hawaiian Culture Night on Maunakea.'

Aug 20 — Lunar Legacies, Online: 'Space Auction.'
---
SUNDAY

Aug 21-25 — The International Society for Optics and Photonics (SPIE), San Diego CA: 'SPIE Optics + Photonics 2011 Conference.'

Aug 21-27 — Astronomical Institute of the Slovak Academy of Sciences, Slovak Central Observatory, et al, Tatranska Lomnica, Slovakia: '2011 International Space Weather Initiative – Europe Summer School in Space Science.'

Aug 21 — Moon: At Last Quarter, 11:56; 2.3° S of Pleiades; 14:00.

Aug 21 — Venus: 0.90° NNE of Regulus; 12:00.