2014 ISEC: Space Elevator Architectures and Roadmaps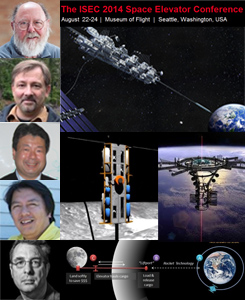 The 2014 International Space Elevator Conference (ISEC) is being held in Seattle WA at the Museum of Flight on August 22-24. Hosted by International Space Elevator Consortium, ISEC will feature keynote speaker Leonard David, mini-workshops and LEGO tether climber races at Family Science Fest. Some of the technical presentations are 'Loop Technology – Increasing Throughput, Decreasing Radiation' by Keith Lofstrom, 'Effects of Electric Propulsion on Carbon Nano Tube Material' by Aidan Shaffer and '2015 ISEC Conference Theme and Conference Wrap Up' by David Horn. Akira Tsuchida and Shuichi Ohno of Japanese Space Elevator Consortium will speak on 'Space Elevator Permanent Committee creation in IAA' and 'Space Elevator Challenge in Japan.' Peter Swan will give 3 presentations and host a workshop at ISEC, and will be presenting 'Space Elevator Tether Climbers – Normal Spacecraft?' at the 2014 IAC in Toronto Sep 29 – Oct 3. Liftport group, headed by Michael Laine, is working to develop a Moon-based Space Elevator (using Kevlar or similar material) before pursuing an Earth-based one (perhaps with carbon or boron nitride nanotubes). Tether material / strength and power systems seem to pose the greatest challenges to the space elevator concept. A 2013 IAA study estimates by 2025 a 1,000-km elevator and by 2035 a 100,000-km elevator could be implemented if carbon nanotube R&D continues at current pace. Laser beams have been proposed as a potential power source for the climber. (Image Credit: K. Lofstrom, S. Ohno, D. Horn, Liftport Group, Obayashi Corp., LaserMotive)
Brazil Events Advancing South America Astrophysics & Astronautics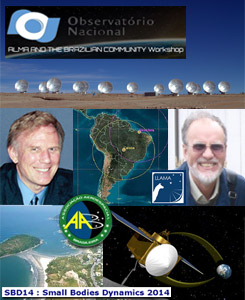 Astronomers from all over Brazil and ten other countries including India, USA, Congo and Iran will meet at the National Observatory in Rio de Janeiro, Brazil, August 18-21, for the 'ALMA and the Brazilian Community Workshop.' Atacama Large Millimeter / submillimeter Array (ALMA) is a revolutionary observatory being constructed at 5,000-meter elevation in northern Chile. The global scientific endeavor, with 66 high-precision antennas (fifty-four 12-m antennas and twelve 7-m antennas), is expected to reach its full capacity in 2015. The goal of the workshop is to explore how current scientific activity in Brazil can benefit from ALMA and mm / submm observation in general. Invited speakers such as David Sanders (L) of University of Hawai`i and Rob Ivison of ESO / Germany will outline various types of observations that ALMA will facilitate, and Jacques Lepine (R) of the University of São Paulo will discuss the Llama Project – an initiative to build a single 12-meter-dish mm / submm telescope in the Argentinean Andes. Hands-on activities at the workshop will provide astronomers with experience analyzing ALMA data. The 'Small Bodies Dynamics 2014′ meeting will be held in Ubatuba, Brazil Aug 24-28. Participants will evaluate small body (asteroid, comet, satellite, etc) research including clues they provide to Solar System evolution, and potential collision hazards. Co-sponsored by the Brazilian Aerospace Association, the event will also feature updates on current and future space missions to small Solar System bodies such as OSIRIS-REx. (Image Credit: ALMA, Observatório Nacional, AAB, UH, USP)
---


= All times for terrestrial events in local time unless noted.

= All times for international terrestrial events in local time unless noted.

= All times for space events, and…

= All times for international space / astro events in Hawaii Standard Time unless noted. Add 10 hours to obtain UT ('Universal Time;' Greenwich, England).
---
Weekly Planet Watch – Evening Planets: Mars (SW), Saturn (SW); Morning Planets: Venus (ENE), Jupiter (ENE).
---
MONDAY

Aug 18 — ISS, LEO: Expedition 40 six-member crew transferring cargo from ATV-5, waiting for SpaceX CRS-4 delivery of Long Life batteries for USA EVAs, installing experiment payload in Columbus laboratory European Drawer Rack.

Aug 18 — ISS, Russia EVA-39, LEO: Extra-Vehicular Activity performed by Skvortsov and Artemyev to deploy Peru nanosatellite & install / retrieve external science gear; set to begin 14:00 UT, last 6 hours 15 mins, live coverage available.

 Aug 18 — Rosetta, Comet 67P/Churyumov-Gerasimenko Orbit: About halfway between orbit of Jupiter & Mars (~405M km from Earth), over next 6 weeks spacecraft will fly 2 triangular-shaped trajectories at 100-km altitude & then 50-km altitude.


Aug 18 — Cassini, Saturn Orbit: Spacecraft conducts Orbital Trim Maneuver #388 today; continuing to track / observe Titan weather patterns, wind speeds at about 11-16 kph, atmospheric models predict summer storms.

 Aug 18 — XCOR Aerospace Inc., Midland TX: NewSpace company starting construction at new facility for Research & Development Center, building Lynx suborbital spaceplane in Mojave CA, planning manufacturing site at KSC FL.


 Aug 18 — Swiss Space Systems (S3), North Bay, Ontario, Canada: Payerne, Switzerland-based company planning to perform helicopter drop-tests of SOAR shuttle mock-up with drone flight systems at Canadore College.


 Aug 18 — Planetary Resources Inc., Bellevue WA: Partnering with TopCoder & NASA to present Asteroid Data Hunter challenge for developing significantly improved algorithms to identify asteroids in images from ground-based telescopes.


Aug 18 — Jet Propulsion Laboratory, Caltech/NASA, Online / Pasadena CA: Due: Request for Proposal – Europa CubeSat Concept Study; seeking input on 3U CubeSat to be carried aboard potential Europa Clipper spacecraft, released in Jupiter system & make measurements at Europa.

Aug 18 — Lunar Exploration Analysis Group, NASA, Online / Laurel MD: Abstracts Due for Annual Meeting of LEAG.

Aug 18-20 — Ohio State University Center for Cosmology and AstroParticle Physics, Columbus OH: Workshop: Cosmic Voids in the Next Generation of Galaxy Surveys.

Aug 18-21 — Brazilian National Observatory (Observatório Nacional), Rio de Janeiro, Brazil: ALMA and the Brazilian Community Workshop.

Aug 18 — Moon: 1.9° NNE of Aldebaran, 10:00.

Aug 18 — Asteroid 2014 OO6: Near-Earth flyby (0.030 AU).

Aug 18 — Asteroid 2005 CD69: Near-Earth flyby (0.066 AU).
---
Continued from…

Aug 10-22 — Stellar Astrophysics Centre (SAC), Danish National Research Foundation, Aarhus, Denmark: SAC Summer School: Stars, Planets and Life in the Universe.

Aug 16-23 — International Union of Radio Science, Beijing, China: 31st General Assembly of the International Union of Radio Science.


Aug 17-21 — High Energy Astrophysics Division of the American Astronomical Society, Chicago IL: 14th Divisional Meeting.
---
TUESDAY

Aug 19 — CNSA, Launch Long March 4B / Gaofen 2, Taiyuan Satellite Launch Center, Taiyuan, China: Gaofen 2 remote sensing satellite to be launched for Chinese Ministry of Land & Resources, the Chinese Ministry of Agriculture, and the Chinese Ministry of Environmental Protection.

Aug 19 — Library of Congress Science, Technology and Business Division, Washington DC: Lecture: The Moody Sun; presented by Dr. Holly Gilbert.

Aug 19 — Marshall Space Flight Center, NASA, Huntsville AL: 2014 Honor Awards ceremonies; about 240 individuals & 90 Marshall project teams to be honored for dedication / service to NASA missions & projects.

Aug 19 — Asteroid 2014 OA339: Near-Earth flyby (0.051 AU).
WEDNESDAY

 Aug 20 — The Planetary Society, San Luis Obispo CA: Day-in-the-life (DITL) test of SolarSail-A scheduled today, will attempt full sail deployment & communication with ground station at California Polytechnic State University; first sail deployment in 2 years.

Aug 20 — Moon: 5.7° S of M35, 03:00.
THURSDAY

Aug 21 — Cassini, Saturn Orbit: Titan flyby scheduled at 964-km altitude.

Aug 21 — Arianespace, Launch Soyuz / Galileo FOC-1, Kourou, French Guiana: Soyuz rocket to launch 2 Galileo satellites for European Space Agency Galileo navigation constellation.

Aug 21 — University of Colorado – Boulder, Boulder CO: Solar Wind Interaction with Pluto Workshop.

Aug 21-22 — International Academy of Astronautics, Mamaia, Romania: 3rd IAA Conference on Space Systems as Critical Infrastructure.

Aug 21 — Moon: 11.8° S of Pollux, 22:00.

Aug 21 — Asteroid 2014 OV3: Near-Earth flyby (0.060 AU).
FRIDAY

Aug 22 — Space Center Houston, Houston TX: Lunch with an Astronaut, Ken Cameron; US$49.95 adult.

Aug 22-24 — The International Space Elevator Consortium, Seattle WA: 2014 Space Elevator Conference; at Museum of Flight.
SATURDAY

Aug 23 – Sep 1 — Merritt Astronomical Society, Merritt, British Columbia, Canada: Summer Merritt Star Quest 2014.

Aug 23 – Sep 3 — Scientific Committee on Antarctic Research, Auckland, New Zealand: 33rd Scientific Committee on Antarctic Research (SCAR) Biennial Meeting.

Aug 23 — Moon: 6.2° SSW of Beehive Cluster, 02:00; 5.3° SSW of Jupiter, 04:00; 5.5° SSW of Venus, 17:00; at apogee (distance 406,087 km), 20:00.
SUNDAY

Aug 24 — The Space Show, Tiburon CA / Online: Dr. David Livingston talks with Dr. Alan Stern about New Horizons and Uwingu.

Aug 24-26 — AIAA, Laurel MD: International Conference on Space Mission Challenges for Information Technology.

Aug 24-28 — Brazilian Aerospace Association, Foundation for the Support of Research State of São Paulo, Ubatuba, São Paulo, Brazil: Meeting: Small Bodies Dynamics 2014 (SBD14).

Aug 24 – Sep 14 — Aspen Center for Physics, Aspen CO: Workshop: The Galaxy-Halo Connection Across Cosmic Time.