Russia EVA-35 and ISC Kosmotras Launch of South Korea Satellite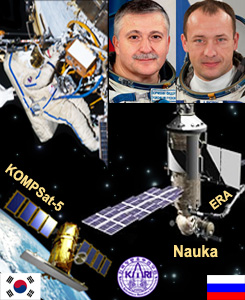 Expedition 36 Cosmonauts Fyodor Yurchikhin (L) and Aleksandr Misurkin (R) prepare for Russia EVA-35 scheduled to begin at 11:40 UT on August 22. This will be their third and final EVA together. They will exit via the Pirs docking compartment and work for 6.5 hours to install an experiment panel and continue routing electric cables for the new Russia Multipurpose Laboratory Module (Nauka) launching to the ISS December 11 aboard an RSA Proton rocket. ESA's European Robotic Arm (ERA) will launch with and be attached to Nauka. It will be the first robotic arm able to work on the Russia space station segments. Before Nauka and ERA arrive, an EVA will be scheduled to facilitate the deorbit of the Pirs docking module which will burn up upon reentering Earth's atmosphere. Also on Aug 22, International Space Company Kosmotras is set to launch Korea Aerospace Research Institute's KOMPSat-5 to LEO aboard a Ukraine-Russia Dnepr LV rocket from Yasny Cosmodrome in Dombarovsky, Russia. Its launch has been delayed since August 2011. Also known as Arirang 5, the 1,400-kg satellite is expected to provide all-weather, 24-hour images of the Korean peninsula for at least 5 years to help accomplish the 'GOLDEN' mission objectives: Geographic Information System, Ocean Management, Land Management Disaster Monitoring and ENvironment Monitoring. (Image Credit: RSA, KARI, NASA)
2013 Space Elevator Conference: Rising to the Challenge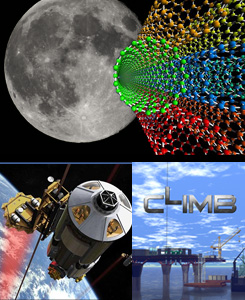 International Space Elevator Consortium is hosting the 2013 Space Elevator Conference at the Museum of Flight in Seattle WA, USA on August 23-25. The theme is 'Tether Climbers' with a focus on requirements, designs, operations, operating environments, mass estimates and cost estimates, etc. The conference features several presentations and a number of workshops. It includes Jerome Pearson – who published 'Orbital Tower' in 1975 – making a keynote presentation on 'Sir Arthur Clarke and the Space Elevator' and Michael Laine leading a Lunar Elevator Workshop. Alongside the 3-day Technical Program is a 1-day Family Science Fest with activities and exhibits scheduled for Saturday. The Space Elevator concept consists of a thin vertical tether from the ground to a mass 100,000 km out in space, and electric "Climber" vehicles that drive up and down the tether. While slower than a conventional rocket ascent, it would be much smoother and ISEC projects it could lower the current cost per kilo to orbit from ~US$20,000 to just dollars. It is one of the most promising future space transportation systems on the drawing boards today. Current R&D efforts are being bolstered by competitions organized by The Spaceward Foundation with millions of dollars in prizes provided by the NASA Centennial Challenges program. (Image Credit: ISEC, British Carbon Group)
---


= All times for terrestrial events in local time unless noted.

= All times for international terrestrial events in local time unless noted.

= All times for space events, and…

= All times for international space / astro events in Hawaii Standard Time unless noted. Add 10 hours to obtain UT ('Universal Time;' Greenwich, England).
---
Weekly Planet Watch – Evening Planets: Venus (W), Saturn (SW); Morning Planets: Mars (E), Jupiter (E).

---
MONDAY

Aug 19 — ISS, LEO: Expedition 36 continuing cargo transfers, station maintenance, checks on U.S. spacesuits; Cosmonauts Yurchikhin, Misurkin preparing for / reviewing tasks & timeline of EVA-35 on Aug 22.

 Aug 19 — XMM Newton, GTO: Providing data about SGR 0418, magnetar 6,500 light years away; it may have one of the strongest magnetic fields in Universe.

 Aug 19 — Mars Reconnaissance Orbiter, Mars Orbit: Now running on back up motion-sensing unit IMU-2, which helps maintain spacecraft attitude, as IMU-1 nears end of operational life.

 Aug 19 — Ad Astra Rocket Co., Webster TX: NewSpace company developing documentary to show space applications of VASIMR engine, including 'Jupiter Slingshot Mission' with US$76,746 received from Kickstarter campaign.

 Aug 19 — Copenhagen Suborbitals, Copenhagen, Denmark: Building Tycho Deep Space II capsule seating with DIY spacesuit in mind; preparing 2 capsules for launch escape tests.

Aug 19 — Elysium Space Inc., San Francisco CA: Offering US$1,990 memorial flight services for ashes to launch, orbit Earth for several months to years, burn up upon Earth atmosphere reentry; can track flight via online app.

Aug 19 — ISRO, Launch GSLV / GSAT 14, Sriharikota, India: Return to flight of ISRO Geosynchronous Satellite Launch Vehicle with Indian-built cryogenic 3rd stage; set to launch GSAT 14 communications satellite.

Aug 19-22 — AIAA, Boston MA: AIAA Aerospace Sciences – Flight Sciences and Information Systems Event; AIAA Guidance, Navigation, and Control Conference; AIAA Atmospheric Flight Mechanics Conference; AIAA Modeling and Simulation Technologies Conference; AIAA Infotech@Aerospace Conference.

Aug 19-23 —The National Center for Atmospheric Research (NCAR), Boulder CO: Measurement Techniques for Solar and Space Physics; at NCAR Center Green Campus.
---
Continued from…

Apr 4 – Oct 25 — NASA HQ, Online / Washington DC: 2014 Night Rover Challenge; for researchers to create energy storage system allowing simulated lunar rover to operate at average 85 W throughout 14-day-long lunar night, exceed a minimum of 300 W-hrs/kg.

Jun 10 – Sep 2 — Johnson Space Center, NASA, Seattle WA: Destination Station exhibit; for public to learn about living in space aboard the ISS; at Pacific Science Center.

Jul 3 – Sep 1 — Aerospace Research and Engineering Systems Institute, Inc., Online / Melbourne FL: LunarSail Kickstarter campaign; requesting US$11K in pledges to fund CubeSat amateur satellite containing solar sail to orbit Moon.

Jul 4 – Sep 2 — Johnson Space Center, NASA, Online / Houston TX: 'Name the Shuttle' contest for Texas residents; contest to name Shuttle replica as part of new attraction under development.

Aug 13 – Nov 26 — NASA HQ, Online / Washington DC: Accepting Proposals for Cubesat Launch Initiative; chosen Cubesats to be launched as auxiliary payloads between 2014 – 2017.
---
TUESDAY

Aug 20 — Johnson Space Center, NASA, Houston TX: Media invited to interview 8 new Astronaut candidates and NASA Administrator Charles Bolden.

Aug 20-22 — The National Academies, Washington DC: Meeting: Space-Based Additive Manufacturing of Space Hardware; at Keck Center.

Aug 20-23 — ESA, Noordwijk, The Netherlands: ESA Summer Workshop for Teachers 2013; to learn innovative ways to use space to engage students with STEM related subjects.

Aug 20 — Moon: Full (Grain / Sturgeon Moon), 15:44.
WEDNESDAY

Aug 21-23 — IEEE, Islamabad, Pakistan: International Conference on Aerospace Science & Engineering (ICASE2013); at Institute of Space Technology.
THURSDAY

Aug 22 — ISS, Russia EVA-35, LEO: Cosmonauts Yurchikhin and Misurkin scheduled to perform 6.5-hour spacewalk starting 11:40 UT to continue laying electric cables for new Russia Multipurpose Laboratory Module (Nauka) launching in Dec, perform research activities; live coverage available.

Aug 22 — International Space Company Kosmotras, Launch Dnepr LV / KOMPSat-5 (Arirang 5), Yasny Cosmodrome, Dombarovsky, Russia: Ukraine-Russia Dnepr LV rocket to launch South Korea KOMPSAT-5 satellite (also known as Arirang 5).

Aug 22 — NASA HQ, Online / Washington DC: NASA TV News Briefing on Upcoming Lunar Mission; featuring LADEE Program Executive Joan Salute, LADEE Program Scientist Sarah Noble, LADEE Project Manager Butler Hine,  LLCD Mission Manager Don Cornwell; live coverage available, 15:00 EDT.

Aug 22 — Space Frontier Foundation, Online / Nyack NY: Executive Summaries Due: NewSpace Business Plan Competition.

Aug 22-25 — The International Meteor Organization, Poznan, Poland: International Meteor Conference 2013; at Hotel IOR Congress Center; US$192-212 (€150-165).

Aug 22 — Asteroid 2013 PA39: Near-Earth flyby (0.038 AU).

FRIDAY

Aug 23 — Lunar and Planetary Institute, Houston TX: LPI Seminar Series: A Chemist's Perspective on Modern Lunar Water from Laboratory Experiments and Modeling; presented by Michael Poston from Georgia Tech; 15:30 CDT.

Aug 23 — The Space Show, Online / Tiburon CA: Host Dr. David Livingston talks with Dr. Sandra Magnus, AIAA Executive Director.


Aug 23 — Johnson Space Center, NASA, Houston TX: Lunch with an Astronaut, Ken Cameron; US$49.95 adult.

Aug 23-25 — The International Space Elevator Consortium, Seattle WA: 2013 ISEC Space Elevator Conference; featuring Jerome Pearson; at the Museum of Flight.
SATURDAY

Aug 24 — Asteroid 52760 (1998 ML14): Near-Earth flyby (0.056 AU).

SUNDAY

Aug 25-30 — European Association of Geochemistry, Florence, Italy: Goldschmidt 2013 Conference; at Firenze Fiera Congress and Exhibition Centre; US$128-885 (€100-690).

Aug 25 – Aug 24, 2018 — Johnson Space Center, NASA, Houston TX: Construction Management and Professional Engineering Services Contract worth US$25M goes to Gilbane Building Company of Houston TX to provide full spectrum construction project management services.