BSX 2010 in India to Showcase Asia Successes / Prospects in Space
With the Chandrayaan missions (BR) and an impending human spaceflight program, India is ramping up its space capabilities in an effort befitting a major global space power.  Many of these new capabilities will be on display at the second edition of Asia's only focused exhibition on space technologies, products and innovations.  Organized by the Confederation of Indian Industry, Antrix Corporation Limited and Indian Space Research Organization, the Bengaluru Space Expo (BSX) 2010 will take place August 25 to 28 at BIEC, Bengaluru, India. With over 45 countries already having access to space, the US$120B global space satellite business could easily grow to $1.2T in the coming years. BSX 2010 will address the urgent need for global vendors by providing a platform for space agencies, academia, scientific community, entrepreneurs and others to display their visions and discuss future commercial prospects for the international space industry in general and the Asia region in particular. The schedule will feature a 'Leader's Forum on Space' with panel members: Anatoliy Shilov (BL), of Roscosmos, Peter Hulsroj, of ESA, K R Sridhara Murthy, of Antrix and S O Mohammed of Nigerian Space Development and Research. 7 sessions will cover topics such as space access, commercialization of space, small satellites and risk management. (Credit: BSX2010, PIB, ISRO)
SpaceUp DC UnConference 2010: Where Space Advocates Can Expect the Unexpected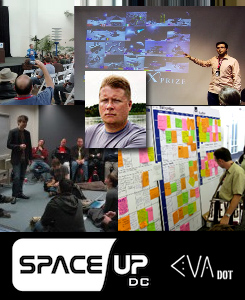 The 2nd SpaceUp Unconference will be held for the first time in Washington DC at the George Washington University Funger Hall Auditorium on Aug 27-28. Approximately 125 participants are expected to attend the event deemed "an experiment in itself." Unlike other conferences, the 'unconference' will not feature keynote speaking opportunities, assigned seating or planned sessions. Instead, topics of dynamic group discussions are decided the same day and added to the event timetable on post-it notes. All attendees are also encouraged to give 5 minute 'Ignite Talks' to present their ideas on 20 slides. Accompanied children may also attend the event to present, participate and share their ideas.  For added fun, the unconference also incorporates a fun MoonPie eating contest. The 1st SpaceUp Conference held in San Diego included representatives from Space Frontier Foundation, Northrup Grumman, SpaceX, and NASA, however SpaceUp DC Founder and organizer Michael Doornbos (C) emphasizes that the event is geared towards everyone with an interest in the future of space exploration. (Credit: SpaceUp.org, evadot.com)
---

= All times for terrestrial events in local time unless noted.

= All times for international terrestrial events in local time unless noted.

= All times for space events, and…

= All times for international space / astro events in Hawaii Standard Time unless noted. Add 10 hours to obtain UT ('Universal Time;' Greenwich, England).
---
Weekly Planet Watch – Morning Planets: Jupiter (S) / Evening Planets: Venus (WSW), Mars (W), Saturn (W), Jupiter (ESE).

---
MONDAY

Aug 23 — International Space Station, LEO: All systems up and running again on ISS after 6-person E24 crew completed four spacewalks and 22 hours, 44 minutes of space time to replace critical cooling pump.

Aug 23 — NASA Lunar Reconnaissance Orbiter (LRO), Lunar Orbit: LRO operating nominally in low polar orbit (50km) and continues to return global data of lunar surface.

Aug 23 — Mars Reconnaissance Orbiter (MRO), Red Planet: Research scientists at the Astromaterials Research and Exploration Science Directorate at NASA Johnson Space Center studying MRO images of  mud-volcano-like-structures in northern plains of Mars, believed to be potential area for finding signs of life.

NET Aug 23 — Wallops Flight Facility, Wallops Island VA: Next test launch for NASA Terrier- Orion suborbital sounding rocket.

Aug 23-25 — California Institute of Technology, Pasadena CA: '2nd International EMU (Evolutionary Map of the Universe) Workshop,' 3-day conference to discuss how many of the 70 million EMU sources will be visible in WISE and other optical/IR surveys and the decision process for cross-identification between radio and optical/IR surveys.

Aug 23-26 — Utah State University Research Foundation Space Dynamics Laboratory, Logan UT: 'CALCON Technical Conference: Characterization an Radiometric Calibration for Remote Sensing,' calibration experts to offer relevant knowledge and suggestions about calibration, characterization, and radiometric issues within the microwave, IR, visible, and UV spectrums.

Aug 23-27 — National Institute of Science, Astronomical Observatory of the Marseille Province, et al, Haute-Provence, France: 'Detection and Dynamics of Transiting Exoplanets;' review of latest exoplanet transiting systems which could provide data used for modeling / investigating planet formation and migration.

Aug 23-Sep 3 — Student Association for Space Exploration, Barcelona, Spain: 'Space Camp Barcelona,' for students 8-12 who are interested science, technology and space.

Aug 23 — Moon: 4.2° NNW of Neptune; 20:00.
---
Continued from . . .

Jun 26 — International Space University (ISU), Strasbourg, France and Stuttgart, Germany: 'ISU Summer Session Program;' through Aug 27.

Aug 21 — International Mineralogical Association (IMA), Budapest, Hungary: '20th General Meeting of the IMA 2010,' which will feature special sessions on Planetary Mineralogy; through Aug 27.

Aug 22 — International Astronomical Union, Ventura CA: 'IAU Symposium 273: Physics of Sun and Star Spots;' through Aug 26.
---
TUESDAY

Aug 24 — Moon: Full Moon, 07:05; At Apogee (Distance 63.71 Earth-Radii), 20:00.

Aug 24 — Asteroid 2005 QQ87: Near-Earth Flyby (0.082 AU).
---
WEDNESDAY

Aug 25 — The SETI Institute, Mountain View CA: Colloquium Series Lecture: 'Beyond Kepler: Direct Imaging of Earth-like Planets,' Ruslan Belikov.

Aug 25 – NASA Glenn Research Center, Cleveland OH: NASA Chief Technologist Bobby Braun will hold a media roundtable to discuss NASA's innovation and technology plans and the important role that NASA's Glenn Research Center will play.

Aug 25-28 — Indian Space Research Organization, Confederation of Indian Industry, Bengaluru, India: 'Bengaluru Space Expo 2010,' showcase of the latest technological advancements, related products and technical services for space agencies, specialists, entrepreneurs and space industry leaders to display their visions to decision makers.

Aug 25 — Northern Iota Aquarids Meteor Shower: 5–10 meteors per hour can be seen from RA=350°, DECL=0°.

Aug 25 — Comet 10P / Tempel 2: Closest Approach to Earth (0.651 AU).
---
THURSDAY

Aug 26 – NASA Goddard Space Flight Center, Greenbelt MD: News media representatives are invited to learn about the James Webb Space, enjoy stargazing.

Aug 26 — Moon: 5.8° NNW of Uranus, 15:00; 6.6° NNW of Jupiter, 19:00.

Aug 26 — Asteroid 2007 DS7: Near-Earth Flyby (0.096 AU).
---
FRIDAY

Aug 27-28 — Evadot.com, Washington DC: 'SpaceUp DC: A Space UnConference,' held at George Washington University Space Policy Institute.
---
SATURDAY

Aug 28-29 — Snowlab, Sudbury, Ontario, Canada: 'Topical Workshop in Low Radioactivity Techniques 2010,' workshop examines topics in low radioactivity materials and techniques in Canada's deep underground astroparticle physics laboratory.

Aug 28 — Asteroid 2007 DD: Near-Earth Flyby (0.082 AU).
---
SUNDAY

Aug 29 — Asteroid 36800 Katarinawitt: Closest Approach to Earth (1.009 AU).