New Horizons 9.5-Year Journey to Pluto Continues: Worth the Wait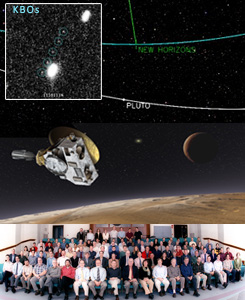 The first spacecraft dedicated to explore Pluto, its moons and potential Kuiper Belt Objects (KOBs) – New Horizons, is scheduled to cross Neptune orbital path on August 25. It will be the 5th spacecraft to voyage this far after Pioneers 10 & 11 and Voyagers 1 & 2. Traveling at ~52,883 kph, it is performing instrument check outs, homing activities, course corrections and brightness variation measurements of Pluto and Charon until its scheduled hibernation on September 6. New Horizons will wake in December to prepare for distant-encounter operations and monitoring. It is expected to fly by Pluto at ~10,000 km traveling at 14 km/s on July 14, 2015, after traveling about 9.5 years and 4.8B km. The science team is hoping to capture the first ever high-res images of the dwarf planet and its moon Charon, as well as map IR surface composition / temperatures. PI Alan Stern, among others, hopes that discoveries and data from the Pluto system reignite the "planet-status" debate. Two of the five moons, Kerberos and Styx were discovered in 2011 and 2012 – it is likely more may be found. Observations are expected to continue for at least 1 year after its flyby. Hubble space telescope has revealed two potential Kuiper Belt Objects (1110113Y and 0720090F) which may be suitable for New Horizons to target between 2016-2020. (Image Credit: NASA, JHUAPL, SwRI, ESA, New Horizons KBO Search Team)
Polar Science and Exploration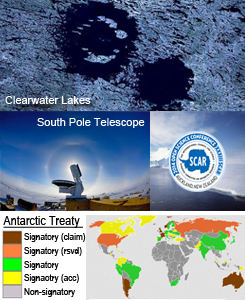 The Royal Society of New Zealand hosts the 33rd SCAR Biennial Meetings and Open Science Conference on August 23 – September 3 at the SkyCity Convention Centre in Auckland New Zealand. SCAR is the Scientific Committee on Antarctic Research, an inter-disciplinary committee of the International Council for Science charged with initiating, developing and coordinating high quality international scientific research in the Antarctic region, and on the role of the Antarctic region in the Earth system. SCAR has members and offices in 38 countries. The program includes a session on Astronomy & Astrophysics from Antarctica convened by Emeritus Professor John Storey of the Department of Astrophysics and Optics, University of New South Wales, Australia. This session includes presentations on IceCube, ESCAPE, exoplanet observations from ASTEP to AST3, and prospects for a Planet Formation Imager on the high Antarctic plateau. To the North just 10° below the Arctic Circle, Canadian Space Agency Astronaut David Saint-Jacques is set to conduct Geology Field Training at the Western Clearwater lake, one of a pair of annular impact crater lakes at 56°N by 74°W, Quebec, Canada. Saint-Jacques will be accompanying a team lead by Dr. Gordon Osinski from the University of Western Ontario Centre for Planetary Science and Exploration. (Image Credit: SCAR, Wikipedia, NASA, Jeff McMahon, Ben Holt Sr. et al)
---


= All times for terrestrial events in local time unless noted.

= All times for international terrestrial events in local time unless noted.

= All times for space events, and…

= All times for international space / astro events in Hawaii Standard Time unless noted. Add 10 hours to obtain UT ('Universal Time;' Greenwich, England).
---
Weekly Planet Watch – Evening Planets: Mars (SW), Saturn (SW); Morning Planets: Venus (ENE), Jupiter (ENE).
---
MONDAY

Aug 25 — ISS, LEO: Expedition 40 crew packing Soyuz TMA-12M with items for return to Earth, preparing for change of command Sep 9, transferring cargo from Progress 56 & ATV-5, setting up Aquatic Habitat for Zebrafish Muscle study.

 Aug 25 — Curiosity, Hidden Valley, Mars: Science team evaluating 4th potential drilling rock dubbed Bonanza King; will continue heading toward Pahrump Hills site on the way to Mount Sharp.

Aug 25 — Cassini, Saturn Orbit: Spacecraft conducts Orbital Trim Maneuver #389 today.

Aug 25 — New Horizons, Pluto Trajectory: Spacecraft to cross Neptune orbit today.

Aug 25 — Canadensys Aerospace Corp., Toronto, Ontario, Canada: NewSpace company conducting investigation on what Canada's overall contribution to Mars 2020 rover mission could be under Canadian Space Agency grant award.


Aug 25 — Bigelow Aerospace LLC, Las Vegas NV: Preparing BEAM inflatable habitat to launch / attach to ISS mid-2015 for 2 years; planning for commercial Alpha space station and lunar habitats. 

Aug 25 — Uwingu, Boulder CO: For "Beam Me to Mars" initiative, collecting messages to transmit to Mars via Universal Space Network on Nov 28 in celebration of 50th anniversary of the beginning of Mars exploration with Mariner 4 launch.


Aug 25 — NASA, Online / Washington DC: Broadcast event – NASA Science Briefing: New Horizons Pluto Mission: Mirroring the Voyager Spacecraft Legacy; 13:00 EDT, live coverage available.


Aug 25-29 — International Astronomical Union, Beijing, China: IAUS 312: Star Clusters and Black Holes in Galaxies across Cosmic Time; at National Science Library of Chinese Academy of Sciences.

Aug 25-29 — Leibniz Institute for Astrophysics Potsdam, Potsdam, Germany: 11th Potsdam Thinkshop: Satellite Galaxies and Dwarfs in the Local Group.

Aug 25 – Sep 3 — European Mineralogical Union, Glasgow, Scotland: European Mineralogical Union (EMU) School 2014 – Planetary Mineralogy; at University of Glasgow.

Aug 25 – Sep 19 — Munich Institute for Astro- and Particle Physics (MIAPP), Munich, Germany: Workshop: Cosmology after Planck.

Aug 25 — Moon: 4.4° SSW of Regulus, 00:00; New Moon, 04:12.


Aug 25 — Mars: 3.4° SSW of Saturn, 08:00.

Aug 25 — Asteroid 2008 RG1: Near-Earth flyby (0.068 AU).
---
Continued from…

Aug 23 – Sep 1 — Merritt Astronomical Society, Merritt, British Columbia, Canada: Summer Merritt Star Quest 2014.

Aug 23 – Sep 3 — Scientific Committee on Antarctic Research, International Council for Science, Auckland, New Zealand: 33rd Scientific Committee on Antarctic Research (SCAR) Biennial Meeting.

Aug 24-26 — AIAA, Laurel MD: International Conference on Space Mission Challenges for Information Technology.

Aug 24-28 — Brazilian Aerospace Association, Foundation for the Support of Research State of São Paulo, Ubatuba, São Paulo, Brazil: Meeting: Small Bodies Dynamics 2014 (SBD14).

Aug 24 – Sep 14 — Aspen Center for Physics, Aspen CO: Workshop: The Galaxy-Halo Connection Across Cosmic Time.
---
TUESDAY

Aug 26 — SpaceX, Launch Falcon 9 / AsiaSat 6, Cape Canaveral AFS FL: SpaceX Falcon 9 to launch AsiaSat 6 communications satellite; 00:50 – 04:05 EDT.

Aug 26-27 — NASA, Jackson MS: Launching Connections: A Business to Business Expo; at Jackson Convention Complex.

Aug 26 — Moon: 3.2° SSW of Mercury, 17:00.
WEDNESDAY

Aug 27 — ISS, LEO: ISS In-Flight Event – Commander Steve Swanson & Flight Engineer Reid Wiseman talk with Elliot Ranch Elementary School in CA, 17:10 EDT.
THURSDAY

Aug 28-31 — Tri-State Astronomical Society, Garretson SD: South Dakota Star Party (SDSP) 2014.
FRIDAY

Aug 29 — Space Center Houston, Houston TX: Lunch with an Astronaut, Mike McCulley; US$49.95 adult.

Aug 29-30 — Mariestads Astronomy Club, Mariestad, Sweden: Meeting Under the Stars.

Aug 29 — Moon: 2.4° NNE of Spica, 11:00.
SATURDAY

Aug 30 — Asteroid 2014 PL51: Near-Earth flyby (0.093 AU).
SUNDAY

Aug 31 — The Space Show, Tiburon CA / Online: Dr. David Livingston talks with Dr. William (Bill) Rowe.

Aug 31 – Sep 5 — American Geophysical Union, Jeju, South Korea: AGU Chapman Conference on Low-Frequency Waves in Space Plasmas.

Aug 31 – Sep 14 — Aspen Center for Physics, Aspen CO: Summer Program: Radiation Driven Outflows in Stars and Quasars.

Aug 31 — Moon: 0.96° E of Saturn, 09:00; 4.1° N of Mars, 15:00.