Japan 1st Launch of Epsilon Rocket with SPRINT-A Telescope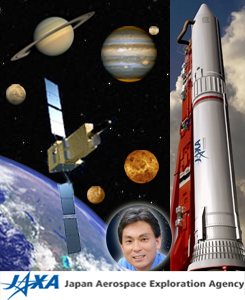 The first JAXA Epsilon rocket (Epsilon-1) is scheduled to launch the SPRINT-A/EXCEED telescope on August 27 from Uchinoura Space Center in Kagoshima prefecture, Japan. The 24.4-meter tall, three-stage solid propellant rocket capable of launching 1,200 kg into LEO, is a follow-on to the larger, more expensive M-V rocket which was retired in 2006. An M-V launch typically cost US$70M. Epsilon-1 launch totals $45M. Epsilon uses solid rocket boosters from the H-IIA rocket for the first stage and existing M-V upper stages for the second and third stage. The 320-kg Spectroscopic Planet Observatory for Recognition of Interaction of Atmosphere (SPRINT-A) / EXtreme ultraviolet spectrosCope for ExosphEric Dynamics (EXCEED) telescope developed by JAXA is the first in the SPRINT small scientific satellite series. It will make observations of Mercury, Venus, Mars, Jupiter and Saturn in extreme ultraviolet (EUV) rays. It will study the interaction of solar wind with the upper atmosphere of the planets and how it contributes to atmospheric loss at Venus and Mars. By monitoring Jupiter's moon Io, SPRINT-A will also study how sulfur and oxygen ions flowing from Io affect the rapidly rotating magnetosphere of Jupiter. Pictured SPRINT Project Manager Shujiro Sawai. (Image Credit: JAXA, NASA)
Mars Evolving as Challenging Destination for Near-term Human Exploration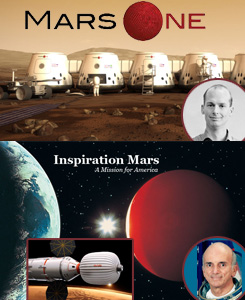 A wave of ebullient and ambitious Space projects is surging ahead in 2013 as Mars One and Inspiration Mars look to lead the way to the red planet. The goal of Mars One, co-founded by entrepreneur / engineer Bas Lansdorp, is to establish a permanent human settlement on Mars starting in 2023 using existing technology from the private space industry with a budget of US$6B. Over 165,000 people from 140+ countries have applied to make the one-way trip in the first round of the selection process which ends August 31. In the final stage, the public will vote to decide the crew for the first trip from 24-40 fully trained and qualified candidates. Inspiration Mars, led by multimillionaire Dennis Tito (pictured) and innovative researcher Taber MacCallum, is working on a 2-person Mars flyby mission for launch on January 5, 2018. The 501-day proposed flight plan aims to take advantage of an exceptionally quick, free-return orbit opportunity that coincides with the 11-year solar minimum and will not present again until 2031. The Mars Society is conducting an International Student Design Competition to identify architecture that can achieve the mission goals as cheaply, safely and simply as possible. Entries are due by March 15, 2014. Ten finalist teams will go before a panel of expert judges to present and defend their designs in April 2014. (Image Credit: Mars One, Inspiration Mars)
---


= All times for terrestrial events in local time unless noted.

= All times for international terrestrial events in local time unless noted.

= All times for space events, and…

= All times for international space / astro events in Hawaii Standard Time unless noted. Add 10 hours to obtain UT ('Universal Time;' Greenwich, England).
---
Weekly Planet Watch – Evening Planets: Venus (WSW), Saturn (SW); Morning Planets: Mars (E), Jupiter (E).

---
MONDAY

Aug 26 — ISS, LEO: Expedition 36 crew continuing cargo transfer from HTV-4; Cassidy, Misurkin, Commander Vinogradov checking "Kazbek" seat liners of their Soyuz TMA-08M, preparing for return to Earth set for Sep 11.

Aug 26 — Opportunity, Solander Point, Mars: Will continue to investigate rocks and outcrops while heading up Solander Point, a north-facing slope, to charge solar panels as Mars winter approaches.

Aug 26 — Cassini, Saturn Orbit: Scheduled to make 17 more flybys of Titan before flying by another Saturn moon (Dione) on Jun 16, 2015 at 516-km altitude.

Aug 26 — Orbital Sciences Corp., Wallops Island VA: NewSpace company readying Minotaur V rocket to launch LADEE Moon spacecraft on Sep 6; will be its 17th Minotaur launch (all previous have been successful).

Aug 26 — Virgin Galactic, Las Cruces NM: Preparing for second powered flight of SpaceShipTwo; planning for first public flight on Dec 25; FAA reviewing company's application for commercial flight license.

Aug 26 — Clyde Space Ltd, Glasgow, Scotland: Providing custom designs for all sizes of spacecraft; recently completed UKube-1, the first CubeSat mission for UK Space Agency.

Aug 26 — The Space Show, Online / Tiburon CA: Host Dr. David Livingston talks with Dr. James Hansen about his book First Man: The Life of Neil A. Armstrong.


Aug 26-30 — Caltech, NASA Herschel Science Center, Pasadena CA: Exploiting the Herschel Archive: A Data Processing Workshop; 4th floor, Keith Spalding Building, Caltech.

Aug 26-30 — Astronomical Observatory of Adam Mickiewicz University, Poznan, Poland: Meteoroids 2013: International Conference on Minor Bodies in the Solar System.
---
Continued from…

Jun 10 – Sep 2 — Johnson Space Center, NASA, Seattle WA: Destination Station exhibit; for public to learn about living in space aboard the ISS; at Pacific Science Center.

Jul 4 – Sep 2 — Johnson Space Center, NASA, Online / Houston TX: 'Name the Shuttle' contest for Texas residents; contest to name Shuttle replica as part of new attraction under development.

Aug 16 – Mar 15, 2014 — Mars Society, Online / Lakewood CO: International Student Design Competition: Concepts for Inspiration Mars Mission; for students to design 2-person Mars flyby mission for 2018 as cheaply, safely, simply as possible; US$10K grand prize.

Aug 16 – Sep 6 — Kennedy Space Center, NASA, Online / KSC FL: Request for Information on KSC Mobile Launch Platforms; requesting traditional / non-traditional ideas to reuse or dispose of Apollo and Space Shuttle Mobile Launch Platforms.

Aug 19 – Sep 16 — The Center for the Advancement of Science in Space (CASIS), Online / Exploration Park FL: CASIS Contest for Ideas: Your Idea in Space – What Would You Send to the ISS?; US$10K grand prize.

Aug 20 – Sep 10 — Goddard Space Flight Center, NASA, Online / Greenbelt MD: Request for Information: Extreme Environments Challenge; to determine level of interest in potential competition for developing technologies to operate in extreme environments.

Aug 25-30 — European Association of Geochemistry, Florence, Italy: Goldschmidt 2013 Conference; at Firenze Fiera Congress and Exhibition Centre; US$128-885 (€100-690).
---
TUESDAY

Aug 27 — JAXA, Launch Epsilon-1 / SPRINT-A (EXCEED), Uchinoura Space Center, Japan: A Japan Epsilon rocket set to launch SPRINT-A/EXCEED satellite with small space telescope to observe planets; satellite will also carry out experiments on solar and lithium-ion batteries.

Aug 27 — The National Academies, Online / Washington DC: Teleconference: Human Spaceflight; 15:00 – 16:00 EDT.

Aug 27 — Space Florida, Exploration Park FL: Space Florida Evaluation Committee Public Meeting; to discuss vendors' proposals for solicitation 'Request for Qualifications for Environmental Services Supporting a Launch Site Operator License for the Proposed Shiloh Launch Complex.'

Aug 27 — SETI Institute, Mountain View CA: Breaking the Seeing Barrier for Planetary Astronomy; presented by Franck Marchis from SETI, 19:00 PDT.

Aug 27 — Moon: 5.8° S of Pleiades, 13:00; at last quarter, 23:35.
WEDNESDAY

Aug 28 — Johnson Space Center, NASA, Houston TX: Media Invited to Interview Expedition 38; Rick Mastracchio of NASA, Koichi Wakata of JAXA, Mikhail Tyurin of RSA participate in live conference 13:00 CDT.

Aug 28 — Lunar and Planetary Institute, Houston TX: LPI Seminar Series: Mercury – Global Tectonics on a Contracting Planet; presented by Paul Byrne; 15:30 CDT.

Aug 28 — Moon: 3.0° N of Aldebaran, 11:00.

Aug 28 — Asteroid 2007 CN26: Near-Earth flyby (0.030 AU).

THURSDAY

Aug 29 — Arianespace, Launch Ariane 5 / Eutelsat 25B & GSAT 7, Kourou, French Guiana: Soyuz rocket, designated VA215, to launch communications satellites.

Aug 29 — Space Frontier Foundation, Online / Nyack NY: Extended Deadline: Executive Summaries Due for NewSpace Business Plan Competition.

Aug 29-30 — International Academy of Astronautics, Romanian Space Agency, Mamaia, Romania: 2nd IAA Conference on Space Systems as Critical Infrastructure.
FRIDAY

Aug 30 — Johnson Space Center, NASA, Houston TX: Lunch with an Astronaut, Brian Duffy; US$49.95 adult.

Aug 30 — Moon: At apogee (distance 404,431 km), 14:00.

Aug 30 — Asteroid 2008 PW4: Near-Earth flyby (0.037 AU).

SATURDAY

Aug 31 — Space Foundation, Online / Colorado Springs CO: Nominations Due: 2014 Space Technology Hall of Fame.

Aug 31 — Mars One, Online / The Hague, The Netherlands: Applications Due from those interested in one-way tickets to Mars to set up permanent Human settlement; US$38 to apply.

Aug 31 — Moon: 4.5° S of Jupiter, 07:00.
SUNDAY

NET Sep — SpaceX, Launch Falcon 9 / SES 8, Cape Canaveral AFS FL: The SpaceX Falcon 9 rocket set to launch SES 8 communications satellite.

NET Sep — SpaceX, Cape Canaveral AFS FL: Upgrading Dragon spacecraft to carry humans to space for NASA CCiCAP, In-Flight Abort Test Review to occur this month.

NET Sep — Boeing Company, Chicago IL: Developing CST-100 7-person spacecraft for NASA CCiCAP, Mission Control Center Interface Demonstration Test and Launch Vehicle Adapter Critical Design Review to occur this month.

Sep 1 — Deep Space: Science team preparing for Juno spacecraft Earth flyby gravity assist scheduled to occur in 44 days; Juno has now completed more than half of its journey to Jupiter in terms of distance (9.464 AU).


Sep 1 — Goddard Space Flight Center, NASA, Greenbelt MD: Model Rocket Launches; up to 609-meter altitude; 13:00 – 14:00 EDT.

Sep 1 — Aerospace Research and Engineering Systems Institute, Inc., Online / Melbourne FL: Last Day: LunarSail Kickstarter campaign; requesting US$11K in pledges to fund CubeSat amateur satellite containing solar sail to orbit Moon.

Sep 1 — Moon: 11.5° SSW of Pollux, 00:00; 6.1° SSW of Mars, 19:00.

Sep 1 — Asteroid 2009 WH106: Near-Earth flyby (0.054 AU).


Sep 1 — Asteroid 2013 GH66: Near-Earth flyby (0.067 AU).