100th ISRO Mission to Launch Earth Observation Satellites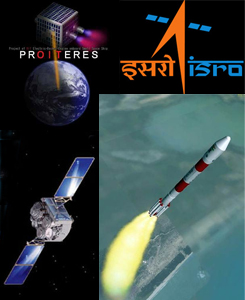 The Indian Space Research Organisation is set to embark on its 100th mission September 9, launching two satellites on a Polar Satellite Launch Vehicle (PSLV) from the Satish Dhawan Space Centre, located on the southeast coast of the subcontinent. The PSLV will carry the SPOT 6 high-resolution optical Earth observation satellite for the French government under a commercial contract. It will also carry the PRoject of OIT Electric-Rocket-Engine Onboard Small Space Ship (PROITERES) MicroSat, a small satellite project developed in Japan at the Osaka Institute of Technology. SPOT 6 (800 kg) and its twin SPOT 7, set to launch in early 2014, are operated by Astrium Services and will enable the entire Earth to be seen every day in high- to very-high resolution. The 15 kg PROITERES MicroSat will monitor the Kansai area of western Japan with a high-resolution camera. In addition to radio equipment, the ultra-small satellite has an electric propulsion rocket engine making powered-flight possible. Beginning with the Aryabhata satellite in 1975, the PSLV has put 52 satellites (26 Indian and 26 international) into a variety of orbits at a flyaway cost of US $17 million per launch. Before the end of this year, another PSLV mission will launch joint Indo-French research satellite Saral into a sun-synchronous orbit. (Image Credits: ISRO, OIT, Astrium)
Ukraine Symposium Focuses on Mitigating Threats to Humanity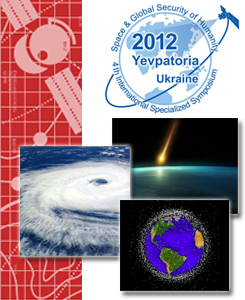 The Fourth International Specialized Symposium: Space and Global Security of Humanity will take place September 3-7 in Yevpatoria, Ukraine. The symposium will focus on the creation of systems providing the international community with effective early warning of global risks and threats, including dangerous events originating in space. In addition to a plenary session, the conference is organized into three sections. The first, on Modern Space Exploration Strategy and Security, looks at the social, philosophical and long-term objectives of modern space exploration with respect to security, the role advanced space technologies play in mitigating natural and industrial hazards and space-awareness regarding natural and industrial emergencies. The second section is on the Results of the International Global Monitoring Aerospace System (IGMASS) Design, a project that seeks to discover precursors to natural and man-made calamities through the simultaneous use of space, air and land-based equipment to forecast disasters and other emergencies. The third section is on the Utilization of IGMASS Navigation and Telecommunications Resources for Development of a Unified Information Security Field, focusing on warning systems for potential planetary hazards from space, the prevention of near-Earth orbit obstructions, training specialists for space research and the application of space activity outcomes. (Image Credits: IGMASS,  NOAA)
---


= All times for terrestrial events in local time unless noted.

= All times for international terrestrial events in local time unless noted.


= All times for space events, and…


= All times for international space / astro events in Hawaii Standard Time unless noted. Add 10 hours to obtain UT ('Universal Time;' Greenwich, England).
---
Weekly Planet Watch – Evening Planets: Mars (WSW), Saturn (WSW). Morning Planets: Venus (E), Jupiter (SSE).
---
MONDAY

Sep 3 — Neil Armstrong, American Hero: "The important achievement of Apollo was demonstrating that humanity is not forever chained to this planet and our visions go rather further than that and our opportunities are unlimited."

Sep 3 — Lunar Reconnaissance Orbiter, Lunar Orbit: LRO following up on radar measurements of Shackleton crater, acquiring new bistatic radar images of Moon to help distinguish between surface roughness and ice.

Sep 3 — Mars Science Laboratory, Red Planet: Curiosity 400-m trek to Glenelg, site with 3 different types of geology, possibly first site rover will drill for rock samples.

Sep 3 — Jupiter Juno Mission, Jupiter Trajectory: Traveling at 55,800 km per hour, spacecraft passing 5.12 AU, one quarter of total distance Juno will travel en route to Jupiter.

Sep 3 — LiftPort Group, Snohomish WA: Founder and President Michael Laine says company can build space elevator on Moon using current technology within 8 years.

Sep 3 — Orbital Sciences, Dulles VA: Set to conduct 1st Cygnus test flight to ISS in October and demonstration launch later this year, with first ISS supply mission in early 2013.

Sep 3 — AdamWorks, Centennial CO: Selected by XCOR Aerospace to manufacture Lynx Mark I carbon fiber cockpit; 3 of 6 firms building commercial space vehicles are AdamWorks customers.

Sep 3-7 — Ludwig Maximilian University of Munich, Munich, Germany: 'Planet Formation and Evolution 2012.'

Sep 3-7 — European Southern Observatory Headquarters, Garching, Germany: 'ESO@50–The First 50 Years of ESO.'

Sep 3-7 — State Space Agency of Ukraine, International Academy of Astronautics, Yevpatoria, Ukraine: '4th International Specialized Symposium: Space and Global Security of Humanity.'

Sep 3-7 — Institute of Astronomy, The National Autonomous University of Mexico, Ensenada, México: 'Astronomical Instruments for Robotic Telescopes.'

Sep 3 — Asteroid 2012 HG31: Near-Earth Flyby (0.072 AU).
---
Continued from…

Jul 1 – Dec 31 — American Institute of Aeronautics and Astronautics, Online: 'AIAA Short Course: Introduction to Space Flight,' Francis Hale.

Aug 30- Dec 3 — GRAIL Mission, NASA JPL, Lunar Orbit: NASA's Gravity Recovery and Interior Laboratory (GRAIL) mission Extended Science Operations.

Sep 2-8 — The International School of Space Science, L'Aquila, Italy: 'Astrophysical and Space Plasmas.'
---
TUESDAY

Sep 4 — ILOA, NAOC, Kamuela HI: International Lunar Observatory Association (ILOA) to sign MOU to establish a cooperative program to conduct Galaxy, Astronomical Imaging using the Lunar Telescope of the Chang'e-3 Moon Lander and ILO-X and / or ILO-1 mission instruments.

Sep 4 — NASA, Cape Canaveral FL: 35th Anniversary of Voyager 1 launch (1977); spacecraft has traveled further than any other human-made object launched from Earth.

Sep 4 — Juno Mission, Jupiter Trajectory: 'NASA Juno Deep Space Maneuvers,' second of two scheduled deep space maneuvers.

Sep 4-6 — Canadian Space Agency, German Aerospace Agency, ESA, JAXA, NASA, Turin, Italy: 'International Symposium on Artificial Intelligence, Robotics and Automation in Space (i-SAIRAS).'

Sep 4 — Asteroid 2012 PX: Near-Earth Flyby (0.045 AU).

Sep 4 — Asteroid 2012 QC18: Near-Earth Flyby (0.0685 AU).
WEDNESDAY

NET Sep 5 — Dawn Mission, Asteroid Belt: Spacecraft scheduled to depart Vesta for Ceres, largest known object in asteroid belt.

Sep 5 — SETI Institute, Mountain View CA: Colloquium Series Lecture: 'Coronal Heating and Acceleration and NASA's Solar Probe Plus Mission,' Stuart Bale.

Sep 5 — Jet Propulsion Laboratory, Pasadena CA: 'The von Karman Lecture Series: Voyager Celebrates 35 Years in Space.'

Sep 5-6 — Smithsonian Astrophysical Observatory, National Museum of Natural History, Washington DC: 'Life in the Cosmos Workshop.'

Sep 5-7 — University of Bologna, ESA, et al, Baiona, Spain: '6th Advanced Satellite Multimedia Systems Conference / 12th Signal Processing for Space Communications Workshop.'
THURSDAY

Sep 6-7 — International Academy of Astronautics, Romanian Space Agency, International Institute of Space Law, Mamaia, Romania: '1st IAA Conference on Space Systems as Critical Infrastructures.'

Sep 6 — Asteroid 2007 PS25: Near-Earth Flyby (0.050 AU).

Sep 6 — Moon: 4.2° S of Pleiades, 17:00.
FRIDAY

Sep 7 — Space Center Houston, Houston TX: 'Lunch With an Astronaut,' Leroy Chiao.

Sep 7 — Asteroid 2005 RZ2: Near-Earth Flyby (0.0993 AU).

Sep 7 — Moon: 4.5° N of Aldebaran, 15:00.
SATURDAY

Sep 8 — National Air and Space Museum, Chantilly VA: 'Living and Working in Space.'

Sep 8 — The British Interplanetary Society, London, England: '67th Annual General Meeting of the British Interplanetary Society.'

Sep 8 — Moon: 0.70° SSW of Jupiter, 00:00.
SUNDAY

NET Sep 9 — ISRO, Launch PSLV / Spot 6, Satish Dhawan Space Center, Sriharikota, India: ISRO Polar Satellite Launch Vehicle set to launch Spot 6 remote sensing satellite for Astrium Services.

Sep 9 — Asteroid 2012 QD8: Near-Earth Flyby (0.044 AU).

Sep 9 — Asteroid 2012 PK24: Near-Earth Flyby (0.065 AU).