AIAA / Utah State University Small Satellite Conference to Celebrate 25 Years of Small Satellite Technology, Innovation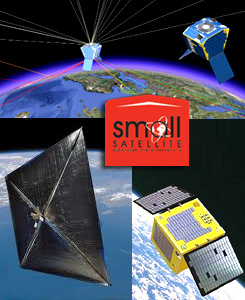 On August 8-11, the American Institute of Aeronautics and Astronautics in collaboration with Utah State University will hold the Small Satellite Conference in Logan UT. Participants will celebrate the theme, '25 Years of Progress' and reflect on the advances made in the past 2.5 decades, as well as explore the prospects for the future of smaller space missions. Besides reduced costs, small satellites have proved beneficial for other reasons such as low data rate communications, using formations to gather data from multiple points and in-orbit inspections of larger satellites. Scientists have categorized small satellites into 4 groups: mini (100-500kg), micro (10-100kg), nano (1-10kg) and pico (.1-1kg). Keynote speakers at the conference will include MESSENGER Payload Manager for Johns Hopkins University Applied Physics Laboratory Robert Gold and NASA Chief Technologist Robert Braun. The conference will feature the Frank Redd Student Scholarship Competition which will give students the opportunity to share their work on small satellite concepts and missions. Presentations will include a review of the solar-sail experiment NanoSail-D and upcoming ExoplanetSat mission to detect transiting exoplanets with a cubesat space telescope. (Credit: NASA, AIAA, Utah State University, satnews.com, onorbit.com)
Space Elevators Lift Ambitions with Events on 3 Continents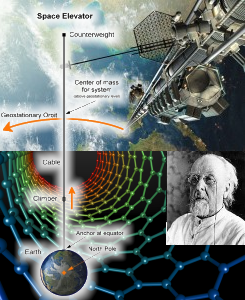 The 2011 Space Elevator Conference lifts-off Friday, August 12 in Redmond, Washington, USA. Presented by The Space Engineering and Science Institute (SESI), it will cover four key areas: science/technical, political/social, legal and economic. The theme is Developing Stronger, Lighter Tethers – "30 MegaYuris or Bust!" The Tethers Sessions explore carbon nanotubes. The Science and Technical Sessions include Karen Ghazaryan on Dynamic Problems of Viscoelastic Tethers, and Hironori Fujii on Dynamics of Space Elevator Systems. NASA will report on the Strong Tether Challenge. Interest in, and perceived feasibility of, space elevator technology seems to be growing. The SESI conference is one of three international events in August focused on this long imagined concept. The Japan Space Elevator Association organized the 2011 Japan Space Elevator Technical & Engineering Competition, August 4-8. Also, The Scientific Workgroup for Rocketry and Space Flight is holding the 1st European Space Elevator Challenge 2011 in Munich, Germany. The International Space Elevator Consortium formed with the aim of bringing space elevators in to reality as a "revolutionary and efficient way to space for all humanity." (Credit: SESI, Michael Strock, Space Elevator Blog)
---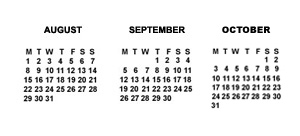 = All times for terrestrial events in local time unless noted.

= All times for international terrestrial events in local time unless noted.

= All times for space events, and…

= All times for international space / astro events in Hawaii Standard Time unless noted. Add 10 hours to obtain UT ('Universal Time;' Greenwich, England).
---
Weekly Planet Watch – Morning Planets: Mars (E), Jupiter (SE) / Evening Planets: Saturn (WSW).
---
MONDAY

Aug 8 — International Space Station, LEO: The 6 E-28 crew members on the ISS include Russia Cosmonauts Cmdr Andrey Borisenko, Alexander Samokutyaev, Sergei Volkov, NASA Astronauts Ron Garan, Mike Fossum and JAXA Astronaut Satoshi Furukawa.

Aug 8 — NASA Lunar Reconnaissance Orbiter (LRO), Lunar Orbit: All systems nominal in scientific phase of mission as LRO continues to make digital elevation and terrain maps that will be a fundamental reference for future human exploration.

Aug 8 — Mars Reconnaissance Orbiter, Red Planet: Scientists continue to investigate recent imagery from NASA MRO showing 'recurring slope lineae' or lines on the planet's surface, estimated to be up to 5m wide, which suggests evidence of salty liquid water active on Mars today.

Aug 8 — Space Show, Nationwide: This week's Space Show continues to cover important space issues with informative interviews from space advocates.

Aug 8 — NASA Headquarters, Washington DC: Media teleconference to announce proposals selected for study under the NASA Innovative Advanced Concepts (NIAC) program at 14:00 EDT.

Aug 8 — Ball Aerospace & Technologies Corp, Boulder CO: Media briefing on scheduled launch of NASA National Polar-orbiting Operational Environmental Satellite System (NPOESS) Preparatory Project at 10:30-11:30 MDT.

Aug 8-11 — American Institute of Aeronautics and Astronautics, Portland OR: 'Modeling and Simulation Technologies Conference,' 'Regional Leadership Conference,' Aug 11-12.

Aug 8-11 — American Institute of Aeronautics and Astronautics, Utah State University, Logan UT: 'Small Satellite Conference: 25 Years of Progress.'

Aug 8-12 — Jet Propulsion Laboratory, Pasadena CA: '8th Teachers Touch the Sky: An Astronomy Workshop,' for teachers in grades 3 – 9 featuring hands-on activities based on current projects in astronomy and space science at JPL, with emphasis on NASA's current Dawn Mission to the asteroid Vesta.

Aug 8-12 — Asia Oceania Geosciences Society, Taipei, Taiwan: 'AOGS 2011 Conference.'

Aug 8-12 — The Meteoritical Society, London, United Kingdom: '74th Annual Meeting of the Meteoritical Society.'

Aug 8 — Asteroid 1718 Namibia: Closest Approach to Earth (0.755 AU).
---
Continued from . . .

Jun 27 — Google Lunar X Prize Foundation, LEGO Group, Playa Vista CA; Online: 'LEGO Moonbots 2.0;' through Aug 15.

Jul 11 — International Space University – Space Studies Institute, Graz, Austria: '24th Space Studies Program;' through Sep 9.

Aug 4 — Japan Space Elevator Association, Japan: '2011 Japan Space Elevator Technical & Engineering Competition;' through Aug 8.
---
TUESDAY

Aug 9-12 — The National Academies, Irvine CA: 'NASA Technology Roadmap Steering Committee Meeting #3.'
---
WEDNESDAY

Aug 10 — The Moon Society, Online: '4th Annual Membership Meeting.'

Aug 10 — Lunar and Planetary Institute, Houston TX: 'LPI Seminar Series: Target Selection and Mission Analysis of Human Exploration Missions to Near-Earth Asteroids,' Aline Zimmer.

Aug 10-12 — University of Pennsylvania Dept of Astronomy, Villanova PA: 'Stars, Companions & their Interactions: A Memorial to Robert Koch.'
---
THURSDAY

Aug 11 — Kennedy Space Center, Cape Canaveral FL: Media opportunity to photograph the 2 GRAIL spacecraft and conduct interviews with mission officials at 09:30 EDT.

Aug 11 — NASA, College Park MD: 'NASA's 2011 Future Forum,' program to feature panel discussions on innovation, discovery, national benefits and education, and will feature key speakers from NASA, including Robert Braun, Waleed Abdalati and Leland Melvin.

Aug 11 — Federal Aviation Administration Commercial Space Transportation Advisory Council, Washington DC: 'FAA COMSTAC Public Teleconference.'

Aug 11-13 — Satellite Educators Association, National Oceanic and Atmospheric Association, Los Angeles CA: 'Conference 24: Earth Speaks – We Listen.'

Aug 11-13 — Joliet Area Historical Museum, Joliet IL: 'NASA Exploration Experience,' traveling exhibit using 3D imagery and the latest interactive video technology to immerse visitors in the experience.
---
FRIDAY

Aug 12 — NASA, Redmond WA: 'Strong Tether Challenge,' as part of the NASA Centennial Challenges competition.

Aug 12-14 — Google, Nature Publishing Group, et al, Mountain View CA: '6th Science Foo Camp.'

Aug 12-14 — The Space Engineering and Science Institute, Redmond WA: '2011 Space Elevator Conference.'

Aug 12 — Perseids Meteor Shower Peak: Radiating from the Constellation Perseus, this shower emits up to 60 meteors per hour and comes from the falling debris from Comet 109P / Swift-Tuttle.
---
SATURDAY

Aug 13 — Zero Gravity Corporation, Las Vegas NV: Commercial weightless flight on board G-Force One.

Aug 13-20 — International Union of Radio Science (URSI), Istanbul, Turkey: 'URSI General Assembly and Scientific Symposium of URSI.'

Aug 13 — Moon: Full Moon (Grain Moon); 08:57.
---
SUNDAY

Aug 14-20 — Geochemical Society, European Association of Geochemistry, Prague, Czech Republic: 'Goldschmidt 2011 Conference.'