ISS Expedition 35 to See 1st Canada Commander, More Firsts to Come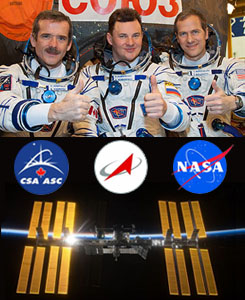 The final 3 members of Expedition 34 are set to launch to the International Space Station aboard a Soyuz TMA-07M spacecraft from the Baikonur Cosmodrome in Kazakhstan on December 19, 18:12 local time. Docking about 2 days later, Canadian Space Agency Astronaut Chris Hadfield (L), Roscosmos Cosmonaut Roman Romanenko (M) and NASA Astronaut Tom Marshburn (R) will begin their 5 month stay until their scheduled departure on May 14, 2013. The current ISS crew, Kevin Ford, Oleg Novitskiy and Evgeny Tarelkin are scheduled to depart March 15, 2013, marking the start of Expedition 35. One day prior to his trip back home, Commander Ford will formally welcome Hadfield as the 1st Canada Commander of the ISS. Hadfield is also the 1st Canadian to fly as a Mission Specialist, walk in space, operate Canadarm in orbit and is the only Canadian to board the Russian Space Station Mir. The 6-member crew will continue experiments in biological / physical sciences, technology development, Earth observations and research for long-duration expeditions. Scott Kelly of NASA and Mikhail Kornienko of Roscosmos will launch in early 2015, becoming the 1st crew to undergo a year-long stay on the ISS with modern medical procedures / protocols and Kelly will be the 1st American to spend 1 year in space. (Image Credit: NASA, CSA, Roscosmos, ESA)
Mexico Space Program Advances as Maya Long Count Enters New Cycle
Winter Solstice on December 21 marks a new beginning of the 5,125-year Maya Long Count. While some focus on celestial interpretations, Mexico is accelerating into the Space Age: developing a dedicated agency under the moniker AEM (Agencia Espacial Mexicana), building potential for state-of-the-art high altitude astronomical observatories at San Pedro Mártir, Baja California, and operating constellations of public and private sector communications satellites that provide services across North and South America. The latest, MEXSAT Bicentenario, launches Dec 19 aboard an Ariane 5 ECA rocket from Kourou, French Guiana between 18:49 – 20:08. Designed, manufactured and tested by Orbital Sciences Corporation, the satellite carries a 22-meter L-band reflector for mobile terminal links and a 2-meter Ku-band antenna. The next two larger satellites are scheduled for launch in 2013 and 2014. Mexico, with the 13th largest global economy, expects to invest US$1.64B in the 3-satellite system through 2029. That is about as much as USA-based Golden Spike Company anticipates 'sovereign clients' – like Mexico, Canada, Japan, South Korea, Brazil, France, Germany, EU, Saudi Arabia, UAE, South Africa – will soon pay for full-service 2-person human excursions to the surface of the Moon. (Image Credit: OSC, Arianespace)
---

= All times for terrestrial events in local time unless noted.

= All times for international terrestrial events in local time unless noted.

= All times for space events, and…

= All times for international space / astro events in Hawaii Standard Time unless noted. Add 10 hours to obtain UT ('Universal Time;' Greenwich, England).
---
Weekly Planet Watch – Evening Planets: Mars (SW), Jupiter (ESE). Morning Planets: Mercury (SE), Venus (SE), Jupiter (W), Saturn (SE).
---
MONDAY

Dec 17 — ISS, LEO: Starting 24-hour electrocardiogram recordings to monitor cardiovascular performance in spaceflight; performing psychological evaluation exercise every 30 days; adjusting ISS orbital altitude; preparing for Dec 21 arrival of 3 crew members.

Dec 17 — Cassini, Saturn Orbit: Capturing high-resolution images of Titan north polar region containing 400-km long "Mini Nile River;" straightness suggests fault line; sending about 2,700 images a month to Earth; next distant fly-by set for Dec 22.

Dec 17 — WISE, LEO: Wide-field Infrared Explorer extended project "AIIWISE" continues all-sky infrared mapping for galaxy clusters: largest and rarest structures consisting of thousands of galaxies bound together by gravity; data to be made public late 2013.

Dec 17 — Earthrise Space Inc., Orlando FL: NewSpace non-profit corp. with research lab developing space technologies; pursuing Google Lunar X PRIZE, planned launch Dec 2014; hoping to follow with lunar payload delivery services every 2 years; estimating payload cost of landers at $1.6M / kg, rovers at $1.8M / kg.

Dec 17 — Golden Spike Company, Boulder CO: Working with 11 organizations to offer affordable, frequent Human Moon surface and orbital expeditions by 2020; starting 1st phase of Human Lunar Lander System study.

Dec 17 — The Elwing Company, Multiple Locations: Developing, testing Electrodeless Ionization Magnetized Ponderomotive Acceleration Thruster (E-IMPAcT) which allows satellite payload to be increased by more than 50%; focusing on next-generation electric propulsion systems for spacecraft.

Dec 17 — GRAIL, Lunar Orbit: NASA Gravity Recovery and Interior Laboratory concludes mission; 200-kg near-twin spacecraft set to impact mountain on Moon near north pole at 1.7 km per second; live streaming available; no direct imagery of shadowed impact site expected; 12:28 HST.

Dec 17 — International Academy of Astronautics, School of Aerospace Engineering Sapienza University of Rome, Online: Abstract Deadline, for the 2nd IAA Conference on University Satellites Missions and CubeSat Winter Workshop in Europe; on Feb 3-9, 2013.

Dec 17 — European Geosciences Union, The Geological Society Publishing House, Online: Deadline for Submissions: Proposed GSL Special Publication on Volcanism and Tectonism Across the Solar System.

Dec 17-18 — Higher Technical Institute (IST), European Research Council, Science for Life Foundation, et al, Lisbon, Portugal: 5th Black Holes Workshop.

Dec 17-19 — ASTech Cluster, PROXIMUM Group, et al, Paris, France: Paris Space Week; with over 500 participants, 400 business meetings, 30 themes; organized in conjunction with ASTech International Conference: Developing Space; in Cap 15 Business Center.

Dec 17 — Asteroid 2004 YA5: Near-Earth Flyby (0.060 AU).
---
Continued from…

Oct 3 – Jan 1, 2013 — Ontario Science Centre Exhibit, Toronto, Ontario, Canada: Beyond Planet Earth: The Future of Space Exploration; future technologies on display including lunar elevator model, inflatable space living habitat and robotic submersible potentially useful in search for life on Europa.

Nov 30 – Jan 9, 2013 — NASA, Online: Accepting USA K-12 teacher team applications for Teaching from Space Flight Week; a MicroGravity eXperience (Micro GX) involving online course and development / performance of reduced gravity experiment to occur Jul 12-20, 2013.

Dec 3 – Mar 15, 2013 — Coordinate Metrology Society, Online: Accepting abstracts for 29th Annual Coordinate Metrology Systems Conference (CMSC 2013); to be held on Jul 22-26, 2013.

Dec 5 – Jan 3, 2013 — WISH Aerospace Scholars, NASA, Online: Accepting applications from female USA high school juniors with cumulative 3.25 GPA to participate in Women In STEM High School (WISH) Aerospace Scholars 2013 Program; free; online experience runs Jan 7 – May 13; in-person Jun 23-28 or Jul 7-12.

Dec 10-17 — International Centre for Theoretical Sciences, Mumbai, India: Winter School on Astronomical and Cosmological Surveys; preparing researchers to utilize astronomical database from different surveys, astronomy missions including VLT, Gemini, Subaru, Chandra, Herschel, ALMA, etc.
---
TUESDAY

Dec 18 — Federal Aviation Administration, Washington DC: Commercial Space Transportation Advisory Committee (COMSTAT) Systems Working Group Public Teleconference; to discuss / develop passenger safety regulations for commercial suborbital and orbital spacecraft.

Dec 18-20 — The Institute for Theoretical Physics, Autonomous University of Madrid, et al, Madrid, Spain: 18th IFT Xmas Workshop; to discuss particle physics, astroparticles, cosmology.

Dec 18 — Mercury: 5.4° NNE of Antares, 03:00.
WEDNESDAY

Dec 19 — RSA, Launch Soyuz / ISS 33S, Baikonur Cosmodrome, Kazakhstan: An RSA Soyuz rocket set to launch Soyuz spacecraft to ISS with members of Expedition 34: Chris Hadfield, Tom Marshburn, Roman Romanenko; 18:12 local time; live streaming available.

Dec 19 — Arianespace, Launch Ariane 5 / Skynet 5D & Mexsat 3, Kourou, French Guiana: Ariane 5 ECA rocket, designated VA211, set to launch communication satellites Skynet 5D for British Ministry of Defence and Mexsat 3 for federal government of Mexico; launch window 18:49 – 20:08 local time.

Dec 19 — The National Academies, NASA, Washington DC: Human Spaceflight Meeting 2; to discuss engineering, space, aeronautics, and policies for science / technology; held at National Academy of Sciences Building.

Dec 19 — NASA, Online: Registration Deadline: Social Media Followers View the Launch of Tracking and Data Relay Satellite-K; for 60 invited social media followers to view satellite launch, tour Kennedy Space Center, interact with NASA scientists / engineers on Jan 28-29, 2013.

Dec 19 — Smithsonian National Air and Space Museum, Washington DC: Robot Face-Off: Robbie vs. Robonaut; part of the "Moving Beyond Earth" exhibit; presented by Jennifer Levasseur; 12:00 EST, free.

Dec 19-20 — NASA, Washington DC: NASA Advisory Council Science Committee Planetary Protection Subcommittee Meeting; to receive program planning information from scientific / technical community; open to the public by telephone and WebEx; 09:00 EST on Dec 19, 08:30 EST on Dec 20.

Dec 19-21 — Tata Institute of Fundamental Research, International Centre for Theoretical Sciences, Mumbai, India: Young Astrophysicists' Symposium; to provide interactions, inspiration for researchers and illuminate institutional opportunities in India.

Dec 19 — Moon: At first quarter, 19:19.
THURSDAY

Dec 20 — CNSA, Launch Long March 2D / GoTurk 2, Jiuquan, China: Long March 2D rocket to launch Gokturk 2 high-resolution Earth-imaging satellite for Turkey; 24:13 local time.

Dec 20 — AIAA, Lockheed Martin, Online: Manuscript Deadline, for the 51st AIAA Aerospace Science Meeting; on Jan 7-10, 2013; to include New Horizons Forum and Aerospace Exposition.
FRIDAY

Dec 21 — Scheduled docking Soyuz / ISS 33S to ISS with members of Expedition 34; estimated at 20:10 Kazakhstan Time (09:10 EST); live streaming available.

Dec 21 — International Academy of Astronautics, NASA, European Space Agency, Online: Abstract Deadline, for the 2013 IAA Planetary Defense Conference; on Apr 15-19, 2013.

Dec 21 — Space Center Houston, Houston TX: Lunch with an Astronaut, Brian Duffy; US$49.95 adult.

Dec 21 — 'Imiloa Astronomy Center, University of Hawai`i – Hilo, Hilo HI: Mystery of the Christmas Star Planetarium Show; trace the footsteps of ancient Babylonian astronomers; 19:00 HST, US$10 adult.

Dec 21 — New cycle of Mayan Long Count Calendar begins, Worldwide: This date marks the end of the 5,125-year-long cycle which began August 11, 3114 BC; Sun between Earth and Galactic Equator, during Winter Solstice, a phenomenon that occurs only every 25,800 years.

Dec 21 — Winter Solstice: The Sun, appearing to travel along the ecliptic, reaches the point where it is farthest South of the celestial equator; 01:12.

Dec 21 — Ursids Meteor Shower Peak: Appearing to radiate from constellation Ursa Minor, this shower can produce short-lived outbursts of up to 100 meteors per hour, usually about 10; visible in Northern Hemisphere; peak Dec 21, 22:00 – Dec 22, 03:00 HST.
SATURDAY

Dec 22 — Cassini, Saturn Orbit: Distant flyby of Titan and Rhea scheduled.
SUNDAY

Dec 23 — Venus: 5.6° N of Antares, 20:00.

Dec 23 — Asteroid 2012 XM55: Near-Earth Flyby (0.008 AU).