Galaxy 21st Century Education and Interstellar R&D Across the USA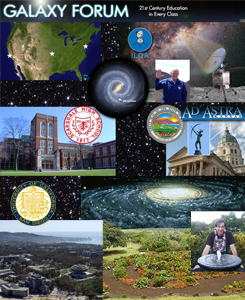 Leading, long-time Galaxy Educator and Space Age Publisher Steve Durst and renowned Astronomy / Space Artist extraordinaire Jon Lomberg are continuing their work to advance Galaxy 21st Century Education and Interstellar R&D across the USA. At the Scarsdale NY Rotary Club on December 3, Durst is presenting the International Lunar Observatory Association's Galaxy Forum program as a vehicle for galaxy education, exploration and enterprise to drive a long-term commitment to excellence at his alma mater Scarsdale High School. On Dec 7 he, as co-Founder, will participate in the Ad Astra Kansas Foundation Board of Directors meeting in Lawrence KS. Among other projects AAKF is developing plans for an Interstellar Research and Development Center in collaboration with a leading university in the State. Lomberg, who collaborated as Chief Artist with visionary Carl Sagan on the original COSMOS TV series and was Design Director for the NASA Voyager Interstellar Record, gives a presentation Dec 3 at UC San Diego on 'Becoming Galactic: Citizens of the Galaxy.' The event is free to the public and sponsored by the Change Happens Foundation. He is also hosting a Galaxy Garden Workshop at UCSD on Dec 7 to explain and explore the first large-scale walk-through model of our Galaxy as a source for science education projects and activities. (Image Credit: ILOA, J. Lomberg)
Vietnam Hosts APRSAF-20 'Values from Space: 20 Years of Asia-Pacific Experiences'
The 20th Asia-Pacific Regional Space Agency Forum (APRSAF-20) is being held in Hanoi, Vietnam by JAXA, Vietnam Academy of Science and Technology (VAST), and the Ministry of Education, Culture, Sports, Science and Technology of Japan (MEXT) on December 3-6 at the Melia Hanoi Hotel. As the largest space-related conference in the Asia-Pacific region, high-ranking officials from space agencies, governments and institutions are among the 300 participants from more than 25 countries and 11 international organizations. During the first 2 days, parallel sessions will run from 09:00-17:00 for the four working groups: Earth Observation, Communication Satellite Applications, Space Education & Awareness, and Space Environment Utilization. The groups will discuss some of their initiatives such as Space Applications For Environment (SAFE), Climate R3: Regional Readiness Review, and Kibo-Asian Beneficial Collaboration. Days 3 & 4 consist of Plenary Sessions co-chaired by Vice President of VAST Prof. Duong Ngoc Hai (L) and Deputy Director General of Research and Development Bureau at MEXT Dr. Keisuke Isogai (C). Related events / meetings around APRSAF-20 include the 5th Asia Oceania Regional Workshop on Global Navigation Satellite System, APRSAF-20 Exhibition, New Cooperation Session organized by APRSAF Executive Committee, Water Rocket Launch Competition and a Panel Discussion on Recent Development of Space Policy & Law in Asia. Also pictured: JAXA President Dr. Naoki Okumura (R). (Image Credit: APRSAF, VAST, JAXA, MEXT)
---


= All times for terrestrial events in local time unless noted.

= All times for international terrestrial events in local time unless noted.

= All times for space events, and…

= All times for international space / astro events in Hawaii Standard Time unless noted. Add 10 hours to obtain UT ('Universal Time;' Greenwich, England).
---
Weekly Planet Watch – Evening Planets: Venus (SW), Jupiter (ENE); Morning Planets: Mercury (ESE), Mars (SE), Saturn (ESE).

---
MONDAY

Dec 2 — ISS, LEO: Expedition 38 transferring almost 3,000 kg of supplies from Progress 53P cargo ship, installing wire harnesses in Harmony node for Ethernet video cables needed for SpaceX-3 commercial cargo ship in Feb 2014.

 Dec 2 — WISE, LEO: Data from WISE & NEOWISE mission being combined to 'double' the exposure of each sky scan, making new stars and galaxies visible as part of ALLWISE project.

Dec 2 — LADEE, Moon Orbit: Performing main science measurements to study Moon atmosphere and dust at 50-150 km altitude over the next several months. 

Dec 2 — SpaceX, Brownsville TX: NewSpace company awaiting FAA environmental impact statement on site in Brownsville TX where it now owns 72 lots and is expected to build commercial launch complex.

 Dec 2 — Planetary Resources Inc., Bellevue WA: Under Space Act Agreement with NASA, will implement crowdsourced algorithm challenges to detect, track, characterize NEOs.

Dec 2 — NanoSatisfi Inc., San Francisco CA: Ardusat satellites (ArduSat-1 and ArduSat-X) sending signals to International Space University automated ground station; HAM operators invited to listen for Morse code signals.

Dec 2-3 — National Astronomical Observatory of Japan, Mitaka, Tokyo, Japan: WISH Science Workshop: Exploring the Darkness; to discuss WISH space telescope mission to reveal first-generation galaxies in early universe.

Dec 2-6 — Mexican Academy of Sciences, Puebla, Mexico: Conference: Massive Young Star Clusters Near and Far – From the Milky Way to Re-ionization.

Dec 2 — Moon: 7.4° N of Antares, 12:00; New Moon, 14:21.
---
Continued from…

Sep 24 – Dec 23 — NSPIRES, NASA HQ, Online / Washington DC: Announcement of Opportunity: Mars 2020 Investigations; accepting proposals for Mars rover mission to be launched Jul / Aug 2020.

Oct 30 – Dec 30 — Wallops Flight Facility, NASA, Louisiana Space Consortium (LaSPACE), Online / Wallops VA: Applications being accepted for student science experiments to fly on 37-km altitude balloon in fall 2014.

Nov 28 – Dec 9 — European Commission, Lisbon, Portugal: European Space Tech Expo; to show how space and its applications provide benefits to Europe's citizens; at Cathedral Square.

Dec 1-10 — CNSA, Launch Long March 3B / Chang'e-3, Xichang Satellite Launch Center, China: China mission will be 1st soft landing / operations on Moon since 1976 if successful; China 3rd robotic lunar mission with 1st rover; anticipating at least 1 year of operations; sample return planned for 2017.
---
TUESDAY

Dec 3 — MAVEN TCM-1, Mars Trajectory: Spacecraft to perform Trajectory Correction Maneuver #1 today.

Dec 3 — ILOA, Scarsdale NY: ILOA Presentation "Galaxy 21st Century Education & Scarsdale High School" to Scarsdale Rotary Club; at Moscato Restaurant, 12:00 – 13:30 EST.

Dec 3 — NASA Planetary Science Division, Online / Washington DC: Research & Analysis Program Restructuring Virtual Town Hall; 12:00 – 16:00 EST.

Dec 3 — Arthur C. Clarke Center for Human Imagination, University of California – San Diego, Change Happens Foundation, San Diego CA: Becoming Galactic: Citizens of the Galaxy; featuring Jon Lomberg.

Dec 3 — Challenger Center for Space Science Education, Galactic Unite, Virgin Galactic, Online / Downey CA: Live Google Hangout with Virgin Galactic Future Astronauts and Virgin Galactic Representatives; 08:45 -14:00 PST.


Dec 3-4 — ESA, Noordwijk, The Netherlands: 27th European Space Thermal Analysis Workshop; at European Space Research and Technology Centre.

Dec 3-4 — Launchspace Inc., Cocoa Beach FL: Spacecraft Assembly, Integration and Test Course; US$1,395.

Dec 3-6 — Asia-Pacific Regional Space Agency Forum, Vietnam Academy of Science and Technology, JAXA, Space Technology Institute, Hanoi, Vietnam: APRSAF-20: Values From Space, 20 Years of Asia-Pacific Experiences; at Melia Hanoi Hotel.

Dec 3-18 – Kennedy Space Center, NASA, Cape Canaveral AFS FL: Morpheus Moon lander to undergo dry run Dec 3, wet run Dec 4, tethered test Dec 6, followed by 3 free flight operations; potential 1st flight campaign Dec 18.

Dec 3 — Moon: At perigee (distance 359,642 km), 00:00.
WEDNESDAY

Dec 4 — Cassini OTM-365, Saturn Orbit: Spacecraft conducts Orbital Trim Maneuver #365 today.

Dec 4 — International Institute of Space Commerce, International Space University, London, United Kingdom: IISC Workshop: Commercial Solutions for Microgravity Experiments; at Royal Astronomical Society, Burlington House.

Dec 4 — Lunar and Planetary Institute, Houston TX: LPI Seminar Series: Microstructural Constraints on Complex Thermal Histories of Refractory Inclusions from CO3 Chondrites: A FIB/TEM Study; presented by Jangmi Han from University of New Mexico; 15:30 CST.

Dec 4 — Minority University Research and Education Program, Johnson Space Center, NASA, Online / Houston TX: Last Day to Apply: Reduced Gravity Education Flight Program for Undergraduates.

Dec 4 — Johnson Space Center, NASA, Seattle WA: Last Day: Destination Station exhibit; for public to learn about living in space aboard the ISS; at Museum of Flight.
THURSDAY

Dec 5 — United Launch Alliance, Launch Atlas 5 / NROL-39, Vandenberg Air Force Base CA: ULA Atlas 5 rocket to launch payload for U.S. National Reconnaissance Office.


Dec 5, 6 — Jet Propulsion Laboratory, Caltech/NASA, Pasadena CA: The von Kármán Lecture Series: The Planck Space Telescope – Revealing the Ancient Universe; presented by Dr. Charles Lawrence of JPL.

Dec 5-6 — New Astronomy, Jagiellonian University, Krakow, Poland: Meet the Space.

Dec 5-6 — Global VSAT Forum, London, United Kingdom: High Throughput Satellites Roundtable 2013: The Game-Changer in Action.

Dec 5 — Moon: 7.5° N of Venus, 12:00.
FRIDAY

 Dec 6 — Johnson Space Center, NASA, Houston TX: Lunch with an Astronaut, Leroy Chiao; US$49.95 adult.

Dec 6-7 — SpaceUp, Dhruva Space, Indian Institute of Science Education and Research – Bhopal, MANIT, Bhopal, India: SpaceUp Bhopal; the "unconference" where participants decide space issues / topics to discuss, schedule and structure of event; at Maulana Azad National Institute of Technology (MANIT).

 Dec 6-7 — Explore Scientific, Tuscon & Vail AZ: Comet ISON Event with David Levy; includes lecture and ISON viewing at Jarnac Observatory, US$99.
SATURDAY

Dec 7 — Ad Astra Kansas Foundation, Lawrence KS: Ad Astra Kansas Foundation Board Meeting, 10:00 CST.

Dec 7 — University of California – San Diego, San Diego CA: Galaxy Garden Workshop; featuring Jon Lomberg; UC San Diego, Price Center East ballroom, US$45.

Dec 7 — Asteroid 18024 Dobson: Near-Earth flyby (2.406 AU).
SUNDAY

Dec 8 — International Launch Services, Launch Proton / Inmarsat 5 F1, Baikonur Cosmodrome, Kazakhstan: Proton rocket with Breeze M upper stage to launch communications satellite for Inmarsat of London, United Kingdom.


Dec 8 — The Space Show, Online / Tiburon CA: Host Dr. David Livingston talks with Dr. Eric Seedhouse, Astronauts4Hire training officer.

Dec 8-11 — Australasian Society for General Relativity and Gravitation (ASGRG), Hamilton Island, Australia: The Seventh Australasian Conference on General Relativity and Gravitation.

Dec 8-12 — Subaru Telescope, National Astronomical Observatory of Japan, Keauhou HI: 5th Subaru International Conference: Exoplanets and Disks – Their Formation and Diversity.

Dec 8 — Asteroid 3140 Stellafane: Near-Earth flyby (1.894 AU).

Dec 8 — Asteroid 88705 Potato: Near-Earth flyby (2.340 AU).