GRAIL Successfully Maps and May Impact Lunar Surface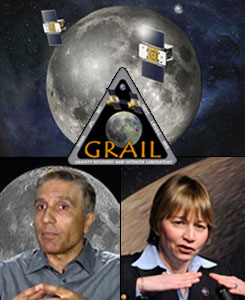 Gravity Recovery and Interior Laboratory lunar orbiting spacecraft, Ebb and Flow, are approaching the end of their extended science operations mission, pushed back from December 3 to Dec 17. GRAIL operated at unprecedented altitudes of about 23 km above the Moon. In some cases they were only 8 km above the highest surfaces and soon they may get a lot closer. The US$496M GRAIL mission plan includes a 5-day decommissioning period and it is speculated that approximately 40 days later GRAIL will impact the lunar surface. The specific crash site for the 200-kg near-twin spacecrafts has not yet been designated. On Dec 6 and 7, Dr. Sami Asmar (L) GRAIL Deputy Project Scientist of JPL will speak about the project at The von Kármán Lecture Series 'GRAIL Unwraps the Moon' in Pasadena, California, USA. Data analysis from the GRAIL primary mission is expected to continue until at least August 2013, advancing our knowledge about the interior, gravity field and evolution of the Moon and other planets in the Solar System. As part of the NASA Discovery Program in which lower-cost, highly-focused American scientific space exploration missions are the focus, GRAIL data will greatly benefit upcoming missions to the Moon and beyond. Also pictured: GRAIL Principal Investigator Maria Zuber of MIT (R). (Image Credit: NASA/JPL-Caltech, Bill Ingalls)
NAO Japan Explores Present and Future of Radio Astronomy in the ALMA Era
In celebration of the 30th Anniversary of the 45-meter Nobeyama Radio Observatory in Nagano the National Astronomical Observatory of Japan is hosting an international symposium on 'New Trends in Radio Astronomy in the ALMA Era' on December 3-8 in Hakone, Kanagawa Prefecture. The primary purpose of the symposium is to discuss new and future trends expected for Radio Astronomy on the basis of initial outcomes from early science in cosmology, galaxies, star / planet formation, the solar system and interstellar matter at ALMA – the Atacama Large Millimeter/submillimeter Array, a US$1.3-B international project based in the Atacama Desert of Chile. Pierre Cox, incoming Director of ALMA effective April 1, 2013, is presenting on 'IRAM: Present and Future' on Friday Dec 7 at 10:05. Also in the 'Future Plans' session on Friday are Gordon Stacy 'The CCAT Project' (11:15) and Sheperd Doeleman 'The Event Horizon Telescope' (14:25). On Tuesday November 20, North America completed delivery of 25 NSF-funded 12-meter-diameter 110-ton dish antennas. These are being joined by 25 from Europe and 16 from East Asia spread out over almost 200 square kilometers. The latest count shows 52 of the total 66 dishes have been delivered to the 5,000-meter altitude Array Operations Site on the Chajnantor Plateau. (Image Credit: NAOJ, ALMA, Hakone Town)
---

= All times for terrestrial events in local time unless noted.

= All times for international terrestrial events in local time unless noted.

= All times for space events, and…

= All times for international space / astro events in Hawaii Standard Time unless noted. Add 10 hours to obtain UT ('Universal Time;' Greenwich, England).
---
Weekly Planet Watch – Evening Planets: Mars (SW), Jupiter (E). Morning Planets: Mercury (SE), Venus (SE), Jupiter (W), Saturn (SE).
---
MONDAY

Dec 3 — ISS, LEO: Crew members continue equipment / medical training, maintenance; preparing for SPHERES experiment, 3 bowling-ball sized satellites which could advance automated dockings, satellite servicing, spacecraft assembly, emergency repairs.

Dec 3 — Chandra X-ray Observatory, HEO: With 4 pairs of nested mirrors and 6 science instruments, observing explosive X-ray jets estimated to be at least 230K light years across and 12.4B light years from Earth.

Dec 3 — Cassini, Saturn Orbit: From a distance of 400,000 km, imaging swirling storm clouds at Saturn North Pole due to seasonal change; detecting unexpected shift in Titan atmosphere around 600 km above surface; collecting thermal data with composite infrared spectrometer on another Saturn moon, Tethys.


Dec 3 — Reaction Engines Ltd, Oxfordshire, England: Testing pre-cooler heat exchanger technology to cool incoming airstream from over 1,000°C to -150°C in under 1/100th of a second; to be used in developing SABRE engines for future Skylon reusable single-stage-to-orbit vehicles.

Dec 3 — Clyde Space Ltd, Glasgow, Scotland: Working with University of Glasgow engineers to develop Aerodynamic End Of Life Deorbit System (AEOLDOS), a 3m2 "aerobrake" for small satellites to fall out of orbit, burn up in atmosphere, prevent additional space debris; hoping to be flight ready by end of 2013.

Dec 3 — exactEarth Ltd, Cambridge, Ontario, Canada: Beginning commercial service operations for exactView-1 (EV-1) satellite in 810-km polar orbit with increased maritime detection rates of up to 40%; developing Automatic Identification System (AIS) Receivers for 4 other satellites to launch 2013.

Dec 3 — Sea Launch, Launch Zenit 3SL / Eutelsat 70B, Odyssey Platform, Equator at 154° W: Sea Launch Zenit 3SL rocket to deliver Eutelsat 70B communications satellite; 12:43 PST.

Dec 3 — Italian Space Agency, Rome, Italy: 'Science and Industry 2012;' to discuss strategies, objectives, potential improvements of space science operations in global / national setting; includes presentation on ESA Ministerial Council results.

Dec 3 — NASA, Washington DC: 'NASA International Space Station Advisory Committee Meeting;' 13:00 – 14:00 EST.

Dec 3 — AIAA, Mountain View CA: 'PolarBot – a Low-Cost Semi-Autonomous Antarctic Rover;' presented by Satish Chetty, polar technology developer who mentors aerospace engineering students; 18:30 – 20:00 PST.

Dec 3 — NASA, Pasadena CA: 'Teleconference about Voyager Mission;' to discuss the latest findings, travels of NASA Voyager 1 spacecraft; 11:00 PST with live streaming available.

Dec 3-5 — European Commission, DG Enterprise, et al, London, United Kingdom: 'European Space Solutions;' to explore how space can make a difference to people across Europe.

Dec 3-7 — American Geophysical Union, San Francisco CA: 'AGU 45th annual Fall Meeting;' includes discussion about atmospheric dynamics of Mars, Venus, Moon; and lunar samples / surface data.

Dec 3-8 — NAOJ, The University of Tokyo, et al, Hakone, Japan: 'New Trends in Radio Astronomy in the ALMA Era – The 30th Anniversary of Nobeyama Radio Observatory;' held in The Prince Hakone.

Dec 3 — Moon: 6.3° SSW of Beehive Cluster, 07:00.
---
Continued from…

Oct 3 – Jan 1, 2013 — Ontario Science Centre Exhibit, Toronto, Ontario, Canada: 'Beyond Planet Earth: The Future of Space Exploration;' future technologies on display including lunar elevator model, inflatable space living habitat and robotic submersible potentially useful in search for life on Europa.

Oct 22 – Jan 18, 2013 — Lunar and Planetary Institute, Universities Space Research Association, Houston TX: Accepting undergraduate applications for '2013 LPI Summer Intern Program in Planetary Science.'

Nov 22 – Dec 24 — U.S. Space and Rocket Center, Huntsville Botanical Garden, Huntsville AL: '2012 Galaxy of Lights;' including Santa's Rocket Workshop and propulsion crew, lighted aircraft Aviation Challenge, Rocket Tram ride.

Nov 30 – Jan 9, 2013 — NASA, Online: Accepting USA K-12 teacher team applications for 'Teaching from Space Flight Week;' a MicroGravity eXperience (Micro GX) involving online course and development / performance of reduced gravity experiment.
---
TUESDAY

Dec 4 — IAA, National Space Organization, Taipei, Taiwan: 'Regional Meeting of the International Academy of Astronautics Taipei.'

Dec 4 — American Geophysical Union, NASA, San Francisco CA: 'NASA Social Event in San Francisco;' bringing 20 social media users to the AGU 45th annual Fall Meeting.

Dec 4 — NASA, Washington DC: 'NASA Social Meeting Event with Station Astronaut Joe Acaba;' 09:00 EST at James E. Webb Memorial Auditorium, NASA Headquarters.

Dec 4 — SETI Institute, Mountain View CA: Colloquium: 'NASA's Curiosity Rover: Four Months on Mars;' presented by Deputy Scientist of the MSL Mission Ashwin Vasavada, 19:00 PST.

Dec 4 — NASA, Star City, Russia: 'Live Satellite Interview with Astronaut Tom Marshburn;' member of next ISS crew set to launch Dec 19; live TV streaming available.

Dec 4-5 — European Southern Observatory, Garching, Germany: 'Real Time Control for Adaptive Optics Workshop;' second workshop for real-time control specialists, instrument scientists, adaptive optics engineers; held at ESO headquarters.
WEDNESDAY

Dec 5 — The British Interplanetary Society, London, United Kingdom: 'Christmas Get-Together: The Last Men on the Moon;' talk by Jerry Stone; 18:30 – 20:30 UT.

Dec 5-6 — Aerospace Industries Association of Canada, Boeing Company, MDA, Bluesky Strategy Group Inc., et al, Ottawa, Ontario, Canada: '2012 Canadian Aerospace Summit;' held in Ottawa Convention Centre.

Dec 5-6 — Avanti Communications, GVF, iDirect, et al, London, United Kingdom: 'GVF Ka Roundtable Assembly 2012;' to discuss technology, service, advantages to global communication by Ka bandwidth satellites.

Dec 5-7 — European Space Agency, National Centre for Space Studies, IEEE, et al, Noordwijk, The Netherlands: '6th ESA Workshop on Satellite Navigation Technologies (NAVITEC 2012) & European Workshop on Global Navigation Satellite System Signals and Signal Processing.'

Dec 5 — Moon: 5.7° SSW of Regulus, 02:00.
THURSDAY

Dec 6 — Golden Spike Company, Washington DC: 'Announcement at the National Press Club;' 14:00 EST.

Dec 6 — International Institute of Space Law, The Journal of Space Law, et al, Washington DC: 'The 7th Eilene M. Galloway Symposium on Critical Issues in Space Law.'

Dec 6-7 — Jet Propulsion Laboratory, Pasadena CA: 'The von Kármán Lecture Series: GRAIL Unwraps the Moon.'

Dec 6 — Moon: At last quarter, 05:32.
FRIDAY

Dec 7 — 40th Anniversary Apollo 17 Launch, USA / Worldwide: Last Human Moon Mission, landed Dec 11, 1972.

Dec 7 — Space Congress, Canaveral Council of Technical Societies, Cocoa FL: '42nd Space Congress – A New Beginning;' to inspire space pioneers to resolve scientific questions and discuss use of facilities in Florida; US$50.

Dec 7 — Space Center Houston, Houston TX: 'Lunch with an Astronaut,' Leroy Chiao; US$49.95 adult.

Dec 7 — 'Imiloa Astronomy Center, University of Hawai`i – Hilo, Hilo HI: 'Mystery of the Christmas Star Planetarium Show;' trace the footsteps of ancient Babylonian astronomers; 19:00 HST, US$10 adult.
SATURDAY

Dec 8 — International Launch Services, Launch Proton / Yamal 402, Baikonur Cosmodrome, Kazakhstan: Proton rocket with Breeze M upper stage to deploy Yamal 402 communications satellite for Gazprom Space Systems to service Russia, Europe, the Middle East, Asia; 19:13 local time.

Dec 8 — Kennedy Space Center Visitor Complex, Titusville FL: 'Celebrate the 40th Anniversary of Apollo 17.'
SUNDAY

Dec 9 — Cassini, Saturn Orbit: Titan flyby scheduled.

Dec 9 — FOX News Channel, Worldwide: 'FOX News Reporting: Fly Me to the Moon;' broadcast featuring Buzz Aldrin, Harrison Schmitt, Gene Cernan, Jim Lovell, Al Worden, Bill Anders, more; 21:00 EST.

Dec 9 — University of Heidelberg, Passo del Tonale, Italy: '6th Transregional Collaborative Research Center (TRR33) Winter School on Cosmology;' to discuss dark matter, particle theory, dark energy, more.

Dec 9 — Moon: 0.74° SSW of Spica, 02:00.