Solar System Human Missions for the 21st Century – Part 2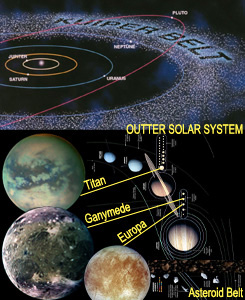 Jupiter likely will become a strategic center for our evolution in the Solar System. With 67 known moons, 4 about as large as Luna, and over 70% of Solar System mass outside the Sun, Jupiter is a diverse system of worlds unto itself. Europa, especially, is of vital importance to future science and interplanetary development, including our understanding of the prevalence of life in the universe. Planetary Society CEO Bill Nye is urgently calling for a robotic Europa mission to study recently discovered plumes spouting what appears to be vaporized ocean water into space. Human Missions to these regions perhaps between 2030-2050 would start by exploring moons like Callisto and Ganymede around Jupiter, and Titan and Enceladus around Saturn. There is also much to learn about Uranus, Neptune, Pluto, the Kuiper Belt and Oort Cloud in preparation for our eventual interstellar journeys. Martin Rees, Astronomer Royal for the United Kingdom, forecasts that "all of the planets, moons, and asteroids of the Solar System will be explored and mapped" during this century, and "there may be small groups of pioneers living independent from Earth [as a] first step towards divergence into a new species: the beginning of the post-human era." Heads of Space Agencies from more than 30 countries will meet for the International Academy of Astronautics Summit on Exploration, January 9-10 in Washington DC. On January 9 the U.S. Department of State will host ministerial level delegates from 40 countries for an International Space Exploration Forum looking toward the future. There is now a growing sense of opportunity for revolution of big thinking and enduring commitment in the space community. Humanity as a species can transcend terrestrial conflicts and project the abundance of human time, money and energy toward our innate and productive drive to explore and settle new frontiers of the Solar System. (Image Credit: NASA, NatGeo)
Galaxy Forum 2014 Advancing Galaxy Awareness in Every Class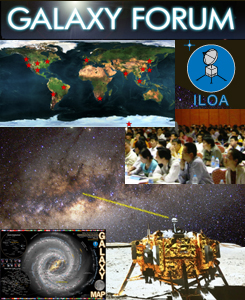 The International Lunar Observatory Association (ILOA) Galaxy Forum program is now entering its 7th year of work toward ambitious goals of revolutionizing 21st Century Galaxy Education throughout the World in 2014. Already active on 5 continents, Galaxy Forum continues to be effective bringing Galaxy / Space Science resources and experts together with local educators and students to instill a higher level of 21st Century Galaxy consciousness, to inspire the next generation of engineers and explorers, and to identify support for innovative space exploration enterprises such as ILOA. Scheduled 2014 events include Galaxy Forum Southeast Asia on March 1 at Science Centre Singapore, Chile & Brazil in April-May, Japan in September at Space Tree, and New York in October. Additional Galaxy Forums are developing in Hawaii, Silicon Valley & Kansas USA, Canada, China, France, India, Mexico, Russia and South Africa. Striving to be truly global (and in time, interglobal), ILOA is planning a Galaxy Forum on the 7th continent – Antarctica. One of the unique resources shared at Galaxy Forums is the double-sided ILOA Galaxy Map created from the latest Galaxy research. ILOA Galaxy imaging (NET Jan 8) with the Lunar near-Ultraviolet Telescope on Chang'e-3 Moon lander will enhance and strengthen the Galaxy Forum program, and may impact 21st Century consciousness as profoundly as the Apollo 8 EarthRise photo impacted the 20th Century. (Image Credit: ILOA, D. Smith, CCTV, NASA)
---


= All times for terrestrial events in local time unless noted.

= All times for international terrestrial events in local time unless noted.

= All times for space events, and…

= All times for international space / astro events in Hawaii Standard Time unless noted. Add 10 hours to obtain UT ('Universal Time;' Greenwich, England).
---
Weekly Planet Watch – Evening Planets: Venus (SW), Jupiter (ENE); Morning Planets: Mars (S), Saturn (SE).

---
MONDAY

Dec 30 — ISS, LEO: Expedition 38 crew participating in media educational events, cardiovascular and ocular experiments; preparing for Cygnus Orb-1 arrival scheduled for Jan 10.

Dec 30 — Tiangong-1, LEO: China continues collecting data from precursor space station, occasional reboosts keep orbit altitude between 330-370 km; second space station to be completed / operational by 2022.

 Dec 30 — LADEE, Moon Orbit: Orbiting between 22.5°N – 22.5°S, continuing to survey dust / atmosphere for effects of Chang'e-3 landing; current evaluation of data has not revealed any measurable changes.


 Dec 30 — Juno, Jupiter Trajectory: Traveling at 112,392 km/h relative to Sun; in Quiet Cruise phase until Jan 5, 2016 and on course for Jul 4, 2016 rendezvous with Jupiter.


Dec 30 — SpaceX, KSC FL: NewSpace company in negotiations with NASA to secure Kennedy Space Center Complex 39A for commercial launch operations.

 Dec 30 — Ad Astra Rocket Co., Houston TX: Collaborating with NASA to develop VASIMR engine to be tested at ISS NET 2015, used for future ISS reboost, lunar cargo delivery, satellite repositioning / refueling, deep-space robotic missions.

 Dec 30 — Golden Spike Co., Boulder CO: Partnering with Honeybee Robotics to design uncrewed rovers to enhance Human missions to Moon.

Dec 30 — Wallops Flight Facility, NASA, Louisiana Space Consortium (LaSPACE), Online / Wallops VA: Last day to submit applications for student science experiments to fly on 37-km altitude balloon in fall 2014.

Dec 30 — Asteroid 2009 XZ1: Near-Earth flyby (0.051 AU).
---
Continued from…

Jan 22 – May 30, 2014 — NASA, USA: Phase 1 Certification Products Contracts; Boeing Co. receives about US$10M, Sierra Nevada Corp. $10M, SpaceX $9.6M to work with NASA CCP to develop systems for launching Astronauts from American soil.

Feb 14 – Jun 2, 2014 — NASA HQ, Online / Washington DC: Research Opportunities in Space and Earth Sciences (ROSES) 2013; proposal and submission period.

Oct 30 – Jan 17, 2014 — Lunar and Planetary Institute, Online / Houston TX: Applications being accepted for LPI Summer Intern Program in Planetary Science.
---
TUESDAY

Dec 31 — Goddard Space Flight Center, NASA, Online / Greenbelt MD: Proposal Due for High-Impact National Strategic STEM Educational Partnerships; NASA requests information from organizations interested in helping the Agency achieve its strategic goals for education.
WEDNESDAY

NET 2014 — Sierra Nevada Corp., Cape Canaveral AFS FL: Dream Chaser orbital testing to begin this year; vehicle being built in cooperation with Lockheed Martin Corp. through NASA Certification Products Contract.

NET 2014 — Rocket Crafters Inc., Titusville FL: The first commercial spaceflight academy using rocket powered and suborbital capable flight training vehicles to begin first class for FAA approved commercial astronaut wings for Pilot and Mission Specialists.

NET Jan — SpaceX, Launch Falcon 9 / Orbcomm OG2, Cape Canaveral AFS FL: SpaceX Falcon 9 rocket set to launch 8 second-generation Orbcomm communications satellites.

NET Jan — Bigelow Aerospace LLC, Las Vegas NV: To begin testing scaled lunar BA-330 module to be used as Moon habitat.

Jan 1, 2014 — Cassini, Saturn Orbit: Titan flyby scheduled at 1,400-km altitude.

Jan 1 — Deep Space: New Horizons spacecraft is now about 29.05 AU from Earth, 4.57 AU from Pluto; expected to cross Neptune orbital path Aug 25, reach Pluto Jul 14, 2015.


 Jan 1-14 — NASA Astrobiology Institute, University of Hawaii, Institute for Astronomy, Hawai`i Island & Oahu HI: UH-Nordic Astrobiology Winter School; to discuss extremophiles, water / ice in star & planet formation, in space, on early Earth, other planets.

Jan 1 — Moon: New Moon, 01:14; 6.6° N of Mercury, 04:00; at perigee (distance 356,521 km), 11:03.
THURSDAY

Jan 2 — Moon: 2.0° NNW of Venus, 01:00.
FRIDAY

Jan 3 — SpaceX, Launch Falcon 9 / Thaicom 6, Cape Canaveral AFS FL: SpaceX Falcon 9 rocket set to launch Thaicom 6 communications satellite to provide services for Southeast Asia and Africa.

Jan 3 — NASA HQ, Online / Washington DC: Letter of Application due for membership on Science Definition Team for Venera-D Venus mission, a Russia Space Agency / IKI mission with NASA Planetary Science Division participation.

Jan 3 — Quadrantids Meteor Shower Peak: Appearing to radiate from constellation Quadrans Muralis; can produce 60-200 meteors per hour; high visibility due to New Moon; peak 09:30.
SATURDAY

Jan 4 — Onizuka Center for International Astronomy Visitor Information Station, Mauna Kea HI: The Universe Tonight: Subaru Telescope; at 2,800-meter altitude on Mauna Kea, 18:00 HST.

Jan 4 — Earth: At Perihelion (0.983 AU), 02:00.

Jan 4 — Asteroid 2013 XX8: Near-Earth flyby (0.052 AU).
SUNDAY

Jan 5 — Cassini OTM-368, Saturn Orbit: Spacecraft conducts Orbital Trim Maneuver #368 today.

Jan 5 — ISRO, Launch GSLV-D5 / GSAT 14, Sriharikota, India: Return to flight of ISRO Geosynchronous Satellite Launch Vehicle with Indian-built cryogenic 3rd stage; set to launch GSAT 14 communications satellite; 16:18 local time.

Jan 5-9 — American Astronomical Society, Washington DC: 223rd Meeting of the AAS; at Gaylord National Resort and Convention Center.
MONDAY

Jan 6-7 — University of Edinburgh, Jet Propulsion Laboratory, Caltech/NASA, PASCAL2, Edinburgh, United Kingdom: 3rd Gravitational Lensing Accuracy Testing Challenge (GREAT3); at the Royal Observatory Edinburgh.

Jan 6 – Feb 7 — International Space University, University of South Australia, Adelaide, Australia: Southern Hemisphere Summer Space Program; with emphasis on space applications, policy, services, science, systems engineering and technology,  business and leadership, legal and regulatory issues.

Jan 6 — Asteroid 2013 UB1: Near-Earth flyby (0.072 AU).
TUESDAY

Jan 7 — Orbital Sciences Corp., Launch Antares / Orb-1 (CRS-1), Wallops Island VA: OSC Antares rocket to launch 2nd Cygnus cargo freighter on 1st operational flight to ISS; will deliver 550 kg of cargo, 23 experiments for SSEP4, Flock-1, other payloads.

Jan 7 — NASA HQ, Washington DC: NASA International Space Station Advisory Committee Meeting; 13:00 – 14:00 EST.

Jan 7 — The Space Show, Online / Tiburon CA: Host Dr. David Livingston talks with Dr. Alice Gorman about space archeology.

Jan 7 — Astrobotic Technology Inc., Innovate Our World, Online / Ellicott City MD: Registration Due: Moon Mission Challenge; students learn about Moon, create payload concept, present projects Apr 27 at USA Science & Engineering Festival.

Jan 7 — Moon: At first quarter, 17:39.
WEDNESDAY

Jan 8 — Chang'e-3 Lander & Yutu Rover, Mare Imbrium – Sea of Rains, 44.12°N 19.51°W, Moon Surface: Lander & Rover scheduled to wake from 2-week lunar night hibernation to resume operations.


Jan 8 — International Academy of Astronautics, Arlington VA: Media Roundtable Discussion: Introduction to Heads of Space Agencies Summit; at Boeing Rosslyn office, 09:00 – 10:30 EST.

Jan 8-9 — NASA Small Bodies Assessment Group, Washington DC: 10th Meeting of the NASA Small Bodies Assessment Group.

Jan 8 — Asteroid 2013 WS43: Near-Earth flyby (0.062 AU).
THURSDAY

Jan 9 — U.S. Department of State, Washington DC: International Space Exploration Forum; conference on future space exploration with ministerial-level delegates from 40 countries plus European Union.

Jan 9-10 — International Academy of Astronautics, Washington DC: IAA Space Exploration Conference: Planetary Robotic and Human Spaceflight Exploration; Heads of Space Agencies Summit on Exploration.
FRIDAY

Jan 10 — ISS, Rendezvous & Grapple of Orb-1 (CRS-1), LEO: Cygnus cargo freighter to rendezvous with ISS, be captured by Canadarm2; live coverage available, 11:01 UT.

Jan 10 — Royal Astronomical Society, London, United Kingdom: Geomagnetic Field Dynamics and Structure on Timescales from Minutes to Decades Meeting; Ionising Processes in Atmospheric Environments of Planets, Brown Dwarfs and M Dwarfs Meeting; Royal Astronomical Society Ordinary Meeting.

Jan 10 — Lunar and Planetary Institute, Houston TX: LPI Seminar Series: Spectroscopic Classification and Investigation of Terrain Units of Saturn's Icy Moons; presented by Francesca Scipioni from Italian Space Agency.

Jan 10 – Feb 2 — The Arts Catalyst, London, United Kingdom: Republic of the Moon exhibit; featuring artwork, performances, workshops, music, talks, playful protests against lunar exploitation; at Bargehouse, Oxo Tower Wharf.

Jan 10 — Asteroid 2013 AF53: Near-Earth flyby (0.058 AU).
SATURDAY

Jan 11 — British Interplanetary Society, Droitwich Spa, United Kingdom: Space Day 2014; at Droitwich Library.

Jan 11 — Moon: 6.2° S of Pleiades, 02:00; 2.5° N of Aldebaran, 23:00.
SUNDAY

Jan 12 — San Diego Space Society – National Space Society Chapter, San Diego CA: NSS San Diego Space Society monthly meeting; at Serra Mesa-Kearny Branch Library.

Jan 12-31 — National Autonomous University of Mexico, National Institute of Astrophysics, Optics and Electronics (INAOE), Tonantzintla, Mexico: 2014 School of Astronomy Observations for Latin American Students.