Space X Launch Seeks to Prove Capabilities of New USA Commercial Space Vehicles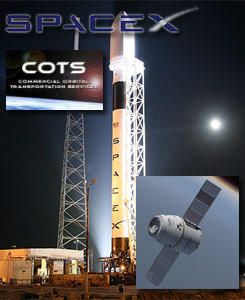 The 1st of 3 planned Space X Falcon 9 demonstration launches for NASA's Commercial Orbital Transportation Services (COTS) program is currently scheduled for NET Tuesday, December 7 from Complex 40 at Cape Canaveral Air Force Station in Florida. Launch opportunities are also available on Dec 8 and 9. This will be the 1st flight of the Dragon spacecraft and the 1st commercial attempt to re-enter a spacecraft from orbit, a feat achieved by only 6 nations or government agencies (USA, Russia, China, Japan, India and ESA). To prolong its contract with NASA, Space X needs to demonstrate that its space capsule can achieve separation and orbital insertion, perform at least 4 orbits, re-enter Earth's atmosphere and splash down in the Pacific Ocean. Its controllers also need to demonstrate various capabilities such as trajectory control, engine firing and maneuvering abilities. A prelaunch news conference is planned for Monday, Dec 6 at 13:30 at the press site at NASA's Kennedy Space Center. (Credit: SpaceX)
ISRO to Launch GSAT-5 Communications Satellite NET Dec 10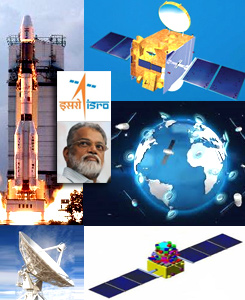 The Indian Space Research Organization (ISRO) will advance with plans to launch the Geosynchronous Satellite Launch Vehicle (GSLV)-F06 (L) NET December 10 from Satish Dhawan Space Center, India. The GSLV will carry the GSAT-5 (INSAT-4D) (TR) communications satellite into Low Earth Orbit to replace the aged INSAT-2E as well as make up for the partial failure of the INSAT 4B, which lost 12 transponders from a power failure. With a mission life of 12 years, GSAT-5 (INSAT-4D) was configured as an exclusive C-band communication satellite and will carry 12 normal C-band transponders as well as 6 extended C-band transponders positioned at 83° east longitude. This will provide wider uplink and downlink coverage over India, Asia, Eastern Europe and Africa. ISRO also has plans to launch the PSLV / Resourcesat-2 (BR) NET January 2011. Pictured: ISRO Chairman K Radhakrishnan. (Credit: ISRO, Satnews)
---

= All times for terrestrial events in local time unless noted
.

= All times for international terrestrial events in local time unless noted.

= All times for space events, and…

= All times for international space / astro events in Hawaii Standard Time unless noted. Add 10 hours to obtain UT ('Universal Time;' Greenwich, England).
---
Weekly Planet Watch – Morning Planets: Venus (SE), Jupiter (SW), Saturn (SE) / Evening Planets: Mercury (SW).
---
MONDAY

Dec 6 — International Space Station, LEO: Remaining 3 E-26 crew members continue with ongoing maintenance and scientific projects while preparing for arrival of 3 additional flight engineers on Dec 17.

Dec 6 — NASA Lunar Reconnaissance Orbiter (LRO), Lunar Orbit: All systems nominal in scientific phase of mission as LRO continues to return data from the Moon.

Dec 6 — Mars Reconnaissance Orbiter, Red Planet: NASA MRO continues to collect data of Mars with HiRISE camera, recently making 16,784 images available to the public.

Dec 6 — The Space Show, Nationwide: This week's Space Show continues to cover important space issues with informative interviews from space advocates.

Dec 6 — China Aerospace Science and Technology Corporation, Shanghai, China: '2010 Shanghai World Expo: Space Home Exhibit.'

Dec 6-7 — International Academy of Astronautics, Yaounde, Cameroon, Africa: 'IAA Conference on Small Satellite Programs for Socio-Economic Benefits and the Role of IGMASS.'

Dec 6-8 — Belgian User Support and Operation Center, Brussels, Belgium: 'Carbon in the Solar System Workshop.'

Dec 6 — Moon: 2.0° NNW of Mercury; 21:00.

Dec 6 — Phoenicid Meteors: The Phoenicid meteors radiate from the far southern Constellation Phoenix and may produce either a few meteors per hour or several hundred; Difficult to see in Northern Hemisphere.

Dec 6 — Asteroid 2000 AC6: Near-Earth Flyby (0.064 AU).
---
TUESDAY

Dec 7 — JAXA Akatsuki (Planet – C), Venus Orbit: Venus Orbit Insertion; Begin mission to map the circulation and vertical structure of the planet's thick clouds.

NET Dec 7— SpaceX, Launch Falcon 9 / Dragon C1, Cape Canaveral FL: SpaceX Falcon 9 rocket to launch 1st Dragon C1 spacecraft which is intended to serve as resupply missions to the ISS.

Dec 7 — Carnegie Institution for Science, Santiago, Chile: 'A Celebration of 40 Years of Astronomy at Las Campanas Observatory (LCO),' event to honor scientific legacy of LCO over its 1st 40 years of operation and to celebrate 65th birthday of LCO Director Miguel Roth.

Dec 7 — Puppid – Velid Meteors: Although this shower is weak, it does produce extremely bright fireballs and contains a series of radiants located at the southern constellations of Carina, Puppis, Pyxis and Vela.
---
WEDNESDAY

Dec 8 — The SETI Institute, Mountain View CA: Colloquium Series Lecture: 'Microbial Dark Matter in Glacial Ice and Implications for Martian Life,' P. Buford Price.

Dec 8 — The Academy of Program / Project Engineering Leadership, Washington DC: 'Masters with Masters,' a series that brings together 2 master practitioners to reflect on their experiences, lessons learned and thoughts about upcoming challenges; With guest speakers NASA Administrator Charles Bolden and German Aerospace Center Chairman Johan-Dietrich Worner.

Dec 8 — Space Transportation Association, Washington DC: 'STA Breakfast with Chris Scolese.'

Dec 8 — Intech Science Center and Planetarium, Winchester, United Kingdom: 'Lecture: Infrared Astronomy,' Paul Roche.

Dec 8-10 — ESA, Noordwijk, The Netherlands: 'NAVITEC 2010: 5th ESA Workshop on Satellite Navigation Technologies.'

Dec 8 — Cassini OTM-270, Saturn Orbit: Spacecraft conducts Orbital Trim Maneuver #270 today.

Dec 8 — Asteroid 2010 SC41: Near-Earth Flyby (0.045 AU).
---
THURSDAY

Dec 9-10 — Jet Propulsion Laboratory, Pasadena CA: The von Karman Lecture Series: 'The Dry Polar Ice Caps of Mars.'

Dec 9-10 — NASTAR Center, Philadelphia PA: 'NASTAR 2-Day Space Training Program.'

Dec 9 — Monocerotoid Meteors: A moderate shower radiating from Constellation Monoceros.
---
FRIDAY

NET Dec 10 — ISRO, Launch GSLV / GSAT 5, Sriharikota, India: ISRO to launch GSAT 5 communications satellite which will cover India, Asia, Africa and parts of Europe.

Dec 10 — NASA Headquarters, Washington DC: 'NASA Public Day,' for interested proposers to develop / manage US share of the International Space Station as a national laboratory.

Dec 10 — Hampshire Astronomical Group, Hampshire, United Kingdom: '20 Things You Didn't Know About Astronomy,' Robin Scagell.
---
SATURDAY

Dec 11 — Organization for the Advancement of Space Industrialization and Settlement, Redondo Beach CA: 'OASIS Board Meeting and Holiday Party.'
---
SUNDAY

Dec 12 — Moon: At Apogee (Distance 63.41 Earth-Radii); 13:00.

Dec 12 — Sigma Hydrid Meteors: Moderate and variable meteor shower producing 10-20 meteors per hour.