Several International Conferences Focus on Remote Astronomy Exploration of the Universe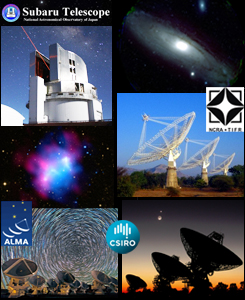 Astronomy technologies, capabilities and intersecting disciplines are highlighted in conferences around the world this week. The Subaru Telescope (8.2-m optical-infrared) and National Astronomical Observatory of Japan host the '5th Subaru International Conference: Exoplanets and Disks – Their Formation and Diversity' in Keauhou, Hawaii, USA on December 8-12. The Astronomical Institute of the Czech Republic Academy of Science and Czech Technical University are holding the '6th International Workshop on Astronomical X-Ray Optics' in Prague on Dec 9-15. Tata Institute of Fundamental Research and the National Centre for Radio Astrophysics conference on 'The Metre Wavelength Sky – Celebrating 50 years of Radio Astronomy at TIFR' is scheduled for Dec 9-13 in Pune, India. This conference will also celebrate 10 years of international operation of the Giant Metrewave Radio Telescope (thirty 45-m radio). The Australia Telescope National Facility and CSIRO will hold 'Astroinformatics 2013: Knowledge from Data' in Sydney, Australia. CSIRO currently operates the Australia Telescope Compact Array (six 22-m radio), the Parkes Observatory (64-m movable radio), the Mopra Observatory (22-m radio) and the Australian Square Kilometre Array Pathfinder (thirty-six 12-m radio; construction almost complete). Pontifical Catholic University of Chile, Andrés Bello National University and ALMA (fifty 12-m radio) sponsor 'Astrobio2013: The Distribution of Life on Earth, in the Solar System, and the Galaxy' in Santiago, Chile on Dec 9-13. (Image Credit: Subaru, NAOJ, CISRO, ALMA, NASA, TIFR, NCRA, Xinhua, Landov, Barcroft Media)
AGU Fall Meeting in San Francisco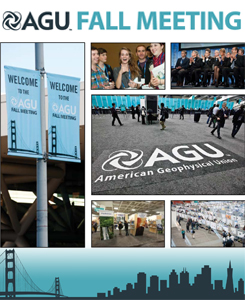 The 46th annual Fall Meeting of the American Geophysical Union draws together Earth and space scientists, educators, students and other leaders to present groundbreaking research and connect with colleagues to broaden perspectives and understandings. Over 22,000 delegates are expected to gather at the Moscone Center, San Francisco CA, USA on December 9-13. The extensive program includes scientific oral and poster presentations, exhibitions, workshops, town halls and networking events. The Union Frontiers of Geophysics lecture is presented this year by James Hansen former director of the NASA Goddard Institute for Space Studies and Adjunct Professor at Columbia University Earth Institute. Hansen studied physics and astronomy in the space science program of Dr. James Van Allen at University of Iowa and was elected to the National Academy of Sciences in 1995. From early research on the clouds of Venus he transitioned to Earth's climate and human-made changes thereto. He is recognized for identifying ineffectual policies as greenwash and outlining actions that the public must take to protect the future of life on our planet. There is also a Union Presidential Forum lead by Senator Olympia Snowe (R-ME) on 'What's Gone Wrong in Washington…' While much of the event is Earth focused it also includes the rest of the Solar System with presentations on Mars, Jupiter, Saturn, asteroids and more. (Image Credit: AGU)
---


= All times for terrestrial events in local time unless noted.

= All times for international terrestrial events in local time unless noted.

= All times for space events, and…

= All times for international space / astro events in Hawaii Standard Time unless noted. Add 10 hours to obtain UT ('Universal Time;' Greenwich, England).
---
Weekly Planet Watch – Evening Planets: Venus (SW), Jupiter (ENE); Morning Planets: Mars (S), Saturn (SE).

---
MONDAY

Dec 9 — ISS, LEO: Expedition 38 unpacking supplies from Progress 53P, setting up HD TV camera inside Kibo, taking calf volume measurements; Hopkins, Wakata, Mastracchio practicing procedures for Cygnus arrival Dec 20.

Dec 9 — Chang'e-3 Lander & Yutu Rover, 100-km Moon Orbit: Performing systems checks, preparing for entry, descent, landing (EDL) phase as early as Dec 14.

  Dec 9 — Mars Orbiter Mission (Mangalyaan), Mars Trajectory: Spacecraft operating nominally and heading toward Mars, expected to arrive Sep 24, 2014.

 Dec 9 — Juno, Jupiter Trajectory: Set to arrive at Jupiter Jul 4, 2016; Medium Gain Antenna (sends radio signal to Earth) rotates around Juno's spin axis 2x per minute.

Dec 9 — Blue Origin LLC, Van Horn TX: NewSpace company analyzing data from successful simulated suborbital mission profile test of BE-3 rocket engine.

 Dec 9 — Generation Orbit Launch Services LLC, Atlanta GA: Planning to launch at least 2 test flights in 2014, satellite in 2016 under NASA contract; hopes to use Jacksonville Cecil Spaceport.

 Dec 9 — LiftPort Group, Seattle WA: Developing Lunar Space Elevator Infrastructure hardware, raising additional funds for initial design, feasibility study, basic operations.

Dec 9 — CNSA, Launch Long March 4B / CBERS 3, Taiyuan Satellite Launch Center, China: Long March 4B to launch CBERS 3 remote sensing satellite (3rd China-Brazil Earth Resources Satellite) for environmental, urban planning, agricultural applications.

Dec 9 — Space Generation Advisory Council, Mexican Space Agency (AEM), RedCyte, Mexico City, Mexico: Space Generation Mexico; to highlight benefits of space programs, the role of SGAC; at National Autonomous University of Mexico.

Dec 9-12 — Astronomical Institute of the Czech Republic Academy of Science, Czech Technical University in Prague, Prague, Czech Republic: 6th International Workshop on Astronomical X-Ray Optics.

Dec 9-12 — Applied Technology Institute, Columbia MD: Fundamentals Of Orbital & Launch Mechanics course; instructor Thomas S. Logsdon, US$2,045.

Dec 9-13 — American Geophysical Union, San Francisco CA: 2013 AGU Fall Meeting.

Dec 9-13 — Tata Institute of Fundamental Research, National Centre for Radio Astrophysics, Pune, India: Conference: The Metre Wavelength Sky – Celebrating 50 years of Radio Astronomy at TIFR; US$146 (INR 9,000).

Dec 9-13 — Australia Telescope National Facility, CISRO, Sydney, Australia: Astroinformatics 2013: Knowledge from Data; at CSIRO Astronomy and Space Science Headquarters.

Dec 9-13 — Pontifical Catholic University of Chile, Andrés Bello National University, ALMA, Santiago, Chile: Astrobio2013: The Distribution of Life on Earth, in the Solar System, and the Galaxy.

Dec 9 — Moon: At first quarter, 05:12.
---
Continued from…

Nov 28 – Dec 9 — European Commission, Lisbon, Portugal: European Space Tech Expo; to show how space and its applications provide benefits to Europe's citizens; at Cathedral Square.

Dec 3-18 – Kennedy Space Center, NASA, Cape Canaveral AFS FL: Morpheus Moon lander to undergo dry run Dec 3, wet run Dec 4, tethered test Dec 6, followed by 3 free flight operations; potential 1st flight campaign Dec 18.

Dec 8-11 — Australasian Society for General Relativity and Gravitation (ASGRG), Hamilton Island, Australia: The Seventh Australasian Conference on General Relativity and Gravitation.

Dec 8-12 — Subaru Telescope, National Astronomical Observatory of Japan, Keauhou HI: 5th Subaru International Conference: Exoplanets and Disks – Their Formation and Diversity.
---
TUESDAY

Dec 10 — Kennedy Space Center, NASA, KSC FL: NASA Advisory Council: Technology and Innovation Committee Meeting.

Dec 10 — Mars One, Lockheed Martin Corp., Surrey Satellite Systems Ltd, Washington DC: Mars One Press Conference announcing first private robotic mission to Mars; at The National Press Club, 10:30 EST.

Dec 10 — SETI Institute, Mountain View CA: Scientific Premises and Technological Challenges of Deep Space Round Trip Exploration to Jupiter Trojans and Even Further; presented by Hajime Yano of JAXA, 19:00 PST.

Dec 10 — Kennedy Space Center Visitor Complex, NASA, Titusville FL: International Space Station 15th Anniversary Celebration; to include crew of 1st space shuttle mission to ISS (STS-88), KSC Director Robert Cabana, Mission Specialists Jerry Ross, Nancy Currie.

Dec 10-12 — Aerospace Corporation, Jet Propulsion Laboratory, Caltech/NASA, Johns Hopkins University Applied Physics Laboratory, Southwest Research Institute, Pasadena CA: 2013 Workshop on Spacecraft Flight Software.
WEDNESDAY

Dec 11 — Mars Orbiter Mission (Mangalyaan) TCM-1, Mars Trajectory: Spacecraft to perform Trajectory Correction Maneuver #1 today.

Dec 11 — Federal Aviation Administration, Department of Transportation, Washington DC: Commercial Space Transportation Advisory Committee – Closed Session.

Dec 11 — Asteroid 2006 CT: Near-Earth flyby (0.063 AU).
THURSDAY

Dec 12 — United Launch Alliance, Launch Delta 4 / GPS 2F-5, Vandenberg Air Force Base CA: ULA Delta 4 rocket to launch GPS navigation satellite for Air Force.


Dec 12 — The National Academies, Washington DC: Human Spaceflight: Public and Stakeholder Opinions Panel; at Keck Center.

Dec 12-18 — University of Miami Department of Physics and College of Arts & Sciences, Fort Lauderdale FL: Conference on Elementary Particles, Astrophysics, and Cosmology.
FRIDAY

 Dec 13 — The National Academics, Washington DC: Meeting: Space-Based Additive Manufacturing of Space Hardware.

Dec 13 — Royal Astronomical Society, London, United Kingdom: Royal Astronomical Society Ordinary Meeting; Space Weather – A Dialogue Between Scientists and Forecasters Meeting; The Topology of the Universe on Large and Small Scale Meeting; at Burlington House.

Dec 13 — The Space Show, Online / Tiburon CA: Host Dr. David Livingston talks with Dr. David Brain, Co-Investigator on MAVEN science team.

 Dec 13 — Johnson Space Center, NASA, Houston TX: Lunch with an Astronaut, John-David Bartoe; US$49.95 adult.

Dec 13-14 — International Proceedings of Chemical, Biological and Environmental Engineering, et al, Stockholm, Sweden: 2013 International Conference on Underground Space Technology; at Elite Palace Hotel; US$320-580.

Dec 13-14 — Geminids Meteor Shower Peak: Appearing to radiate from constellation Gemini, shower can produce 80-130 meteors per hour; bright, medium-speed meteors, few leave persistent trains.
SATURDAY

Dec 14 — Chang'e-3 Lander & Yutu Rover – Entry, Descent, Landing, Sinus Iridum – Bay of Rainbows, 44°N 31°W, Moon Surface: Anticipated date for 1st first soft landing / operations on Moon since 1976; will perform fully autonomous 450-700 second descent from 15-km altitude, hover at 100-meter altitude to acquire images of potential obstacles, drop from 4 meters; landing 08:00 – 12:00 UT.

 Dec 14 — Sacramento L5 Society – Chapter of National Space Society, Cordova CA: Sacramento L5 Society Meeting; at Rancho Cordova offices of JP Aerospace.

Dec 14 — Moon: 6.1° S of Pleiades, 19:00.

Dec 14 — Asteroid 2009 XP2: Near-Earth flyby (0.052 AU).
SUNDAY

Dec 15 — Chang'e-3 Lander & Yutu Rover, Sinus Iridum – Bay of Rainbows, 44°N 31°W, Moon Surface: After systems checks will enter 'Egress' phase in which rover will move off lander; expecting at least 1 year of operations for lander, 3 months for rover.

Dec 15 — Moon: 2.7° NNW of Aldebaran, 16:00.