ISS Continuing Role as International Hub of Space Science and Exploration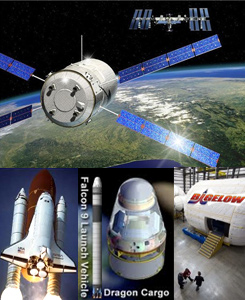 ESA is set to launch its 2nd unpiloted cargo ship, the Johannes Kepler ATV-2 (T), from Kourou, French Guiana on Tuesday, February 15. The craft will then dock with its 7 metric tons of food and supplies on Feb 23 and remain attached to the Zvezda module until early June. On Feb 18, JAXA's H-2 Transfer Vehicle, Kounotori 2 will be robotically moved to the space-facing port to give proper clearance for Space Shuttle Discovery, scheduled to arrive at the ISS on Feb 26. Japan is building 5 more HTVs for missions about once per year until 2016. After retiring the Space Shuttle program later this year, USA hopes commercial enterprises will fill the country's LEO transport service needs. The top candidates to fill this role are Space X's Falcon 9 rocket / Dragon Capsule (BC), Orbital Science Corp's Taurus 2 rocket and ATK's new Liberty rocket. Another commercial entity, Bigelow aerospace, claims to be capable of building a larger, safer space station for a fraction of the US$100B that USA invested in the ISS. Recent reports indicate a Bigelow module (BR) could soon be added to the ISS. (Credit: ESA, NASA, SpaceX, Bigelow Aerospace)
Stardust-NExT Spacecraft to Rendezvous with Comet Tempel 1 Feb 14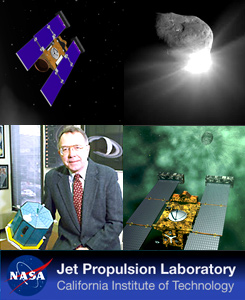 The Stardust-NExT spacecraft (L) is set to make a Valentine's Day flyby of Comet Tempel 1 (TR) on February 14 at 20:56 PST. The NASA Jet Propulsion Laboratory (JPL) spacecraft which was launched Feb 1999 will approach Tempel 1 at a distance of approximately 200km and capture high-resolution images of the comet's surface as well as measure the composition, size distribution and fluctuation of dust particles in the atmosphere around the nucleus. PI Joe Veverka (BL) hopes to "view the changes that took place over the past five-and-a-half years." The data collected will make Tempel 1 the most mapped comet to date and will mark the 1st time a comet has been visited twice. The 1st visit from NASA's Deep Impact probe collided with the comet on July 4, 2004 and formed a crater 100m in diameter. The Stardust mission will collect imagery of the crater which was not possible the first time due to dust cloud obscurity from the impact. The icy comet, which measures 14×4 km, completes an orbit of the Sun every 5.5 years and was discovered by Wilhelm Tempel on April 3, 1867.  (Credit: NASA JPL)
---

= All times for terrestrial events in local time unless noted.

= All times for international terrestrial events in local time unless noted.

= All times for space events, and…

= All times for international space / astro events in Hawaii Standard Time unless noted. Add 10 hours to obtain UT ('Universal Time;' Greenwich, England).
---
Weekly Planet Watch – Morning Planets: Venus (SE), Saturn (S) / Evening Planets: Jupiter (WSW).
---
MONDAY

Feb 14 — International Space Station, LEO: E-26 flight engineers Dmitry Kondratyev and Oleg Skripochka prepare for Feb 16 spacewalk  to install a pair of earthquake and lightning sensing experiments and retrieve a pair of spacecraft material evaluation panels.

Feb 14 — NASA Lunar Reconnaissance Orbiter (LRO), Lunar Orbit: All systems nominal in scientific phase of mission as LRO continues to make digital elevation and terrain maps that will be a fundamental reference for future human exploration.

Feb 14 — Mars Reconnaissance Orbiter, Red Planet: NASA MRO continues to capture detailed imagery of Mars which document modifications to the planet's surface in about 40 percent of  far-northern sites over a 2-year period.

Feb 14 — Stardust NEXT, Deep Space: Spacecraft conducts flyby of comet Tempel 1 to obtain high resolution images of the coma and nucleus, as well as measurements of the composition, size distribution and flux of dust emitted into the coma; NASA TV to feature live coverage of the Tempel 1 encounter at 20:30 PST, followed by news briefing on Feb 15.

Feb 14 — ESA, Moscow, Russia: Mars500 mission 'arrival' on Mars to begin surface operations.

Feb 14 — NASA, Washington DC: NASA Administrator Charles Bolden and CFO Elizabeth Robinson to brief reporters about the agency's fiscal year 2012 budget at 14:00 EST.

Feb 14 — UK Space Agency, London, United Kingdom: 'CubeSat Challenge Workshop,' event offers a unique opportunity for industry, academia and large satellite system professionals to collaborate on the development of novel instruments, system approaches and evaluate individual components.

Feb 14-16 — Georg August University of Göttingen, Institute for Astrophysics Göttingen, Göttingen, Germany: '7th Planet Formation Workshop.'

Feb 14 — Asteroid 2011 BV10: Near-Earth Flyby (0.072 AU).
---
Continued from . . .

Jan 26 — Virginia Tech, University of Colorado, NASA, Poker Flat Research Range, Fairbanks AK: Scientists from Virginia Tech and the University of Colorado make preparations to launch 2 NASA sounding rockets to obtain an electronic telescope image of a far-off galaxy; through Feb 15.

Jan 29 — Casa Romantica Cultural Center and Gardens, NASA, San Clemente CA: 'They Came From Outer Space,' this fun and educational exhibition for the whole family is presented through the NASA and explores how many of the everyday products we use were developed for the space program; through Mar 27.

Feb 13 — American Astronautical Society, American Institute of Aeronautics and Astronautics, New Orleans LA: '21st AAS / AIAA Space Flight Mechanics Meeting;' through Feb 17.
---
TUESDAY

NET Feb 15 — Arianespace, Launch Ariane 5 / ATV 2, Kourou, French Guiana: The Arianespace Ariane 5 rocket set to launch the European Space Agency's second Automated Transfer Vehicle, named Johannes Kepler.

Feb 15-17 — International Space University, Strasbourg, France: '15th ISU Annual International Symposium: The International Space Station: Maximizing the Return from Extended Operations.'

Feb 15 — Moon: 8.6° SSW of Pollux; 11:00.

Feb 15 — Cassini OTM-277, Saturn Orbit: Spacecraft conducts Orbital Trim Maneuver #277 today.
---
WEDNESDAY

Feb 16 — The SETI Institute, Mountain View CA: Colloquium Series Lecture: 'Science Fiction as a Bridge Between Future Societies and the Contemporary Russian and American Cultures,' Larisa Mikhaylova.

Feb 16 — University of Nebraska at Omaha, Omaha NE: '2011 Charles Durham Distinguished Guest Lecture' to be given by Virgin Galactic CEO George Whitesides.

Feb 16-17 — The World Network, Time Magazine, et al, Los Angeles CA: 'Transcendent Man: The Life and Ideas of Ray Kurzweil.'

Feb 16 — Moon: 4.3° SSW of Beehive Cluster; 12:00.

Feb 16 — Asteroid 2009 QH6: Near-Earth Flyby (0.041 AU).

Feb 16 — Asteroid 449 Hamburga: Closest Approach to Earth (1.136 AU).
---
THURSDAY

Feb 17 — The SETI Institute, Mountain View CA: Colloquium Series Lecture: 'EPOXI and Comet 103 / Hartley 2,' Michael A'Hearn.

Feb 17 — Sheboygan Space Society (SSS), Kiel WI: 'Monthly SSS Meeting.'

Feb 17 — American Institute of Aeronautics and Astronautics – San Francisco Section, Mountain View CA: 'Hybrid Rocket Propulsion For Future Space Launch,' Arif Karabeyoglu.

Feb 17-18 — Jet Propulsion Laboratory, Pasadena CA: The von Karman Lecture Series: 'From Crust to Core, GRAIL Reveals the Lunar Interior,' Scott Hensley.

Feb 17-21 — American Association for the Advancement of Science, Washington DC: 'AAAS 2011 Annual Meeting: Science Without Borders,' event to feature thousands of scientists, engineers, educators and policy-makers as well as hundreds of national and international science reporters and writers.

Feb 17 — Moon: Full Moon; 22:36.
---
FRIDAY

Feb 18 — Moon: At Perigee (Distance 56.17 Earth-Radii); 21:00.

Feb 18 — Asteroid 7086 Bopp: Closest Approach to Earth (1.142 AU).
---
SATURDAY

Feb 19 — Zero Gravity Corporation, Miami FL: Commercial weightless flight on board G Force One.

Feb 19 — Mauna Kea Visitor Information Station, Hawai`i Island HI: 'Malalo O Ka Po Lani: Farming by the Hawaiian Calendar,' Ka'u farmer Olivia Ling blends research, storytelling, practical experience and humor in her talk on traditional Hawaiian agricultural practices.

Feb 19 — Oregon L5 Society, Oregon City OR: 'Monthly Oregon L5 Meeting.'

Feb 19 — Organization for the Advancement of Space Industrialization and Settlement (OASIS), Redondo Beach CA: 'Monthly OASIS Meeting.'
---
SUNDAY

Feb 20 — Mercury: 0.99° SSE of Mars; 13:00.

Feb 20 — Asteroid 2007 FS3: Near-Earth Flyby (0.060 AU).