East Asia-International Space Mission Being Planned, Japan-US GPM Mission to Launch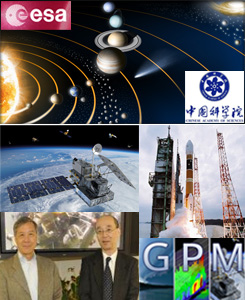 Collaborative missions with East Asia are highlighted this week by a China-Europe scientific space mission workshop and the launch of the Japan-US Global Precipitation Measurement (GPM) Core satellite. Chinese Academy of Sciences and European Space Agency will meet February 25-26 in Chengdu, China for the '1st Workshop: Planning for a joint scientific space mission.' International Scientists will discuss shared interests in a satellite mission for solar system exploration, space astronomy, solar physics or space physics. The 2nd Workshop will be held in Europe on Sep 24-26. If an agreement is reached, a Call for missions will be released. The mission would be chosen by late 2015, launched 2021. The GPM Core satellite is set to launch on the 23rd flight of H-IIA rocket from Tanegashima Space Center Feb 28 between 03:07-05:07. JAXA is responsible for the launch and the core satellite dual-frequency precipitation radar. NASA developed the bus and microwave radiometer. Partner countries / organizations including NOAA, CNES, ISRO and EUMETSAT will help coordinate the mission and develop 8 constellation satellites containing microwave radiometers. When complete the GPM mission will enable global precipitation measurement about every 3 hours. Pictured: Arthur Hou (L) NASA GPM Project Scientist and Massahiro Kojima (R) JAXA GPM DPR Program Manager. (Image Credit: JAXA, NASA, ESA, CAS)
ILOA Galaxy Forum 2014: Southeast Asia and Beyond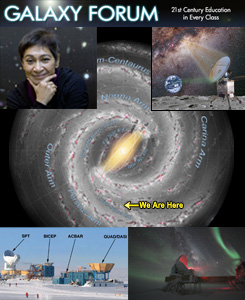 Galaxy Forum Southeast Asia 2014 takes place Saturday March 1 at Science Center Singapore (SCS). The inaugural ILOA Galaxy Forum for this year brings together educators and experts from across the very diverse and dynamic SEA region, with a population comparable to that of Europe. The program includes Dr. Mazlan Othman (pictured) – Fellow of the Academy of Sciences Malaysia and former Director of UN Office for Outer Space Affairs; Associate Professor Lim Tit Meng – SCS; Boonrucksar Soonthornthum – Director of the National Astronomical Research Institute of Thailand; Dr. Taufiq Hidayat – Bosscha Observatory, Institute of Technology Bandung (ITB), Indonesia; Nguyen Vu Giang – Space Technology Institute, Vietnamese Academy of Science and Technology; and other experts from Singapore. ILOA created, with its Space Age Publishing Company affiliate, this series of international Galaxy Forums to advance 21st Century Education worldwide. The program is designed to provide greater global awareness, capabilities and action in Galaxy science, exploration and enterprise. Galaxy Forums are held in Hawaii, Silicon Valley, Canada, China, India, Japan, Europe, Africa, Brazil, Chile, Southeast Asia, Kansas and New York. As a precursor to taking the program truly inter-global on the Moon, ILOA is planning to conduct a Galaxy Forum at the South Pole in Antarctica, where precise, revolutionary and illuminating Astronomy is conducted in very extreme and remote conditions. (Image Credit: ILOA, UN, Steffan Richter)
---


= All times for terrestrial events in local time unless noted.

= All times for international terrestrial events in local time unless noted.

= All times for space events, and…

= All times for international space / astro events in Hawaii Standard Time unless noted. Add 10 hours to obtain UT ('Universal Time;' Greenwich, England).
---
Weekly Planet Watch – Evening Planets: Mars (S), Jupiter (SE); Morning Planets: Venus (SE), Saturn (S).

---
MONDAY

Feb 24 — ISS, LEO: Expedition 38 studying effects of microgravity on 3-D visual perception, gait and ability to walk or run, microbial biofilm development; 2nd round of CubeSat deployments to begin Feb 25.

Feb 24 — Chang'e-3 Lander & Yutu Rover, Sinus Iridum / Mare Imbrium, 44.12°N 19.51°W, Moon Surface: Gathering science data from / on Moon, entering Hibernation for 3rd Lunar Night; Mar 14 marks end of Rover projected 3-month operational lifetime.


Feb 24 — Kepler Space Telescope, Heliocentric Orbit: Decision to fund Kepler using 2 out of 4 wheels to be determined this summer; Kepler data reveals more than 3,600 exoplanet candidates, 246 confirmed, on average every star has ~1.6 planets.

Feb 24 — Bigelow Aerospace LLC, Las Vegas NV: NewSpace company preparing proposal for Wallops Flight Facility to accommodate human spaceflight for launch of series of private space stations starting 2016.

Feb 24 — Escape Dynamics Inc., Broomfield CO: Researching mechanism to transfer microwave energy to moving aerial vehicles; planning suborbital flight capabilities by 2017, orbital by 2020 with fully reusable single-stage-to-orbit vehicle.

Feb 24 — Astrobotic Technology Inc., Pittsburgh PA: To deliver Lunar Dream time capsule with Japan sports drink 'Pocari Sweat' for Astroscale of Singapore to surface of Moon in 2015 aboard Griffin Lander; will compete for GLXP Milestone Prizes.

Feb 24 — NASA Advisory Council, Washington DC: NASA Advisory Council Human Exploration and Operations Committee – Research Subcommittee Meeting.

Feb 24 — The Space Show, Online / Tiburon CA: Host Dr. David Livingston talks with Madhu Thangavelu from USC Viterbi School of Engineering, Department Of Astronautical Engineering.

Feb 24-25 — SMi Group Ltd, Space Systems/Loral, Thales Group, et al, Dubai, United Arab Emirates: MilSatCom Middle East & Africa Conference.

Feb 24-28 — Steve Crawford, Ilani Loubser, Parys, Free State, South Africa: Tribes of the Deep Sky: Multiwavelength Studies of Populations in Clusters and Groups; organized by Steve Crawford of South African Astronomical Observatory, Ilani Loubser of North-West University; at 'Stonehenge in Africa' lodge.

Feb 24 — Asteroid 2014 CR: Near-Earth flyby (0.021 AU).
---
Continued from…

Jan 15 – Sep 30 — The Planetary Society, Goddard Space Flight Center, NASA, Online / Pasadena CA: Submit your name to be sent to asteroid 101955 Bennu in 2016.

Jan 16 – Mar 17 — Goddard Space Flight Center, NASA, Online / Greenbelt MD: Lunar Cargo Transportation and Landing by Soft Touchdown (Lunar CATALYST) initiative; seeking proposals from U.S. private sector that would lead to 1 or more no-funds exchanged Space Act Agreements.
---
TUESDAY

Feb 25 — International Astronautical Federation, Online / Paris, France: Abstracts Due: 65th International Astronautical Congress: Our World Needs Space.

Feb 25 — American Astronautical Society, Online / Greenbelt MD: Online Registration Due: 52nd Robert H. Goddard Memorial Symposium.

Feb 25 — Penn State Lunar Lion Team, RocketHub, Online / State College PA: Last Day: Lunar Lion Google Lunar XPrize Crowdfunding Campaign.

Feb 25-26 — Chinese Academy of Sciences, ESA, Chengdu, Sichuan, China: 1st Workshop: Planning for a joint scientific space mission – Chinese Academy of Sciences & European Space Agency.

Feb 25 — Moon: 0.2° N of Venus, 19:00.
WEDNESDAY

Feb 26 — MAVEN TCM-2, Mars Trajectory: Spacecraft to perform Trajectory Correction Maneuver #2 today.

Feb 26 — Ames Research Center, NASA HQ, Online / Washington DC: NASA Teleconference to Announce Latest Kepler Discoveries; 13:00 EST.

Feb 26 — British Interplanetary Society, London, United Kingdom: Lecture: Skylab – Why was it America's only Space Station? presented by David Baker.

Feb 26 — Goddard Space Flight Center, NASA, Greenbelt MD: 2014 NASA Goddard Information Science & Technology Colloquia Lecture: Vision and Priorities in Information Technology at NASA; presented by NASA Office of the Chief Information Officer Larry Sweet, 11:00 EST.

Feb 26-28 — University of California – Los Angeles, Los Angeles CA: UCLA's 11th Symposium on Sources and Detection of Dark Matter and Dark Energy in the Universe.
THURSDAY

Feb 27 — ISS, LEO: ISS Expedition 38 In-Flight Educational Event with Temple University of Philadelphia PA; live coverage available, 16:50 UT.

Feb 27 — Lunar Atmosphere and Dust Environment Explorer (LADEE), Moon Orbit: Spacecraft 100-day science mission ends today; with recent mission extension science studies will continue until impact of lunar surface around Apr 21.

Feb 27 — Moon: At perigee (distance 360,025 km), 09:44; 2.8° NNW of Mercury, 10:00.
FRIDAY

Feb 28 — ISS, LEO: ISS Expedition 38 In-Flight Educational Event with the School of the Osage in Missouri; live coverage available, 15:00 UT.

Feb 28 — JAXA, Launch H-IIA / GPM Core, Tanegashima Space Center, Japan: H-IIA rocket to launch JAXA-NASA Global Precipitation Measurement mission Core satellite equipped with advanced radar, microwave imager to provide precipitation measurements from space; 03:07 – 05:07 local time.

Feb 28 — Lunar and Planetary Institute, Houston TX: LPI Seminar Series: The Early Magmatic and Tectonic History of the Moon as Revealed by GRAIL; presented by Jeff Andrews-Hanna from Colorado School of Mines.

Feb 28 — University of Leicester, National Space Centre, Loughborough College, Leicester, United Kingdom: Careers in the Space Industry.

Feb 28 — NASA HQ, Solar System Exploration Research Virtual Institute, Online / Washington DC: Asteroid Grand Challenge: Virtual Seminar Series; Lindley Johnson speaks on NASA NEA programs, 11:00 EST.

Feb 28 — Space Center Houston, Houston TX: Lunch with an Astronaut, Jerry Ross; US$49.95 adult.

Feb 28 – Mar 2 — Space Florida, Kennedy Space Center Visitor Complex, NASA, Cocoa Beach FL: NARCON 2014 Conference: Rocketry – Yesterday, Today & Tomorrow.

Feb 28 — Moon: New Moon, 22:02.
SATURDAY

NET Mar — ISRO, Launch PSLV / IRNSS 1B, Satish Dhawan Space Center, Sriharikota, India: Polar Satellite Launch Vehicle, flying on PSLV-C24 mission, to launch 2nd IRNSS navigation satellite (1B) to improve positioning services over India & neighboring regions.

NET Mar — Boeing Company, Chicago IL: Developing CST-100 7-person spacecraft for NASA CCiCap, Software Critical Design Review to occur this month.

Mar 1 — Deep Space: Voyager 1 and Voyager 2 about 127 AU, 104 AU from Sun respectively; continue sending scientific information about surroundings through Deep Space Network.

Mar 1 — International Lunar Observatory Association, Space Age Publishing Co., Science Centre Singapore, Singapore: Galaxy Forum Southeast Asia: Galaxy 21st Century Education, Exploration and Enterprise; 09:00 – 14:30 local time.

Mar 1 — Onizuka Center for International Astronomy Visitor Information Station, Mauna Kea HI: The Universe Tonight: University of Hawaii 2.2-m Telescope; at 2,800-meter altitude on Mauna Kea, 18:00 HST.

Mar 1 — Space Foundation, Colorado Springs CO: Application and letter of support due for 2014 Lucy Enos Memorial Scholarship; Hawaii teacher gets free week-long 'Space Across the Curriculum' courses.

Mar 1-2 — UKSEDS, Leicester, United Kingdom: National Student Space Conference; at University of Leicester.

Mar 1-8 — IEEE, AIAA, Prognostics and Health Management Society, Aerospace and Electronic Systems Society, Big Sky MT: 2014 IEEE Aerospace Conference; at Yellowstone Conference Center.
SUNDAY

Mar 2 — American Physical Society, Denver CO: Workshop: ISS Research Results and Post-Graduate Research Opportunities in Physical Sciences; at Colorado Convention Center.

Mar 2 — Starfire Scientific Inc., Kickstarter, Online / Cochrane, Ontario, Canada: Last Day: Starfire Space Cannon Kickstarter Campaign.