SpaceEU 2012 Advancing Europe Space Initiatives, International Partnerships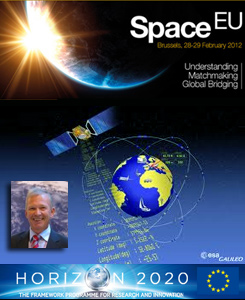 Nearly 500 space entrepreneurs, researchers and scientists from 38 countries will converge at the 1st 'SpaceEU 2012' meeting in Brussels, Belgium on February 28-29. The free event is organized by COSMOS, a network under the European Commission (EU) 7th Framework Program (FP7) for Research. Participants will focus on this year's theme, 'Understanding, Matchmaking, Global Bridging,' and will be able to meet potential research and business partners in face-to-face 'Brokerage Sessions.' So far, 385 Brokerage Sessions are scheduled to take place involving 178 participants.  EU Deputy Director Paul Weissenberg will open the event. An overview of EU and ESA space activities will be given, including the latest updates on the global navigation satellite system, Galileo, and the new Europe 'Horizon 2020 for Research and Renovation' space initiative aimed at securing Europe's global competitiveness. The new €80-Billion EU program will be part of the drive to create new growth and jobs in Europe, with focus on space related activities. The initiative is set to begin Jan 1, 2014 and end in 2020. (Image Credit: EU, ESA)
California Hosts Next-Gen Suborbital Researchers Conference and Space Experience Economy Seminar This Week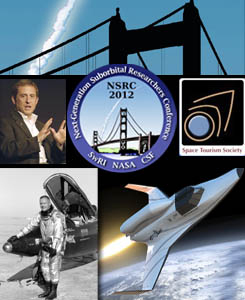 A free ride to space aboard the XCOR Lynx Suborbital Vehicle is on offer as a prize for one lucky attendee of the 3rd Annual Next-Generation Suborbital Researchers Conference, hosted by NASA Ames Research Center, Southwest Research Institute and the Commercial Spaceflight Federation on February 27-29 in Palo Alto. Neil Armstrong  has been invited to speak on the X-15 (BL) and early suborbital flights. Also headlining the event is Dr. Alan Stern (CL) who will lead a number of sessions including one on the Suborbital Ambassadors Program. Jeff Greason President of XCOR Aerospace will make a Keynote address on Tuesday. The goal of the conference is to accelerate development of vehicles that will revolutionize space access by providing frequent, low-cost access to space for research and educational purposes. It is hoped that some of these systems will be coming online in 2012 and 2013. In Los Angeles on March 3, the Space Tourism Society presents a Space Experience Economy Seminar to provide an overview of the latest information, perspectives and forecast on the growing space enterprises industry. (Image Credit: NSRC, NASA, XCOR, Space Tourism Society)
---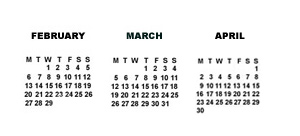 = All times for terrestrial events in local time unless noted.

= All times for international terrestrial events in local time unless noted.

= All times for space events, and…

= All times for international space / astro events in Hawaii Standard Time unless noted. Add 10 hours to obtain UT ('Universal Time;' Greenwich, England).
---
Weekly Planet Watch
– Morning Planets: Saturn (S) / Evening Planets: Venus (SW), Mars (E), Jupiter (SW).
---
MONDAY

Feb 27 — International Space Station, LEO: E-30 crew members on board the ISS include Cmdr Dan Burbank, Flight Engineers Andre Kuipers, Don Pettit , Anton Shkaplerov, Anatoly Ivanishin and Oleg Kononenko.

Feb 27 — Lunar Reconnaissance Orbiter (LRO), Lunar Orbit: NASA LRO functioning nominally in its 50±15 km near-circular orbit as it makes digital elevation and surface maps that will be a fundamental reference for future human exploration.

Feb 27 — Mars, Red Planet: Rover Opportunity continues regular radio Doppler tracking measurements on the north end of Cape York on the rim of Endeavour Crater with an approximate 15° northerly tilt for favorable solar energy production; total odometry to date is 34,361.37 m.

Feb 27 — Juno Mission, Transit to Jupiter: NASA solar-powered Juno spacecraft  is now 207 days and over 480 million km into its 5-year, 2,800-million-km journey to Jupiter.

Feb 27 — NASA, Washington DC: NASA Associate Administrator for Education Leland Melvin to present a space shuttle tile to Bruce Monroe Elementary School and speak to students about his experiences as a crew member aboard the Space Shuttle Atlantis on STS-122 in 2008 and STS-129 in 2009.

Feb 27-28 — Mars Exploration Program Analysis Group (MEPAG), Washington DC: '2nd International MEPAG Meeting.'

Feb 27-29 — Southwest Research Institute, Ames Research Center, Palo Alto CA: '3rd Next-Gen Suborbital Researchers Conference.'

Feb 27-29 — Seoul National University, JAXA, et al, Jeju, South Korea: '2nd AKARI Conference: Legacy of AKARI – A Panoramic View of the Dusty Universe.'

Feb 27-29 — Paris Institute of Astrophysics, Paris, France: 'Lithium in the Cosmos.'

Feb 27 — Moon: At Apogee (Distance: 404,862 km); 04:00.
---
Continued from…

Feb 12 — Max Planck Institute for Radioastronomy, Tegernsee, Germany: 'Science with the Atacama Pathfinder Experiment;' through Feb 21.

Feb 12 — The GLOBE Program, The National Optical Astronomy Observatory, Global: 'GLOBE at Night: Less of Our Light, More Star Light,' event to raise public awareness of the impact of light pollution by inviting citizen-scientists to measure their night sky brightness and submit their observations to a website from a computer or smart phone; through Feb 21.

Feb 19 — American Geophysical Union (AGU), Kailua-Kona HI: 'AGU Chapman Conference on Remote Sensing of the Terrestrial Water Cycle;' through Feb 22.

Feb 20 — International Space University, Colorado Springs CO: 'Executive MBA 2012 Program: Module D;' through Mar 3.

Feb 26 — National Space Society, Space Exploration Alliance, Washington DC: 'Space Exploration Alliance 2012 Legislative Blitz;' through Feb 28.
---
TUESDAY

Feb 28 — Johnson Space Center, Houston TX: 'NASA JSC Multi-Purpose Crew Vehicle Program Integration Contract / Virtual Industry Day.'

Feb 28-29 — COSMOS – Network of National Contact Points for Space, Brussels, Belgium: 'SpaceEU: Understanding, Matchmaking, Global Bridging.'

Feb 28 – Mar 1 — NASA, Charlotte NC: '4th Annual NASA STEM Educators Workshop Series.'

Feb 28 – Mar 1 — Arianespace, Space Systems Loral, et al, Dubai, United Arab Emirates: 'World Space Risk Forum 2012.'

Feb 28 — Moon: 3.3° S of Pleiades; 16:00.

Feb 28 — Asteroid 2002 QC7: Near-Earth Flyby (0.071 AU).
---
WEDNESDAY

Feb 29 – Mar 2 — Jet Propulsion Laboratory, ESA, Herndon VA: '1st Landing Site Workshop for Future Mars Missions.'

Feb 29 — The SETI Institute, Mountain View CA: Colloquium Series Lecture: 'The Trillion Dollar Space Enterprise Or How the Lynx Suborbital Vehicle Will Change the World,' Andrew Nelson.

Feb 29 — Moon: 5.4° N of Aldebaran, 14:00; At First Quarter, 15:22.

---
THURSDAY

Mar 1 — NASA New Horizons Spacecraft, Deep Space: New Horizons continues trek to dwarf planet Pluto; Approximately 23.02 AU from Earth and 9.90 AU from Pluto.

Mar 1-9 — Hawai`i Island Chamber of Commerce, Japanese Chamber of Commerce and Industry of Hawaii, et al, Hilo HI: 'Journey Through the Universe Week 2012.'

Mar 1 — Asteroid 3352 McAuliffe: Closest Approach to Earth (0.410 AU).
---
FRIDAY

Mar 2 — Glenn Research Center, Cleveland OH: '50th Commemoration & Tweet-up of John Glenn's Historic Space Flight,' when he became the 1st USA astronaut to orbit the Earth.
---
SATURDAY

Mar 3 — Space Tourism Society, Los Angeles CA: 'Space Experience Economy Seminar Series,' John Spencer.

Mar 3 — Jet Propulsion Laboratory, Pasadena CA: 'Educator Workshop: Greenhouse Gases and Their Roles on Earth.'

Mar 3 — Zero Gravity Corporation, Cape Canaveral FL: 'Zero-G Flight Experience,' a once-in-a-lifetime opportunity to experience weightlessness onboard a specially modified Boeing 727.

Mar 3-10 — Institute of Electrical and Electronics Engineers (IEEE), Big Sky MT: '2012 IEEE Aerospace Conference.'

Mar 3 — Comet (Closest Approach to Earth): P / 2012 A3 (SOHO), (0.791 AU); P / 2011 VJ5 (Lemmon), (0.812 AU).

Mar 3 — Asteroid 2008 CE119: Near-Earth Flyby (0.067 AU).
---
SUNDAY

Mar 4 — Moon: 10.2° SSW of Pollux; 00:00.