Space Stations in the 2020s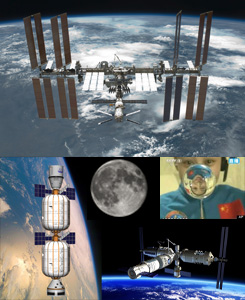 The International Space Station is set for approval by USA and Russia for a 4-year extension through 2024, with potential life-span out to 2028. ISS "1.0", a US$100-B project requiring over 100 launches, 13 years and 160 spacewalks to build, has fallen short of its original design purpose as staging platform for human exploration sorties to the Moon, Mars and beyond. Key to future evolution of space station development are commercial partners such as SpaceX with its multipurpose Dragon spacecraft, Orbital Sciences with its Cygnus cargo transport and Bigelow Aerospace with its inflatable space habitats. The Bigelow Expandable Activity Module (BEAM) launches on SpaceX CRS-8 Falcon 9 in 2015 to the ISS for 2 years of orbital testing and experimental use. ISS Program Director Sam Scimemi emphasized that "if we are going to do anything as it relates to deep space exploration… we need a healthy, viable and sustainable station." China is conducting the independent Tiangong series of space laboratory missions working toward a permanently crewed 3-person space station in the 2020-2022 time frame. The intention is to coincide with initial operations of the proposed Orbital Piloted Assembly and Experiment Complex in development by Russia. This would re-purpose modules from the Russian Orbital Segment of the ISS into a new facility capable of on-orbit component assembly and support of crewed interplanetary spacecraft. (Image Credit: NASA, CNSA, Bigelow)
Investigating Planets, Satellites, Icy Worlds in the Solar System and Beyond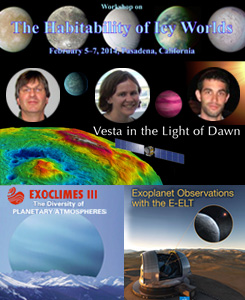 Earth, Solar System and Extrasolar Planet experts meet at various conferences around the globe this week. The 'Workshop on the Habitability of Icy Worlds' hosted by Lunar and Planetary Institute and USRA in Pasadena CA February 5-7 will focus on the astrobiological potential of Europa, Ganymede, Enceladus, Titan, Uranus, Neptune and the Kuiper Belt. During the 'Continuing and Future Outer Solar System Exploration' session David Senske (L) will discuss advancing our understanding of icy world habitability with the Europa Clipper mission, Michele Bannister (C) will present information on finding new icy worlds with CFHT Outer Solar System Origins Survey, and Kostas Konstantinidis (R) will detail DLR funded projects to develop a submersible for Europa and a melting probe for Enceladus. Scientists from LPI, MIT, JPL, JHU/APL, among others review Vesta data collected by the Dawn spacecraft (en route to Ceres arriving ~Feb 2015) during 'Vesta in the Light of Dawn' on Feb 3-4 in Houston TX. The 'Exoclimes III' conference in Davos, Switzerland Feb 9-14 covers planetary atmospheres of Venus, Mars, Earth, Jupiter, Saturn and configurations unknown in the Solar System – exo-atmospheres such as iron clouds and silicate rains. In Garching, Germany 'Exoplanet Observations with the E-ELT' explores the planned capabilities of the European Extremely Large Telescope on Feb 3-6. (Image Credit: LPI, USRA, ESO, UE, NASA, S. Wiessinger, Icarus Interstellar)
---


= All times for terrestrial events in local time unless noted.

= All times for international terrestrial events in local time unless noted.

= All times for space events, and…

= All times for international space / astro events in Hawaii Standard Time unless noted. Add 10 hours to obtain UT ('Universal Time;' Greenwich, England).
---
Weekly Planet Watch – Evening Planets: Mercury (WSW), Mars (S), Jupiter (E); Morning Planets: Venus (ESE), Saturn (SE).

---
MONDAY

Feb 3 — ISS, LEO: Expedition 38 preparing for arrival of Progress 54P resupply ship; Monitor of All-sky X-ray Image (MAXI) sensors scanning entire sky 16 times per day as station orbits Earth.

Feb 3 — ISS, LEO: Progress 52P resupply vehicle undocking scheduled 16:21 UT, live coverage available; will burn up upon Earth atmosphere reentry.

Feb 3 — Tiangong-1, LEO: Laboratory performance being tested remotely; acquiring data in narrow, adjacent spectral bands with hyperspectral imager and images of Earth with 2 observation cameras.

 Feb 3 — NuSTAR, LEO: Observations planned for stellar explosion / supernova SN 2014J which occurred Jan 21 in galaxy M82 about 12M light years away.

Feb 3 — Curiosity, KMS-9 Trajectory, Mars: Approaching 'Dingo Gap' from southeast, science team evaluating smoothest route to next drilling site 'KMS-9' about 800 meters away. 


Feb 3 — SpaceX, Hawthorne CA: NewSpace company manufacturing rocket / spacecraft necessary to perform abort system tests of Dragon capsule in preparation for 2015 human spaceflight.

Feb 3 — Waypoint 2 Space, Houston TX: Will utilize Johnson Space Center to provide orbital & suborbital spaceflight training programs for commercial space industry this spring.


Feb 3 — zero2infinity S.L., Cerdanyola del Vallès, Spain: Planning to begin crewed test flights of bloon near-space ship (36 km) this year to qualify pod and life support system.


Feb 3-4 — Lunar and Planetary Institute, USRA, Houston TX: Conference: Vesta in the Light of Dawn: First Exploration of a Protoplanet in the Asteroid Belt.

Feb 3-4 — National Science Foundation, Arlington VA: Astronomy and Astrophysics Advisory Committee Meeting.

Feb 3-6 — European Southern Observatory, Garching, Germany: Workshop: Exoplanet Observations with the E-ELT.

Feb 3-7 — Indian Science Research Organization Association, University of Jammu, Jammu, India: 101st Indian Science Congress: Innovations in Science and Technology for Inclusive Development; with thousands of delegates analyzing, interacting on matters of science.

Feb 3 — Moon: 4.6° NNE of Spica, 02:00.

Feb 3 — Asteroid 2013 BZ45: Near-Earth flyby (0.069 AU).
---
Continued from…

Jan 16 – Mar 17 — Goddard Space Flight Center, NASA, Online / Greenbelt MD: Lunar Cargo Transportation and Landing by Soft Touchdown (Lunar CATALYST) initiative; seeking proposals from U.S. private sector that would lead to 1 or more no-funds exchanged Space Act Agreements.

Jan 31 – Feb 5 — American Astronautical Society – Rocky Mountain Section, Breckenridge CO: 37th Annual Guidance and Control Conference; at Beaver Run Resort.

Feb 1 – Dec 31 — Stratospheric Observatory for Infrared Astronomy (SOFIA), Multiple Locations: Cycle 2 of science flights to observe universe consists of 47 science flights grouped into multi-week observing campaigns totaling about 350 research flight hours.


Feb 2-6 — American Meteorological Society, Atlanta GA: 94th AMS Annual Meeting: Extreme Weather – Climate and the Built Environment: New Perspectives Opportunities, and Tools.
---
TUESDAY

Feb 4 — SETI Institute, Mountain View CA: SETI Talks: Private Funding Opportunities for Space Research; presented by Amaresh Kollipara, Christopher Horgan, Mark Bunger, 19:00 PST.

Feb 4 — The Creation Museum, Petersburg KY: Bill Nye evolution vs. creation debate with Ken Ham: Is creation a viable model of origins?


Feb 4-6 — NASA HQ, Palo Alto CA: 2014 NASA Innovative Advanced Concepts (NIAC); featuring Jamie Hyneman (MythBusters), Peter Norvig (Google), Seth Shostak (SETI); at Stanford University, live stream available.

Feb 4 — Asteroid 2014 BS57: Near-Earth flyby (0.054 AU).
WEDNESDAY

Feb 5 — Cassini OTM-371, Saturn Orbit: Spacecraft conducts Orbital Trim Maneuver #371 today.

Feb 5 — RSA, Launch Soyuz / Progress 54P, Baikonur Cosmodrome, Kazakhstan: An RSA Soyuz rocket set to launch 54th Progress cargo ship to ISS 22:23 local time; set to dock 6 hours later; live coverage available for both events.

Feb 5 — British Interplanetary Society, London, United Kingdom: Lecture: Archaeology at an Apollo Test Site; presented by Alan Lawrie.

Feb 5-6 — Federal Aviation Administration, Washington DC: 17th Annual FAA Commercial Space Transportation Conference; at National Housing Center.

Feb 5-7 — The National Academies, Washington DC: Meeting 4: Space-Based Additive Manufacturing of Space Hardware; at Keck Center.

Feb 5-7 — Lunar and Planetary Institute, USRA, Pasadena CA: Workshop on the Habitability of Icy Worlds; to discuss Jupiter & Saturn satellites, icy worlds of Uranus & Neptune, Kuiper Belt & beyond, Cassini, Europa Clipper study, JUICE, future of outer Solar System exploration.
THURSDAY

Feb 6 — Arianespace, Launch Ariane 5 ECA / ABS 2 & Athena-Fidus, Kourou, French Guiana: Ariane 5 ECA rocket, designated VA217, to launch communications satellites.

Feb 6-8 — Johnson Space Center, NASA, Houston TX: 20th Annual Space Exploration Educators Conference (SEEC).

Feb 6 — Moon: At first quarter, 09:21.
FRIDAY

Feb 7 — The National Academies Space Studies Board, Online / Washington DC: Applications Due: Lloyd V. Berkner Space Policy Internships.

Feb 7 — Space Center Houston, Houston TX: Lunch with an Astronaut, Leroy Chiao; US$49.95 adult.

Feb 7 — Moon: 6.5° S of Pleiades, 08:00.

Feb 7 — Asteroid 348306 (2005 AY28): Near-Earth flyby (0.039 AU).
SATURDAY

Feb 8 — Sacramento L5 Society – NSS Chapter, Sacramento CA: Meeting of the Sacramento L5 Society.

Feb 8 — Moon: 2.3° N of Aldebaran, 05:00.

Feb 8 — Asteroid 2014 BP43: Near-Earth flyby (0.014 AU).
SUNDAY

Feb 9 — The Space Show, Online / Tiburon CA: Host Dr. David Livingston talks with Rick Tumlinson of Deep Space Industries.

Feb 9-14 — University of Exeter, Davos, Switzerland: Exoclimes III Conference – The Diversity of Planetary Atmospheres; at Davos Congress Centre.

Feb 9-14 — American Geophysical Union, Yosemite Village CA: AGU Chapman Conference: Magnetosphere-Ionosphere Coupling in the Solar System.