Russia Rebooting Planetary Exploration Program: First Step – Luna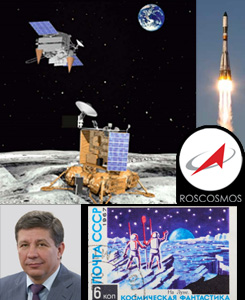 The surge of national, international and independent / commercial interest and activity toward exploration and development of our Moon is rising by the day. Now Russia, with the RSA under command of Vladimir Popovkin, is consolidating and simplifying a range of complex planetary missions and objectives into a reasonable plan for near-term robotic lunar exploration. The one-time leading Space Power plans to launch Luna-Glob Orbiter in 2015 with a small impactor probe, followed by Luna-Glob / Lunar-Resurs Polar Landers destined for the Moon North / South Pole by 2016 / 2017. The missions have been significantly down scoped from their original designs, some dating back over a decade, but still have the potential to contribute to the understanding of mineral and water ice distribution, particularly in the less explored polar regions believed to have the highest concentrations of volatiles. Less complicated spacecraft and mission architecture / objectives should lead to a higher rate of follow through and success for Russia. Also on the lunar horizon are: China missions Chang'e-3, 4 and 5 scheduled for 2013, 2015 and 2017; USA LADEE Orbiter in 2013; India Chandrayaan-2 Lander, Rover possibly in 2015; and independent enterprises like ILOA 2015-2016, Moon Express in 2015, Golden Spike Company human missions by the end of the decade. (Image Credit: IKI / NPO Lavochkin, Roscosmos)
Space City: Houston, Texas Events Advance Space Enterprise, Education, Awareness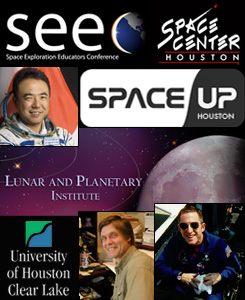 "Houston," the first word spoken on the Moon, continues its Space City legacy with many space-related events. Sponsors including Boeing, Citizens in Space and Sally Ride Science host the '19th Annual Space Exploration Educators Conference' at Space Center Houston on February 7-9. The public is invited to learn from scientists / astronauts about space, the ISS and human Moon and Mars missions. Teachers can earn 24 hours of Continuing Education credit and apply for an Albert and Ethel Herzstein Charitable Foundation scholarship. JAXA astronaut Satoshi Furukawa (T) will be featured on Feb 8. XCOR, Space Update and others host the '4th Commercial Spaceflight Panel' Feb 8 and 'SpaceUp Houston' Feb 9 at Lunar and Planetary Institute. During the panel, experts including Alan Stern (BR) of SwRI and Golden Spike Co., John Curry of Sierra Nevada and Jeff Siders of Orbital Sciences will discuss NASA's COTS / CCiCap programs and spread awareness of suborbital market opportunities. As part of LPI's seminar series, Andrew Poppe from UC Berkeley presents 'ARTEMIS Pick-Up Ions Observations of the Lunar Neutral Exosphere' Feb 8. The University of Houston Clear Lake's weekly 2013 Physics and Space Science Spring Seminar Series features Stephen Clifford (BL) from LPI on Feb 7 with 'The Climatic and Hydrologic Evolution of Water on Mars.' (Image Credit: SCH, LPI, UH, SpaceUp, JAXA, NASA)
---

= All times for terrestrial events in local time unless noted.

= All times for international terrestrial events in local time unless noted.

= All times for space events, and…

= All times for international space / astro events in Hawaii Standard Time unless noted. Add 10 hours to obtain UT ('Universal Time;' Greenwich, England).
---
Weekly Planet Watch – Evening Planets: Mercury (WSW), Mars (WSW), Jupiter (SW). Morning Planets: Saturn (SE).
---
MONDAY

Feb 4 — ISS, LEO: Expedition 34 crew undergoing Reaction Self Test twice a day, 5 minute laptop simulation to assess fatigue; performing cargo transfer preparations for Progress 50 resupply vehicle arriving Feb 11; demonstrating scientific data transfer via laser communication channel at 125 MB per second.

Feb 4 — Planck Space Observatory, Earth-Sun L2 Lagrange Point: Detecting hot-gas bridge 10M light-years across connecting a pair of galaxy clusters; ESA to release Planck first all-sky map of Cosmic Microwave Background radiation Mar 21.

Feb 4 — Curiosity, Yellowknife Bay, Mars: With robotic arm / 2 prongs which surround drill bit, applying 30-40 kg of force on selected rock to ensure slipping will not occur during following steps: 'drill-on-rock checkout' activity followed by 'mini-drill' activity, 2-cm deep drilling procedure, analysis of drill / rock behavior, 2-5-cm deep drilling procedure, collection of rock powder.

Feb 4 — Garvey Spacecraft Corp., Long Beach CA: NewSpace company developing space technologies, launch vehicle systems; converting Prospector-3C launch vehicle to run on liquid oxygen / propylene, expecting to launch / test in Apr.

Feb 4 — Zero G Corp., Arlington VA: Providing US$4,950 zero-gravity flights for private citizens consisting of 12-15 parabolas, 8 mins of weightlessness; research program flights offer Lunar / Martian / zero / hyper-gravity and about 25 parabolas for US$2,500-250K.

Feb 4 — Astronauts4Hire, Inc., Holiday FL: Nonprofit organization training next-gen commercial astronauts; collaborating with NASTAR Center to provide additional curricula including PHOENIX centrifuge; raising money for zero-gravity flight training; currently 19 flight, 57 associate members.

Feb 4 — University of Surrey, Royal Academy of Engineering, London, United Kingdom: An Evening with Sir Martin Sweeting: Changing the Economics of Space; held at Royal Academy of Engineering Prince Philip Rooms, 18:00 – 20:00 UT.

Feb 4 — Planetary Society, Online: Deadline: Proposal Submission for 2013 Shoemaker Near Earth Objects Grants; 18:00 PST; for amateur / professional astronomers to track, identify potentially harmful asteroids.

Feb 4 — NASA, Washington DC: Jesco von Puttkamer Memorial Meeting; for NASA employees to honor Puttkamer who was part of the Apollo program, Russian space program, advanced American-Russian cooperation in spaceflight; 10:30 EST.

Feb 4-5 — The National Academies, Washington DC: Human Spaceflight: Technical Feasibility Panel Meeting 1; to discuss human exploration program and exploration systems development including Orion, Space Launch System.

Feb 4-6 — UCLA Institute for Planets and Exoplanets, UK Center for Astrobiology, NASA Astrobiology Institute, Los Angeles CA: Conference: The Present-Day Habitability of Mars; held in UCLA Royce Hall.

Feb 4-8 — CNES, Eumetsat, Hyères, France: Infrared Accuracy from Space In a fragile world (IASI) 2013 Conference.

Feb 4-8 — National Autonomous University of Mexico, Institute of Nuclear Sciences, Playa del Carmen, Mexico: Magnetic Fields in the Universe IV: From Laboratory and Stars to Primordial Structures.

Feb 4 — Moon: 6.2° N of Antares, 20:00.

Feb 4 — Asteroid 2003 BN4: Near-Earth Flyby (0.071 AU).
---
Continued from…

Jan 11 – Mar 8 — Cornell University, University of Hawai`i – Manoa, Online: HI-SEAS Recipe Contest 2013; accepting food recipes to be used in Hawai`i Island Mars Analog Mission and Food Study.

Jan 23 – Feb 16 — National Space Society, Online: Kickstarter Campaign; requesting pledges to fund 'A National Space Society Video: Our Future in Space.'

Jan 25 – Mar 15 — Mauna Kea Observatory Outreach Committee, 'Imiloa Astronomy Center, Onizuka Space Center, Galaxy Garden, et al, Hawai`i Island: 2013 Mauna Kea Coin Design Contest; for K-12 students to design new Mauna Kea coin with astronomy and Hawaiian cultural themes; submit at any KTA courtesy desk.

Feb 1-6 — American Astronautical Society, Breckenridge CO: 36th Annual AAS Guidance and Control Conference.

Feb 1-28 — Austrian Space Forum, Ibn Battuta Center, Erfoud, Morocco: Morocco 2013 Mars Analog Field Simulation; small field crew to conduct engineering, planetary surface operations, astrobiology and other experiments to prepare for human Mars missions.

Feb 1 – Mar 1 — Space Foundation, Online: Accepting Applications: Scholarships for Educators; scholarship offers space-related STEM courses to USA educators; specifically open to Florida teachers, those of Hawaiian descent or those who teach Hawaiian students.

Feb 3-8 — Gordon Research Conferences, ASTRIUM, et al, Ventura CA: Atmospheric Reentry Physics Conference: Fundamentals of Environment-Materials Interactions, Models and Design Approaches to Meet Emerging Space Needs.

Feb 3-9 — International Academy of Astronautics, School of Aerospace Engineering Sapienza – University of Rome, Roma, Italy: 2nd IAA Conference on University Satellites Missions and CubeSat Winter Workshop in Europe.
---
TUESDAY

Feb 5 — RSA, Launch Soyuz / Globalstar, Baikonur Cosmodrome, Kazakhstan: An Arianespace Soyuz rocket set to launch 6th generation Globalstar mobile communications satellite; 22:20 local time.

Feb 5 — NASA, North Carolina Museum of Natural Sciences, Raleigh NC: Students Talk Live with International Space Station; students and teachers gather at NC Museum of Natural Sciences to talk with Expedition 34 flight engineer Tom Marshburn; 10:15 EST.


Feb 5 — NASA Ames Research Center, Moffett Field CA: 2013 NASA Small Business Women Industry Day; held at NASA Ames, 09:00 – 15:00.

Feb 5 — The British Interplanetary Society, London, United Kingdom: Lecture: ESA Astronaut Training and HSF Plans for the Next Decade; with astronaut Tim Peake.

Feb 5-6 — NASA Marshall Space Flight Center, Huntsville AL: Workshop for the Study on Applications for Large Space Optics (SALSO); to discuss using 2 large space telescopes for astrophysics, science, exploration, technology goals.

Feb 5-7 — Applied Technologies Institute, Columbia MD: Space Mission Analysis and Design Course; conducted by Edward L. Keith; US$1,845.

Feb 5 — Asteroid 2013 BU15: Near-Earth Flyby (0.031 AU).
WEDNESDAY

Feb 6-7 — Federal Aviation Administration, Washington DC: 16th Annual Commercial Space Transportation Conference; held at National Housing Center, US$200.
THURSDAY

Feb 7 — Arianespace, Launch Ariane 5 / Amazonas 3 & Azerspace, Kourou, French Guiana: Ariane 5 ECA rocket, designated VA212, set to launch 2 communication satellites; 18:36 local time.

Feb 7 — Space Foundation, Women in Defense, Colorado Springs CO: Women in Defense Luncheon: STEM Education; panel discussion includes Tracey Tomme President / CEO of Challenger Learning Center – Colorado; 11:30 MST.

Feb 7 — NASA NSPIRES, Online: Notice of Intent Due: Solar System Exploration Research Virtual Institute Cooperative Agreement Notice; for multi-institutional US teams interested in becoming participating research members of SSERVI to enable human exploration of Moon, Near Earth Asteroids, Mars moons – Phobos and Deimos; proposals due Apr 10.

Feb 7 — Royal Aeronautical Society, London, United Kingdom: Lecture: Astronaut Training and HSF – The Next Steps; with astronaut Tim Peake; held at RAS HQ.

Feb 7 — University of Houston – Clear Lake, Houston TX: 2013 Physics and Space Science Spring Seminar Series: The Climatic and Hydrologic Evolution of Water on Mars; presented by Stephen Clifford from Lunar and Planetary Institute; free; held in UH-Clear room 1218, 19:00 CST.

Feb 7-8 — The Capital Area Career Center, NASA, Mason MI: Career Center to Welcome NASA's Second in Command; NASA Deputy Administrator Lori Garver speaks at public community event and student assembly.

Feb 7-9 — Space Center Houston, Boeing Company, Albert and Ethel Herzstein Charitable Foundation, Consulate General of Japan, Sally Ride Science, et al, Houston TX: 19th Annual Space Exploration Educators Conference; held at Space Center Houston.

Feb 7 — Moon: At Perigee (Distance: 364,930 km), 02:00.

Feb 7 — Asteroid 2013 AQ27: Near-Earth Flyby (0.067 AU).
FRIDAY

Feb 8 — XCOR Aerospace, Thinkgeek, Space Update Inc., SpaceUp, Schipul Company, Discovery Dome, Yuri's Night, et al, Houston TX: 4th Commercial Spaceflight Panel; held at Lunar and Planetary Institute, 18:30 CST; free.

Feb 8 — American Astronautical Society, Center for the Advancement of Space Science Inc., NASA, Online: Abstract Deadline; for those interested in presenting at 2nd Annual ISS Research and Development Conference; held in Denver CO, Jul 16-18.

Feb 8 — Lunar and Planetary Institute, Houston TX: LPI Seminar Series: ARTEMIS Pick-up Ions Observations of the Lunar Neutral Exosphere; presented by Andrew Poppe from UC Berkeley; in Lecture Hall of USRA, 15:30 CST.

Feb 8 — Peninsula Astronomical Society, Foothill College, Los Altos Hills CA: Lecture: A New Window on the Universe; with speaker Jonathan Pober from UC Berkeley; held in Foothill College room 5015, 19:30 PST; US$3.

Feb 8 — Space Center Houston, Houston TX: Lunch with an Astronaut, Leroy Chiao; US$49.95 adult.

Feb 8 — Asteroid 2002 LY1: Near-Earth Flyby (0.074 AU).
SATURDAY

Feb 9 — SpaceUp, Discovery Dome, Space Update Inc., Schipul Company, XCOR Aerospace, Houston TX: SpaceUp Houston; current space issues / topics provided by attendees interested in participating; held at Lunar and Planetary Institute, 10:00 CST.

Feb 9 — NASA Virginia Air and Space Center, Hampton VA: Red Tails to Red Planet; NASA Researchers / Airmen honor Black History Month with Curiosity Rover inaugural float, Orion model, hands-on exhibits, activities, contests; 10:00 – 14:00 EST.


Feb 9-15 — Aspen Center for Physics, National Science Foundation, Aspen CO: Exoplanets in Multi-body Systems in the Kepler Era; for scientists to discuss new ideas, identify problems, future directions.

Feb 9 — Moon: 5.8° NNW of Venus, 24:00; New Moon, 21:22.
SUNDAY

Feb 10 — China Lunar New Year, Worldwide: China Lunar New Year 2013 Spring Festival marks the Year of the Snake.

Feb 10-14 — American Astronautical Society, AIAA, Kauai HI: 23rd Space Flight Mechanics Meeting; held at Kauai Marriott Resort.