Vega Inaugural Launch Set for Feb 9 from Kourou, French Guiana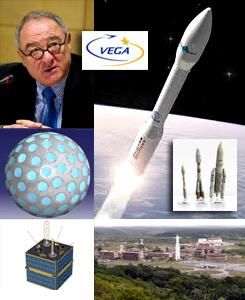 The maiden voyage of Europe's Vega rocket (TR), VV01, is set to launch NET February 13 from Kourou, French Guiana (BR). Developed by ESA, the Italian Space Agency and CNES, the 4-stage, 30-Meter rocket weighs approximately 137,000kg and is designed to carry payloads weighing 300-1,500kg into orbit. Unlike other small launchers, Vega is able to place multiple payloads into various Low-Earth and Sun-Synchronous orbits.  The main payloads for the inaugural flight include the Italian Space Agency Laser Relativity Satellite (LARES) (CL), which will study the Lense-Thirring effect caused by Earth's gravity, the 12.5-kg ALMASat-1 (BL), and 7 CubeSats from various universities in Europe. In its qualification flight, Vega will insert the 400-kg LARES satellite into a 1,450km orbit. Europe has spent nearly €700M (US$924M) on the Vega launch system in hopes that it will provide a safe and reliable way to carry science and Earth observation satellites into orbit while complimenting the heavy Ariane 5 and Soyuz rockets. If the launch is successful, ESA will plan 5 further missions using the Vega rocket before 2016. Pictured: ESA Director General Jean-Jacques Dordain. (Image Credit: ESA, Arianespace, space.skyrocket.de, en.rian.ru)
Commercial Crew Development – Round 3 NASA Tender Announcement On February 7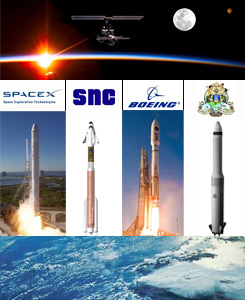 Efforts to establish new USA human spaceflight capability continue with the NASA CCDev program despite budgetary constraints imposed by Congress. The Commercial Crew Integrated Capability or CCiCap solicitation is intended to advance the design and development of an integrated crew transportation system that includes spacecraft, launch vehicle, ground and missions systems. Companies will have 45 days from February 7th to submit proposals. Decisions are expected this July or August and the base period is through May 2014. With the USA currently dependent on Russia for rides to the International Space Station, NASA and the American space community are looking to private companies for access to low-Earth orbit. Eager to fill this demand, 4 companies entered Space Act Agreements under CCDev Round 2: SpaceX, Sierra Nevada Corp, Boeing and Blue Origin. Program Manager Ed Mango says a majority of the US$406M 2012 CCDev budget will be spent on Round 2 agreements, though NASA anticipates awarding at least 2 new funded SAAs for Round 3. The goal is to have an operational Commercial Crew program by the middle of this decade, but current funding reductions and technical delays could push that back as far as 2018. (Image Credit: NASA, SpaceX, SNC, Boeing)
---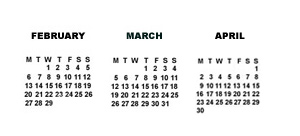 = All times for terrestrial events in local time unless noted.

= All times for international terrestrial events in local time unless noted.

= All times for space events, and…

= All times for international space / astro events in Hawaii Standard Time unless noted. Add 10 hours to obtain UT ('Universal Time;' Greenwich, England).
---
Weekly Planet Watch
– Morning Planets: Mars (S), Saturn (S) / Evening Planets: Venus (SW), Mars (E), Jupiter (SSW).
---
MONDAY

Feb 6 — International Space Station, LEO: E-30 crew members continue maintenance and science activities after flight engineers Anton Shkaplerov and Oleg Kononenko recently completed the 162nd, 5.5-hr  spacewalk aboard the ISS.

Feb 6 — NASA Lunar Reconnaissance Orbiter (LRO), Lunar Orbit: LRO continues to function nominally in its 50±15 km near-circular orbit as it makes digital elevation and surface maps that will be a fundamental reference for future human exploration.

Feb 6 — Mars Rover Opportunity, Red Planet: Decreasing energy levels with the approach of the winter solstice continue to inhibit rover abilities; Total odometry: 34,361.37 meters.

Feb 6 — Lunar and Planetary Institute, Houston TX: LPI Seminar Series: 'Lava Erosion on Terrestrial Planets – Using Analytical Models to Distinguish Between Mechanical and Thermal Erosion,' Debra Hurwitz.

Feb 6-7 — ESA, Noordwijk, The Netherlands: 'Scientific Preparations for Lunar Exploration.'

Feb 6-7 — Commonwealth Scientific and Industrial Research Organization, Sydney, Australia: 'Australian ALMA Community Workshop.'

Feb 6-10 — WE Heraeus Foundation, Bad Honnef, Germany: 'Astrophysics with Modern Small-scale Accelerators Seminar.'

Feb 6-10 — Center for Theoretical Astrophysics (NAT), Sao Paulo, Brazil: 'NAT Lectures on Astrophysics: Collapsing or Colliding Systems – Solving the Galactic Puzzle.'

Feb 6-17 — United Nations Office for Outer Space Affairs, Vienna, Austria: '49th Committee on the Peaceful Uses of Outer Space – Scientific and Technical Subcommittee.'

Feb 6 — Moon: 5.5° SSW of Beehive Cluster; 15:00.

---
Continued from…

Jan 9 — International Space University, University of South Australia, Adelaide, Australia: 'Southern Hemisphere Summer Program;' Feb 11.

Jan 23 — International Telecommunication Union, Geneva, Switzerland: 'World Radio Communication Conference 2012;' through Feb 17.

Feb 3 — American Astronautical Society – Rocky Mountain Section, Breckenridge CO: '35th AAS Guidance and Control Conference;' through Feb 8.

Feb 5 — The Arab Union for Astronomy and Space Sciences, International Astronomical Union, ESA, NASA, et al, Muscat, Oman: 'The 10th Arab Conference on Astronomy and Space Sciences;' through Feb 8.
---
TUESDAY

Feb 7 — NASA, Nationwide: NASA to solicit proposals for the 3rd round of its commercial crew program and award at least 2 funded Space Act Agreements this Summer which will run through 2014.

Feb 7-9 — Applied Technology Institute, Columbia MD: 'Satellite Laser Communications,' Hamid Hemmati.

Feb 7 — Moon: Full Moon (Wolf Moon); 11:55.
---
WEDNESDAY

Feb 8 — The SETI Institute, Mountain View CA: Colloquium Series Lecture: 'Past Climate Change from the Tropics to the Poles: New Information from Corals and Sediment Cores,' Rob Dunbar.

Feb 8 — American Institute of Aeronautics and Astronautics – San Francisco, Silicon Valley Space Center, Moffett Field CA:  'Lunar Mining,' John Chapman.

Feb 8 — Marshall Space Flight Center, Huntsville AL: Registration deadline for '19th Annual Great Moonbuggy Race,' on Apr 13-14.

Feb 8 — Intech Science Center, Winchester, United Kingdom: Space Lecture Series: 'Living in the Sun's Atmosphere,' Lucie Green.

Feb 8-11 — The Australasian Society for General Relativity and Gravitation, Queenstown, New Zealand: 'The 6th Australasian Conference on General Relativity and Gravitation.'

Feb 8 — Moon: 5.5° SSW of Regulus; 09:00.

Feb 8 — Asteroid 2012 BC77: Near-Earth Flyby (0.033 AU).
---
THURSDAY

Feb 9 — WM Keck Observatory, Kamuela HI: 2011 Astronomy Lecture Series: 'Keck: Seeing the Invisible Universe,' Tom Soifer.

Feb 9 — Goddard Space Flight Center, Greenbelt MD: 'Gerald Soffen Lecture Series: The Dark Universe,' Michelle Thaller.

Feb 9 — Royal Astronomical Society of Canada, Vancouver, British Columbia, Canada: 'Time's Up: 2012 and the Maya Calendar,' Ed Krupp.

Feb 9 — Moon: 9.0° SSW of Mars; 18:00.

Feb 9 — Venus: 0.31° NNW of Uranus; 15:00.
---
FRIDAY

Feb 10 — Lunar and Planetary Institute, Houston TX: LPI Seminar Series: 'Uncovering Icy Ocean Worlds – A Geologic History of the South Polar Terrain on Enceladus,' Alex Patthoff.

Feb 10 — Space Center Houston, Houston TX: 'Lunch With an Astronaut,' Ken Cameron.

Feb 10 — Cassini OTM-309, Saturn Orbit: Spacecraft conducts Orbital Trim Maneuver #309 today.
---
SATURDAY

Feb 11 — Zero Gravity Corporation, San Francisco CA: 'Zero-G Flight Experience,' a once-in-a-lifetime opportunity to experience weightlessness onboard a specially modified Boeing 727.

Feb 11 — Moon: At Perigee (Distance: 367,919 km); 08:00.

Feb 11 — Asteroid 2009 DT10s: Near-Earth Flyby (0.027 AU).

Feb 11 — Asteroid 5649 Donnashirley: Closest Approach to Earth (1.004 AU).
---
SUNDAY

Feb 12-21 — Max Planck Institute for Radioastronomy, Tegernsee, Germany: 'Science with the Atacama Pathfinder Experiment.'

Feb 12-21 — The GLOBE Program, The National Optical Astronomy Observatory, Global: 'GLOBE at Night: Less of Our Light, More Star Light,' event to raise public awareness of the impact of light pollution by inviting citizen-scientists to measure their night sky brightness and submit their observations to a website from a computer or smart phone.