Mars Events to Advance Future Robotic & Human Exploration Missions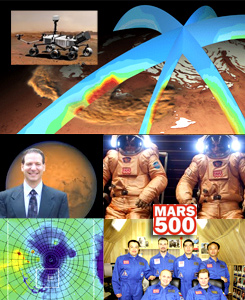 Mars will be the focus of several dynamic events happening this week in Europe and Russia. On February 8-11, the Paris Laboratory of Dynamic Meteorology and Astrophysics Institute of Andalucia will co-host the '4th International Workshop on the Mars Atmosphere' in Paris, France. Over a hundred experts in observation and modeling of the present and past Mars climate systems will discuss the Red Planet's atmospheric circulation, photochemistry, dust, water and carbon dioxide cycles which will help advance future robotic and human missions. Southwest Research Institute scientists Scot Rafkin (CL) and Aaron Rothchild will give a presentation on surface meteorology at the proposed Mars Science Laboratory (MSL) (TL) landing sites Mawrth Vallis, Gale Crater, Eberswalde Crater and Holden Crater. NASA's 900kg rover MSL, also known as Curiosity is set to launch NET Dec 2011. Astronauts from the Mars500 mission (BR), a ground-based experiment simulating a human flight to Mars at the Russian Academy of Sciences' in Moscow, Russia, will be 'landing' on the surface of Mars on Feb 14. Alexander Smoleevskiy, Diego Urbina and Wang Yue will wear spacesuits and partake in geological research and experiments. The crew will spend 30 days on the Martian surface and 240 days 'returning to Earth.' (Credit: ESA, SWRI, NASA)
AIAA Cosponsors 14th Annual FAA Commercial Space Transportation Conference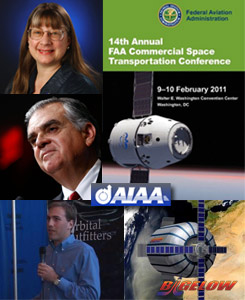 As the USA faces key decisions on the direction of its space program, commercial space enterprise continues to rise in importance and relevance. On February 9-10, Federal policy makers, policy implementers and commercial space industry representatives will gather in Washington DC for the 14th Annual FAA Commercial Space Transportation Conference. Participants of the conference will be able to choose from 4 different tracks: space industrial base issues, private commercial space market segments, government customers for commercial space and hot topics in commercial space regulation. Wednesday's keynote speaker is Robert Bigelow, Founder and President of Bigelow Aerospace. He will also moderate a panel on orbital launch vehicles, while Jeff Feige (BL) of Orbital Outfitters will moderate a panel on pressure suits. Thursday will feature a keynote address by US Transportation Secretary Ray LaHood (C) and a panel moderated by NASA's Lynn Cline (TL) on the COTS program. This is the 3rd consecutive year AIAA has cosponsored the event. (Credit: AIAA, Bigelow, NASA, dailykos.com, zimbio.com)
---

= All times for terrestrial events in local time unless noted.

= All times for international terrestrial events in local time unless noted.

= All times for space events, and…

= All times for international space / astro events in Hawaii Standard Time unless noted. Add 10 hours to obtain UT ('Universal Time;' Greenwich, England).
---
Weekly Planet Watch – Morning Planets: Venus (SE), Saturn (S) / Evening Planets: Jupiter (SW).
---
MONDAY

Feb 7 — International Space Station, LEO: E-26 crew members continue the week with science experiments, maintenance duties and cargo transfers.

Feb 7 — NASA Lunar Reconnaissance Orbiter (LRO), Lunar Orbit: All systems nominal in scientific phase of mission as LRO continues to make digital elevation and terrain maps that will be a fundamental reference for future human exploration.

Feb 7 — Mars Rover Opportunity, Red Planet: Communications with rover set to resume today as solar conjunction period (communications between Earth and Mars are disrupted because the Sun is directly in between the 2 planets) ends.

Feb 7-11 — Swiss National Science Foundation, Data Center for Astrophysics, et al, Champery, Switzerland: 'Fast X-ray Timing and Spectroscopy at Extreme Count Rates.'

Feb 7-11 — NASA Headquarters, Washington DC: 'NASA Congressional Operations Seminar.'

Feb 7-14 — ESA, Geomicrobiology for Space Settlement and Exploration, Marrakech, Morocco: 'Geobiology in Space Exploration.'

Feb 7-18 — United Nations Office for Outer Space Affairs (UNOOSA), Vienna, Austria: '48th Session of the UNCOPUOS Scientific and Technical Subcommittee 2011.'

Feb 7 — Asteroid 2011 AA37: Near-Earth Flyby (0.096 AU).
---
Continued from . . .

Jan 26 — Virginia Tech, University of Colorado, NASA, Poker Flat Research Range, Fairbanks AK: Scientists from Virginia Tech and the University of Colorado make preparations to launch 2 NASA sounding rockets to obtain an electronic telescope image of a far-off galaxy; through Feb 15.

Jan 29 — The Astronomy School of the Institute for Research in Fundamental Science, Sharif University of Technology, Kish Island, Iran: 'International Workshop on Extrasolar Planets;' through Feb 8.

Feb 4 — American Astronautical Society Rocky Mountain Section, Breckenridge CO: '34th Annual AAS Guidance and Control Conference;' through Feb 9.

Feb 6 — The British University in Egypt, Luxor, Egypt: '1st International Conference on Gravity and Cosmology;' through Feb 10.
---
TUESDAY

Feb 8 — Ferebee-Hope Elementary School, Reading is Fundamental Organization, Washington DC: NASA Associate Administrator for Education Leland Melvin to meet with 1st and 3rd grade students at Ferebee-Hope Elementary School in from 13:30 to 14:30 EST as part of Black History Month.

Feb 8 — Denver Space Society, Englewood CO: 'Denver Space Society Monthly Meeting.'

Feb 8-11 — Pinellas Science Center, Pinellas County School System, NASA, St. Petersburg FL: 5th and 8th grade students to participate in hands-on educational activities and view astronomy presentations in Kennedy Space Center's portable planetarium, Pinellas Science Center and area elementary and middle schools to celebrate Black History Month.

Feb 8-11 — Paris Laboratory of Dynamic Meteorology, Astrophysics Institute of Andalucia, et al, Paris, France: '4th International Workshop on the Mars Atmosphere: Modeling and Observations,' workshop to bring together experts in observations and modeling of the Mars climate system.

Feb 8 — Venus: 0.37° S of Asteroid 4 Vesta; 16:00.

Feb 8 — Alpha Centaurid Meteors: Radiating from the constellation Centaurus, observers south of the equator can best view this shower during the early morning hours before dawn when it lies high in the southeastern sky.
---
WEDNESDAY

Feb 9 — The SETI Institute, Mountain View CA: Colloquium Series Lecture: 'TEGA and the Search for Habitable Conditions at the Phoenix Landing Site,' Aaron Zent.

Feb 9 — Intech Science Center and Planetarium, Winchester, United Kingdom: 'Lecture: In the Beginning…Assembling the Universe from the Simplicity of Pure Energy to the Complexity of the Human Brain,' Francisco Diego.

Feb 9-10 — American Institute of Aeronautics and Astronautics, Federal Aviation Administration, Washington DC: '14th Annual FAA Commercial Space Transportation Conference.'

Feb 9-10 — NASA Academy of Program / Project & Engineering  Leadership, Long Beach CA: '8th Annual NASA Project Management Challenge 2011: Explore and Inspire,' one of NASA's premier training events which focuses on the quest for knowledge and spirit of discovery that drives NASA's missions in space exploration and aeronautics.

Feb 9 — Venus: 2.3° S of Pluto; 13:00.
---
THURSDAY

Feb 10 — Iowa State University, Ames IA: 'The Next Phase of Martian Exploration: The Search for Life,' free public lecture by NASA optical scientist Peter Smith.

Feb 10 — WM Keck Observatory, Kamuela HI: 2011 Astronomy Lecture Series: 'The Cosmic Web,' Jason Prochaska.

Feb 10 — Smithsonian National Air and Space Museum, Chantilly VA: 'The R2 D2 Mailbox,' Space History Curator Margaret Weitekamp to talk about how the United States Postal Service celebrated the anniversary of Star Wars.

Feb 10 — Moon: At First Quarter; 21:19.

Feb 10 — Asteroid 2011 BV11: Near-Earth Flyby (0.079 AU).
---
FRIDAY

Feb 11 — Ames Research Center, Moffett Field CA / Online: NASA to host a 'Tweetup' for 100 people on Kepler mission's halfway mark   and provide Twitter followers the opportunity to speak with scientists and center leadership.

Feb 11 — Moon: 1.4° SSE of Pleiades; 13:00.

Feb 11 — Asteroid 2008 CQ116: Near-Earth Flyby (0.086 AU).
---
SATURDAY

Feb 12 — Virginia Air and Space Center, Langley Research Center, Hampton VA: 'Sports, Space and Sprockit,' an event to honor Black History Month 2011, featuring NASA Astronaut Leland Melvin, former VA Tech player Bryan Randall, baseball legend Wayne Gomes and members of the Tidewater Chapter of Tuskegee Airmen and Sprockit the Robot.

Feb 12-13 — SpaceUp.org, San Diego CA: 'SpaceUp San Diego 2011,' participants to decide topics, schedule and structure of the event.

Feb 12-13 — SpaceUp.org, Houston TX: 'SpaceUp Houston 'Un'Conference.'

Feb 12 — Moon: 7.3° N of Aldebaran; 09:00.
---
SUNDAY

Feb 13 — The Tech Museum of Education, San Jose CA: 'Transcendent Man: The Life and Ideas of Ray Kurzweil.'

Feb 13-17 — American Astronautical Society, American Institute of Aeronautics and Astronautics, New Orleans LA: '21st AAS / AIAA Space Flight Mechanics Meeting.'

Feb 13 — Chi Capricornid Meteors: A daytime shower, the Chi Capricornid's radiant is located 17°SW of the Sun in southern Capricornus.

Feb 13 — Asteroid 3001 Michelangelo: Near-Earth Flyby (1.339 AU).