Orion on Track for First Space Flight Test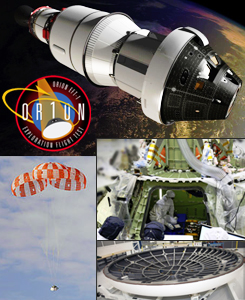 The Orion Multi-Purpose Crew Vehicle, designed to take humans farther into space than ever before, is on schedule for a September 18 Exploration Flight Test (EFT-1) from Kennedy Space Center in Cape Canaveral, Florida. Upcoming ground and air drop tests will validate the Forward Bay Cover jettison system allowing for parachute deployment. The heat shield will be attached this spring and protect the spacecraft and crew from temperatures close to 2,204°C (4,000°F). A Delta IV Heavy rocket will launch Orion to 5,794-km altitude – about 15 times higher than the ISS and 1/66th the distance to the Moon. After a 2-orbit 4-hour flight, Orion will reenter Earth atmosphere around 32,000 kph and use three 136-kg main parachutes to splashdown in the Pacific Ocean at 32 kph. Data collected from avionics, heat shielding, parachutes and other systems will be analyzed April 2015 by the Critical Design Review. The uncrewed 7-10 day Exploration Mission 1 (EM-1) flight around the Moon is scheduled to launch aboard the heavy-lift Space Launch System December 17, 2017. The first crewed flight (EM-2), scheduled for 2021, will send Astronauts to lunar orbit where they may explore and sample an asteroid if the Asteroid Redirect Mission is funded / successful. (Image Credit: NASA, M. Chambers)
Mexico Astronomy Research and Education Developments in the New Year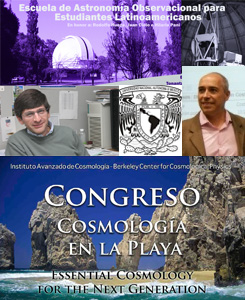 The Institute for Astronomy of the National Autonomous University of Mexico (IAUNAM) hosts a 20-day School of Observational Astronomy for Latin-American Students on January 12-31 at Tonantzintla, Puebla, Mexico. The course includes practice with the 1-meter telescope at the Tonantzintla Observatory and sessions at the Institute for Astrophysics, Optics and Electronics (INAOE). It is designed for students of Physics, Mathematics or Engineering with a strong interest in Astronomy, and the topics to be covered include astronomy of position and time, Sol, the Galaxy and extragalactic systems. The program is directed by Alberto Carramiñana Alonso of INAOE (R) and William Henry Lee Alardin of IAUNAM (L). There is also a conference on Essential Cosmology for the Next Generation dubbed 'Cosmology on the Beach' organized by the Berkeley Center for Cosmological Physics and the Advanced Institute for Cosmology, Mexico at Cabo San Lucas on Jan 13-17. A diverse range of presentations by eminent scholars in the field will combine elements of a winter school with discussions of latest research results. The purpose of the naturally and culturally beautiful setting is to catalyze young researchers to interact and generate new ideas. (Image Credit: IAUNAM, INAOE, BCCP)
---


= All times for terrestrial events in local time unless noted.

= All times for international terrestrial events in local time unless noted.

= All times for space events, and…

= All times for international space / astro events in Hawaii Standard Time unless noted. Add 10 hours to obtain UT ('Universal Time;' Greenwich, England).
---
Weekly Planet Watch – Evening Planets: Venus (SW), Jupiter (E); Morning Planets: Mars (S), Saturn (SE).

---
MONDAY

Jan 13 — ISS, LEO: Expedition 38 transferring 1,261 kg of cargo from newly arrived Cygnus spacecraft; working with Matryoshka and Albedo radiation experiments, Coulomb Crystal charged particle experiment.

Jan 13 — ARTEMIS, Moon Orbit: Measuring electrostatic charge of lunar surface, interaction with and plasma wake that Moon creates in supersonic solar wind.


 Jan 13 — Gaia, Sun–Earth Lagrange Point 2: Testing, calibrating instruments for another 4 months, will then begin 5-year mission to map more than 1B stars.


Jan 13 — Bigelow Aerospace LLC, Las Vegas NV: NewSpace company continuing to develop, test Expandable Activity Module scheduled to launch to ISS Dec 2014, attached Apr 2015.

 Jan 13 — Copenhagen Suborbitals, Copenhagen, Denmark: Preparing for Heat-2X TM65 liquid propellant rocket flight test planned for Jun 21; developing Tycho Deep Space II human-rated capsule.

Jan 13 — Skybox Imaging Inc., Mountain View CA: Planning to launch SkySat-2 early 2014 to provide high-resolution images of Earth; SkySat-1 operating nominally in LEO.

Jan 13-14 — Outer Planets Assessment Group, NASA, Tucson AZ: Outer Planets Assessment Group Meeting.

Jan 13-15 — The National Academies, Irvine CA: Human Spaceflight Meeting; at Arnold and Mabel Beckman Center.

Jan 13-16 — University of Oxford Department of Physics, Oxford, United Kingdom: Fifth International Workshop on the Mars Atmosphere: Modelling and Observations; at Martin Wood Conference Facility.

Jan 13-17 — AIAA, National Harbor MD: AIAA Science and Technology Forum and Exposition (SciTech 2014); 7th Symposium on Space Resource Utilization; AIAA Atmospheric Flight Mechanics Conference; 55th AIAA/ASME/ASCE/AHS/ASC Structures, Structural Dynamics, and Materials Conference; AIAA Guidance, Navigation, and Control Conference; at Gaylord National Resort and Convention Center.

Jan 13-17 — Berkeley Center for Cosmological Physics, Cabo San Lucas, Mexico: Essential Cosmology for the Next Generation.
---
Continued from…

Jan 1-14 — NASA Astrobiology Institute, University of Hawaii, Institute for Astronomy, Hawai`i Island & Oahu HI: UH-Nordic Astrobiology Winter School; to discuss extremophiles, water / ice in star & planet formation, in space, on early Earth, other planets.

Jan 6 – Feb 7 — International Space University, University of South Australia, Adelaide, Australia: Southern Hemisphere Summer Space Program; with emphasis on space applications, policy, services, science, systems engineering and technology, business and leadership, legal and regulatory issues.

Jan 10 – Feb 2 — The Arts Catalyst, London, United Kingdom: Republic of the Moon exhibit; featuring artwork, performances, workshops, music, talks, playful protests against lunar exploitation; at Bargehouse, Oxo Tower Wharf.

Jan 12-31 — National Autonomous University of Mexico, National Institute of Astrophysics, Optics and Electronics (INAOE), Tonantzintla, Mexico: 2014 School of Astronomy Observations for Latin American Students.
---
TUESDAY

Jan 14 — ISS, LEO: Expedition 38 In-Flight Event with Koichi Wakata for JAXA and the Young Astronauts Club; live coverage available, 11:40 UT.

Jan 14 — The Space Show, Online / Tiburon CA: Host Dr. David Livingston talks with space historian and author Bob Zimmerman.

Jan 14 — Moon: 4.9° S of Jupiter, 19:00.

Jan 14 — Asteroid 2006 AN: Near-Earth flyby (0.100 AU).
WEDNESDAY

Jan 15 — ESA, Thales Alenia Space, Noordwijk, The Netherlands: Euclid Spacecraft Industry Day.

Jan 15 — Canadian Space Commerce Association, Toronto, Ontario, Canada: CSCA Meeting; Diane Francis to speak on "Pitch Coaching for Space Entrepreneurs."

Jan 15 — British Interplanetary Society, London, United Kingdom: Lecture: British participation in Human Space Flight – A Chequered Record; presented by Richard Farrimond.

Jan 15 — Moon: 11.6° S of Pollux, 13:00; at apogee (distance 406,087 km), 16:00; Full (Wolf Moon) 18:52.

Jan 15 — Asteroid 2017 AB17: Near-Earth flyby (0.047 AU).
THURSDAY

Jan 16 — Canadian Space Commerce Association, Toronto, Ontario, Canada: CSCA Meeting; at Blake, Cassels & Graydon LLP.

Jan 16 — NSPIRES, NASA HQ, Online / Washington DC: Proposals Due: Announcement of Flight Opportunities (AFO) for Payloads Maturing Crosscutting Technologies that Advance Multiple Future Space Missions to Flight Readiness Status.

Jan 16, 17 — Jet Propulsion Laboratory, Caltech/NASA, Pasadena CA: Lecture Series: The Mars Exploration Rovers: A Decade of Exploration; presented by John Callas, Project Manager of Mars Exploration Rover Project.

Jan 16-18 — Gulf Air, Batelco Group, Bahrain Economic Development Board, Awali, Bahrain: 3rd Bahrain International Airshow; at Sakhir Air Base.

Jan 16 — Moon: 6.3° SSW of Beehive Cluster, 18:00.
FRIDAY

Jan 17 — Kiddie Hawk Air Academy, Beverly Hills CA: Living Legends of Aviation Gala; featuring Buzz Aldrin.

Jan 17 — Lunar and Planetary Institute, Online / Houston TX: Applications Due: LPI Summer Intern Program in Planetary Science.

Jan 17 — Space Center Houston, Houston TX: Lunch with an Astronaut, David Hilmers; US$49.95 adult.
SATURDAY

Jan 18 — Phoenix Chapter of the National Space Society, Mesa AZ: Regular meeting of Phoenix NSS Chapter; Al Anzaldua from Tucson NSS Chapter will talk about how telerobotic spacecraft will be used to build cis-lunar space economy; at Humanist Community Center.

Jan 18 — Moon: 4.9° SSW of Regulus, 14:00.
SUNDAY

Jan 19-22 — Max-Planck-Institute for Radio Astronomy, Tegernsee, Germany: Science with the Atacama Pathfinder Experiment (APEX); at Ringberg Castle.

Jan 19-22 — Pacific Telecommunications Council, Honolulu HI: 2014 PTC Conference; at Hilton Hawaiian Village Waikiki Beach Resort.