America, China and the Moon's South Pole
Re: USA Pres. Obama 2012 Space Opportunities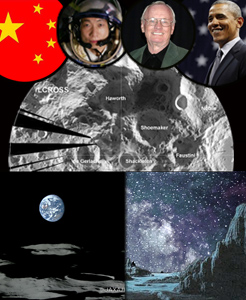 The 21st Century Rush to the rich, resource-drenched Lunar South Pole is dawning through global attention, consensus and activity from scientists, scholars, independent enterprises and national governments. Since the USA 1994 Clementine and 1998 Lunar Prospector orbiters first surveyed the vast Aitken Basin and detected significant ice-water at the poles, the Moon's South Pole consistently has become the destination of choice — ie, India-Russia Chandrayaan-2 South Pole lander-rover, Canada-Europe SP lander research, Japan SELENE-1 / 2 and USA LRO / L-Cross orbiters / landers / impactors, ILOA Malapert Mt ILO-1, Shackleton Energy Company, Google Lunar X Prize Team Phoenicia, Odyssey Moon, etc.. And while China has yet to declare for the Moon's South Pole, a successful 2013 Chang'e-3 touchdown at the earlier-visited lunar equator would restore Earth operations on the Moon for the first time in 37 years and position China's Chang'e-4 for a South Pole landing in 2014.
Where then is the USA? For the Moon and American 21st Century Success, will a US government Mid-Course Correction, as Neil Armstrong and top space leaders urge, advance American leadership on the Moon again? Within 12-24 months, at very low cost for perhaps a power station prototype, the brilliant and competent pioneers at NASA — at Ames and JPL, Johnson, Marshall, Kennedy, Goddard and Glenn, can open a new world at the 8th Continent's South Pole — possibly the most strategic, valuable real estate in the Solar System. (Image Credit: NASA, CNSA, JAXA)
Clarke Odyssey Lecture at British Interplanetary Society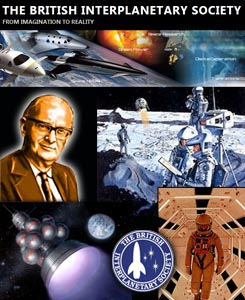 The British Interplanetary Society (BIS) will hold a lecture on 'Arthur's Vision for Homo Sapiens in Space' on January 18 at their Headquarters in London, England. Speaker Kelvin Long will review some of Arthur Clarke's original ideas and how they relate to the modern world. Made up of over 900 Corporate Fellows and over 1300 individual Members, the BIS is the world's longest established international organization devoted to supporting and promoting space exploration and astronautics.  Clarke, once a chairman for the BIS, is one of the most well known space visionaries and science writers of our time, having written over 70 books of science and science-fiction. His famous prediction of geostationary satellite communications published in 1945 materialized 20 years later with the launch of the Intelsat 1, the 1st commercial geostationary satellite on April 6, 1965. Geostationary Orbit, a circular orbit 35,786 km above the Earth's equator and following the direction of the Earth's rotation, is sometimes referred to as the Clarke Orbit. Clarke can also be credited with introducing the concept of a space elevator in his 1979 novel The Fountains of Paradise. The BIS lecture will provide participants with a positive and optimistic vision that Clarke saw for our species, and describe a possible future for humans in space, to the Moon, planets and beyond. (Image Credit:BIS, Hardy, Clarke)
---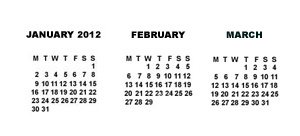 = All times for terrestrial events in local time unless noted.

= All times for international terrestrial events in local time unless noted.

= All times for space events, and…

= All times for international space / astro events in Hawaii Standard Time unless noted. Add 10 hours to obtain UT ('Universal Time;' Greenwich, England).
---
Weekly Planet Watch
– Morning Planets: Mars (S), Saturn (E), Jupiter (W) / Evening Planets: Venus (SW), Mars (E), Jupiter (S).
---
MONDAY

Jan 16 — International Space Station, LEO: E-30 crew members continue with a variety of scientific research and maintenance duties after conducting a debris avoidance maneuver for the station last Friday due to a piece of Iridium satellite debris.

Jan 16 — NASA Lunar Reconnaissance Orbiter (LRO), Lunar Orbit: LRO continues to function nominally in its 50±15 km near-circular orbit as it makes digital elevation and terrain maps that will be a fundamental reference for future human exploration.

Jan 16 — Mars Reconnaissance Orbiter (MRO), Red Planet: NASA spacecraft operating nominally; HiRISE camera onboard MRO close to capturing nearly 22,000 images of Mars' surface at unprecedented resolution, averaging about 25 centimeters per pixel.

Jan 16 — American Institute of Aeronautics and Astronautics – San Francisco Section, Mountain View CA: 'Humans, Machines and Interplanetary Flight,' Robert McCann

Jan 16-17 — Nagoya University – Solar Terrestrial Environment Laboratory, Nagoya, Japan: '2nd Nagoya Workshop on the Relationship Between Solar Activity and Climate Changes.'

Jan 16-20 — NASA Astrobiology Institute, Aspen Center for Physics, et al, Aspen CO: 'Exoclimes 2012: The Diversity of Planetary Atmospheres.'

Jan 16-20 — International Telecommunication Union, Geneva, Switzerland: 'Radiocommunication Assembly 2012.'

Jan 16 — Cassini OTM-306, Saturn Orbit: Spacecraft conducts Orbital Trim Maneuver #306 today.

Jan 16 — Asteroid 2011 YH40: Near-Earth Flyby (0.014 AU).
---
Continued from…

Jan 9 — International Space University, University of South Australia, Adelaide, Australia: 'Southern Hemisphere Summer Program;' Feb 11.

Jan 14 — The GLOBE Program, The National Optical Astronomy Observatory, Global: 'GLOBE at Night: Less of Our Light, More Star Light,' event to raise public awareness of the impact of light pollution by inviting citizen-scientists to measure their night sky brightness and submit their observations to a website from a computer or smart phone; Jan 23.
---
TUESDAY

Jan 17 — NASA Headquarters, Washington DC: News conference to announce names selected from a nationwide student contest for GRAIL twin spacecraft that will study the Moon at 13:00 EST.

Jan 17-18 — Small Bodies Assessment Group (SBAG), Washington DC: '6th Meeting of the NASA SBAG.'
---
WEDNESDAY

Jan 18 — Ames Research Center, Moffett Field CA: 'ARCTec 2012: Keeping Ames at the Cutting Edge of Technology.'

Jan 18 — The SETI Institute, Mountain View CA: Colloquium Series Lecture: 'Scott, Amundsen and Science: A 100th Anniversary Retrospective on Antarctic Science,' Ed Larson.

Jan 18 — British Interplanetary Society, London, United Kingdom: 'Arthur's Vision for Homo Sapiens in Space,' Kelvin Long.

Jan 18-19 — Ohio Aerospace Institute, Teaching Science and Technology Inc, Cleveland OH: 'Understanding Space: An Introduction to Astronautics and Space Systems Engineering.'

Jan 18-20 — Special Aerospace Services, Boulder CO: '2nd Commercial Human Spaceflight Technical Forum.'

Jan 18 — Moon: 6.1° S of Saturn, 07:00; At Perigee (Distance: 369,882 km), 12:00.

---
THURSDAY

NET Jan 19 — ULA, Launch Delta 4 / WGS 4, Cape Canaveral FL: A ULA Delta 4 rocket set to launch the 4th Wideband Global SATCOM spacecraft, formerly known as the Wideband Gapfiller Satellite.

Jan 19-20 — Jet Propulsion Laboratory, Pasadena CA: 'The von Karman Lecture Series: The Art of Image Processing.'

Jan 19 — Moon: 4.2° N of Antares; 02:00.
---
FRIDAY

Jan 20 — USA President Barack Obama Starts 4th Year in Office With New Space Enterprise?, Washington DC: Major space initiative in next week's State-of-the-Union address would boost 21st Century technologies and economies.

Jan 20 — Happy 82nd Birthday Buzz Aldrin!

Jan 20 — Astronomy and Space Exploration Society, Toronto, Ontario, Canada: '9th Annual Expanding Canada's Frontiers Symposium: Space 2.0 – What's Next?'

Jan 20 — Space Center Houston, Houston TX: 'Lunch With an Astronaut,' John-David Bartoe.

Jan 20 — National Space Society (NSS), Washington DC: Deadline to vote for the 14th 2012 Heinlein Award to be presented at the NSS 31st International Space Development Conference on May 24-28.

Jan 20 — Asteroid 2012 AX: Near-Earth Flyby (0.074 AU).
---
SATURDAY

NET Jan 21 — ILS, Launch Proton / SES 4, Baikonur Cosmodrome, Kazakhstan: An ILS Proton rocket with a Breeze M upper stage set to deploy the SES 4 satellite to provide telecommunications services over the Americas, Africa, Europe and Middle East.

Jan 21 — International Lunar Observatory Association, Space Age Publishing Company, Kailua-Kona HI: 'Galaxy Forum Hawai`i 2012 Kona: Galaxy 21st Century Education.'

Jan 21 — Asteroid 4341 Poseidon: Closest Approach to Earth (0.397 AU).

---
SUNDAY

Jan 22-26 — American Meteorological Society (AMS), New Orleans LA: '92nd AMS Annual Meeting.'

Jan 22-26 — The National Academies – Transportation Research Board, Washington DC: '91st Annual Meeting of the Transportation Research Board.'

Jan 22 — Moon: 4.7° NNW of Mercury, 01:00; New Moon, 21:41.

Jan 22 — Asteroid 2012 AY: Near-Earth Flyby (0.091 AU).