JAXA H-2B / HTV 2 Launch to Deliver Supplies to ISS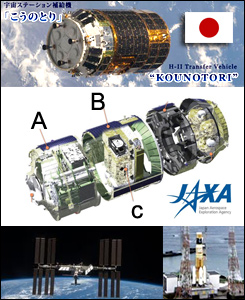 The JAXA Kounotori 2 (HTV-2) (T) cargo spacecraft is set to launch to the International Space Station on board the H-2B launch vehicle (BR) NET January 20 from Tanegashima Space Center, Japan. The 4m x 10m HTV-2 spacecraft will carry approximately 6000kg of pressurized and unpressurized cargo. The Pressurized Logistics Carrier (A) will transport the Kobairo rack, a high temperature electrical furnace used to generate high-quality crystals as well as a Multi-purpose Small Payload Rack consisting of a Work Bench, small experiment area and the Work Volume. The Work Volume will be used for later experiments involving an aquatic habitat to breed small fish. The Unpressurized Logistics Carrier (B) will carry 2 US Orbital Replacement Units including a Flex Hose Rotary Coupler and Cargo Transportation Container-2 (C). If the mission is on time and successful, the spacecraft will rendezvous with the space station on Jan 27 where E-26 crew members will use the Canadarm2 to dock the HTV-2 to the Harmony node's nadir port. The spacecraft will be loaded with waste materials, used equipment and other items and un-berthed from the ISS on February 24. (Credit: JAXA, flagshiz.com)
Europe Meetings Explore Policy of Autonomy in Space, Landing Site Selection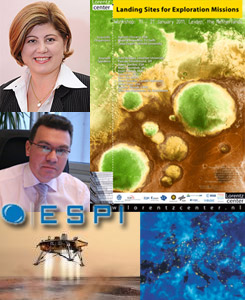 Europe space policy has been developed around the concept of autonomy. On January 17-18 experts from Europe's space community will come together to review this concept in Vienna, Austria for the European Space Policy Institute (ESPI) Conference 'European Autonomy in Space.' Keynote addresses will be given by EISC Chairperson Liana Dumitrescu (T), General Secretariat of the Council of the European Union and VP of Arianespace Michel Doubovick (C). An important aspect of the Europe space program will be the selection of landing sites for exploration missions and this will be the focus of a workshop / conference in Noordwijk, The Netherlands on Jan 17-21. At the 3.5 day workshop, a maximum of 60 participants will engage in lectures, discussions and hands-on interdisciplinary group sessions in which simulated landing site selection procedures will be explored for scenarios such as a Mars sample return mission and a Lunar X Prize mission. Workshop results will be shared at the, more formal, conference on Jan 20-21. (Credit: ESPI, EISC, Arianespace, ESA, Lorentz Center)
---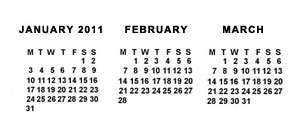 = All times for terrestrial events in local time unless noted.

= All times for international terrestrial events in local time unless noted.

= All times for space events, and…

= All times for international space / astro events in Hawaii Standard Time unless noted. Add 10 hours to obtain UT ('Universal Time;' Greenwich, England).
---
Weekly Planet Watch – Morning Planets: Mercury (SE), Venus (SE), Saturn (S) / Evening Planets: Jupiter (SW).
---
MONDAY

Jan 17 — International Space Station, LEO: E-26 crew members make preparations for arrival of HTV-2 cargo spacecraft while Kondratyev & Skripochka get ready for Jan 21 spacewalk.

Jan 17 — NASA Lunar Reconnaissance Orbiter (LRO), Lunar Orbit: All systems nominal in scientific phase of mission as LRO continues to make digital elevation and terrain maps that will be a fundamental reference for future human exploration.

Jan 17 — Mars Rover Opportunity, Red Planet: All systems nominal for NASA Rover Opportunity with total odometry now over 26,562.05 meters as it continues exploration of Santa Maria Crater.

Jan 17-18 — European Space Policy Institute, Vienna, Austria: 'European Autonomy in Space.'

Jan 17-21 — ESA, Noordwijk, The Netherlands: 'Landing Site Characterization and Selection for Future Exploration Missions.'

Jan 17 — Asteroid 2011 AB3: Near-Earth Flyby; (0.094 AU).
---
Continued from . . .

Jan 5 — International Space University, University of South Australia, Adelaide, Australia: 'Southern Hemisphere Summer Space Program,' an intensive, interdisciplinary, live-in program for professionals, graduates and senior graduates with 40 core lectures, workshops and a group research project; through Feb 4.

Jan 16 — Indian Institute of Science and Research, Indian Institute of Astrophysics, University of Oulu Finland, et al, Goa, India: '4th Space Climate Symposium,' event to cover space mission data resources, long-term solar variability, assessment of Earth's upper climate and climate model discussion; through Jan 21.
---
TUESDAY

Jan 18 — The SETI Institute, Mountain View CA: Colloquium Series Lecture: 'New Horizons: NASA's Historic Mission to the Pluto System and Beyond,' Alan Stern.

Jan 18 — YWCA Greater Charleston Inc, Charleston SC: '11th Annual Dr Martin Luther King Jr Business and Professional Breakfast,' featuring keynote speaker NASA Administrator Charles Bolden.

Jan 18-21 — NASA, Nationwide: 'Earth Knowledge Acquired by Middle School Students (EarthKAM) Mission,' an educational outreach program allowing middle school students to take pictures of our Earth from a digital camera on board the International Space Station.

Jan 18 — Moon: 8.5° SSW of Pollux; 23:00.
---
WEDNESDAY

Jan 19 — Moon: Full Moon, 11:22; 4.3° SSW of Beehive Custer; 23:00.

Jan 19 — Asteroid 6312 Robheinlein: Closest Approach to Earth; (1.080 AU).
---
THURSDAY

NET Jan 20 — JAXA, Launch H-2B / HTV 2, Tanegashima Space Center, Japan: Japanese H-2B rocket set to launch 2nd H-2 Transfer Vehicle to deliver equipment and supplies to the ISS. Scheduled launch time: 15:29 (JST) / Launch Windows: Jan 21-Feb28.

NET Jan 20 — RSA, Launch Zenit 3F / Electro-L1 , Baikonur Cosmodrome, Kazakhstan: A Russian government Zenit 3F rocket set to launch 1st Electro-L weather satellite which will collect visible and infrared satellite for Russian meteorologists.

NET Jan 20 — United Launch Alliance, Launch Delta 4-Heavy / NROL-49, Vandenberg Air Force Base CA: The United Launch Alliance Delta 4-Heavy rocket set to launch a classified spy satellite cargo for the US National Reconnaissance Office.

Jan 20 — WM Keck Observatory, Kamuela HI: 2011 Astronomy Lecture Series: 'A Virtual Tour of the Universe,' Matthew Bailes.

Jan 20 — Challenger Center for Space Science Education, Online: Challenger Center to host live interactive webcast with planetary scientist Lori Feaga and NASA Educator John Ristvey for EPOXI and Stardust-NExT comet missions at 13:00.

Jan 20 — NASA Headquarters, Washington DC: Media briefing on Earth-observing satellite mission Glory at 13:00 EST which is scheduled to launch on Feb 23.

Jan 20-21 — Jet Propulsion Laboratory, Pasadena CA: The von Karman Lecture Series: 'UAVSAR: An Airborne Window on Earth Surface Deformation,' Scott Hensley.

Jan 20-21 — NASA Advisory Council, Washington DC: 'NAC Science Committee Planetary Protection Sub Committee Meeting.'

Jan 20-22 — University of Salerno, Salerno, Italy: '15th International Conference on Gravitational Microlensing & School on Modeling Planetary Microlensing Events.'
---
FRIDAY

Jan 21 — NASA Lunar Science Institute, Lunar and Planetary Institute, Houston TX: Application deadline for 'Lunar Exploration Summer Intern Program,' a 10-week program to evaluate possible landing sites for robotic and human exploration missions.

Jan 21 — George Washington University Space Policy Institute, Washington DC: 'John F. Kennedy and the Race to the Moon,' book signing with John Logsdon, featuring introduction by NASA Deputy Administrator Lori Garver.

Jan 21-22, 28-29 — Adler Planetarium, Chicago IL: 'Great Explorations in Math & Science Workshop,' a teacher development program on the GEMS Space Science Sequence for 6th – 8th graders.

Jan 21 — Asteroid 4487 Pocahontas: Closest Approach to Earth; (0.931 AU).

Jan 21 — Moon: 4.9° SSW of Regulus, 13:00; At Perigee (Distance 56.88 Earth-Radii), 14:00.
---
SATURDAY

Jan 22 — Kennedy Space Center, Cape Canaveral FL: 'Astronaut Training Experience,' participants to take part in hands-on training and preparation for the rigors of spaceflight.

Jan 22 — The Museum of Flight, Seattle WA: 'Mars Fest 2011,' with presentation by NASA Solar System Ambassador Ron Hobbs.
---
SUNDAY

Jan 23-27 — American Meteorological Society, Seattle WA: '91st Annual AMS Meeting.'

Jan 23 — Asteroid 1620 Geographos: Closest Approach to Earth; (1.190 AU).