Jupiter Human Mission: Design Project, 2013-2017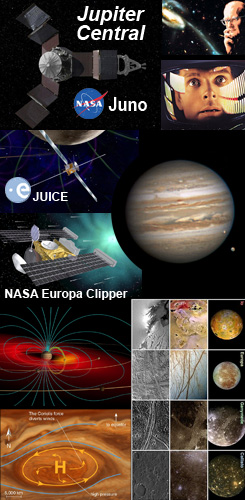 The Jupiter System, geostrategic center of our Solar System – with more than 70% of its planetary mass, 4 Luna-sized satellites with oceans and volcanoes among more than 60 other moons, powerful magnetosphere, intricate ring structure, great Red Spot — continues naturally to attract attention and commitment progressing through the 21st Century, as it did in the 1960s and 80s with Clarkean epics 2001 and 2010.
Human Solar System competence and capability has been a logical and compelling aspiration since the Space Age dawning, and should be preeminent in USA and Global plans worthy of and appropriate to 21st Century opportunity and necessity. Space Age Publishing Company — SPC, with its launch today of the Jupiter Human Mission: Design Project 2013-2017, heartily advances that Solar System scenario, and respectfully invites participation and support from each and every individual, enterprise and organization in the American, Pacific and Global Space Communities.
Space agencies of the USA and Europe, with those of Russia and Japan, and soon those of rising India and center-identified China, increasingly gravitate towards Jupiter mission considerations. The NASA Europa Jupiter System Mission and Europa Clipper Mission and the ESA Jupiter Icy Moon Explorer JUICE are current proposals involving possible Jupiter, Europa, Io, Ganymede and Callisto orbiters and landers — Potential follow-ons to the 8 previous Jupiter-encountered spacecraft: Pioneers 10 and 11, Voyagers 1 and 2, Ulysses, Galileo, Cassini, New Horizons, with Juno now en route (all USA launched).
The "Jupiter Mission Design Competition" conducted by SPC from 1987 to 1989 resulted in at least 8 thesis-quality entries / winners, whose welcomed participation in this new 21st Century, Jupiter Human Mission Design Project should contribute great resources of knowledge and experience, and will be much appreciated. Involvement seems likely from the world-class International Space University, whose 2003/2004 Master of Space Studies Team Project at the ISU Strasbourg Central Campus produced the pioneering "Human Missions to Europa and Titan – Why Not?". The NASA newly reconfigured Solar System Exploration Research Virtual Institute is also well-positioned for Jupiter Human Mission design.
This Design Project through the next four years should result in identifying the objectives, technologies, funding, communities, nations, individuals, commitments and other resources necessary for a Jupiter Human Mission in the 2030-2050 timeframe, with Project presentation to the incoming US administration in 2017, when the Jupiter-bound Juno spacecraft is set to complete its mission. Project costs and financing might best be considered in $T-units, now conventional for 21st Century planning. The recently-signed US DoD 2013 budget of $633B, or $0.633T, projects out to about $20T over the next 30 years — an amount which could enable human competence and capability across the Solar System, including the Kuiper Belt at 30-50 AU, by 2076. (Image Credit: Mike Salway, John Spencer, SWRI, Pearson Education, Metro-Goldwyn-Mayer, NASA, ESA)
---
Weekly Planet Watch – Evening Planets: Mars (WSW), Jupiter (SE). Morning Planets: Venus (SE) , Saturn (SE).
---


= All times for terrestrial events in local time unless noted.

= All times for international terrestrial events in local time unless noted.

= All times for space events, and…

= All times for international space / astro events in Hawaii Standard Time unless noted. Add 10 hours to obtain UT ('Universal Time;' Greenwich, England).
---
MONDAY

Jan 21 — ISS, LEO: Resuming Robotic Refueling Mission after Canadarm2 software analysis; Progress 50 resupply cargo ship set to launch to ISS Feb 11; Bigelow Expandable Activity Module scheduled to arrive in 2015 for 2-year technology demonstration of structural integrity, leak rate, radiation and temperature changes.

Jan 21 — Spitzer Space Telescope, Heliocentric Orbit: Using 0.85-m diameter infrared telescope to 'weather map' brown dwarf star with light varying about every 90 minutes suggesting wind-driven, planet-sized clouds; also confirming evidence of large asteroid belt about 25 light years away around Vega, 2nd brightest star in northern night skies.

Jan 21 — Curiosity, Yellowknife Bay, Mars: Now 169 Earth days (~164 sol) on Mars, preparing to drill hole 1.6 cm in diameter and up to 5 cm deep into selected "John Klein" rock with pale veins, likely composed of hydrated calcium sulfate, indicating liquid past; mission team to receive Space Foundation 2013 John Swigert Jr. Award for Space Exploration.

Jan 21 — Ad Astra Rocket Co., Webster TX: NewSpace company completing VASIMR VF-200-1 prototype engine to be tested on ISS perhaps by 2016; capable of ultra-high speeds due to radio waves ionizing / heating propellant and magnetic fields accelerating plasma, could be used for distant space missions, lunar cargo transport, in-space refueling.

Jan 21 — Airborne Engineering Ltd, Buckinghamshire, United Kingdom: Test firing and analyzing 'Syrtis' rocket engine to evaluate alternative propellants which could be derived from Mars ISRU.

Jan 21 — MarsOne, The Hague, The Netherlands: Hoping to create permanent human settlement on Mars; plans to launch supplies, communication satellite to Mars in 2016; then launch 4 humans in SpaceX Falcon Heavy in 2022; 4 additional astronauts to follow every 2 years.


Jan 21 — US President Barack Obama 2nd Inauguration, Washington DC: New term opportunity, necessity for lunar landing could end greatest retreat in US national history — the retreat from the Moon; restoration of NASA traditional 1% of budget imperative for national prosperity, growth, success; NASA joins inaugural parade with Curiosity Mars rover and Orion Multi-Purpose Capsule floats.

Jan 21 — Space Age Publishing Company, Hawai`i Island HI and Silicon Valley CA: Jupiter Human Mission: Design Project 2013-2017; Re-Launch for pioneering Jupiter R&D enterprise after 25-year suspension of 'Jupiter Mission Design Competition' (1987-1989).

Jan 21 — Moon: 4.6° SSE of Pleiades, 04:00; occults Jupiter – visible in S. America, 15:01 – 19:13; conjunction with Jupiter visible in N. America, appears 0.81° SW, 16:00.

Jan 21 — Asteroid 2011 TO: Near-Earth Flyby (0.086 AU).
---
Continued from…

Dec 15 – Mar 3 — American Textile History Museum, The Smithsonian Institution Traveling Exhibition Service, et al, Lowell MA: Suited for Space Exhibition; displaying the evolution of spacesuit design and development; US$8 adult.

Jan 3-31 — U.S. Space and Rocket Center, Huntsville AL: Winter Home School Program; for ages 9-14 to learn about the history, technology, evolution of space travel; 08:30 – 11:30 CST every Thursday.

Jan 7 – Feb 8 — International Space University, University of South Australia, Adelaide, Australia: Southern Hemisphere Summer Space Program.

Jan 12-26 — Cornell University, University of Hawai`i – Manoa, NASA Human Research Program, Hanksville UT: Mars Analog Mission and Food Study; crew to spend 2 weeks in Mars Desert Research Station in preparation for 4-month stay in Hawaii habitat to explore new forms of food for long-term space exploration missions.

Jan 19 – May 18 — University of California at Riverside ARTSblock Program, Riverside CA: Free Enterprise: The Art of Citizen Space Exploration; art exhibit with NewSpace movement theme; opening day panel discussion and reception at UCR starting at 15:00 PST, free.

Jan 20-23 — Pacific Telecommunications Council, Honolulu HI: Pacific Telecommunications Conference 2013: Capacity, Capability, Collaboration.
---
TUESDAY

Jan 22 — Canadian Space Agency, Foreign Affairs and International Trade Canada, Ottawa, Ontario, Canada: Canadian Workshop on the Long Term Sustainability of Outer Space Activities; at Government of Canada Conference Centre; free with registration.

Jan 22 — UK Space Agency, Open University – Milton Keynes, Milton Keynes, United Kingdom: Cubesat Community Workshop; to provide community with update on UKube-1 mission launching 2013; free and open to public; held at OU Milton Keynes, 11:00 UT.

Jan 22 — Deep Space Industries Inc., Santa Monica CA: Company debut announcement hosted at Santa Monica Museum of Flying, 10:00 PST; world's first fleet of commercial asteroid prospecting spacecraft; headed by Rick N. Tumlinson, CEO David Gump.

Jan 22 – May 30, 2014 — NASA, USA: Phase 1 Certification Products Contracts; Boeing Co. receives about US$10M, Sierra Nevada Corp. $10M, SpaceX $9.6M to work with NASA Commercial Crew Program to develop products for safely launching American astronauts from U.S. soil.

Jan 22 — Moon: At Apogee (Distance: 404,877 km), 4.0° N of Aldebaran, 01:00.
WEDNESDAY

Jan 23 — Colorado State University – Pueblo, Space Foundation, Colorado Springs CO: Space Exploration Seminar; for students to learn about nanotechnology, engineering, science, robotics; 15:30 MST.

Jan 23 — Venus Exploration Analysis Group, NASA, Cleveland OH: Tour of NASA Glenn Venus Test Chamber.
THURSDAY

Jan 24 — Rice University Baker Institute, Houston TX: Lost in Space: The Need for a Definitive U.S. Space Policy; panel discussion about status / concerns over future of NASA and civil space program; featuring Mark Albrecht, Leroy Chiao, Joan Johnson-Freese, others; free with RSVP; 17:30 CST.

Jan 24 — European Space Agency, Paris, France: ESA Director General Annual Press Conference; Director Jean-Jacques Dordain to give overview of ESA achievements in 2012, milestones for 2013; held at ESA headquarters.

Jan 24 — Venus Exploration Analysis Group, NASA, Cleveland OH: Venus Upper Atmosphere Investigations Science and Technical Interchange Meeting (STIM).

Jan 24 — University of Houston – Clear Lake, Houston TX: 2013 Physics and Space Science Spring Seminar Series: Have you Ever Considered Being a Seismologist?; presented by Sandra Saldana from Geoscience Technology Group; free; held in UH-Clear room 1218, 19:00 CST.

Jan 24-25 — King's College London, McGill University, London, United Kingdom: Commercialisation of Space: Opportunities and Challenges; held at Somerset House, East Wing.
FRIDAY

Jan 25 — Astronomy and Space Exploration Society, Toronto, Ontario, Canada: 10th Annual Expanding Canada's Frontiers Symposium; featuring Chris McKay of NASA Ames, Sara Seager of MIT, Kathryn Denning of SETI Institute; held at King's College, 19:00; free for students, US$15-25 for general public.

Jan 25 — NASA Aerospace Safety Advisory Panel, Kennedy Space Center FL: Aerospace Safety Advisory Panel Meeting; held at KSC Headquarters, room 3372; free and open to public; 10:00 – 11:00 EST.

Jan 25 — Federal Aviation Administration, Washington DC: Commercial Space Transportation Advisory Committee – Public Teleconference; free and open to public, 11:00 – 12:00 EST; conference phone number / passcode available.

Jan 25 — Lunar and Planetary Institute, Houston TX: LPI Seminar Series: The Impact Histories of Meteorite Parent Bodies; presented by Thomas Davison from University of Chicago; in Lecture Hall of USRA, 15:30 CST.

Jan 25 — Chinese Society of Astronautics, International Academy of Astronautics, Online: Abstract Deadline, for the 5th CSA-IAA Conference on Advanced Space Systems and Applications; held on May 20-23.

Jan 25 — Astronomical Society of the Pacific, San Francisco CA: ASP Annual Fundraising Dinner: How to Get to Mars… and What to Do Once You Arrive; featuring Dr. Pascal Lee of Mars Institute and Mary Roach, author of Packing for Mars; 18:00 – 22:00 PST.

Jan 25 — Space Center Houston, Houston TX: Lunch with an Astronaut, John-David Bartoe; US$49.95 adult.

Jan 25 — Moon: 11.0° SSW of Pollux, 14:00.
SATURDAY

Jan 26 — JAXA, Launch H-2A / IGS, Tanegashima Space Center, Japan: An H-2A rocket set to launch radar reconnaissance Information Gathering Satellite for Japan government; 13:00 – 17:00 local time.

Jan 26 — Onizuka Memorial Committee, University of Hawaii – Hilo, Hawaii Space Grant Consortium, et al, Hilo HI: 2013 Astronaut Ellison Onizuka Science Day; includes more than 20 science workshops, exhibits, displays; celebrating 28th anniversary of Ellison Onizuka's 1st flight; featuring astronaut Sunita Williams; free lunch and bus transportation for any student.

Jan 26 — U.S. Space and Rocket Center, Huntsville AL: Design your own Space Station.

Jan 26 — Moon: 6.2° SSW of Beehive Cluster, 18:00; Full Moon (Wolf Moon), 18:39.
SUNDAY

Jan 27 — 46th Apollo 1 Observation, Nationwide USA: On 27 January 1967 a launch pad test resulted in a cabin fire killing all three Apollo 1 crew members: Command Pilot Virgil "Gus" Grissom, Senior Pilot Edward H. White and Pilot Roger B. Chaffee.