Challenger 25th Observance Events Held Nationwide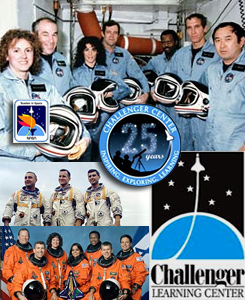 The Nation and world can take the week remembering 17 brave astronauts who sacrificed their lives advancing human space exploration and education. Twenty-five years ago on January 28, 1986, the Shuttle Challenger 51L exploded shortly after take-off and claimed the lives of Francis 'Dick' Scobee, Michael Smith, '1st Teacher in Space' Christa McAuliffe, Ellison Onizuka, Judith Resnick, Ronald McNair and Gregory Jarvis (T). Despite the tragic loss, the families of the Challenger astronauts created a living legacy by establishing the Challenger Learning Center for Space Science Education. Today there are 48 Challenger Centers nationwide including 3 International centers in South Korea, Canada and the United Kingdom. On Jan 27, 1967, Apollo 1 astronauts (C) Gus Grissom, Ed White and Roger Chaffee were killed in a fire as they conducted pre-flight tests for an Earth-orbiting mission in Cape Canaveral FL. 8 years ago on February 1, Space Shuttle Columbia astronauts (B) David Brown, Rick Husband, William McCool, Laurel Clark, Kalpana Chawla, Michael Anderson and IIan Ramon were killed as their shuttle disintegrated upon re-entering Earth's atmosphere. Commemorative events have been planned at most Challenger Centers Nationwide on January 28-29 and the Columbia Memorial Space Center in Downey CA on Jan 25. The International Lunar Observatory Association will hold 'Galaxy Forum 2011 Hawaii-Kona,' at the Ellison Onizuka Space Center on Jan 29 and the Kennedy Space Center will hold a remembrance ceremony on Jan 28 at Cape Canaveral FL. (Credit: Challenger Learning Center, NASA)
Europe Advancing University Satellite, CubeSat Work at IAA Conference in Rome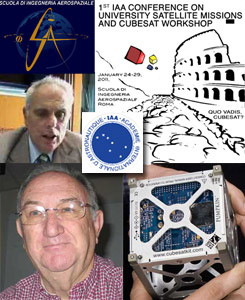 There are an estimated 100 universities in 30 European countries interested in developing CubeSats. Since 1999, about 200 CubeSats worldwide have been launched or are in various stages of development. The interest and popularity of this technology has created a demand for a series of European CubeSat conferences. The 1st IAA Conference on University Satellite Missions and CubeSat Workshop on January 24-29 in Rome is the 3rd in this series. Hosted by the School of Aerospace Engineering of Sapienza University of Rome, the event is dedicated to the new generation of university satellites: micro, pico, femtosatellites, from CubeSats to pocketsats. The low-cost and short development time for CubeSats, compatible with the duration of Masters and PhD theses, has made CubeSats valuable educational tools for Universities and even some high schools. This workshop will provide both past, present and future students with an overview of the current status of this rapidly advancing technology.  Speakers include Cubesat pioneer Robert Twiggs (B) formerly of Stanford University and Filippo Graziani (T) of the University of Rome. Next year's event will take place on Jan 30- Feb 1 2012 in Brussels. (Credit: IAA, csewi.com, cubesat.com, gaussteam.com)
---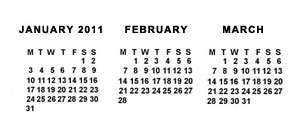 = All times for terrestrial events in local time unless noted.

= All times for international terrestrial events in local time unless noted.

= All times for space events, and…

= All times for international space / astro events in Hawaii Standard Time unless noted. Add 10 hours to obtain UT ('Universal Time;' Greenwich, England).
---
Weekly Planet Watch – Morning Planets: Mercury (SE), Venus (SE), Saturn (S) / Evening Planets: Jupiter (SW).
---
MONDAY

Jan 24 — International Space Station, LEO: All systems nominal as E-26 crew members continue experiments and maintenance activities.

Jan 24 — NASA Lunar Reconnaissance Orbiter (LRO), Lunar Orbit: LRO continues to make digital elevation and terrain maps that will be a fundamental reference for future human exploration.

Jan 24 — Mars Reconnaissance Orbiter (MRO), Rover Opportunity & Odyssey Orbiter, Red Planet: Observations of the Red Planet to be scaled back during conjunction period of Jan 27-Feb 11 (Mars to move behind Sun from Earth's perspective) to avoid transmittal disruptions.

Jan 24-29 — International Academy of Astronautics, Rome, Italy: '1st IAA Conference on University Satellites Missions / 1st CubeSat Winter Workshop in Europe.'

Jan 24 — Moon: 7.6° SSW of Saturn; 18:00.
---
Continued from . . .

Jan 5 — International Space University, University of South Australia, Adelaide, Australia: 'Southern Hemisphere Summer Space Program,' an intensive, interdisciplinary, live-in program for professionals, graduates and senior graduates with 40 core lectures, workshops and a group research project; through Feb 4.

Jan 23 — American Meteorological Society, Seattle WA: '91st Annual AMS Meeting;' through Jan 27.
---
TUESDAY

Jan 25 — The Columbia Memorial Space Center, Downey CA: '25th Anniversary of the Challenger Space Shuttle,' with visit from Carl McNair, brother of astronaut Robert McNair.

Jan 25-26 — NASA Small Bodies Assessment Group, Washington DC: '4th Meeting of the NASA Small Bodies Assessment Group.'

Jan 25-26 — Thirty Meter Telescope (TMT), Pasadena CA: 'TMT Board of Directors Meeting.'

Jan 25-27 — Applied Technology Institute, Cocoa Beach FL: 'Advanced Satellite Communications Systems,' this 3-day course covers all the technology of advanced satellite communications as well as the principles behind current state-of-the-art satellite communications equipment.

Jan 25 — Moon: 3.0° S of Spica; 08:00.

Jan 25 — Asteroid 2006 QM111: Near-Earth Flyby; (0.019 AU).
---
WEDNESDAY

Jan 26 — The SETI Institute, Mountain View CA: Colloquium Series Lecture: 'Geophysical Evidence for an Ocean on Titan,' Francis Nimmo.

Jan 26 — NASA, Online: 'Rockets & Your Classroom,' webinar featuring an overview of the Rocketry activity, exploring NASA connections, tips and tricks for implementing lessons in the classroom & videos of students engaged in the lesson including discussion of possible modifications or extensions.

Jan 26 — Johnson Space Center, Houston TX: News conference featuring next 3 ISS crew members Alexander Samokutyaev, Andrey Borisenko & Ron Garan at 13:00 CST.

Jan 26 — NASA Headquarters, Washington DC: Media teleconference about Hubble Space Telescope discovery with panelists Rychard Bouwens, Garth Illingworth & Eric Smith at 13:00 EST.

Jan 26-27 — NASA Advisory Council, Washington DC: NAC Science Committee Planetary Science Subcommittee Meeting.

Jan 26 — Moon: At Last Quarter; 02:58.
---
THURSDAY

Jan 27 — 44th Apollo 1 Observation, Nationwide USA: Three astronauts, Lt. Col. Virgil I. Grissom, Lt. Col. Edward H. White and Roger B. Chaffee lost their lives in a tragic accident January 27, 1967 when a fire occurred in command module 012 during a launch pad test of the Apollo/Saturn space vehicle being prepared for the first piloted flight of  mission AS-204.

Jan 27, 28 — RSA, Launch Soyuz / Progress 41P (M75), Baikonur Cosmodrome, Kazakhstan: Russia Progress 41 cargo spacecraft delivers supplies to ISS crew.

Jan 27 — Colorado Consortium for Earth and Space Science Education, Challenger Learning Center of Colorado, et al, Colorado Springs CO: 'Challenger 25th Anniversary: A Tribute to Courage and Promise,' Challenger Learning Center of Colorado invites public to commemorate the 25th anniversary of the tragic loss of the Space Shuttle Challenger crew and to honor their legacy of science, technology, engineering and mathematics (STEM) education.

Jan 27 — American Institute of Aeronautics and Astronautics – San Francisco, Mountain View CA: AIAA – SF January 2011 Dinner Meeting featuring presentation, 'CASA and the Future of Storm Chasing,' David McLaughlin.

Jan 27 — Asteroid 1951 Lick: Closest Approach to Earth; (0.513 AU).
---
FRIDAY

Jan 28 — 25th Challenger 51-L Observation, Nationwide USA: On January 28, 1986, 7 crew members including Commander Francis R. "Dick" Scobee, its pilot, Michael J. Smith and its crew, Christa McAuliffe (the 1st 'Teacher in Space'), Mission Specialists Ellison S. Onizuka, Judith A. Resnick and Ronald E. McNair, along with Payload Specialist Gregory B. Jarvis were killed when space shuttle Challenger broke apart 73 seconds into its flight.

Jan 28 — Kennedy Space Center, Cape Canaveral FL: '25th Anniversary Space Shuttle Challenger Remembrance Ceremony,' a ceremony to honor the crew of space shuttle Challenger STS-51L.

Jan 28 — Challenger Learning Center, Normal IL: '25th Space Shuttle Challenger Commemoration,' event to pay tribute to the STS-51L crew and share in the triumphs of the Challenger Learning Center.

Jan 28 — Challenger Learning Center, Tallahassee FL: '25th Challenger Commemoration,' events include a commemorative ceremony to honor Challenger crew and a creative works contest open to all public, private and home schooled kids in grades K-8.

Jan 28 — Challenger Learning Center, Houston TX: '25th Challenger Commemoration,' event to host thirty 5th grade students from Cornelius Academy to participate in the 1st of 2 simulated missions as well feature special guests Kevin Kregel and John McCullough.

Jan 28 — Challenger Learning Center, St. Louis MO: '25th Challenger Remembrance,' planned activities and programs including free public missions to honor the Challenger 51-L crew members, their families and the continuation of their mission.

Jan 28 — Challenger Learning Center, Albuquerque NM: 'Space Shuttle Challenger Tribute,' ceremony to honor the 7 crew members begins at 09:00 MST with a special event and a moment of silence marking the time of loss followed by a day of public activities.

Jan 28 — Kennedy Space Center, Cape Canaveral FL: KSC to host media coverage of ribbon-cutting ceremony for NASA's greenest building, the Propellants North Administrative and Maintenance Facility at 10:30 EST.

Jan 28 — The SETI Institute, Modesto CA: 'Science Searches for ET,' Seth Shostak.

Jan 28 — Powerhouse Museum, Sydney, Australia: 'My Space Adventure: A Vivid Account by the 1st Korean Astronaut,' a public talk by 1st Korean astronaut Yi Soyeon on her account of the background that led her to spaceflight, her astronaut training in Russia and her experiences on her space mission.

Jan 28 — The Astronomy and Space Exploration Society, Toronto, Ontario, Canada: '8th Annual 'Expanding Canada's Frontiers Symposium: Unraveling the Universe,' featuring speakers Alexei Filippenko, Gil Holder & Michel Lefebvre.

Jan 28-29 — Adler Planetarium, Chicago IL: 'Great Explorations in Math & Science Workshop,' a teacher development program on the GEMS Space Science Sequence for 6th – 8th graders.

Jan 28 — Moon: 2.6° N of Antares; 14:00.
---
SATURDAY

Jan 29 — Challenger Learning Center at the Reuben H. Fleet Science Center, San Diego CA: '25th Challenger Commemoration,' with a special commemorative public mission to Mars which will introduce participants to the teamwork, technology and drama involved in space travel.

Jan 29 — Challenger Learning Center, Hammond IN: 'Public Open House,' celebrating the 25th commemoration of the Challenger, participants can take a tour of the center and experience space simulators, science labs and planetarium shows.

Jan 29 — International Lunar Observatory Association, Space Age Publishing Company, Kailua-Kona HI: 'Galaxy Forum Hawaii-Kona,' Galaxy Education in the 21st century; Event to be held at Onizuka Space Center from 09:30 – 11:30.

Jan 29 — University of Houston, The Texas Learning and Computation Center, et al, Houston TX: '9th UH Mars Rover Competition,' an educational program developed to spark students' interest in science and technology.

Jan 29-Feb 8 — The Astronomy School of the Institute for Research in Fundamental Science, Sharif University of Technology, Kish Island, Iran: 'International Workshop on Extrasolar Planets.'

Jan 29 — Moon: 3.5° S of Venus; 17:00.
---
SUNDAY

Jan 30-Feb 5 — Adler Planetarium, Salt Lake City UT: '3rd Annual SnowPAC Workshop on Particle Astrophysics, Astronomy & Cosmology,' event to focus on experimental, observational, computational and theoretical aspects of high energy astrophysics and cosmology.

Jan 30 — Moon: 4.1° S of Pluto; 16:00.