Challenger and Columbia Remembrances Lead to Educational Initiatives, Inspire Future Space Explorers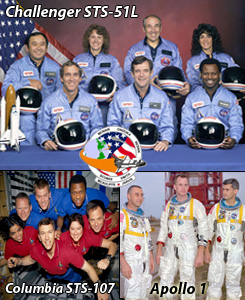 Educational events and tributes take place this week in remembrance of courageous astronauts whose lives were lost in pursuit of space exploration and scientific advancement. On January 28, 1986 Space Shuttle Challenger STS-51L broke apart 73 seconds after launch, claiming the lives of 7 astronauts: Francis Scobee, Michael Smith, Christa McAuliffe, Ellison Onizuka, Judith Resnick, Ronald McNair and Gregory Jarvis. Honoring the astronauts and their accomplishments, organizations such as Citizens in Space (formerly Teachers in Space) and the Challenger Center for Space Science Education with 45 national and 3 international locations advance STEM education and space exploration awareness / interest in all communities. Also celebrated this week are the lives of 7 astronauts from the February 1, 2003 Columbia STS-107 Shuttle disaster, Richard Husband, Laurel Clark, Ilan Ramon, William McCool, Michael Anderson, David Brown and Kalpana Chawla. Among many events worldwide, the Astronauts Memorial Foundation is holding a ceremony on Feb 1 at the Kennedy Space Center in Florida to honor the crew. The 46th Apollo 1 Observation on Jan 27 commemorates 3 more pioneering astronauts, Virgil Grissom, Edward White and Roger Chaffee. With the retirement of the Space Transportation System, NASA is now focusing on the SLS / Orion program to once again safely launch astronauts from American soil. Numerous countries and private enterprises continue to develop human space exploration missions to further humankind's knowledge and capabilities. (Image Credit: NASA)
Europe Revitalizing Space Policy, Accelerating Space Research & Innovation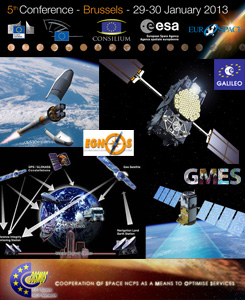 The 5th Conference on European Union Space Policy is taking place at the European Commission in Brussels, Belgium on January 29-30. EC President José Manuel Barroso, Director-General of the European Space Agency Jean-Jacques Dordain, Director of the UN Office for Outer Space Affairs Mazlan Othman, and other top-level leaders from regional / national / international governance bodies, private sector organizations, and academic / research institutions will participate. Opening sessions focus on the global dimension of space policies and related responsibilities to provide space based services that contribute to humanity's environment, security and ultimate survival. Also on the program are EGNOS, Galileo and GMES – three space missions the EU is directly engaged in via collaboration with ESA. The Horizon 2020 Workshop 'Space Technology' takes place in Brussels on Jan 30-31. It is being conducted by the EC Directorate-General for Enterprise and Industry to consult with major Space representatives from across Academia and Industry. The next Horizon 2020 Workshop 'Space Science and Exploration' will be February 18 in Madrid, Spain. Under the 7th Framework Program for Research and Innovation the EU funds a network of National Contact Points for Space known as COSMOS. The initiative with a budget of about US$1.7B over 6 years, increases interactivity and efficiency among agencies across 30 countries. (Image Credit: EC, ESA, COSMOS)
---


= All times for terrestrial events in local time unless noted.

= All times for international terrestrial events in local time unless noted.

= All times for space events, and…

= All times for international space / astro events in Hawaii Standard Time unless noted. Add 10 hours to obtain UT ('Universal Time;' Greenwich, England).
---
Weekly Planet Watch – Evening Planets: Mars (WSW), Jupiter (S). Morning Planets: Venus (SE) , Saturn (SE).
---
MONDAY

Jan 28 — ISS, LEO: Expedition 34 crew measuring noise level exposure in 24-hour periods with acoustic dosimeter; measuring radiation levels with Matryoshka-R experiment; participating in bone metabolism experiment where astronauts eat low or high-salt diet for 5 days, log intake, collect urine / blood samples for future analysis.

Jan 28 — Herschel Space Observatory, Earth-Sun L2 Lagrange Point: Infrared space telescope with single 3.5-m diameter mirror views Betelgeuse star (red star at Orion's shoulder) and dusty 'wall' leading scientists to predict collision in 5K years, supernova explosion likely in 13K years; telescope may run out of helium reservoir in Mar, ending the mission.

Jan 28 — Mars Reconnaissance Orbiter, Mars Orbit: Obtaining about 5,000 images per year, new spectrometer data reveals carbonate and clay minerals in 92-km diameter, 2.2-km deep McLaughlin Crater, suggesting underground water once flowed to crater interior; documenting seasonal changes in northern sand dunes due to warming of frozen carbon dioxide.

Jan 28 — Orbital Sciences Corp., Wallops Island VA: NewSpace company performing final 'cold-flow test' of Antares first-stage engine before end of Jan; hot-fire test scheduled for Feb with 1st flight planned 4-6 weeks later; demonstration mission with Cygnus capsule to ISS could be May or Jun; full operational ISS cargo resupply may be 3rd quarter 2013.

Jan 28 — Near Space Corp., Tillamook OR: Using High Altitude Shuttle System balloons to carry 2 payloads to 30-km altitude for NASA Flight Opportunities Program 2013-14; Deployable Rigid Adjustable Guided Final Landing Approach Pinions payload and Guided Parafoil High Altitude Research payload; will benefit American commercial suborbital technologies.

Jan 28 — Deep Space Industries Inc., Santa Monica CA: Aiming to launch fleet of 25-kg "FireFly" asteroid-prospecting spacecraft made with cubesat materials on 1-way trips to identify valuable Near Earth Asteroids starting 2015; then will launch 32-kg "DragonFly" spacecraft in 2016 on 4-6 year sample return missions to retrieve 25-65 kg of material.

Jan 28 — 27th Challenger STS-51L Observation, Nationwide USA: Educational and ceremonial events held worldwide to advance space technology / education and honor seven crew members killed in shuttle accident 28 January 1986: Commander Francis R. "Dick" Scobee, Pilot Michael J. Smith, Astronaut Christa McAuliffe (the 1st 'Teacher in Space'), Mission Specialists Ellison S. Onizuka, Judith A. Resnick and Ronald E. McNair, along with Payload Specialist Gregory B. Jarvis.

Jan 28-30 — NASA, Titusville FL: Social Media Followers: View the Launch of Tracking and Data Relay Satellite-K; for 60 invited social media followers to view satellite launch, tour Kennedy Space Center, interact with NASA scientists / engineers.

Jan 28 — Moon: 5.4° SSW of Regulus, 14:00.

Jan 28 — Asteroid 2011 BY10: Near-Earth Flyby (0.055 AU).
---
Continued from…

Dec 15 – Mar 3 — American Textile History Museum, The Smithsonian Institution Traveling Exhibition Service, et al, Lowell MA: Suited for Space Exhibition; displaying the evolution of spacesuit design and development; US$8 adult.

Jan 7 – Feb 8 — International Space University, University of South Australia, Adelaide, Australia: Southern Hemisphere Summer Space Program.

Jan 19 – May 18 — University of California at Riverside ARTSblock Program, Riverside CA: Free Enterprise: The Art of Citizen Space Exploration; art exhibit with NewSpace movement theme; opening day panel discussion and reception at UCR starting at 15:00 PST, free.

Jan 22 – Feb 28 — Ahoora Foundation, Conrad Foundation, NASA, et al, Online: What If? Propulsion Competition; for high school students to create propulsion vehicles from everyday objects; What If? Essay Competition; for middle school students to 'keep Curiosity alive.'

Jan 22 – May 30, 2014 — NASA, USA: Phase 1 Certification Products Contracts; Boeing Co. receives about US$10M, Sierra Nevada Corp. $10M, SpaceX $9.6M to work with NASA Commercial Crew Program to develop products for launching astronauts from American soil.

Jan 23 – Feb 16 — National Space Society, Online: Kickstarter Campaign; requesting pledges to fund 'A National Space Society Video: Our Future in Space.'
---
TUESDAY

Jan 29 — NASA Lunar Science Institute, Moffett Field CA: Seminar: Space Science From the Moon; Carl Pieters presents The Moon: Brimstone to Keystone, Touchstone, and Cornerstone; David Kring presents Discoveries along a Path to a New Age of Science and Exploration; 10:00 PST; web conference available.

Jan 29 — SETI Institute, Mountain View CA: Colloquium: First Results from the ChemMin Mineralogical Instrument on Mars Science Laboratory; presented by David Blake of Space Science and Astrobiology Division, NASA Ames Research Center; 12:00 PST.

Jan 29-30 — European Commission, Eurospace, European Space Agency, COSMOS, et al, Brussels, Belgium: 5th Conference on EU Space Policy: Building up a Global Tool for Global Challenges.

Jan 29-31 — The Fisher Institute for Air and Space Strategic Studies, Herzelia, Israel: 8th Annual International Ilan Ramon Space Conference.
WEDNESDAY

Jan 30 — ULA, Launch Atlas 5 / TDRS-K, Cape Canaveral AFS FL: A United Launch Alliance Atlas 5 rocket set to launch Tracking and Data Relay Satellite System (TDRSS) which will connect mission control with ISS, other orbiting satellites; 20:48 – 21:28 EST.

Jan 30 — Sea Launch, Launch Zenit 3SL / Intelsat 27, Odyssey Platform, Equator at 154° W: Sea Launch Zenit 3SL rocket to deliver Intelsat 27 communications satellite to orbit; 20:56 – 21:54 PST.

Jan 30 — Cassini OTM-339, Saturn Orbit: Spacecraft conducts Orbital Trim Maneuver #339 today.

Jan 30 – Feb 8 — Korea Aerospace Research Institute, Launch KSLV 1 / STSAT 2C, Goheung, South Jeolla, South Korea: Scheduled launch period of Jan 30 – Feb 8 for third attempt to launch Naro Rocket with scientific satellite payload from Naro Space Center; launch window 15:55 – 19:30 local time.

Jan 30 — NASA, Cape Canaveral FL: View Ongoing Orion and Testing Work; for media to photograph Orion / technology and receive status update on the project; 10:00 EST.

Jan 30 — Space Angels Network, Online: Virtual Pitch Series; to connect investors and space entrepreneurs; for SAN members only.

Jan 30 — European Space Agency, Noordwijk, The Netherlands: Electromagnetic Devices in Aerospace Mechanisms – Workshop 2013; to discuss latest developments, future needs of electromagnetic devices and their modeling.

Jan 30-31 — European Commission, COSMOS, et al, Brussels, Belgium: Horizon 2020 Workshop on Space Technology.

Jan 30-31 — Applied Technologies Institute, Columbia MD: The Space Environment – Implications for Spacecraft Design Course; conducted by Dr. Alan Tribble; US$1,245.

Jan 30 — Asteroid 2013 BT45: Near-Earth Flyby (0.086 AU).
THURSDAY

Jan 31 – Feb 10 — Iranian Space Agency: Designated launch period for sending live monkey into space.

Jan 31 — Stanford Institute for Economic Policy Research, Stanford Center of Excellence for Commercial Space Transportation, Stanford CA: SIEPR-COECST Space Policy Workshop; providing overview of market by Ken Davidian of FAA and Scott Hubbard of Stanford, as well as ITAR policy and launch rights / efficiency issues; held in John A. and Cynthia Fry Gunn–SIEPR Building, 13:00 – 17:30 PST.

Jan 31 — NASA Flight Opportunities Program, Online: Extended Deadline Due Date: AFO (Announcement of Flight Opportunities) #6 – For Payloads Maturing Crosscutting Technologies that Advance Multiple Future Space Missions to Flight Readiness Status.

Jan 31 — AIAA, Online: Abstract Deadline, for the AIAA Guidance, Navigation, and Control Conference; AIAA Atmospheric Flight Mechanics Conference; AIAA Modeling and Simulation Technologies Conference; AIAA Infotech@Aerospace Conference; on Aug 19-22.

Jan 31 — U.S. Space and Rocket Center, Huntsville AL: Explorer's Ball Commemorating the 40th Anniversary of Skylab; with Dr. Owen Garriott and Skylab astronauts.

Jan 31 – Feb 1 — European Space Agency, Noordwijk, The Netherlands: Mechanisms' Final Presentation Days 2013; for European entities to discuss their latest space mechanisms and tribology technology developments.

Jan 31 – Feb 2 — The Patricia Huffman Smith NASA Museum, Hemphill TX: The Legacy Lives On – Remembering Columbia; to include art and vendor exhibits, NASA live video teleconference, shuttle and crew memorabilia.

Jan 31 — Asteroid 2013 BE19: Near-Earth Flyby (0.045 AU).
FRIDAY

Feb 1 — Deep Space: New Horizons spacecraft, scheduled to cross Neptune's orbit Aug 2014, is now 892 days and about 7.18 AU from Pluto / moons closest approach, traveling about 54,336 km per hour relative to the Sun.

Feb 1 — 10th Columbia STS-107 Observation, Nationwide USA / Global: Annual international conferences and events take place to further space exploration efforts in remembrance of the Space Shuttle Columbia disaster and its crew: Commander Richard D. Husband, Mission Specialist Laurel Clark, Payload Specialist Ilan Ramon (the '1st Israeli astronaut') and Astronauts: William C. McCool, Michael P. Anderson, David M. Brown and Kalpana Chawla (the '1st Indian American astronaut' and '1st Indian woman in space').

Feb 1 — Canadian Space Agency, Saint-Hubert, Quebec, Canada: CSA President TBD as Steve MacLean leaves office.

Feb 1 — Stanford Institute for Economic Policy Research, Stanford Center of Excellence for Commercial Space Transportation, Stanford CA: SIEPR Policy Forum on Space Entrepreneurship; free forum on space startups with Bill Nye, Ed Lu, Lori Garver, Petra Moser, more; held in John A. and Cynthia Fry Gunn–SIEPR Building, 09:00 – 16:15 PST.

Feb 1 — Lunar and Planetary Institute, Houston TX: LPI Seminar Series: The Role of Gas and Liquid in the Formation and Alteration of the Renazzo-like Carbonaceous Chondrites; presented by Devin Schrader from University of Hawai'i; in Lecture Hall of USRA, 15:30 CST.

Feb 1 — Astronauts Memorial Foundation, Kennedy Space Center, Titusville FL: Day of Remembrance – 10th Anniversary Columbia STS-107; held at Space Mirror Memorial in KSC Visitor Complex; 10:00 EST.

Feb 1 — Space Center Houston, Houston TX: Lunch with an Astronaut, John-David Bartoe; US$49.95 adult.

Feb 1-6 — American Astronautical Society, Breckenridge CO: 36th Annual AAS Guidance and Control Conference.

Feb 1-28 — Austrian Space Forum, Ibn Battuta Center, Erfoud, Morocco: Morocco 2013 Mars Analog Field Simulation; small field crew to conduct engineering, planetary surface operations, astrobiology and other experiments to prepare for human Mars missions.

Feb 1 — Moon: 0.55° WSW of Spica, 15:00.

Feb 1 — Asteroid 2012 YN6: Near-Earth Flyby (0.054 AU).
SATURDAY

Feb 2 — Iranian Space Agency, Tehran, Iran: Unveiling of Nahid domestically-made satellite at Iran National Space Technology Day.

Feb 2 — Moon: 3.5° SSW of Saturn, 21:00.
SUNDAY

Feb 3-8 — Gordon Research Conferences, ASTRIUM, et al, Ventura CA: Atmospheric Reentry Physics Conference: Fundamentals of Environment-Materials Interactions, Models and Design Approaches to Meet Emerging Space Needs.

Feb 3-9 — International Academy of Astronautics, School of Aerospace Engineering Sapienza – University of Rome, Roma, Italy: 2nd IAA Conference on University Satellites Missions and CubeSat Winter Workshop in Europe.

Feb 3 — Moon: At last quarter, 03:57.

Feb 3 — Asteroid 2013 BS15: Near-Earth Flyby (0.079 AU).