International Space University to Hold Summer Program in Australia

The International Space University (ISU), in partnership with the University of South Australia, will hold the 2nd Southern Hemisphere Summer Space Program in Adelaide on January 9 – February 11. Participants in the 5-week, international program will focus on space applications, policy, and services, with emphasis on advancing space in the Southern Hemisphere. Program graduates will become part of the international network comprising more than 3000 ISU alumni, faculty members and visiting lecturers. This year's program will feature over 40 lectures and over 60 hours of workshops, professional visits, public events and field studies. The ISU will host 4 free public events known as 'Distinguished Space Panels' (DSP). On Jan 11, Peter Martinez (TL) of the South African Astronomical Observatory and Professor Harvey Butcher (BL), Director of the Research School of Astronomy and Astrophysics at the Australian National University will be on hand for DSP-1 to discuss different perspectives and ideas on the goals of astronomy, including the massive €1.5 billion Square Kilometer Array (TR) radio astronomy project to be awarded either to South Africa or Australia later this year. (Image Credit: ISU, IAF, SKA)
American Astronomical Society, Gordon Research Conferences and NASA Host Variety of Meetings in Texas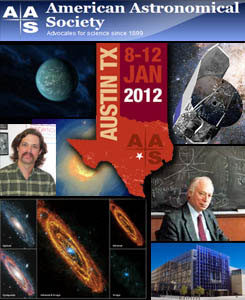 American Astronomical Society (AAS) opens the new year with its 219th meeting on January 8-12 at the Austin Convention Center, Texas, USA. In addition to a talk by Nobel winner Steven Weinberg (R) the society will discuss the latest results and images from Chandra, Fermi, Herschel, Hubble, Kepler, RXTE, SOFIA, Spitzer and WISE. The Herschel session, chaired by William B. Latter (L), will focus on Milky Way galaxy science. Other sessions feature topics from gamma-ray bursts and supernovae to exoplanets and the high-energy sky. There will also be development sessions for professional astronomers, science education workshops for teachers and public outreach events like a screening of the documentary "Saving Hubble." Also in Texas this month, Gordon Research Conferences' Origin of Life series in Galveston on January 8-13 and the 5th NASA Exoplanet Exploration Program Analysis Group meeting in Austin on January 7-8. The conference in Galveston is chaired by Henderson J. Cleaves with discussions focused on Organics in Meteorites and Life As We Don't Know It to name a few. The next AAS Meeting will be held on June 10-14, 2012 in Anchorage, Alaska. (Image Credit: AAS, NASA)
---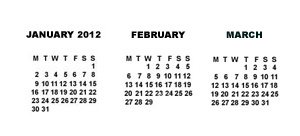 = All times for terrestrial events in local time unless noted.

= All times for international terrestrial events in local time unless noted.

= All times for space events, and…

= All times for international space / astro events in Hawaii Standard Time unless noted. Add 10 hours to obtain UT ('Universal Time;' Greenwich, England).
---
Weekly Planet Watch
– Morning Planets: Mercury (SE), Mars (S), Saturn (E) / Evening Planets: Venus (SW), Mars (E), Jupiter (S).
---
MONDAY

Jan 9 — International Space Station, LEO: E-30 crew's recent completion of the Command and Control Software Revision 10 will support more than 25 simultaneous experiments and support operations for upcoming commercial visiting vehicles.

Jan 9 — NASA Lunar Reconnaissance Orbiter (LRO), Lunar Orbit: Scientists continue to study unprecedented imagery of the 40km wide Aristarchus lunar crater during which the LRO flew 26km above the surface- about 2x lower than normal.

Jan 9 — Mars Rover Opportunity, Red Planet: Mars rover Opportunity to spend its 5th Martian winter at 'Greeley Haven' to inspect mineral compositions and textures on the outcrop and record a full-circle, color panorama of the area.

Jan 9-12 — American Institute of Aeronautics and Astronautics, Nashville TN: '50th AIAA Aerospace Sciences Meeting including the New Horizons Forum and Aerospace Exposition.'

Jan 9 – Feb 11 — International Space University, University of South Australia, Adelaide, Australia: 'Southern Hemisphere Summer Program.'

Jan 9 — Moon: 10.0° SSW of Pollux, 10:00.

Jan 9 — Asteroid 2011 AC3: Near-Earth Flyby (0.076 AU).
---
Continued from…

Jan 8 — American Astronomical Society, Austin TX: '219th Meeting of the AAS;' through Jan 12.

Jan 8 — Gordon Research Conferences, Galveston TX: 'Origin of Life Conference;' through Jan 13.
---
TUESDAY

Jan 10 — CNSA Long March 4B / Ziyuan 3, Xichang, China: A Chinese Long March 4B rocket set to launch the Ziyuan 3 high-resolution remote sensing satellite.

Jan 10 — Lunar and Planetary Institute, The Woodlands TX: Abstract Submission Deadline for the '43rd Lunar and Planetary Science Conference.'

Jan 10 — Moon: 5.5° S of Beehive Cluster; 09:00.
---
WEDNESDAY

Jan 11 — Johnson Space Center, Houston TX: News conference with NASA astronaut Joe Acaba and Russian cosmonauts Gennady Padalka and Sergei Revin at 13:00 CST to discuss upcoming Expedition 31 – 32 missions NET Mar 29.

Jan 11 — Intech Science Center and Planetarium, Winchester, United Kingdom: 'Gravitational Lensing,' Jerry LaSala.

Jan 11 — Moon: 5.5° SSW of Regulus; 23:00.

Jan 11 — Asteroid 2002 BF25: Near-Earth Flyby (0.068 AU).
---
THURSDAY

Jan 12 — Smithsonian National Air and Space Museum – Udvar-Hazy Center, Chantilly VA: 'What Time is it? Astronaut Chronographs,' Jennifer Levasseur.

Jan 12 — Asteroid 99942 Aphophis: Closest Approach to Earth (0.613 AU).
---
FRIDAY

Jan 13 — Space Center Houston, Houston TX: 'Lunch With an Astronaut,' David Hilmers.

Jan 13 — Moon: 8.4° SSW of Mars; 15:00.
---
SATURDAY

Jan 14 — Russia Phobos-Grunt Mission, LEO: Scientists expect 20-30 pieces, weighing nearly 200kg of the Russia Phobos-Grunt spacecraft to re-enter Earth's atmosphere, give or take 5 days.

Jan 14 — Zero Gravity Corporation, Miami FL: 'Zero-G Flight Experience,' a once-in-a-lifetime opportunity to experience weightlessness onboard a specially modified Boeing 727.

Jan 14-23 — The GLOBE Program, The National Optical Astronomy Observatory, Global: 'GLOBE at Night: Less of Our Light, More Star Light,' event to raise public awareness of the impact of light pollution by inviting citizen-scientists to measure their night sky brightness and submit their observations to a website from a computer or smart phone.

Jan 14 — Asteroid (Near-Earth Flyby): 2005 BU (0.052 AU); 2011 YA (0.071 AU).

---
SUNDAY

Jan 15 — American Astronautical Society, NASA Space Station Program Office, et al, Denver CO: Abstract Deadline for the '1st Annual ISS Research and Development Conference.'

Jan 15 — Moon: 2.2° S of Spica, 19:00; At Last Quarter, 23:08.