American Human Space Enterprise Advancing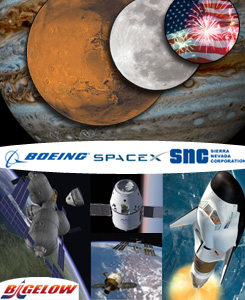 The dawn of Space Month July 2013 highlights innovative new projects reviving American Human spacefaring capabilities — with a revolutionary new spin, private commercial enterprises are leading the way. Boeing is developing the CST-100 orbital crew capsule to transport up to 7 people to the International Space Station (ISS) or other LEO destinations like the commercial space station proposed by Bigelow Aerospace. The first crewed test flight is expected to launch aboard an Atlas 5 rocket as early as 2016. NewSpace frontrunner SpaceX is already conducting operational, round trip robotic service missions to the ISS with the advanced Dragon vehicle and in-house Falcon 9 rocket under a US$1.6B contract for at least 12 flights. A crewed configuration DragonRider with space for 7 passengers is already in development. SpaceX is also manifesting fully independent (non-ISS) commercial flights under the name DragonLab. Sierra Nevada Corporation is continuing to build toward 2015 flight of its Dream Chaser vertical-takeoff horizontal-landing orbital spaceplane – the engineering test article is already at Dryden Flight Research Center being prepared for a series of drop tests this summer. Now 44 years after Neil Armstrong and Buzz Aldrin became the first humans to walk on two worlds, we are well on the path to creating affordable and routine access to space. Efforts should be redoubled and new opportunities for collaboration sought. (Image Credit: Boeing, Bigelow, SpaceX, SNC, Celestia, NASA)
Three Europe International Conferences Focus on the Future of Humans in Space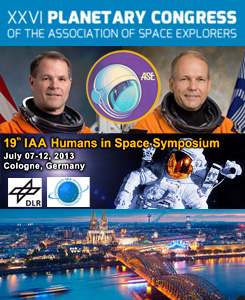 The Association of Space Explorers will hold its 26th Planetary Congress with the theme 'Citizens of Space – Stewards of Earth' on July 1-5 at the University of Cologne in Germany. The conference features a 2.5-hour public session with NASA Astronaut Kevin Ford (L), ESA Astronaut Hans Wilhelm Schlegel (R) and Professors Dr. Stephan Hob, Dr. Stephan Schlemmer and Dr. Jürgen Stutz from the Univ. of Cologne. There will also be a lecture on commercial space development in cooperation with DLR and a presentation by international Astronauts and Cosmonauts titled 'International Space Programs – Year in review.'  ASE is now represented by over 375 space fliers from 35 different countries. Also in Cologne, the 19th IAA Humans in Space Symposium is being held on July 7-12 at the Maternushaus hotel. Sponsored by IAA and DLR, this year's theme is 'Challenges of Space Life Sciences for Future Exploration: Focusing on Hypothesis-Based Research using Space and Terrestrial Analogs.' Representatives from Brazil, Canada, China, France, Germany, Japan, Russia, Switzerland and USA will be present. IAA will host its 8th Symposium on the Future of Space Exploration: Towards the Stars on July 3-5 in Italy at the Polytechnic University of Turin. (Image Credit: ASE, IAA, DLR, NASA, ESA)
---


= All times for terrestrial events in local time unless noted.

= All times for international terrestrial events in local time unless noted.

= All times for space events, and…

= All times for international space / astro events in Hawaii Standard Time unless noted. Add 10 hours to obtain UT ('Universal Time;' Greenwich, England).
---
Weekly Planet Watch – Evening Planets: Venus (WNW), Saturn (SW).
---
MONDAY

 Jul 1 — Deep Space, Pluto / Kuiper Belt Trajectory: New Horizons is now 742 days from Pluto closest approach; will capture 1st clear images of Pluto, Charon before heading deeper into Kuiper Belt – suspected to be 20x as wide, 20-200x as massive as Main Asteroid Belt.

Jul 1 — ISS, LEO: Expedition 36 preparing for 2 EVAs set for Jul 9 & 16; transferring cargo from ATV-4; continuing Circadian Rhythms experiment to measure changes in body composition, temperature, effect of non-24-hour light-dark cycle.

Jul 1 — IRIS, LEO: Interface Region Imaging Spectrograph spacecraft launched Jun 27 to begin observing how material moves, gathers energy & heats up in Sun lower atmosphere.

 Jul 1 — Chandra X-ray Observatory, HEO: Providing details about most recent known supernova in Milky Way; remnant G1.9+0.3 resulted from non-uniform, unusually energetic thermonuclear detonation of white dwarf star.

Jul 1 — Mars Reconnaissance Orbiter, Mars Orbit: Mars Climate Sounder instrument detecting 32-kelvins temperature change in atmosphere twice a day most likely due to 10-30-km altitude water-ice clouds.

Jul 1 — Sierra Nevada Corp., Louisville CO: NewSpace company developing 7-person Dream Chaser suborbital / orbital spaceplane has 2 more review milestones (worth US$45M) in 2013; recently completed Investment Finance milestone.

 Jul 1 — S3 (Swiss Space Systems), Payerne, Switzerland: With 40+ employees, developing suborbital shuttles to launch small satellites up to 250 kg by 2018 to broaden access to space for companies, universities, countries.

Jul 1 — Planet Labs Inc., San Francisco CA: Building 'Flock-1' fleet of 28 'Dove' Earth observation satellites to provide information about changing planet with US$13M investment funding; launching to LEO on OSC Antares rocket Sep 12.

NET Jul — Boeing Company, Chicago IL: Developing CST-100 7-person spacecraft for NASA CCiCAP, Orbital Maneuvering and Attitude Control Engine Development Test to occur this month.

NET Jul — SpaceX, Cape Canaveral AFS FL: Upgrading Dragon spacecraft to carry humans to space for NASA CCiCAP, On-Orbit and Entry Preliminary Design Review to occur this month.

NET Jul — NASA, Yuma AZ: Orion parachute test to occur this month; will be releasing from 10,668-meter altitude.

Jul 1 — ISRO, Launch PSLV / IRNSS 1, Sriharikota, India: ISRO Polar Satellite Launch Vehicle set to launch 1st spacecraft of Indian Regional Navigation Satellite System.

Jul 1 — RSA, Launch Proton / Glonass, Baikonur Cosmodrome, Kazakhstan: An RSA Proton rocket set to launch 3 Glonass navigation satellites.

Jul 1 — DIYRockets Inc., Sunglass Co., Shapeways Inc., Online: Winners Announced: 3D Printed Rocket Challenge; competition to design 3D printed rocket engine that could carry nano-satellites into space.

Jul 1 — University of Colorado – Boulder, Online: Last Day: Send Your Name & Message to Mars; last day to submit name / message to travel to Mars aboard MAVEN spacecraft launching between Nov 18 – Dec 7; winners announced Aug 8.

Jul 1-3 — Institute of Electrical and Electronic Engineers – Malaysia, Malacca, Malaysia: 2013 IEEE International Conference on Space Science and Communication (IconSpace2013); at Hotel Equatorial.

Jul 1-3 — ESA, Noordwijk, The Netherlands: Exoplanet Characterisation Observatory (EChO) 2013 Open Science Workshop; to discuss ESA mission candidate at European Space Research and Technology Centre.

Jul 1-4 — American Astronomical Society, Shanghai Astronomical Observatory, Chinese Academy of Sciences, Shanghai, China: International Symposium on Planetary Sciences (IAPS2013); at Shanghai Astronomical Observatory.

Jul 1-5 — Association of Space Explorers, Cologne, Germany: 26th Planetary Congress of the ASE: Citizens of Space – Stewards of Earth; at University of Cologne.

Jul 1-5 — Royal Astronomical Society, Saint Andrews, United Kingdom: National Astronomy Meeting; at University of St. Andrews.

Jul 1 – Jul 14 — Mars Society Inc., Devon Island, Nunavut, Canada: Phase 1 of Mars Arctic 365 mission; 9-member crew to upgrade Flashline Mars Arctic Research Station in preparation for Phase 2 of Mars Arctic 365 Mission – a 1-year, 8-member crew Mars simulation mission beginning Summer 2014.
---
Continued from…

Jun 22 – Jul 4 — Southwest Research Institute, University of Hawai`i, Max Planck Institute for Astronomy, Kamuela HI: 8th Workshop on Catastrophic Disruption in the Solar System; 3rd Workshop on Binaries in the Solar System; at Hapuna Beach Prince Hotel.

Jun 24 – Aug 23 — International Space University, National Institute for Space Research, Strasbourg, France: The 26th International Space University Space Studies Program (SSP13); at ISU Central Campus.

Jun 27 – Jul 1 — Royal Astronomical Society of Canada, Thunder Bay, Ontario, Canada: 2013 RASC General Assembly; held at Thunder Bay Centre on Lakehead University campus.

Jun 29 – Jul 5 — Space Tourism Society, Los Angeles CA: Space Tours – Los Angeles; week-long tour of space facilities in Los Angeles including SpaceX, XCOR, Mojave Air and Space port; US$4,985 per person.

Jun 30 – Jul 4 — DH Consultancy Co., Santorini, Greece: 2013 Radiation Belts Workshop: Comprehending, Specifying and Forecasting their Dynamics; at Bellonio Cultural Center in Fira.

Jun 30 – Jul 5 — Swiss Federal Institute of Technology – Zurich, Swiss National Science Foundation, Ascona, Switzerland: Conference: Large Scale Structures (LSS13).
---
TUESDAY

Jul 2 — International Space University, Strasbourg, France: Soffen Memorial Panel; featured planetary scientists talk about Moon and Mars exploration; open to public.

Jul 2 — SETI Institute, Mountain View CA: Colloquium: Dune and Ripple Migration Along Rover Curiosity's Traverse in Gale Crater (Mars); presented by Simone Silvestro from SETI Institute; 12:00 PDT.

Jul 2-9 — Brazilian Center for Physics Research (CBPF), International Union of Pure and Applied Physics (IUPAP), Rio de Janeiro, Brazil: 33rd International Cosmic Ray Conference (ICRC); to discuss solar, heliospheric, cosmic ray and dark matter physics, gamma ray and neutrino astronomy.

Jul 2 — Asteroid 2013 LN31: Near-Earth flyby (0.098 AU).

Jul 2 — Asteroid 2013 CE129: Near-Earth flyby (0.099 AU).
WEDNESDAY

Jul 3 — British Interplanetary Society, London, United Kingdom: Lecture: In space EVERYONE can hear you scream; Alex Salam speaks about medical / psychological issues for long-duration exploration missions based on his experience in Antarctica; at BIS, 19:00 UT.

Jul 3-5 — International Academy of Astronautics, Polytechnic University of Turin, Turin, Italy: 8th IAA Symposium on the Future of Space Exploration: Towards the Stars; at Polytechnic University of Turin, Lingotto Campus.

Jul 3 — Moon: 5.4° S of Pleiades, 22:00.
THURSDAY

Jul 4 — International Lunar Observatory Association, Space Age Publishing Co., Santa Clara CA: Galaxy Forum USA – 2013: Galaxy Education, Galaxy Exploration and Galaxy Enterprise in the 21st Century; at Embassy Suites; free.

Jul 4 — Canadian Space Commerce Association, Toronto, Ontario, Canada: CSCA Meeting; at law firm of Blake, Cassels and Graydon LLP.

Jul 4 – Sep 2 — Johnson Space Center, Online: 'Name the Shuttle' contest for Texas residents; contest to name Shuttle replica as part of new attraction under development.

Jul 4 — Moon: 3.4° NNW of Aldebaran, 19:00.
FRIDAY

Jul 5 — Victoria University of Wellington, Wellington, New Zealand: Beyond the Final Frontier: New Developments in Space Law; lecture presented by Dr Chris Newman from University of Sunderland, United Kingdom.

Jul 5 — Space Center Houston, Houston TX: Lunch with an Astronaut, Leroy Chiao; US$49.95 adult.

Jul 5 — Earth: At aphelion, farthest from Sun, (152M km), 05:00.
SATURDAY

Jul 6 — Onizuka Center for International Astronomy Visitor Information Station, Mauna Kea HI: The Universe Tonight: University of Hawaii Institute for Astronomy; at 2,800-meter altitude on Mauna Kea, 18:00 HST.

Jul 6 — Moon: 3.7° S of Mars, 02:00.
SUNDAY

Jul 7 — Cassini OTM-352, Saturn Orbit: Spacecraft conducts Orbital Trim Maneuver #352 today.

Jul 7 — NASA Goddard Space Flight Center, Greenbelt MD: Model Rocket Launches; up to 609-meter altitude; 13:00 – 14:00 EDT.

Jul 7 — The Space Show, Online: Engineer / Author Dave Ketchledge talks with host Dr. David Livingston about landing on Mars.

Jul 7-12 — DLR, International Academy of Astronautics, Cologne, Germany: 19th IAA Humans in Space Symposium; at Maternushaus hotel.

Jul 7-12 — NASA Goddard Space Flight Center, New York NY: 8th International Conference on the Inspiration of Astronomical Phenomena (INSAP VII): City of Stars; to discuss ways exploration of Cosmos has inspired communities / cultures to think about the Universe.

Jul 7 — Moon: At apogee (406,023 km), 14:00; 3.6° SSW of Jupiter, 16:00; New Moon, 21:15.