Dawn Arrives at Vesta to Unlock Mysteries of Early Solar System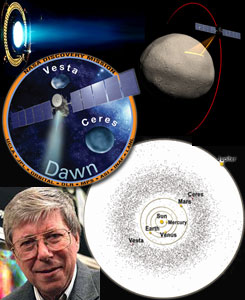 On July 16, the NASA Dawn spacecraft will enter orbit around the 2nd largest object in the Asteroid Belt, Vesta. Dawn has been using its low-thrust ion propulsion system to subtly shape its path for years so that the orbital insertion should be a relatively simple procedure. The probe will be 16,000km from Vesta when the Arizona-sized, 530-km space rock's gravity captures it. At that point, both will be about 188 million km from Earth. Science operations are set to begin in early August. Dawn carries 2 cameras, a visible / infrared mapping spectrometer to reveal the surface minerals, and a gamma ray / neutron spectrometer to determine the elements that make up the outer part of the asteroids. During its year at Vesta, Dawn will study the giant asteroid from several orbits ranging from 2700km to just 200km.  In July 2012, Dawn will complete its study of Vesta and head off on a 2.5 year journey to its 2nd destination, the 974-km dwarf planet Ceres. By investigating the 2 largest protoplanets, Dawn will help characterize the conditions and processes of the Solar System's earliest epoch. Pictured: Dawn PI Chris Russell of UCLA (BL). (Credit: NASA)
International Space University 24th Space Studies Program Advancing Student Innovation, International Cooperation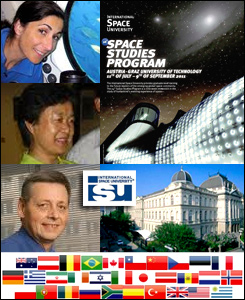 ISU will hold its 24th Space Studies Program 2011 at Graz University of Technology in Austria, from July 11 – September 9. Over 120 chosen applicants from 31 countries will participate in the dynamic 9-week program comprised of 63 lectures by renowned space experts, 30 workshops, team exercises and 2 'Theme Days' as well as 2 open debates offered for the 1st time this year. Guest lecturers include Annette Froehlich of the German Aerospace Center, ISU Co-Founder Bob Richards and Chinese Academy of Sciences Professor Shuang-Nan Zhang.  NASA astronaut Nicole Stott (TL), former JAXA astronaut Chiaki Mukai (CL), 1st Korean in space Yi So-yeon and former CNES astronaut Jean-Jacques Favier (BL) will be included in an International Astronaut Panel on July 20. All participants will be expected to join the team project experience and choose 1 of 3 topics ranging from fresh water, human-robotic cooperation and small satellites. The program will include a robotics competition on July 29 followed by a rocket launch competition on August 13. (Credit:International Space University, NASA, cnes.fr, gambar.mitrasites.com)
---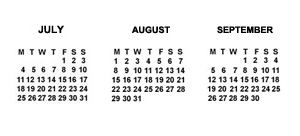 = All times for terrestrial events in local time unless noted.

= All times for international terrestrial events in local time unless noted.

= All times for space events, and…

= All times for international space / astro events in Hawaii Standard Time unless noted. Add 10 hours to obtain UT ('Universal Time;' Greenwich, England).
---
Weekly Planet Watch – Morning Planets: Mars (ENE), Jupiter (E) / Evening Planets: Mercury (WNW), Saturn (SW).
---
MONDAY

Jul 11 — International Space Station, LEO: E-28 crew members continue scientific experiments and station maintenance aboard the ISS as Flight Engineers Fossum and Garan make preparations for a spacewalk to install a long-duration exposure experiment at the end of the week.

Jul 11 — NASA Lunar Reconnaissance Orbiter (LRO), Lunar Orbit: All systems nominal in scientific phase of mission as LRO continues to make digital elevation and terrain maps that will be a fundamental reference for future human exploration.

Jul 11 — Mars Curiosity Rover, Pasadena CA: JPL Scientists continue to decide future landing site for 'Curiosity,' recently narrowing the final choices to Gale Crater near the Martian equator or Eberswalde crater in the Red Planet's southern hemisphere.

NET Jul 11 — Arianespace, Launch Soyuz / Globalstar, Baikonur, Kazakhstan: An Arianespace Soyuz rocket set to launch six 2nd generation Globalstar mobile communications satellites.

Jul 11-12 — Google, X Prize Foundation, Palo Alto CA: '5th Google Lunar X Prize Team Summit,' yearly event with GLXP teams to discuss business, funding, science, social media and competition rules.

Jul 11-13 — NASTAR Center, Philadelphia PA: 'NASTAR Suborbital Scientist Training Program,' provides researchers, professors and graduate students with hands-on space flight physiology training to prepare them to design experiments and perform research aboard commercial suborbital space flights.

Jul 11-14 — International Academy of Astronautics, Aosta, Italy: '7th Symposium on Realistic Advanced Scientific Space Missions: Missions to the Outer Solar System and Beyond.'

Jul 11-14 — European Astrobiology Network Association, Cologne, Germany: '11th European Workshop on Astrobiology: Planets and Life – Evolution and Distribution.'

Jul 11-15 — Teachers in Space, NASA, Embry-Riddle Aeronautical University, et al, Daytona Beach FL: 'Teachers in Space Program: Space Medicine and Human Factors Workshop.'

Jul 11-15 — Kepler Asteroseismic Science Consortium, Boulder CO: '4th Kepler Asteroseismic Science Consortium Workshop.'

Jul 11-15 — ESA, German Aerospace Center, Bonn, Germany: '4th International Symposium on Physical Sciences in Space.'

Jul 11 – Sep 9 — International Space University – Space Studies Institute, Graz, Austria: '24th Space Studies Program.'

Jul 11 — Moon: 3.4° N of Antares; 16:00.
---
Continued from . . .

May 31 — NASA Lunar Science Institute, Lunar and Planetary Institute, Houston TX: 'Lunar Exploration Summer Intern Program,' 10-week program to evaluate possible landing sites for robotic and human exploration missions; through Aug 5.

Jun 9 — New Mexico Museum of Space History, Alamogordo NM: 'New Mexico Space Academy Summer Camp;' through Aug 5.

Jun 13 — Space Voyage Academy, Littleton CO: 'Space Voyage Summer Academy Camp,' an enrichment program about space for students ages 5-16; through Jul 29.

Jun 27 — Google Lunar X Prize Foundation, LEGO Group, Playa Vista CA; Online: 'LEGO Moonbots 2.0;' through Aug 15.

Jul 10 — Adler Planetarium, Chicago IL: 'Technology Camp,' for 4-6th graders to design, build and program a robot to help make life possible in space; through Jul 14.

Jul 10 — National Radio Astronomy Observatory, Green Bank WV: '6th NAIC / NRAO School on Single Dish Radio Astronomy;' through Jul 16.
---
TUESDAY

Jul 12-13 — The Institute of Space Science, IEEE, University Kebangsaan Malaysia, Pahang, Malaysia: '2011 International Conference on Space Science and Communication (IconSpace2011).'

Jul 12-14 — Chandra X-Ray Center, Boston MA: '2011 Chandra Science Workshop: Structure in Clusters and Groups of Galaxies in the Chandra Era.'
---
WEDNESDAY

Jul 13 — The SETI Institute, Mountain View CA: Colloquium Series Lecture: 'Is there Methane on Mars?,' Kevin Zahnle.

Jul 13 — Smithsonian National Air and Space Museum, Washington DC: 'The Saturn 5 and the N-1: 2 Ways to Get to the Same Place,' Bob Craddock.

Jul 13 — Intech Science Center, Winchester, United Kingdom: 'Astrobiology: The Hunt for Alien Life,' Lewis Dartnell.

Jul 13 — Asteroid 1991 Darwin: Closest Approach to Earth (0.811 AU).
---
THURSDAY

NET Jul 14 — ULA, Launch Delta 4 / GPS 2F-2, Cape Canaveral FL: ULA Delta 4 rocket set to deploy Air Force's 2nd Block 2F navigation satellite for the Global Positioning System.

Jul 14 — Smithsonian National Air and Space Museum, Washington DC: 'Mars Science Laboratory Curiosity Landing Rover,' John Grant.

Jul 14 — Moon: Full Moon; 20:38.
---
FRIDAY

NET Jul 15 — ISRO, Launch PSLV / GSAT 12, Sriharikota, India: ISRO set to launch PSLV rocket carrying the GSAT 12 communications satellite.

NET Jul 15 — ILS, Launch Proton / SES 3 & Kazsat 2, Baikonur Cosmodrome, Kazakhstan: ILS Proton rocket with Breeze M upper stage set to deploy the SES 3 and Kazsat 2 communications satellites for the USA, Caribbean and Kazakhstan.

Jul 15 — Space Generation Advisory Council, Online: Application deadline for the '10th Annual Space Generation Congress,' on Sept 29 – Oct 1 held in Cape Town, South Africa.
---
SATURDAY

Jul 16 — NASA Dawn Mission, Asteroid Belt: Spacecraft scheduled to arrive at asteroid Vesta this month; launch in Sep 2007.

Jul 16-22 — International Joint Conference on Artificial Intelligence, ESA, Barcelona, Spain: '22nd International Joint Conference on Artificial Intelligence,' with ESA focus on 'AI in Space: Intelligence Beyond Planet Earth' on Jul 17.

Jul 16 — Asteroid 4370 Dickens: Closest Approach to Earth (1.062 AU).
---
SUNDAY

NET Jul 17 — RSA, Launch Zenit 3F / Spektr R, Baikonur Cosmodrome, Kazakhstan: Zenit rocket set to launch Spektr R radio astronomy observatory and work in conjunction with ground telescopes to study variety of astronomical objects.

Jul 17-18 — NASA Lunar Science Institute, Mountain View CA: '2nd Annual Lunar Graduate Conference (LunarGradCon 2011);' 'Next Generation Lunar Scientists and Engineers Workshop.'

Jul 17-21 — American Institute of Aeronautics and Astronautics, Portland OR: '41st International Conference on Environmental Systems.'

Jul 17-22 — Gordon Research Conferences, South Hadley MA: 'Origins of Solar Systems Conference.'

Jul 17-22 — American Geophysical Union, St. John's, Canada: 'AGU Chapman Conference on Dynamics of the Earth's Radiation Belts and Inner Magnetosphere.'