A Grand View: 45th Observation of Apollo 11 Moon Landing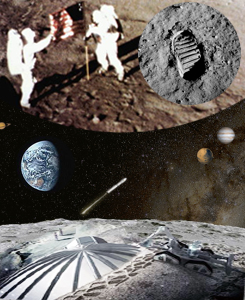 July 20 will mark 45 years since humans first landed on the Moon. Over the next 5 years, leading up to the 50th Observation, much might be achieved toward a New Frontier of exploration including human Moon missions, lunar settlement and human deep space exploration. One of the first Moonworkers, Buzz Aldrin, is actively advocating for these goals as well as stronger US-China space relations, asteroid and Mars exploration, and settling Mars. Many on Earth, and 6 in space, will celebrate the 45th Anniversary with various events highlighting the significance and the benefits of Moon exploration, such as the renaming of the KSC Operations & Checkout Building to honor Neil Armstrong and 'Splashdown 45' being held at the USS Hornet Museum in California. Returning to the Moon and regaining human status as a Multi World Species by the 50th anniversary would be momentous and awe-inspiring for all. Moon South Pole exploration, a sustained robotic and human presence, Moon missions led by commercial and scientific enterprises, and in-situ resource utilization would be truly pioneering. The momentum and spirit of the Apollo program should be reignited to launch the Space / Moon / Mars / Solar System exploration future that was envisioned when the first human footprint was planted on another world. (Image Credit: NASA, JAXA, ESA, Foster & Partners)
AAS 60th Anniversary and other Space Events at USA Capital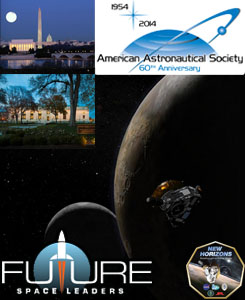 The American Astronautical Society is observing its 60th anniversary at the National Academy of Sciences in Washington DC on Wednesday July 16 from 18:00-21:00. This high caliber organization has long been recognized for the excellence of its national meetings, technical meetings, symposia and publications and for its impact on shaping the American space program. The evening starts with a screening of the film "I want to be an Astronaut" followed by a panel discussion with Charlie Bolden, Sandy Magnus, Laura Delgado Lopez and Trevor Waddell, moderated by John Grunsfeld. Next, the AAS Lifetime Achievement Award will be presented to Edward Stone, and a reception in the Great Hall will follow. The Future Space Leaders Foundation, partner organization of AAS, is hosting Future Space 2014 at the Dirksen Senate Office Building on Capitol Hill, Washington DC on July 17. The focus is to advance learning and professional enrichment of young space professionals and future leaders pursuing careers in the fields of space and satellites. Also in Washington DC, at the Lockheed Martin IMAX Theater on Wednesday 16 July, there will be a lecture titled "Exploring Pluto and its Satellites at the Solar System's Frontier: New Horizons, One Year and Counting" presented by team leader Alan Stern, Pluto scientist William McKinnon and science writer Dava Sobel. (Image Credit: AAS, FSLF, NASA)
---


= All times for terrestrial events in local time unless noted.

= All times for international terrestrial events in local time unless noted.

= All times for space events, and…

= All times for international space / astro events in Hawaii Standard Time unless noted. Add 10 hours to obtain UT ('Universal Time;' Greenwich, England).
---
Weekly Planet Watch – Evening Planets: Mars (SW), Saturn (SW); Morning Planets: Mercury (ENE), Venus (ENE).

---
MONDAY

Jul 14 — ISS, LEO: Expedition 40 preparing for Cygnus set to arrive Jul 15, exercising 2.5 hours a day, testing Telerobotically Operated Rendezvous System to prepare for undocking of Progress 55P Jul 21 & arrival of Progress 56P Jul 23.

 Jul 14 — Spitzer, Heliocentric Orbit: Observing asteroids in infrared to determine size for potential candidates for NASA Asteroid Redirect Mission.

 Jul 14 — Juno, Jupiter Trajectory: Now more than 596M km from Earth & 721 days from Jupiter insertion, traveling at ~60,236 kph with a one-way radio signal travel time of about 33 minutes.

Jul 14 — Golden Spike Co., Boulder CO: NewSpace company conducting multiple studies with various industry partners to advance plans for Human Moon missions; may include sample cache rover missions.

 Jul 14 — International Lunar Observatory Association, Kamuela HI: Contracting Canadensys Aerospace Corp. of Toronto to develop payload for ILO-1 Moon South Pole mission.

Jul 14 — Spaceflight Inc., Tukwila WA: Planning to launch German Space Agency Eu:CROPIS satellite mission to grow tomatoes in space for Moon & Mars habitats in 2016-7 via SHERPA vehicle.

Jul 14 — SpaceX, Launch Falcon 9 / Orbcomm OG2, Cape Canaveral AFS FL: SpaceX Falcon 9 v1.1 rocket to launch 8 second-generation Orbcomm communications satellites; backup date Jul 15.

Jul 14-17 — Korea Astronomy and Space Science Institute (KASI), Jeju, South Korea: East Asia ALMA Science Workshop 2014.

Jul 14-18 — Goddard Space Flight Center, NASA, Greenbelt MD: 2014 Lunar Workshop for Educators.

Jul 14-18 — Lunar and Planetary Institute, Universities Space Research Association, Pasadena CA: 8th International Conference on Mars.

Jul 14-18 — Jet Propulsion Laboratory, NASA/Caltech, Pasadena CA: NASA's 26th Annual Planetary Science Summer School – Session 2.

Jul 14-18 — Australia National University, Canberra, Australia: Workshop: Utilising Existing Australian Space Capability for Future Growth.

Jul 14-18 — South African Astronomical Observatory, University of the Western Cape, National Research Foundation, Cape Town, South Africa: Oxford X Symposium on Archeaoastronomy: Astronomy, Indigenous Knowledge, and Interpretation.

Jul 14-20 — Farnborough International Air Show 2014, Farnborough, United Kingdom: 48th Farnborough International Air Show; International Space Pavilion offers 1,100 square meters of exhibit space dedicated to space industry products, projects, professionals.
---
Continued from…

Mar 28 – Jul 28 — NASA, University of Hawaii, Mauna Loa HI: Hawai'i Space Exploration Analog and Simulation (HI-SEAS) Mission 2; six-member crew live in habitat on slopes of Mauna Loa at 2,500-meter elevation to simulate long-duration Mars mission.

NET Jul — Chang'e-2, Deep Space: Spacecraft expected to reach 100M km from Earth this month.

Jul 12-15 — Ministry of Education, Culture, Sports, Science and Technology (MEXT), Japan Proton Accelerator Research Complex (J-PARC), Tsukuba, Ibaraki, Japan: 2nd International Symposium on Science at J-PARC: Unlocking the Mysteries of Life, Matter and the Universe.

Jul 13-17 — Texas Tech University, Paragon Space Development Corp., UTC Aerospace Systems, ESA, Tucson AZ: 44th International Conference on Environmental Systems (ICES); to discuss humans living and working in hostile environments.

Jul 13-18 — Canadian Remote Sensing Society, Quebec City, Quebec, Canada: International Geoscience and Remote Sensing Symposium (IGARSS 2014) / 35th Canadian Symposium on Remote Sensing.
---
TUESDAY

Jul 15 — ISS, Rendezvous & Grapple of Orb-2 (Cygnus 3), LEO: ISS Cmdr Swanson will use Canadarm2 to grapple Cygnus cargo freighter for its berthing to Harmony node; activities start 10:15 UT, live coverage available.

Jul 15 — SETI Institute, Mountain View CA: SETI Weekly Colloquium: Water Vapor at Europa's South Pole – Observations by the Hubble Space Telescope; presented by Lorenz Roth from Southwest Research Institute, 12:00 PDT.

Jul 15 — Langley Research Center, NASA, Hampton VA: NASA Langley Technology Day; at Virginia Air & Space Center.


Jul 15 — The Space Show, Tiburon CA / Online: Dr. David Livingston talks with Ken Murphy, President of NSS of North Texas.

Jul 15-17 — National Academy of Sciences of Ukraine, Kiev, Ukraine: Conference: Astronomy in Ukraine – Past, Present, and Future (MAO-2014).
WEDNESDAY

Jul 16 — Rosetta OCM-7, Comet 67P / Churyumov-Gerasimenko Orbit: Spacecraft conducts Orbital Correction Maneuver #7 today; planned to last ~26 minutes, achieve Δv (change in velocity) of 11 m/s.

Jul 16 — American Astronautical Society, Washington DC: AAS 60th Anniversary Celebration; at National Academy of Sciences Building, 18:00 – 21:00 EDT.

Jul 16 — JHU Applied Physics Laboratory, SwRI, ULA, Smithsonian Institution National Air & Space Museum, Washington DC: Lecture: Exploring Pluto and its Satellites at the Solar System's Frontier: New Horizons, One Year and Counting; presented by New Horizons team leader Alan Stern, Pluto scientist William McKinnon, science writer Dava Sobel.

Jul 16-20 — The Intrepid Sea, Air & Space Museum, New York NY: Space & Science Festival; celebrating 45th anniversary of Moon landing with Astronauts Buzz Aldrin, Mike Massimino.

Jul 16 — Asteroid 2013 AB4: Near-Earth flyby (0.087 AU).
THURSDAY

Jul 17 — Cassini OTM-385, Saturn Orbit: Spacecraft conducts Orbital Trim Maneuver #385 today.

Jul 17 — Future Space Leaders Foundation, Washington DC: Future Space 2014; featuring representatives from NanoRacks, Planet Labs, Blue Origin, Made in Space, SSL, NASA.

Jul 17 — Space Foundation, Colorado Springs CO: Apollo 11 Fireside Chat; at the Discovery Center, 17:30 MDT, free.

Jul 17, 18 — Jet Propulsion Laboratory, Caltech/NASA, Pasadena CA: Lecture Series: Revealing Saturn – Cassini's Tenth Year; presented by Dr. Linda Spilker, Cassini Project Scientist.

Jul 17-18 — The National Academies, Washington DC: Review of NASA's Evidence Reports on Human Health Risks.

Jul 17-19 — Thirty Meter Telescope Observatory Corp., National Optical Astronomy Observatory, Tucson AZ: Thirty Meter Telescope Science Forum.

Jul 17 — Asteroid 2011 PU1: Near-Earth flyby (0.020 AU).

Jul 17 — Asteroid 2014 MV41: Near-Earth flyby (0.027 AU).
FRIDAY

Jul 18 — RSA, Launch Soyuz / Foton M4, Baikonur Cosmodrome, Kazakhstan: Soyuz to launch recoverable Foton M4 spacecraft with payload of biological and materials science experiments at 03:50 local time; will reenter Earth atmosphere after orbiting Earth for few weeks.

Jul 18 — U.S. Space and Rocket Center, Huntsville AL: Space Exploration Celebration; featuring Astronauts Robert "Hoot" Gibson and Bob Springer.

Jul 18 — Space Center Houston, Houston TX: Lunch with an Astronaut, Brian Duffy; US$49.95 adult.

Jul 18 — Moon: Last quarter Moon, 16:09.

Jul 18 — Asteroid 2014 MJ6: Near-Earth flyby (0.088 AU).
SATURDAY

Jul 19 — Ad Astra Kansas Foundation, Space Age Publishing Co., Hutchinson KS: Galaxy Forum Kansas: The Moon, Mars and Journeying to the Stars; at Kansas Cosmosphere and Space Center, 13:00-15:00 CDT.
SUNDAY

Jul 20 — Cassini, Saturn Orbit: Titan flyby scheduled at 5,103-km altitude.

Jul 20 — 45th Apollo 11 Observation, Nationwide USA / Global: First Human mission to land on Moon in 1969; 1st steps by humans on another planetary body taken by Commander Neil Armstrong and Lunar Module Pilot Buzz Aldrin.

Jul 20 — 38th Viking 1 Mars Lander Observation, Nationwide USA / Global: First spacecraft to successfully land on another planet; originally scheduled for July 4, landing was delayed until this day in 1976 due to rough landing site.

Jul 20 — Ames Research Center, NASA, Moffett Field CA: Lunar and Small Bodies Graduate Conference (LunGradCon 2014).

Jul 20 — State of Hawai`i Senate, Hawaii: Designating today as "Tranquility Base Day" (Senate Concurrent Resolution 82) to honor 45th observation of Apollo 11 & Hawaii's role in the Apollo program / space exploration.

Jul 20-25 — Astronomical Society of Australia, Sydney, Australia: ASA Annual Scientific Meeting; at Macquarie University.