Ariane 5 Set to Launch EchoStar 17 and MSG 3 Satellites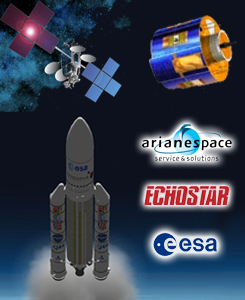 Arianespace is preparing an Ariane 5 ECA rocket, designated VA207, set to launch the EchoStar 17 and MSG 3 satellites on July 5 at ELA-3, Kourou, French Guiana. Ariane 5 is to deliver a payload lift performance of more than 9,600 kg during the upcoming mission, which includes a combined total of over 7,500 kg for the EchoStar XVII and MSG-3 spacecraft. EchoStar 17, formerly known as Jupiter 1, will provide high-throughput broadband services across North America for Hughes Network Systems. MSG 3 is a geostationary weather satellite for Eumetsat, the European satellite meteorology agency. The Ariane 5 is an expendable launch system used to deliver payloads into geostationary transfer orbit or low Earth orbit. Considering current orders, it should be the workhorse of Arianespace through 2015. Development of the Ariane 5 booster motors is continuing in the Vega rocket program. Vega admits the launcher is not expected to fly in the near future as it requires further development, but confirmed it will be on the agenda at the next meeting of ministers later this year. The Ariane 5 Mid-life Evolution, successor to the Ariane 5 ECA, is also currently in development. The first flight is expected in 2016-2017.
TEDxISU a Feature of Space Studies Program in Florida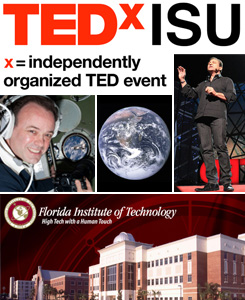 The International Space University is organizing a TEDx event on July 6 at the Campus of the Florida Institute of Technology with a focus on How Space is of Service to Humanity and the Environment. Offered as a feature of its 9-week Space Studies Program, the event will include leaders from the Space Community addressing how ideas in Technology, Entertainment and Design influence and inspire their work. The invited speakers are: ISU Co-Founder Dr Peter Diamandis (R) on Abundance, Michael Potter on Geeks Without Frontiers and 80211s for Africa, as well as Brian Rishikof on iPhones in Space, NASA Astronaut Col. Ron Garan (L) on Fragile Oasis, musician Davy Knowles and Gia performance art. The 140 SSP12 participants, hailing from 30 countries, will be joined by leaders from the Space industry, FIT, NASA, local space companies and the general public. ISU President Prof. Walter Peeters recognizes that, "Few places on Earth symbolize both the history of space flight and the exciting transition to new mission and methods for its future as well as Central Florida." TED is a nonprofit devoted to Ideas Worth Spreading. More than 900 of the best TED presentations are available for free on TED.com where they have accumulated 319 millions views. (Image Credit: TEDxISU, FIT, NASA, James Duncan Davidson)
---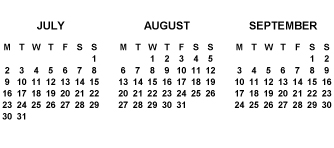 = All times for terrestrial events in local time unless noted.

= All times for international terrestrial events in local time unless noted.

= All times for space events, and…

= All times for international space / astro events in Hawaii Standard Time unless noted. Add 10 hours to obtain UT ('Universal Time;' Greenwich, England).
---
Weekly Planet Watch – Evening Planets: Mercury (WNW), Mars (WSW), Saturn (SW). Morning Planets: Venus (ENE), Jupiter (ENE).
---
MONDAY

Jul 2 — ISS, LEO: European astronaut André Kuipers is conducting experiments on the ISS to help scientists improve their understanding of conditions deep inside the Earth. Kuipers observations might explain the chain of Hawaii volcanoes in the Pacific Ocean.

Jul 2 — Tiangong 1, LEO: China will be sending another human mission to the module later this year. Tiangong 1 will be replaced with a permanent space station around 2020.

Jul 2 — NASA MESSENGER, Mercury orbit: Completes its 1,000th orbit around Mercury. MESSENGER is on a one-year extended mission to address new questions raised by initial orbital observations.

Jul 2 — Mars Rover Opportunity, Red Planet: Traversing through Sol 2989, total odometry is 34,491.99 meters.

Jul 2 — NASA, Kennedy Space Center, Orlando FL: Orion Crew Module Arrival At Kennedy Space Center.

Jul 2-3 — National Institute for Astrophysics, European Space Agency, European Southern Observatory, Italian Space Agency, Thales Group; Rome, Italy: 'Molecular Gas in High Redshift Galaxies.'

Jul 2-5 — Pontifical Lateran University, European Space Agency, Rome, Italy: 'Workshop: The Structure of Galaxy Disks Shaped by Secular Evolution and Environmental Processes;' 'Symposium: 30 Years of Italian Participation to ESO;' 'Symposium: Stellar Populations 55 years after the Vatican Conference.'

Jul 2-5 — Collaborative Computational Project Q, University College London, Windsor, England: '22nd UCL Astrophysics Colloquium: Opacities in Cool Stars and Exoplanets.'

Jul 2-6 — Hvar Observatory, Hvar, Croatia: '11th Hvar Astrophysical Colloquium: The Most Mysterious Binaries – Significance for Astrophysics.'

Jul 2-15 — Nordic Network of Astrobiology, NASA Astrobiology Network, Reykjavik, Iceland: 'Nordic – NASA Summer School: Water, Ice and the Origin of Life in the Universe.'
---
Continued from…

Jun 18 – Jul 26 — NASA Explorer Schools, Various NASA centers: 'NASA Explorer Schools Summer Workshop;' workshops to include 'Extreme Green' at the Glenn Research Center in Cleveland, OH; 'Airborne Research Experience' at Dryden Flight Research Center in Edwards, CA; 'There is More to Light than Meets the Eye' at the Goddard Space Flight Center in Greenbelt, MD; and 'Atmospheric Science' at Wallops Island, VA.

Jul 1-3 — Astronomical Society of Australia, Sydney, Australia: 'Annual Scientific Meeting.'

Jul 1-6 — European Astronomical Society, Italian Astronomical Society, et al, Rome, Italy: 'European Week of Astronomy and Space Science.'

Jul 1-6 — The International Society of Optics and Photonics, Amsterdam, The Netherlands: 'SPIE Astronomical Telescopes and Instrumentation 2012.'

Jul 1 – Dec 31 — American Institute of Aeronautics and Astronautics, Online: 'AIAA Short Course: Introduction to Space Flight,' Francis Hale.
---
TUESDAY

Jul 3-19 — National Astronomical Observatory at National University of Columbia, Space Science Laboratory at UC Berkeley,  Bogota, Columbia: 'International Summer School: Solar Astrophysics – Modern Trends and Techniques.'
WEDNESDAY

Jul 4 — International Lunar Observatory Association, Space Age Publishing Company, San Jose CA: 'Galaxy Forum USA 2012: Galaxy Education, Galaxy Exploration and Galaxy Enterprise.'

Jul 4 — Japan Aerospace Exploration Agency, Tokyo, Japan: 'JAXA Symposium 2012: Watching from Space, Using Space;' Topics to include a Shizuka satellite update by the mission Project Manager, space environment characteristics and the role of astronauts.

Jul 4 — British Interplanetary Society, London, England: 'Dr. Hiranya Peiris: Fingerprints of the Early Universe.'

Jul 4-6 — AstroPhoto Insight Magazine, Astronomical League, Lincolnshire IL: 'Midwest Astro-Imaging Conference.'

Jul 4-7 — European Office of Aerospace R&D, European Association for Solar Telescopes, European Physical Society, Crete, Greece: 'MHD Waves and Seismology of the Solar Atmosphere.'

Jul 4-10 — Astrophysics Associates, Inc., Italian Ministry of Education, University and Scientific Research, USA National Science Foundation, Sicily, Italy: 'A New ERA in Particle Astrophysics – New Instruments, New Results and New Understanding.'

Jul 4-11 — The University of Melbourne, Centre of Excellence for Particle Physics at the Terascale, Melbourne, Australia: '36th International Conference on High Energy Physics.'

Jul 4 — Asteroid 1999 NW2: Near-Earth Flyby (0.085 AU).

Jul 4 — Earth at Aphelion: Earth is at its farthest point from the Sun (152.0 million km); 17:00.
THURSDAY

Jul 5 — Arianespace, Launch Ariane 5 / EchoStar 17 & MSG 3, Kourou, French Guiana: Arianespace set to use an Ariane 5 ECA rocket, designated VA207, to launch the EchoStar 17 and MSG 3 communications satellites.
FRIDAY

Jul 6 — International Space University, Florida Institute of Technology, NASA, Melbourne FL: 'TEDxISU.'

Jul 6 — Lunar and Planetary Institute, Houston TX: 'Evidence for Magma-Carbonate Interaction Beneath Syrtis Major, Mars.'
SATURDAY

Jul 7 — Mauna Kea Visitor Information Station, Canada-France-Hawai'i Telescope, Mauna Kea HI: 'Dr. Olivier Lai Presents Optical Hawaiian Array for Nanoradian Astronomy (OHANA): A Family of Telescopes on Mauna Kea.'

Jul 7 — SCIence and Engineering Institute, Trans Tech Publications Inc., University Putra Malaysia, Institute of Electronics Singapore, University Technology Mara,  Paris, France: '2012 3rd International Conference on Mechanical Aerospace Engineering (ICMAE 2012).'
SUNDAY

Jul 8-11 — NASA Johnson Space Center, Duke University, Universities Space Research Association, Division of Space Life Sciences, Durham NC: '23rd NASA Space Radiation Investigators' Workshop.'

Jul 8-11 — Skidmore Union Network, Siena College, Schenectady NY: 'Conference: Star Formation and Gas Reservoirs in Groups and Clusters.'

Jul 8-13 — Al Akhawayn University in Ifrane, Global Hands-on Universe Network, Galileo Teacher Training Program, Network of Amateur Astronomers in Morocco, Center of IT Innovation for Human Development, Ifrane, Morocco: '15th Annual Global Hands-on Universe.'

Jul 8-15 — Atatürk Culture Centre, Organisation of Islamic Cooperation, Spanish Astronomical Society, Istanbul, Turkey: '3rd Azarquiel School of Astronomy: A Bridge Between East and West.'

Jul 8 — Asteroid 1999 NW2: Near-Earth Flyby (0.085 AU).