Final Europe ATV Resupply Craft and Russia Progress 56P to Launch to ISS July 24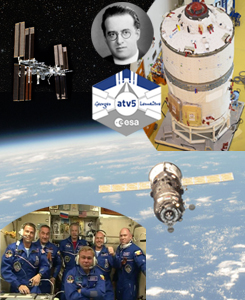 Orbiting 400 km above Earth, Expedition 40 of the International Space Station is transferring more than 1,400 kg of cargo, science and EVA equipment from the recently arrived Orbital Sciences Corp Cygnus craft, and preparing for more resupply vehicle arrivals. The 5th and final Automated Transfer Vehicle (ATV-5 or Georges Lemaître "The Father of the Big Bang Theory"), is set to launch from Kourou, French Guiana on an Arianespace Ariane 5 vehicle July 24. Weighing almost 20,300 kg at launch, ATV-5 will carry ~2,700 kg of dry cargo. Before docking on August 12, ATV-5 will perform a dedicated ISS fly-under to test the Laser InfraRed Imaging Sensors (LIRIS) demonstrator, a new technology which may help rendezvous with non-cooperative targets such as space debris. ATV-5 will perform ISS altitude reboosts and remain docked until January 25, 2015 when it will be released to burn up in Earth atmosphere. The 'Break Up Camera' experiment will collect data on the destructive reentry. Currently docked to the Pirs module, Progress 55P is scheduled to undock July 21 and be replaced by Progress 56P launching July 24 from Baikonur Cosmodrome, Kazakhstan via Russia Soyuz rocket and arriving at ISS about 6 hours later with ~2,600 kg of food, fuel and supplies. (Image Credit: ESA, NASA)
SpaceWeek 2014 Energizes with California Events, Looks Ahead Toward 50th Apollo 11 Observation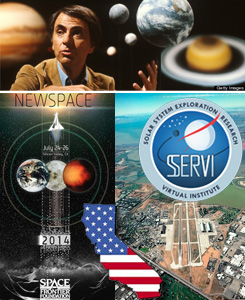 The Solar System Exploration Research Virtual Institute (SSERVI) is hosting its annual Exploration Science Forum (ESF) on July 21-23 at NASA Ames, Moffett Field CA. Along with sessions on asteroid populations, exospheres, volatiles, regolith and dust, the conference will include a Global Exploration Roadmap focus on science with regards to Humans in Cis-Lunar Space and Humans on the Lunar Surface. SSERVI is headed by Dr. Yvonne Pendleton and the scientific organizing committee of the Forum is Chaired by Nancy Chabot and Dana Hurley of the Applied Physics Lab at Johns Hopkins University. Pete Worden, Director of NASA Ames will give the first welcome speech at ESF and is then scheduled for a keynote and panel discussion at NewSpace 2014, organized by the Space Frontier Foundation in Silicon Valley July 24-26 at the DoubleTree San Jose. The theme is "the next disruptive innovation is already underway and it is in space." Feature speakers include Andy Aldrin, Jason Crusan, Art Dula, Steve Jurvetson, Bob Richards, Gwynne Shotwell, and Alan Stern. The 2014 Sagan Exoplanet Summer Workshop takes place July 21-25 at Caltech in Pasadena CA, hosted by the NASA Exoplanet Science Institute. Buzz Aldrin, who has been strongly advocating for renewed USA commitment and action in space exploration ahead of 2019 50th Apollo 11 commemoration, will make an appearance on July 26 at Splashdown 45, an event onboard the aircraft carrier USS Hornet, recovery ship for Apollo 11 & 12. (Image Credit: NASA, SFF, Getty Images)
---


= All times for terrestrial events in local time unless noted.

= All times for international terrestrial events in local time unless noted.

= All times for space events, and…

= All times for international space / astro events in Hawaii Standard Time unless noted. Add 10 hours to obtain UT ('Universal Time;' Greenwich, England).
---
Weekly Planet Watch – Evening Planets: Mars (SW), Saturn (SW); Morning Planets: Mercury (ENE), Venus (ENE).

---
MONDAY

Jul 21 — ISS, LEO: Six-member crew transferring cargo from Cygnus craft; Cosmonauts working with Napor-mini experiment to monitor Earth environments, conducting periodic checks for ammonia, carbon monoxide, formaldehyde in Zvezda module.

Jul 21 — ISS, Undocking of Progress 55P, LEO: Progress resupply vehicle to undock from ISS, live coverage available; will burn up, now filled with ISS waste, in Earth atmosphere.

 Jul 21 — Venus Express, Venus Orbit: Climbing back to 450-km altitude after completing aerobraking campaign at 130 km; will continue science until fuel is exhausted, likely around December.

Jul 21 — Rosetta, Comet 67P / Churyumov-Gerasimenko Trajectory: Expected to reach Comet in 16 days; new images reveal Comet is contact binary; expected to achieve 70-km altitude orbit, lower itself to 30 km, identify landing site for Philae lander.

Jul 21 — Bigelow Aerospace LLC, Las Vegas NV: NewSpace company building space habits hoping to expand Washington D.C. representation and hire about 40 more people (some of whom will be Astronauts) to work in Las Vegas facility.

 Jul 21 — Mars One, The Hague, The Netherlands: Requesting proposals for 2018 Mars lander payload which will demonstrate technologies needed for human Mars missions planned for 2025.

Jul 21 — XCOR Space Expeditions, Amsterdam, The Netherlands: Replacing Space Expeditions Corp after being purchased by XCOR Aerospace; company will continue to focus on sales, commercial partnerships, customer training.

Jul 21 — Kennedy Space Center, NASA, KSC FL: Operations & Checkout Building to be renamed in honor of Neil Armstrong; Apollo 11 crew members Buzz Aldrin & Michael Collins, NASA Administrator Charles Bolden, KSC Director Robert Cabana to be featured speakers.

Jul 21 — British Interplanetary Society, London, United Kingdom: Lecture: On the Surface of Another World – The 45th Anniversary of Apollo 11; presented by Jerry Stone.

Jul 21-23 — Solar System Exploration Research Virtual Institute, Ames Research Center, NASA, Moffett Field CA: NASA Exploration Science Forum (ESF); featuring scientific discussions of exploration targets – the Moon, near-Earth asteroids, moons of Mars.

Jul 21-25 — NASA Exoplanet Science Institute (NExScI), Jet Propulsion Laboratory, Caltech/NASA, Pasadena CA: 2014 Sagan Exoplanet Summer Workshop: Imaging Planets and Disks; at Caltech.

Jul 21-25 — Thirty Meter Telescope Observatory Corp., University of Hawai`i at Hilo, `Imiloa Astronomy Center of Hawaii, Hawaii Space Grant Consortium, Hilo HI: 2014 Pacific Astronomy & Engineering Summit.

Jul 21-25 — Pacific International Space Center for Exploration Systems, Hilo HI: University students participate in robotic space mining simulation competition on Mauna Kea.

Jul 21-29 — NASA, NOAA, Aquarius Underwater Laboratory, Key Largo FL: NASA Extreme Environment Mission Operations (NEEMO) 18; space analogue mission to test behavioral health and performance, human health issues, habitability; participants include Akihiko Hoshide (JAXA), Jeanette Epps (NASA), Mark Vande Hei (NASA), Thomas Pesquet (ESA).

Jul 21-31 — ESA, Joint Research Centre of the European Commission, Stanford University, Higher Institute of Aeronautics and Space, et al, Ostrava, Czech Republic: ESA Summer School on Global Navigation Satellite System (GNSS).

Jul 21 — Moon: 7.0° S of Pleiades, 06:00.
---
Continued from…

Mar 28 – Jul 28 — NASA, University of Hawaii, Mauna Loa HI: Hawai'i Space Exploration Analog and Simulation (HI-SEAS) Mission 2; six-member crew live in habitat on slopes of Mauna Loa at 2,500-meter elevation to simulate long-duration Mars mission.

NET Jul — Chang'e-2, Deep Space: Spacecraft expected to reach 100M km from Earth this month.

Jul 20-25 — Astronomical Society of Australia, Sydney, Australia: ASA Annual Scientific Meeting; at Macquarie University.

Jun 9 – Aug 8 — International Space University, Montreal, Quebec, Canada: 27th Annual Space Studies Program (SSP14).
---
TUESDAY

Jul 22 — SETI Institute, Mountain View CA: SETI Weekly Colloquium: The Diversity of Habitable Zones and the Planets; presented by Stephen Kane from San Francisco State University, 12:00 PDT.

Jul 22 — The Space Show, Tiburon CA / Online: Dr. David Livingston talks with Mark Shelhamer, Chief Scientist for NASA Human Research Program at JSC.

Jul 22 — Moon: 1.8° N of Aldebaran, 02:00.
WEDNESDAY

Jul 23 — MAVEN TCM-3, Mars Trajectory: Trajectory Control Maneuver #3 planned for today.

Jul 23 — Rosetta OCM-8, Comet 67P / Churyumov-Gerasimenko Orbit: Spacecraft conducts Orbital Correction Maneuver #8 today; planned to last ~17 minutes, achieve Δv (change in velocity) of 5 m/s.

Jul 23 — Cassini OTM-386, Saturn Orbit: Spacecraft conducts Orbital Trim Maneuver #386 today.

Jul 23 — ULA, Launch Delta 4 / AFSPC 4, Cape Canaveral AFS FL: United Launch Alliance Delta 4 rocket to launch AFSPC 4 mission for US Air Force.

Jul 23-24 — NASA Outer Planets Assessment Group (OPAG), Bethesda MD: OPAG Meeting; at DoubleTree Bethesda Hotel and Executive Meeting Center.

Jul 23 — Moon: 5.6° S of M35, 21:00.

Jul 23 — Asteroid 2014 MA6: Near-Earth flyby (0.049 AU).

Jul 23 — Asteroid 2014 MJ55: Near-Earth flyby (0.074 AU).

Jul 23 — Asteroid 2014 DJ80: Near-Earth flyby (0.083 AU).
THURSDAY

Jul 24 — ISS, LEO: Expedition 40 In-Flight Event with U.S. House Committee on Science, Space and Technology; live coverage available, 11:20 EDT.

Jul 24 — RSA, Launch Soyuz / Progress 56P, Baikonur Cosmodrome, Kazakhstan: An RSA Soyuz rocket set to launch 56th Progress cargo ship to ISS, 03:44 local time.

Jul 24 — Arianespace, Launch Ariane 5 / ATV-5, Kourou, French Guiana: Arianespace set to use Ariane 5 ES rocket, designated VA219, to launch 5th (and final) ESA Automated Transfer Vehicle, named Georges Lemaitre, to ISS, 22:41:04 local time.

Jul 24 — AMC, Ubisoft, Sony Pictures, et al, San Diego CA: Comic-Con International Panel "NASA's Next Giant Leap" featuring Buzz Aldrin, Jim Green, Mike Fincke, Bobak Ferdowsi, moderated by Seth Green; 15:00 PDT.

Jul 24-26 — Space Frontier Foundation, San Jose CA: NewSpace 2014; featuring Andy Aldrin, Bob Richards, Alan Stern, Gwynne Shotwell, Art Dula, more.

Jul 24-26 — British Interplanetary Society, Godalming, United Kingdom: BIS Space History Conference: Recording the Past – Debating the Present – Inspiring the Future; at Charterhouse School.

Jul 24 — Moon: 4.4° S of Venus, 07:00.

Jul 24 — Jupiter: At conjunction with Sun, 11:00.
FRIDAY

Jul 25 — Startup Weekend Company, Sunnyvale CA: Startup Weekend: Space; at Plug and Play Tech Center.

Jul 25 — Smithsonian National Air and Space Museum, Washington DC: Discover the Moon Day.

Jul 25 — Lunar and Planetary Institute, Houston TX: Lecture: Impact Basins and the Moon – Understanding Very Large Crater Formation; presented by Ross Potter from LPI.

Jul 25 — Space Center Houston, Houston TX: Lunch with an Astronaut, Clay Anderson; US$49.95 adult.

Jul 25-27 — Bolivian Association of Astronomy, La Paz, Bolivia: 19th International Meeting on Astronomy.

Jul 25 — Moon: 5.0° S of Mercury, 04:00; 11.7° S of Pollux, 16:00.

Jul 25 — Asteroid 2014 MG55: Near-Earth flyby (0.066 AU).
SATURDAY

Jul 26 — USS Hornet Museum, Alameda CA: Splashdown 45; Buzz Aldrin to be featured guest; event will showcase USS Hornet's role in Apollo 11 & 12 recovery.

Jul 26 — Moon: 5.3° SSW of Jupiter, 10:00; New Moon, 12:42; 6.1° SSW of Beehive Cluster, 20:00.
SUNDAY

Jul 27-30 — American Astronomical Society, Monterey CA: Workshop on Dense Cores: Origin, Evolution and Collapse; at Hyatt Regency Monterey Hotel and Spa.

Jul 27 — Moon: At apogee (distance 406,087 km), 20:00.