New Horizons, Pluto, Kuiper Belt Conference & Outer Solar System Missions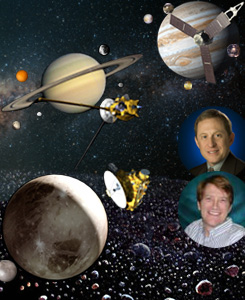 Space Month 2013 continues as Juno speeds toward Earth for a flyby gravity assist in 79 days, Cassini orbits Saturn 10 AU from Earth, New Horizons reaches 5.8 AU & 721 days from Pluto, and Voyager 1 is 124 AU from Earth traveling toward interstellar space. The Johns Hopkins University APL and Southwest Research Institute host The Pluto System on the Eve of Exploration by New Horizons: Perspectives and Predictions at JHU/APL on July 22-26 in Laurel, Maryland, USA. Principal Investigator Alan Stern (T), Project Scientist Hal Weaver (B) and scientists / speakers will discuss Pluto system data analysis programs and potential new mission collaborations, and begin to integrate various perspectives and data on Pluto and the Kuiper Belt. New Horizons is expected to encounter Pluto July 14, 2015. After 1 year, it will target and fly by objects in the unexplored Kuiper Belt (discovered in 1992) from 2016-2020. Cassini is scheduled to continue operations at Saturn until September 2017. Juno is set to arrive at Jupiter July 4, 2016 and operate until October 2017. ESA is planning to launch JUICE to study Jupiter and moons Callisto, Europa, Ganymede, and Io in 2021. Human exploration of Jupiter, Saturn and uncharted regions of our Solar System become more feasible with each robust and challenging mission. (Image Credit: JHU/APL, NASA)
NewSpace 2013: Preparing for Exponential Growth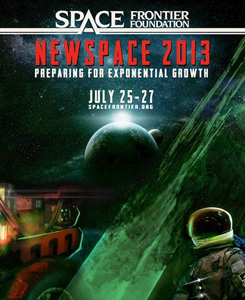 The Space Frontier Foundation is hosting NewSpace 2013 at the DoubleTree San Jose on July 25-27. This is the 5th consecutive year that the event is taking place in Silicon Valley, the home of leading-edge technology. There are 12 featured presenters including Art Dula of Excalibur Almaz, Lori Garver of NASA and Mark Sirangelo of Sierra Nevada Corporation. The program also has 50 other expert speakers and guests such as Jason Dunn of Made in Space, Richard David of NewSpace Global, Jeff Foust of The Space Review and Rob Kelso of the Pacific International Space Center for Exploration Systems. The conference aims to provide an environment where networking with leaders, supporters, investors and activists can evolve into enterprises and innovations that propel the industry upward. There will also be a special event, the Anniversary Black-Tie Birthday Party to celebrate the 25th anniversary of the Space Frontier Foundation. While many of the top NewSpace individuals and organization are participating, there is a noticeable absence of explicit reference to the Moon, or Mars for that matter, in the program. (Image Credit: SFF)
---


= All times for terrestrial events in local time unless noted.

= All times for international terrestrial events in local time unless noted.

= All times for space events, and…

= All times for international space / astro events in Hawaii Standard Time unless noted. Add 10 hours to obtain UT ('Universal Time;' Greenwich, England).
---
Weekly Planet Watch – Evening Planets: Venus (WNW), Saturn (SW); Morning Planets: Mercury (ENE), Mars (ENE), Jupiter (ENE).

---
MONDAY

Jul 22 — ISS, LEO: Expedition 36 making final preparations for undocking of Progress 50P resupply vehicle Jul 25, arrival of Progress 52P Jul 28; Karen Nyberg undergoing training for her role as Crew Medical Officer.

Jul 22 — Curiosity, Mount Sharp Trajectory, Mars: Investigating areas / objects of interest while heading SW toward Mount Sharp, in Gale Crater, about 8 km away.

Jul 22 — MESSENGER, Mercury Orbit: Acquiring images, measurements of gamma-ray emission, magnetic field, mineral composition of Mercury; science team awaiting approval of second 1-year extension of mission.


Jul 22 — Moon Express Inc., Mountain View CA: NewSpace company signs agreement with ILOA to deliver 2-meter ILO dish to Moon South Pole NET 2016 for Galaxy 1st light / radio astronomy imaging, commercial communications.

Jul 22 — Golden Spike Company, Boulder CO: Advancing financial agreement with ILOA, also marketing collaboration at 'Human Moon Missions' ILOA Galaxy Forum China, Sep 22, and Stanford on the Moon alumni conference, Oct 18.

Jul 22 — NanoSatisfi Inc., San Francisco CA: Offering US$250 per week to rent time / conduct experiments on its first cubesat launching Aug 4.

Jul 22-23 — Thirty Meter Telescope, Waikoloa HI: Thirty Meter Telescope Science Forum; to discuss TMT science, instruments, operations, projects, collaborations, STEM opportunities; at Waikoloa Beach Marriott Resort and Spa.

Jul 22-25 — Keck Institute for Space Studies, Pasadena CA: Workshop: New Approaches to Lunar Ice Detection and Mapping; at Caltech.

Jul 22-26 — The Johns Hopkins University Applied Physics Laboratory, Southwest Research Institute, Laurel MD: The Pluto System on the Eve of Exploration by New Horizons: Perspectives and Predictions; at JHU/APL; US$300-400.

Jul 22-26 — Coordinate Metrology Society, San Diego CA: 29th Annual Coordinate Metrology Systems Conference (CMSC 2013); at Sheraton San Diego Hotel and Marina.

Jul 22 – Aug 2 — National Center for Atmospheric Research, National Science Foundation, Boulder CO: 2013 CISM (Center for Integrated Space Weather Modeling) Space Weather Summer School; at National Center for Atmospheric Research.

Jul 22 — Moon: Full (Hay / Thunder Moon), 08:25.

Jul 22 — Asteroid 2013 BN18: Near-Earth flyby (0.065 AU).

Jul 22 — Asteroid 2007 XY9: Near-Earth flyby (0.076 AU).
---
Continued from…

Jul 3 – Sep 1 — Aerospace Research and Engineering Systems Institute, Inc., Online / Melbourne FL: LunarSail Kickstarter campaign; requesting US$11K in pledges to fund CubeSat amateur satellite containing solar sail to orbit Moon.

Jun 5 – Jul 31 — NASA HQ, LEGO Group, Online / Washington DC: NASA-LEGO Design and Build Contest; to inspire students of all ages to use toy bricks to build models of future airplanes and spacecraft.

Jul 16-25 — Austrian Research Promotion Agency, ESA, International Space Science Institute, Austrospace, Alpbach, Austria: Summer School Alpbach 2013: Space Weather – Science, Missions and Systems; student teams create and propose mission and spacecraft design projects.

Jul 18 – Aug 1 — NASA Dryden Flight Research Center, DLR, Christchurch, New Zealand: SOFIA airborne observatory, at US Antarctic Program's airfield, to study Milky Way Galaxy center, star forming regions and supernova remnants in southern sky, companion dwarf galaxies, Magellanic Clouds.

Jul 20-24 — Astronomical Society of the Pacific, San Jose State University, San Jose CA: ASP 125th Annual Meeting; to include Cosmos in the Classroom and Galileo Teacher Training Program.

Jul 20-26 — Earthrise Space Inc., Online / Orlando FL: Google+ Logo Contest; Earthrise Space's GLXP team Omega Envoy contest for logo space on outside of lunar lander.

Jul 21 – Aug 11 — Aspen Center for Physics, Aspen CO: Aspen Summer Workshop: The Milky Way as a Laboratory for Galaxy Formation.
---
TUESDAY

Jul 23 — Cassini OTM-355, Saturn Orbit: Spacecraft conducts Orbital Trim Maneuver #355 today.

Jul 23 — Mars Exploration Program Analysis Group, NASA HQ, Online / Washington DC: Virtual MEPAG Meeting; starts 11:00 EDT.

Jul 23 — SETI Institute, Mountain View CA: Colloquium: Free Samples from Mars; presented by Paul De Carli from Stanford Research Institute, 12:00 PDT.

Jul 23-26 — Thirty Meter Telescope, Hilo HI: Pacific Astronomy and Engineering Education Summit; featuring presentations, workshops, Onizuka Center for International Astronomy Visitor Information Station on Mauna Kea, Hawai`i Volcanoes National Park.

Jul 23-27 — Space Foundation Discovery Center, Colorado Springs CO: Summer of Discovery: Women in Spaceflight; featuring Astronaut Kathryn C. Thornton, presentations, Mars lander workshop.
WEDNESDAY

Jul 24 — Johnson Space Center, NASA, Online / Houston TX: Google+ Hangout for Orion Parachute Test; public invited to an online hangout as Orion test capsule in Yuma AZ is dropped from 10,668-meter altitude to evaluate parachutes; 8:30-9:30 MST.

Jul 24-26 — The National Academies, Falmouth MA: Human Spaceflight Meeting; at J. Erik Jonsson Woods Hole Center of the National Academy of Sciences.

Jul 24-26 — Scientific Committee on Antarctic Research, Italian National Research Program in Antarctica, et al, Siena, Italy: Astronomy and Astrophysics from Antarctica (AAA); at Charterhouse of Pontignano; US$195.
THURSDAY

Jul 25 — ISS, Undocking of Progress 50P Resupply Vehicle, LEO: Progress 50P, filled with ISS waste, set to undock at 20:43 UT and burn up upon reentry to Earth atmosphere.

Jul 25 — Arianespace, Launch Ariane 5 / Alphasat XL & INSAT 3D, Kourou, French Guiana: Ariane 5 ECA rocket, designated VA214, to launch Alphasat XL mobile communications / ESA experimental technologies satellite and INSAT 3D meteorological satellite.

Jul 25 — Golden Spike Company, Online / Boulder CO: Abstracts Due for Workshop on Golden Spike Human Lander Expeditions: Opportunities for Intensive Lunar Scientific Exploration; deadline extended from Jul 18; conference to be held Oct 3-4.

Jul 25-26 — The National Academies, Washington DC: Meeting: Ethics Principles and Guidelines for Health and Safety Standards for Long Duration and Exploration Spaceflights.

Jul 25-27 — Space Frontier Foundation, San Jose CA: NewSpace 2013 Conference; at DoubleTree by Hilton hotel.
FRIDAY

Jul 26 — Cassini, Saturn Orbit: Titan flyby scheduled at 1,400-km altitude.

Jul 26 — Lunar and Planetary Institute, Houston TX: LPI Seminar Series: Crater Relaxation on the Saturnian Mid-Sized Icy Satellites and its Relation to their Thermal Histories; presented by Oliver White of LPI; in Lecture Hall of USRA, 15:30 CDT.

Jul 26 — Johnson Space Center, NASA, Houston TX: Lunch with an Astronaut, John-David Bartoe; US$49.95 adult.

Jul 26 – Aug 3 — University of Nebraska – Lincoln, Johnson Space Center, NASA, Houston TX: 2013 Microgravity Flight Week; UNL College of Engineering team to conduct experiment consisting of parabolic reduced-gravity flights in specially-equipped aircraft reaching 10,668-meter altitude.

Jul 26 — Asteroid 2006 BL8: Near-Earth flyby (0.024 AU).
SATURDAY

Jul 27 — RSA, Launch Soyuz / Progress 52P, Baikonur Cosmodrome, Kazakhstan: An RSA Soyuz rocket set to launch 52nd Progress cargo delivery ship to ISS.

Jul 27 — Ad Astra Kansas Foundation, Space Age Publishing Co., ILOA, Hutchinson KS: Galaxy Forum USA – Kansas: 21st Century Education – Get to Know Our Place in the Universe; at Kansas Cosmosphere and Space Center; free.

Jul 27 — Astronaut Scholarship Foundation, Kennedy Space Center FL: Skylab 40th Anniversary Celebration; at Kennedy Space Center's Apollo/Saturn V Center; US$750.
SUNDAY

Jul 28 — ISS, Docking of Progress 52P Resupply Vehicle, LEO: Progress 52P scheduled to dock at 02:26 UT; live coverage available.

Jul 28 — The Space Show, Online / Tiburon CA: Dr. Erik Seedhouse talks about his new book SpaceX: Making Commercial Spaceflight a Reality with host Dr. David Livingston.

Jul 28 – Aug 1 — American Astronomical Society, Monterey CA: Giants of Eclipse; to discuss physics of cool giant stars.

Jul 28 — Asteroid 2013 NE19: Near-Earth flyby (0.028 AU).