NewSpace Visionaries, NASA Leaders Advancing Future Space Exploration Promise at NewSpace 2011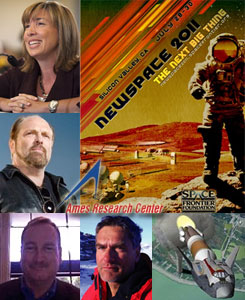 The present and future importance of the NewSpace movement is gaining increased recognition with the retiring of the Space Shuttle program. For the 3rd consecutive year, the Space Frontier Foundation (SFF) is holding one of the most important commercial space conferences in Silicon Valley CA. The theme of 'NewSpace 2011,' to be held at NASA Ames on 28-30 July, is 'The Next Big Thing.' Deputy NASA Administrator Lori Garver (TL) will open the conference with a keynote talk on government / commercial partnerships. A roundtable of leaders from various NASA centers will expand on that topic later in the day. Friday will feature a NewSpace Business Plan Competition and a 'War Stories from the Entrepreneurial Frontier' panel moderated by Bruce Pittman (BL). On Saturday, the focus will shift to an examination of the future opportunities in the commercial space movement. Chris McKay (BC) and Pete Worden of NASA Ames, and Rick Tumlinson (CL) of SFF will headline a panel on 'The Promise of NewSpace.' The event will conclude with the star-studded NewSpace Awards Gala. (Credit: NASA, Sierra Nevada Corp, Space Frontier Foundation, Facebook, spacewiki)
Remote Sensing Conferences Held in Canada & Singapore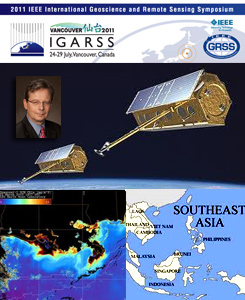 Remote Sensing will be the focus of 2 events held this week in Canada and Singapore. On July 24-29, The Institute of Electrical and Electronics Engineers (IEEE) will hold the 31st IEEE International Geoscience and Remote Sensing Symposium 2011 in Vancouver, British Columbia. The event originally scheduled to be in Sendai, Japan, was moved to Canada after the devastating earthquake / tsunami on March 11.  Over 1500 people attending the event will discuss issues concerning this year's theme, 'Beyond the Frontiers: Expanding our Knowledge of the World.' German Aerospace Center and EADS Astrium scientists will discuss results from the twin satellites TanDEM-X and TerraSAR-X. Both spacecraft have provided new insights into the dynamics of ice movement in the Arctic regions with more accurate predictions of ice drift and melting polar ice caps. Participants can also view all oral technical sessions of IGARSS 2011 live from the IEEE GRSS web site. On Jul 28-29, the National University of Singapore and Center for Remote Imaging, Sensing and Processing will hold the Remote Sensing, Natural Hazards and Environmental Change Conference in Singapore. Scientists will discuss issues concerning the Asia Pacific Region and discuss natural hazards posed by volcanoes, earthquakes, tsunamis and large floods as well as environmental changes such as climate change, hydrological and geological processes and urbanization. Pictured IEEE GRSS President Jón Atli Benediktsson. (Credit: IEEE, Astrium, csi.lsu.edu)
---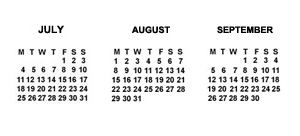 = All times for terrestrial events in local time unless noted.

= All times for international terrestrial events in local time unless noted.

= All times for space events, and…

= All times for international space / astro events in Hawaii Standard Time unless noted. Add 10 hours to obtain UT ('Universal Time;' Greenwich, England).
---
Weekly Planet Watch – Morning Planets: Mars (ENE), Jupiter (SE) / Evening Planets: Mercury (WNW), Saturn (WSW).
---
MONDAY

Jul 25 — International Space Station, LEO: E-28 crew members continue with onboard maintenance and scientific experiments after recent departure of STS-135 crew; Space Shuttle Atlantis completed 200 orbits around Earth and journeyed 8,505,161 km.

Jul 25 — NASA Lunar Reconnaissance Orbiter (LRO), Lunar Orbit: All systems nominal in scientific phase of mission as LRO continues to make digital elevation and terrain maps that will be a fundamental reference for future human exploration.

Jul 25 — Mars Rover Opportunity, Red Planet: NASA Mars Exploration Rover Opportunity has driven more than 32km, which is more than 50 times the mission's original distance goal.

Jul 25-29 — NASA Exoplanet Science Institute, California Institute of Technology, et al, Pasadena CA: '2011 Sagan Exoplanet Summer Workshop: Exploring Exoplanet with Microlensing.'

Jul 25-29 — Goddard Space Flight Center, Laurel MD: 'Lunar Workshops for Educators.'

Jul 25-29 — The Institute of Electrical and Electronics Engineers – Geoscience and Remote Sensing Society, Vancouver, British Columbia, Canada: '2011 IEEE Symposium on Geoscience and Remote Sensing.'

Jul 25-29 — Institute for Experimental and Applied Physics, Kiel, Germany: 'Stereo-4 / SDO-2 / SOHO-24 Workshop: The Sun 360.'

Jul 25 — Moon: 2.2° SSE of Pleiades; 08:00.

Jul 25 — Asteroid 2011 AA37: Near-Earth Flyby (0.078 AU).
---
Continued from . . .

May 31 — NASA Lunar Science Institute, Lunar and Planetary Institute, Houston TX: 'Lunar Exploration Summer Intern Program,' 10-week program to evaluate possible landing sites for robotic and human exploration missions; through Aug 5.

Jun 9 — New Mexico Museum of Space History, Alamogordo NM: 'New Mexico Space Academy Summer Camp;' through Aug 5.

Jun 13 — Space Voyage Academy, Littleton CO: 'Space Voyage Summer Academy Camp,' an enrichment program about space for students ages 5-16; through Jul 29.

Jun 27 — Google Lunar X Prize Foundation, LEGO Group, Playa Vista CA; Online: 'LEGO Moonbots 2.0;' through Aug 15.

Jul 11 — International Space University – Space Studies Institute, Graz, Austria: '24th Space Studies Program;' through Sep 9.

Jul 19 — ESA, International Space Science Institute, AustroSpace, et al, Tyrol, Austria: 'Alpbach Summer School 2011: Star Formation Across the Universe;' through Jul 28.
---
TUESDAY

Jul 26 — US Office of Personnel Management, NASA, Cocoa FL: 'Space Coast Job Fair and Hand-On Training,' event to assist aerospace workers impacted by the ending of the Space Shuttle program.

Jul 26-29 — International Astronomical Union, Chiang Mai, Thailand: '11th Asia-Pacific IAU Regional Meeting.'

Jul 26-Aug 7 — The Moon Society, Milwaukee WI: 'Apollo 15 Moon Party 40th Commemoration.'

Jul 26 — Mercury: 2.8° SW of Regulus; 08:00.

Jul 26 — Moon: 6.6° N of Aldebaran; 03:00.
---
WEDNESDAY

Jul 27 — Johnson Space Center, Houston TX: Media interviews with next Expedition-29 crew members, Dan Burbank, Anton Shkaplerov and Anatoly Ivanishin at 13:00 CDT.

Jul 27-29 — Cornell University, Ithaca NY: 'Rings 2011.'

Jul 27 — Moon: 1.0° ESE of Mars; 09:00.
---
THURSDAY

Jul 28 — WM Keck Observatory, Kamuela HI: '2011 Astronomy Lecture Series: Meet the Ice Giants,' Heidi Hammel.

Jul 28-29 — Center for Remote Imaging, Sensing and Processing, National University of Singapore, Singapore: 'Remote Sensing, Natural Hazards and Environmental Change.'

Jul 28-30 — Space Frontier Foundation, Silicon Valley CA: 'NewSpace 2011 / NewSpace Awards Gala.'

Jul 28-31 — Springfield Telescope Makers, Springfield VT: '2011 Convention of Amateur Telescope Makers.'

Jul 28 — Piscis Austrinid Meteors: Radiating from constellation Piscis Austrinus, this slow moving shower is best viewed in the Southern Hemisphere.

Jul 28 — Asteroid 1865 Cerberus: Closest Approach to Earth (0.504 AU).
---
FRIDAY

Jul 29 — Lunar and Planetary Institute, Houston TX: LPI Seminar Series: 'Near-Earth Asteroids – Extinction Threats, or Holiday Destinations?,' Stanley Love.

Jul 29 — Moon: 9.3° S of Pollux, 08:00; 4.2° SSW of Venus, 22:00.

Jul 29 — South Delta-Aquarids Meteor Shower Peak: Radiating from constellation Aquarius, this shower emits an average meteor observation rate of 15–20 per hour.

Jul 29 — Asteroid 3000 Leonardo: Closest Approach to Earth (1.158 AU).
---
SATURDAY

Jul 30 — American Astronautical Society, Springfield VA: AAS Award Nominations deadline; Recipients to accept award at AAS National Conference Awards Banquet on Nov 16 in Houston TX.

Jul 30-Aug 3 — Astronomical Society of the Pacific, Baltimore MD: '2011 ASP Education and Public Outreach Conference: Connecting People to Science.'

Jul 30 — Moon: New Moon, 08:39; 5.0° S of Beehive Cluster, 10:00.

Jul 30 — Asteroid 2004 Lexell: Closest Approach to Earth (1.230 AU).
---
SUNDAY

NET Jul 31 — ILS, Launch Proton / ViaSat 1, Baikonur, Kazakhstan: An ILS Proton Rocket with a Breeze M upper stage set to deploy the ViaSat 1 satellite to provide high speed Ka-band internet services over the United States.

Jul 31-Aug 3 — American Institute of Aeronautics and Astronautics, San Diego CA: '9th Annual International Energy Conversion Engineering Conference' / '47th AIAA / ASME / SAE / ASEE Joint Propulsion Conference & Exhibit.'

Jul 31-Aug 4 — American Astronautical Society, American Institute of Aeronautics and Astronautics, Girdwood AK: 'Astrodynamics Specialist Conference.'

Jul 31-Aug 4 — Adler Planetarium, Chicago IL: 'Technology Camp 2.0,' for 5-7th graders to advance skills learned in Technology Camp and implement advanced sensors / programming techniques to tackle new challenges with Lego Mindstorms Robots.

Jul 31 — Moon: 5.3° SSW of Regulus, 21:00; 1.5° SW of Mercury, 23:00.