COSPAR Moscow 2014: Space is a Zone for Cooperation and Understanding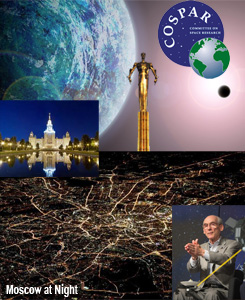 The bi-annual Scientific Assembly of the Committee on Space Research (COSPAR) takes place at the Lomonosov Moscow State University, Moscow, Russia on August 2-10. This 40th COSPAR assembly has been designated COSMOS. The program includes Interdisciplinary and Public lectures, special events, and scientific sessions under 8 specific commissions: Space Studies of the Earth's Surface, Meteorology and Climate; Space Studies of the Earth-Moon system, Planets and Small Bodies of the Solar System; Space Studies of the Upper Atmospheres of the Earth and Planets; Space Plasmas in the Solar System; Research In Astrophysics from Space; Life Sciences as Related to Space; Materials Sciences in Space; and Fundamental Physics in Space. A 1-hour Round Table on Exoplanet Exploration and the Future of Space Propulsion set for Monday includes Giovanni Bignami of COSPAR, Giancarlo Genta of Torino Polytechnic, Sini Merikallio of Finnish Meteorological Institute, Roberto Ragazzoni of INAF, Lev Zelenyi of Russian Academy of Sciences and organizer Giuseppina Micela of INAF. There will also be lectures on the 'Siberian Meteorite Chelyabinsk' and 'The Voyager Journey to Interstellar Space' by Edward Stone (Pictured) of JPL/Caltech. NASA specially requested that COSPAR 2014, with its clear ethos of advancing international collaboration for the benefit of all, be exempted from the recent USA government directive that NASA and associated scientists suspend all contacts with Russian government representatives. (Image Credit: COSPAR, Reuters, Mickane)
28th Utah State University, AIAA Small Sat Conference Focuses on Business in Space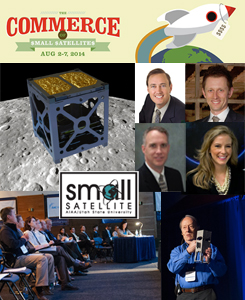 The 28th Small Satellite Conference with the theme The Commerce of Small Satellites will be held August 2-7 at Utah State University in Logan, Utah. Hosted by USU and AIAA, the conference will concentrate on Smallsat opportunities, demand, markets and entrepreneurial endeavors as well as technical and business challenges. It will consist of 12 technical sessions, 4 poster sessions, exhibits and a keynote by Steve Jurvetson (partner of Draper Fisher Jurvetson, board member of Planet Labs and SpaceX). There will be a pre-conference Workshop on Aug 2-3, and 14 side meetings. Some of the presenters are Chris Boshuizen (Planet Labs), Jason Andrews (Spaceflight Inc), John Olds (Generation Orbit), Tyler Murphy (Surrey Satellite Technology) and Elizabeth Buchen (SpaceWorks Enterprises). Topics include small spinning landers for Solar System exploration missions, enabling technologies for 3D printing of Smallsats, advanced communications technologies, launch systems and rideshare opportunities. Smallsat planetary exploration missions have recently been highlighted by the commercial LunarSail mission, NASA Lunar CubeSat Centennial Challenge initiative and JPL/Caltech Europa CubeSat Concept Study. (Image Credit: USU, AIAA, Flexure Engineering, TedX, SpaceWorks, Planet Labs)
---


= All times for terrestrial events in local time unless noted.

= All times for international terrestrial events in local time unless noted.

= All times for space events, and…

= All times for international space / astro events in Hawaii Standard Time unless noted. Add 10 hours to obtain UT ('Universal Time;' Greenwich, England).
---
Weekly Planet Watch – Evening Planets: Mars (SW), Saturn (SW); Morning Planets: Mercury (ENE), Venus (ENE).

---
MONDAY

Jul 28 — ISS, LEO: Expedition 40 crew transferring cargo from Progress 56P, photographing slow growth colloidal experiment samples, participating in eye and muscle health studies, setting up Kaskad cell cultivation experiment.

Jul 28 — Fermi, LEO: More than 1 year past its designed 5-year lifetime, telescope expected to function for at least 3 more years; has increased the number of known gamma-ray pulsars by about 20 times.

 Jul 28 — Juno, Jupiter Trajectory: All 18,698 solar cells are online to aid with energy requirements at more than 3 AU (~350M km) from Sun; traveling at 58,525 kph with 33 minute one-way radio signal to Earth.

Jul 28 — SpaceX, Hawthorne CA: NewSpace company planning to launch 2 Falcon 9 rockets in Aug with AsiaSat payloads, 1 in Sep for ISS CRS-4 resupply mission; will continue to test, refine first-stage reusability after these launches.

Jul 28 — Sierra Nevada Corp., Sparks NV: Has MoU with JAXA to work on potential applications of Japanese technologies, Dream Chaser mission concepts, launch / landing site in Japan; also has agreements with ESA & DLR.

Jul 28 — FireFly Space Systems, Austin TX: With 25 employees, developing FireFly Alpha launch vehicle to launch 400 kg payloads to LEO; hopes to recruit at least 15 more employees by end of 2014.

Jul 28 – Integrated Space Analytics LLC, Bradenton FL: Advancing Integrated Space Plan 2.0; joining broad space direction enterprises New Horizons Message Initiative, Hawai`i; 100 Year Starship, Texas; ISECG Global Exploration Roadmap, Europe; and emerging 21st Century Solar System integrated plans in India, Russia, China.

NET Jul 28 — ISRO, Launch GSLV Mk. 3 / Atmospheric Test Flight, Satish Dhawan Space Center, Sriharikota, India: Geosynchronous Satellite Launch Vehicle Mk.3 to launch on suborbital test flight, will carry mock-up human crew module.

Jul 28 — The Space Show, Tiburon CA / Online: Dr. David Livingston talks with Jay Barbree, NBC space reporter about his new Neil Armstrong book.

Jul 28-29 — Langley Research Center, NASA, Hampton VA: NASA Advisory Council Human Exploration and Operations Committee Meeting.

Jul 28-30 — AIAA, Cleveland OH: AIAA Propulsion and Energy Forum and Exposition 2014; 50th AIAA/ASME/SAE/ASEE Joint Propulsion Conference; at Cleveland Medical Mart and Convention Center.

Jul 28-30 — Johns Hopkins University Applied Physics Laboratory, Laurel MD: Workshop on the Study of the Ice Giant Planets.

Jul 28 – Aug 1 — International Academy of Astronautics, St. Petersburg, Russia: International Academy of Astronautics (IAA) Space Flight Safety Symposium.

Jul 28 — Moon: 4.4° SSW of Regulus, 18:00.
---
Continued from…

NET Jul — Chang'e-2, Deep Space: Spacecraft expected to reach 100M km from Earth this month.

Jun 9 – Aug 8 — International Space University, Montreal, Quebec, Canada: 27th Annual Space Studies Program (SSP14).

Jul 21-29 — NASA, NOAA, Aquarius Underwater Laboratory, Key Largo FL: NASA Extreme Environment Mission Operations (NEEMO) 18; space analogue mission to test behavioral health and performance, human health issues, habitability; participants include Akihiko Hoshide (JAXA), Jeanette Epps (NASA), Mark Vande Hei (NASA), Thomas Pesquet (ESA).

Jul 27-30 — American Astronomical Society, Monterey CA: Workshop on Dense Cores: Origin, Evolution and Collapse; at Hyatt Regency Monterey Hotel and Spa.
---
TUESDAY

Jul 29 — Arianespace, Launch Ariane 5 / ATV-5, Kourou, French Guiana: Arianespace set to use Ariane 5 ES rocket, designated VA219, to launch 5th (and final) ESA Automated Transfer Vehicle, named Georges Lemaitre, to ISS.

Jul 29-31 — NASA Small Bodies Assessment Group, Washington DC: NASA Small Bodies Assessment Group Meeting #11.
WEDNESDAY

Jul 30-31 — Langley Research Center, NASA, Hampton VA: NASA Advisory Council Meeting.
THURSDAY

Jul 31 — ULA, Launch Atlas 5  / GPS 2F-7, Cape Canaveral AFS FL: United Launch Alliance Atlas 5 rocket to launch US Air Force seventh Block 2F navigation satellite for Global Positioning System.

Jul 31 — Explore Mars Inc., Washington DC: Life on Mars Panel; featuring Rebecca Keiser (NASA), Pamela Conrad (NASA), Gil Levin (Mars Viking lander), Chris McKay (NASA), Chris Carr (MIT); at American University 18:00 EDT, free.

Jul 31 — Asteroid 2014 MD6: Near-Earth flyby (0.075 AU).
FRIDAY

NET Aug — Mars Society Inc., Devon Island, Nunavut, Canada: Phase 2 of Mars Arctic 365 mission; 8-member crew to begin 1-year Mars simulation mission at Flashline Mars Arctic Research Station.

Aug 1 — Deep Space: Dawn spacecraft in Main Asteroid Belt is now ~8M km from Ceres, ~385M km from Earth; expected to arrive at Ceres Mar 23, 2015.

Aug 1 — Space Center Houston, Houston TX: Lunch with an Astronaut, Leroy Chiao; US$49.95 adult.
SATURDAY

Aug 2 — British Interplanetary Society, London, United Kingdom: 69th Annual General Meeting.

Aug 2 — International Academy of Astronautics, Moscow, Russia: International Academy of Astronautics Academy Day.

Aug 2-6 — Astronomical Society of the Pacific, Burlingame CA: ASP 2014 Annual Meeting.

Aug 2-7 — AIAA, Utah State University, Logan UT: 28th Small Satellite Conference: The Commerce of Small Satellites.

Aug 2-10 — Committee on Space Research, Moscow, Russia: 40th Scientific Assembly of Committee on Space Research (COSPAR).

Aug 2 — Moon: 2.2° NNE of Spica, 05:00.
SUNDAY

Aug 3 — Rosetta OCM-9, Comet 67P / Churyumov-Gerasimenko Orbit: Spacecraft conducts Orbital Correction Maneuver #9 today; planned to last ~13 minutes, achieve Δv (change in velocity) of 3 m/s.

Aug 3 — Astronomical Society of the Pacific, Burlingame CA: Beyond Earth: Planets, Life, and Intelligence in the Cosmos; featuring Geoff Marcy, Chris McKay, Jill Tarter.

Aug 3-7 — National Radio Astronomy Observatory, National Science Foundation, Charlottesville VA: Workshop: Transformation Science in the ALMA Era – Multi-Wavelength Studies of Galaxy Evolution.

Aug 3-9 — Rencontres du Vietnam, UNESCO, Quy Nhon, Vietnam: 10th Rencontres du Vietnam: Very High Energy Phenomena in the Universe.


Aug 3 — Moon: 2.2° NNE of Mars, 01:00; at first quarter, 14:50